With all the time we spend choosing the furniture, carpets, artwork, and accessories for a room, the one area that sometimes gets overlooked is lighting. Here's why it shouldn't: Lights can make a bold decorating statement and can instantly transform the look of a room. One type of lighting, in particular, is a champion of modern design and has been a mainstay of home decorators and DIYers for years — track lighting.
Track lighting can go a long way in illuminating a space. Here's why you should consider adding it to your design plan and how to install it in your home!
The 411 on track lighting
For this type of lighting, light fixtures are attached on a continuous track device containing electrical conductors, in contrast to directly routing electrical wiring to individual lights.
Track lighting can be used in virtually any room. With so many different styles available, you can find a track light style to suit virtually any space. With their ability to provide lighting of varied intensity and at most any angle, track lighting has a unique beauty that rivals the drama of sparkling chandeliers or pendant lights.
There are two basic types of track lighting: Plug-in and hardwired. Plug-in track lights do not require electrical wiring; however, they must be located near an outlet. Hardwired track lights need to have electrical connections made during installation through a junction box, which is an electrical box in the ceiling or wall. Note: Hardwiring is usually best handled by a professional electrician.
Track lighting is a great option for your home due to its versatility and functionality. Add track lighting and it instantly elevates the ambience of a room. The trick is to install a track and then pair it with the right track heads.
Track lighting doesn't have to be difficult to install. With a little planning and care, you should be able to install track lights in just a single afternoon. But before shopping for track lights, do the following:
Determine where you want the lighting installed
Figure out how you will affix to the ceiling
Figure out the length of track needed
Determine where to connect to your power source
Some track lights come installation ready and include a short track with compatible heads. If you are planning to DIY your track lighting, look for sets with adjustable tracks so you can position the lights to illuminate every corner of the room.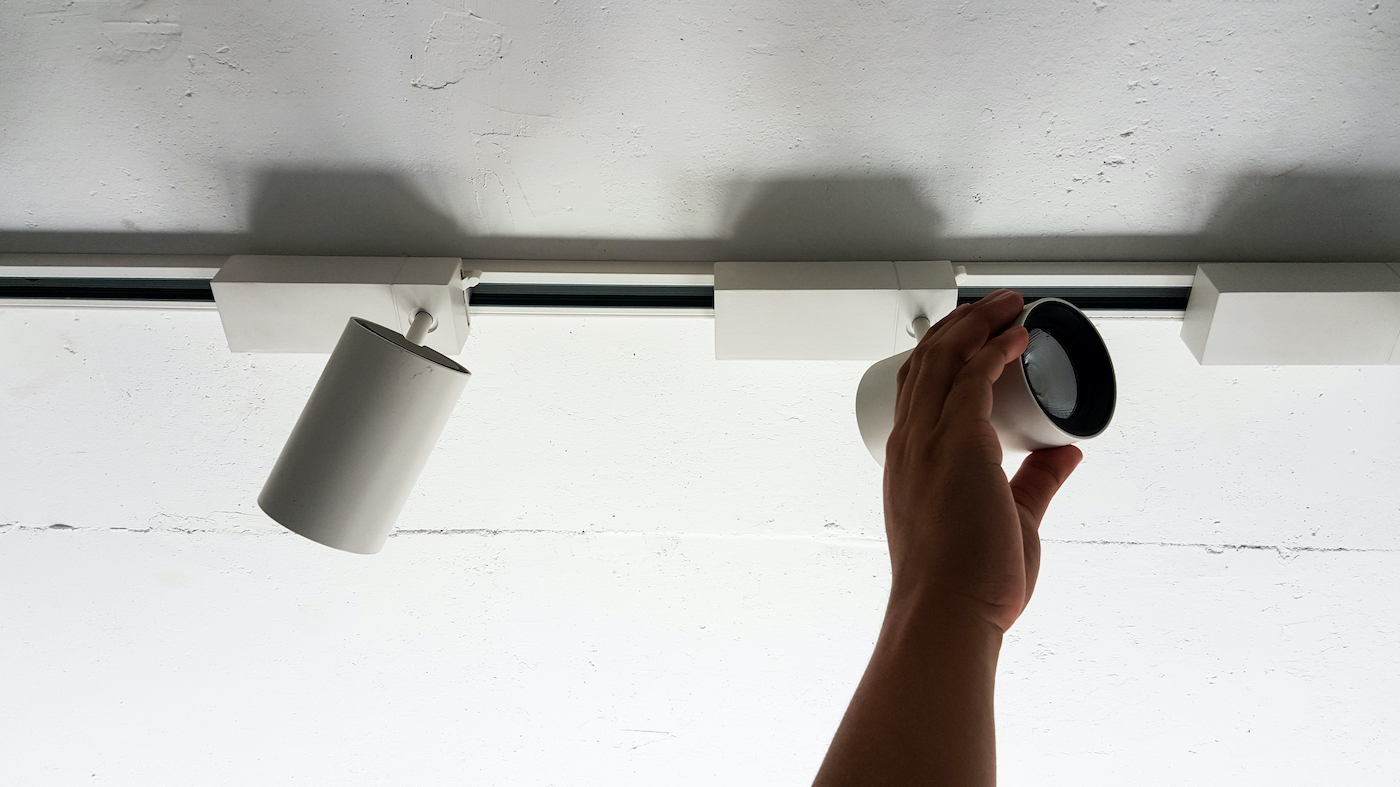 Tips to make the most of your track lighting
Indoor track lights are meant to be task lighting. When placing track light fixtures, be strategic about where you install them so you can maximize the lighting coverage. Direct beams of light where it is most needed, including directly over sofas or other conversation areas and angled toward entryways or darker corners of a room.
For rectangular rooms, one dramatic way to incorporate indoor track lights is to set up the tracks along the entire perimeter of the room. After the tracks are in place, you can pop the track lighting heads wherever they are needed — over your favorite reading chair, directed at an array of family photos on a fireplace mantle, or directly over the seating area. By choosing adjustable heads you can rotate them to provide full lighting coverage of the room.
When installing track lights for a living room, you'll need to decide if you want a straight or curved track. You'll also want to make sure the track heads or pendants you select are compatible with your track system.
With the continuation of the open floorpan trend, track lighting offers a way to bring continuity between the spaces while keeping the light and airy design aesthetic. Install ceiling track lights along the entire length of the space, from family room to dining room to kitchen, for maximum light and drama.
With so many color options for today's ceiling track lights you can easily blend the lights into your decor by selecting a color palette and design that matches the shade of your walls. This allows the lighting to mix in with the room's background, rather than becoming the focal point of the room.
In rooms containing large windows, track lighting provides ample illumination at night without blocking natural light during the day. If your home has high beamed or angled ceilings, you can run the ceiling track lights parallel to the beams, creating a sense of visual harmony.
With so many different styles, colors, and sizes available, track lighting can add both drama and illumination to virtually any room in your home. Whether you are looking for a quick DIY update or you're having a professionally installed lighting overhaul, with track lighting the results are always nothing short of dramatic.
Editors' Recommendations