Looking for a quick refresh for your kitchen? Think task lighting. An unsung workhorse of the kitchen, well-placed task lights beautifully define and highlight the areas of your kitchen where the chopping, dicing, washing, and serving get done.
You don't need to strip the kitchen to its studs or pay for a complete electrical rewire to get the lighting layout of your dreams. In fact, all you need to do is conduct a kitchen audit, which is as easy as understanding how you use each space in the room, and then add task lights.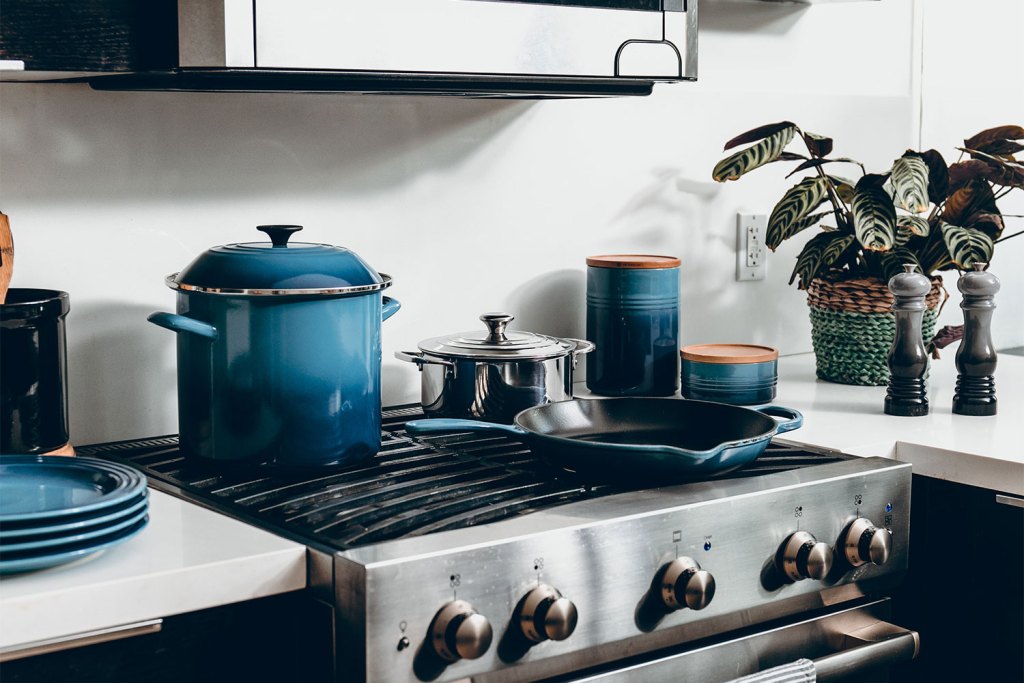 Be the perfect taskmaster
Every kitchen has overall (ambient) lighting — usually provided by recessed lighting or a center-ceiling downlight. Unfortunately, these lights often result in rooms that are poorly lit in some areas and overly bright in others. You can use task lighting to correct low-light areas, especially if they are areas where you need to see clearly, such as countertops, cabinets, and work surfaces.
There are five primary places where you should consider adding task illumination:
Under the counter
It's easy to light up the counters under your cabinets with inexpensive light pucks, dots, or strips. If you don't want to pay an electrician to hardwire the lighting, you can use plug-in or even long-lasting, battery-operated fixtures.
Reflective surfaces, like stainless steel, and granite require diffused light to avoid glare. Your best bet is to use a light channel (bar) or soft strip light. Soft strip lighting can be harsh, so if you hold one up under the cabinet and don't like its garishness, simply adhere it to the back of the lip of the front cabinet (as opposed to the underside, facing down). LED pucks work well, too. They are easy to install and cost effective. Run them along the bottoms of your cabinets approximately 20 inches apart for optimal effect.
Here are some examples of pucks, bars, and soft strip lighting — all of which are suitable for under-counter mounting. On a tight budget? IKEA offers all these, as well (including cool light-changing soft strips for $15 and up). If you happen to live by a store, stop in and see how they mix and match the various options in the showroom.
The HomeLife LED Bar (approximately $20) is a cost-effective option if you lack a power source. It runs on AAA batteries and has an adhesive strip for attachment. It operates on a sensor, detecting human motion from 10 feet away. It turns itself off 15 seconds after you walk away, making it energy efficient to boot. It may be too bright for highly reflective surfaces, but with its low price point, if it displeases you, use it to light up a dark closet.
Over the island
Before you decide to add extra illumination to your island, consider how you use the space. Is it simply a gathering area and not used for food prep, ambient lighting, or for decorative pendants? If you need more targeted illumination, consider a monorail with adjustable accent heads for targeted lighting.
Many companies offer monorails that support both accent heads and decorative pendants, like the Single Circuit MonoRail System from ylighting.com (price varies depending on options).
If you don't like the rail look, how about linear suspensions (cable lighting)? The Accent Monorail Matte Nickel 5 Head Cable Kit retails for about $200 from lamps.com.
Linear suspensions offer a wide (even overwhelming) variety of combinations. As with the rails, you can mix heads with pendants. With some products you can independently control the indirect (up) and direct (down) lights, which allows you to use your task lights without flooding the room with light.
If you opt for pendants over your island, here's how to place them: Start with one pendant directly over the center of your island, then work out to the left and right with additional pendants. Hang them 30 inches from the island top. If the space is to be used primarily by kids, you can lower the pendants to 18 inches above the counter.
Over the sink
Washing dishes is work, to be sure, but it doesn't require the same degree of pinpoint lighting that counters do. So have fun! Replace the ceiling light over your sink with a pendant or monopoint lighting that has either a pendant or adjustable track head.
In cabinets
Ready to show off Grandma's OJ pitcher or a particularly interesting sculpture? Lighting behind glass cabinet doors is artistic and can make your kitchen seem bigger than it is.
The best choices for these spaces are pucks and dots. These adhere to the tops of the shelves and are designed to highlight areas of your kitchen. Make your cabinets glow with selective use of these small lights. Experiment with one directly over an object or two smaller flanking lights.
Also try different locations, moving the lights from the front of the cabinet to the back. Designers suggest the lights be located a few inches from the cabinet fronts, so start there and see how it works with the displayed objects. To back light your whole cabinet, use soft-strip lighting a few inches from the back of the cabinet. Or use L-shaped light channels to shine the light upward.
Above-cabinet lighting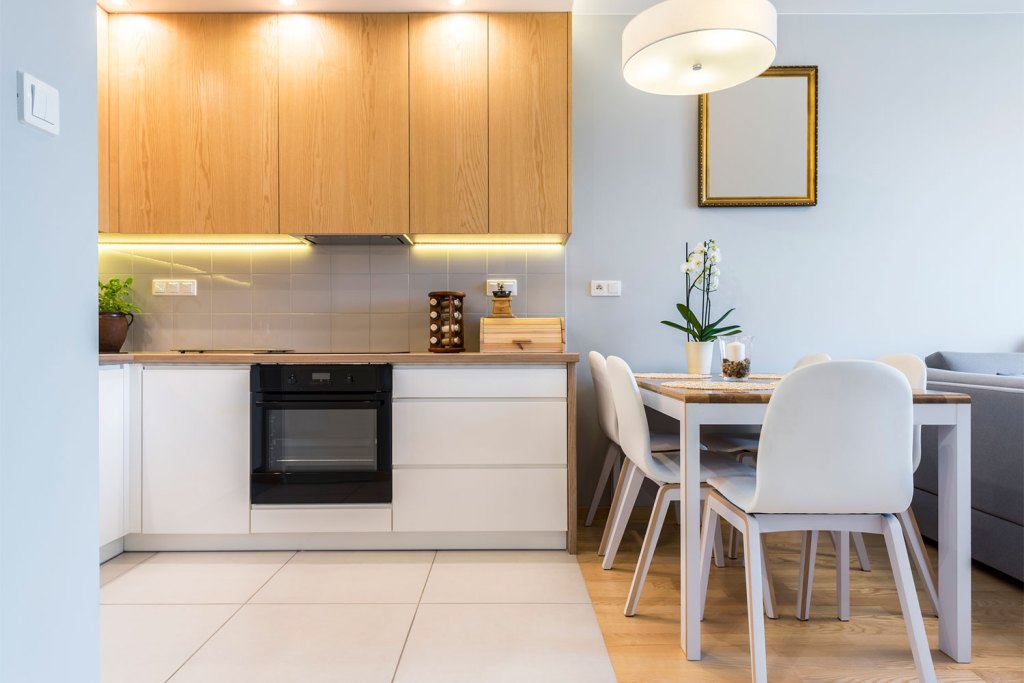 This is another easy solution that quickly and inexpensively achieves a dramatic look. Soft-strip or light channels are the go-to light for this area.
Plan first – then be creative
The key to a quick task lighting makeover is planning. Really sit in your kitchen and think about how you use it (or would like to use it) and go slow. Try a few of the changes suggested in this article first and live with them a few days. Lighting is incredibly flexible. You might even find you buy a product for one use and decide to move it to another location.
Don't feel obligated to buy new fixtures, either. Would changing the bulbs in your current fixture do the trick? Fixtures with visible bulbs can look different if you sub in a vintage-look bulb or a bulb of another shape. Spend some time in a lighting store studying how the different bulbs look.
If you are ambitious and want a one-of-a-kind task light, hit the thrift shops or antique stores. While most likely you will find an accent (versus task) light on your hunt, it pays to look because most older lights can be refurbished by a lamp-repair shop. While you're being thrifty, check out the returned products at lamp shops for bargains. Lamps Plus has reduced-price, fully inspected returned items here.
Spend a weekend trying some of these ideas and then ask yourself: Does prepping a crudité tray and putting the dishes away seem blah now? You'll probably find you are getting more ambitious with your culinary pursuits — and entertaining far more often.
Editors' Recommendations