Besides installing a chrome rain shower head or a marble tub, mounting a chandelier in your bathroom makes this often-forgotten room feel more luxurious. If you're searching through cool bathroom light ideas but are contemplating whether or not a chandelier might be disastrous, think again! We just need to take extra precautions with these larger-than-average light fixtures. We'll also need to think about style and material, so let's get to it.
How large is your bathroom?
Chandeliers are appreciated for their extravagance and sumptuous sizes. Whatever room they're in, they will be prominent no matter what. With that said, for safety and aesthetic reasons, you might rethink a bathroom chandelier if your bathroom is smaller than 100 square feet. Instead, consider semi-flush mount lights or petite pendant lights over your vanity.
It may seem like common sense, but we'll say it anyway: Bathroom chandeliers look extra special in high or vaulted ceilings, though these are rare in urban apartments and homes. Don't worry if you have regular flat ceilings, though! As long as you follow some general requirements, you're set.
The lowermost part of the chandelier should be 8 feet above the top of your tub or 3 feet away from its edge, as stated on SFGate. This clearance is a legal mandate, though in special circumstances, it may differ. Contact your local electrician if you have concerns.
Will the chandelier survive wet conditions?
Another key factor is whether or not your chosen light fixture is designed for wet conditions. This applies to the hardware, the wiring, and the bulbs themselves. Your bathroom is almost constantly wet, damp, or humid. Read: Your chandelier should be designed for bathroom environments for safety reasons.
A ground-fault circuit interrupter is our number one safety recommendation; SFGate also makes this statement in another article about properly placing outlets in bathrooms. It's commonly used in bathrooms and really, any area where conditions may be unfriendly to electricity. This gadget cuts off electricity when conditions are unsafe; for example, if water leaks into the outlet or wires.
Perform monthly tests to make sure each circuit interrupter in your home works as well as it did when you first got it. Replace any sockets, features, or switches that may need an upgrade.
Do you have a tub, shower, or both?
Interior designers suggest installing the chandelier above your tub for the most visual impact. If that's not possible, place the chandelier in a way that makes it look like it is indeed above your tub when you walk into the room. This optical illusion makes the room feel grand and really showcases your tub as the main attraction.
If you're lucky and have both a shower and a tub, install it between the two to balance out the room. This also provides even light distribution no matter which means of bathing you're using.
Another foolproof plan is to hang the chandelier smack dab in the middle of the room. This is especially effective if the room is an irregular shape or size.
What style of chandelier are you looking for?
This step is where your personality shines through. It's tough to categorize chandeliers into types as there so many and numerous companies blend different styles together. Nevertheless, a classic crystal chandelier instantly lends your bathroom an air of grandeur no amount of wall paint or floor tiles can achieve, including that chock-full of bathroom organization ideas you have.
On another note, candelabra-style chandeliers are a little more laid-back but still feel regal. They're also easier to clean than crystal chandeliers that can gather dust over time.
If you like the metallic features of a candelabra chandelier, but want it in a more geometric shape, consider trendy globe or caged chandeliers. Of course, these are larger and look best in a sizable bathroom.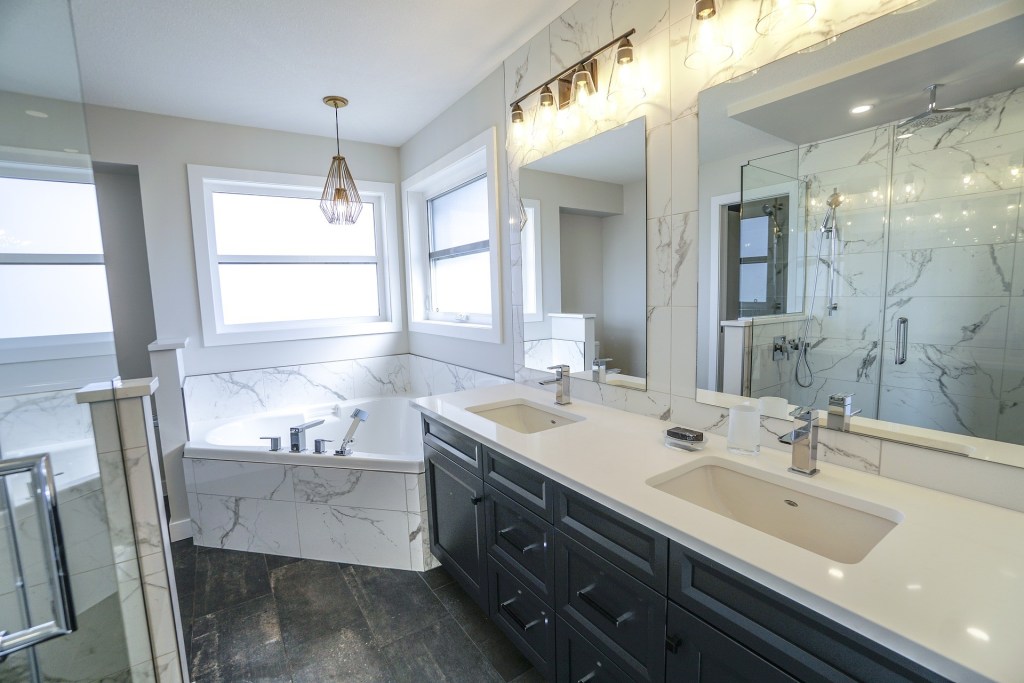 What material suits your bathroom best?
We recommend light materials like chrome or nickel brush, which help open up the bathroom. However, we won't stop you from reaching for the dignified wrought iron or vintage-inspired brass! The best chandelier for your bathroom is the one that calls your name, after all.
We're particularly enchanted by bead shells, which is an unconventional material that brings an artistic touch reminiscent of seaside crafts villages. If you want a more traditional fixture, try an alabaster chandelier in a disc or globe pendant model.
While the classic armed chandelier with alabaster cups may look stunning in a dining room, they're a little out of place in a bathroom setting. Refrain from fabric lampshade chandeliers, as these have a higher potential for mold or mildew growth.
Your bathroom may not get the same royal treatment as your bedroom, but this means you can splurge a little more on centerpieces like a radiant chandelier. To quell your concerns about the potential dangers of a bathroom chandelier, read through our quick guide on how to choose the right chandelier. We've gone over clearance requirements, styles, and materials and we hope our guide helps you make some bold, creative choices.
Editors' Recommendations