If you want to keep your bathroom always looking prim and proper, smart storage should be a priority to you. Figuring out organizational methods that fit your bathroom doesn't have to be frustrating. Here are some ideas for better storage in the bathroom that you might utilize.
Shelves within shelves
While below-sink cabinets add lots of storage, they aren't the easiest to keep neat, especially if you have items of varying sizes. Add additional, tidy storage to your cabinets by installing additional drawers or shelving units inside. You might choose to build your own shelves or purchase acrylic pieces to do the job. There are even some shelves that slide out, eliminating the need to crouch down to get what you need.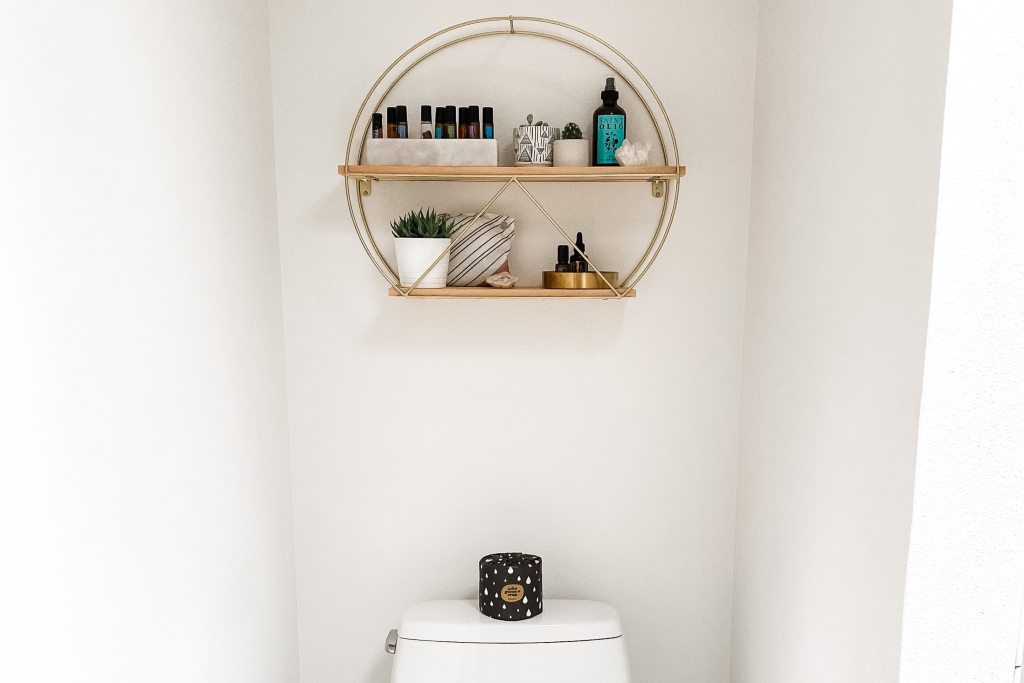 Over-the-toilet organizers
Hunker mentions several different styles for an over-the-toilet organizer. This is a great choice as they said, "Take advantage of over-the-toilet storage to make a lot more space in the rest of the bathroom." Available in a variety of styles and finishes, over-the-toilet organizers add storage to a space that is otherwise unusable. Some over-the-toilet organizers are like wooden ladders that taper as they go up, while others are constructed of metal and are rectangular. They are a great place to store extra rolls of toilet paper, magazines, or candles.
Carts and stools
While not typically thought of as pieces of furniture used for storage, barstools and bar carts make for a great storage solution and an interesting addition to any bathroom. Compact metal furniture works best for this purpose. Bar carts are particularly helpful in a bathroom as they can be moved about as needed.
Built-in cabinets
Cabinets that are recessed into the wall make for a tidier space, and they free up some area in a room, for a more open feel. Recessed cabinets hide away unsightly towels and other toiletries while fitting in seamlessly with the surrounding wall. When installing built-in cabinets, you might consider including those of varying sizes to suit different objects.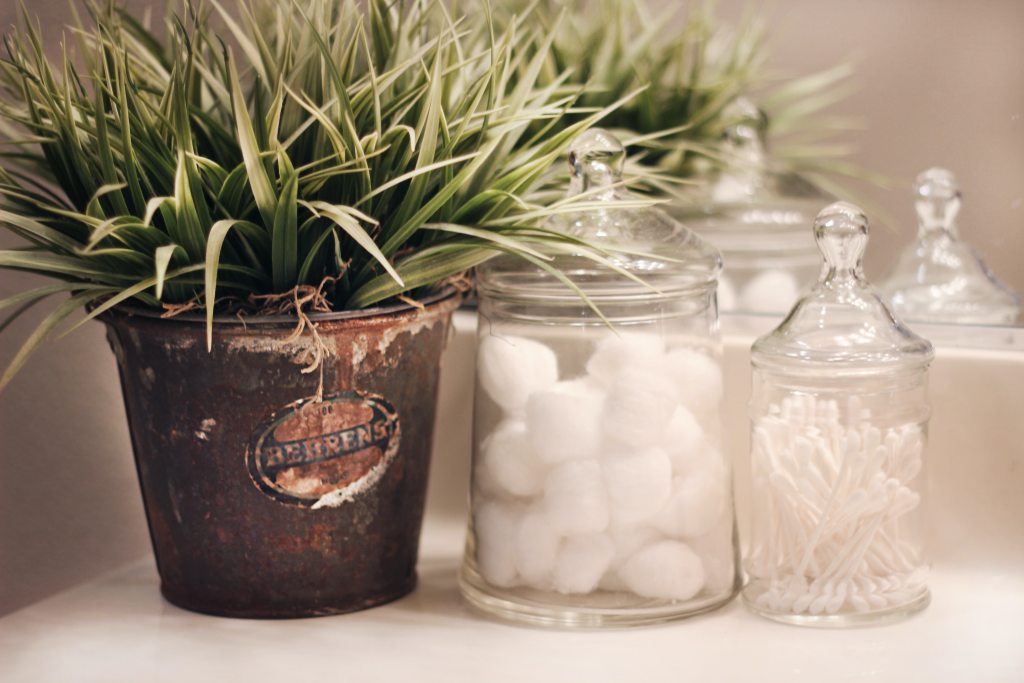 Apothecary and mason jars
Whether placed on the counter or mounted to the wall, jars make for a nice addition for storage to any bathroom. Sold in different colors and sizes, jars let you see when it's time to restock on commonly used supplies. Jars serve as practical as well as decorative storage pieces. They can hold anything from cotton swabs to makeup brushes.
Hanging storage
Rods and hooks are two more options that add storage availability to otherwise unusable space. Hanging storage doesn't just have to be for towels; you can suspend baskets or mount floating shelves on the wall to contain a more diverse set of objects. Whether on the bathroom door, on a wall beside the sink, or in the shower, hanging storage can prove to be very useful in the bathroom.
Lazy susans
These spinning contraptions allow for easy, quick access to items when they are needed most. Lazy susans can be placed in a cabinet, for instance under the sink, or atop a counter. Some are marketed as makeup holders and have specialized compartments and drawers. Introducing a lazy susan to your bathroom means less time spent searching for things.
Shower caddies
Shower Gem suggests using shower caddies for a clean and clutter-free bathroom. The idea of a shower caddy may remind you of a college dorm, but these versatile carriers can demonstrate their convenience far beyond those four years. Modern shower caddies may be made of polished metal for a sleek appearance. They might be permanently hung in the shower in lieu of the need for a shelf in the shower. Some shower caddies even have built-in mirrors or soap dispensers.
Trays
Storage trays are probably the best place to keep tiny trinkets. If you have many earrings, maybe you should purchase an earring holder with a tray at the bottom. Some trays are partitioned to allow for simpler separation of objects. Storage trays come in an array of attractive designs and can really reinforce the theme of a bathroom.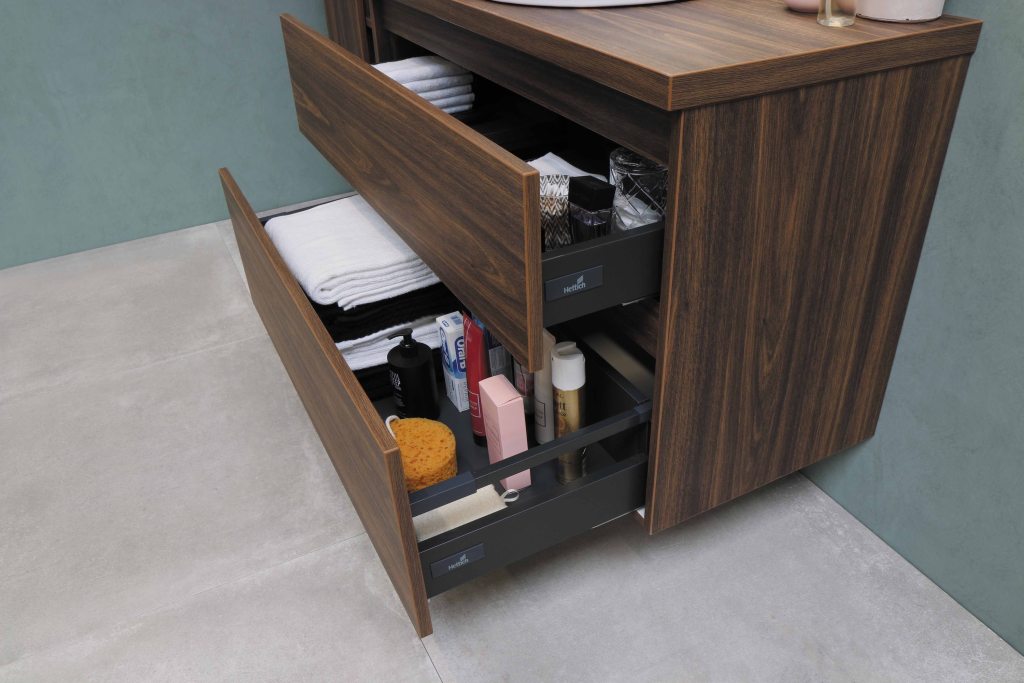 Cabinet door storage
Cabinet doors themselves are not typically used for storage, but that doesn't mean they shouldn't be! The area directly inside a cabinet door is valuable, and can be taken advantage of accordingly. Hanging storage, similar to what might be placed on a wall, can be decreased in scale to fit inside of cabinet doors. Cleaning products and paper towels are just two examples of the many bathroom necessities that can be neatly stored on cabinet doors.
Bathroom storage can be made a breeze to keep tidy if you take inspiration from some of our handy tips. Start using your bathroom space better by changing the way you organize today! Your family and your desire for leisure time will surely appreciate the switch.
Editors' Recommendations