Minimalist interior decorating is becoming an increasingly popular trend. This design style is all about an open layout, lots of natural light, simple furniture and finishes, and clutter-free spaces. If you are thinking of incorporating the "less is more" concept into your living room, check out these creative ideas to get you headed in the right direction.
Apartment Therapy describes minimalism as, "continuously curating your space to have a few meaningful items rather than constantly accumulating more things. This design philosophy also hinges upon cleaner, more sustainable, and more efficient ways of living and functioning."
Top 15 ideas for minimalist living
When it comes to achieving a minimalistic design, start by viewing less as more. If you are a bit stuck on where to start, here are some ideas to give you the inspiration you need:
Use muted colors on the walls and for the furniture and fixtures

.

Muted colors are colors that are dulled down or desaturated to give off a grayed tone.
Keep your furniture low and sometimes on the ground

.

Some minimalist living room furniture pieces include a table slab that sits on the ground, or a chair with no legs.
Add one pop of color to the space

.

For a living room design, you can add a vibrant couch, table, or lamp to create contrast in one area of the room.
Never have more than you need

.

Organizing a minimalist home can sometimes still be a challenge, especially when determining the ideal placement for your things. That's why each item in your living room should have a purpose. This is the best way to achieve the minimalist lifestyle. Elle Decor showcases several minimalist living rooms with a pop of color here and there.
Use shapes and lines to add interest

.

Since color is oftentimes limited in minimalist design, many designers tend to lean on shapes and lines to create depth.
Hang up dynamic artwork

.

Artwork with sharp lines, deep colors, and interesting patterns can add a lot to a minimalistic living room.
Keep it simple and monochromatic

.

Monochrome artwork and colors are a great way to continue minimalist design throughout your living room. The Spruce says, "Creating an insanely chic small space is a cinch if you stick to a monochromatic palette."
Think outside the box

.

It can be fun to add odd pieces of furniture or artwork to a minimalist room for a little excitement.
Get creative with storage

.

By having some large storage pieces in your living room, you can reduce clutter without sacrificing design.
Be inspired by your environment

.

Whether you live by the ocean or in the middle of the desert, you can use the colors and textures inspired by your surroundings.
Get rid of bulky furniture

.

Replace big furniture pieces with thin, clean pieces of furniture like chairs and sleek couches.
Use dark colors for a serious and sophisticated look

.

Dark colors like black or gray can be the perfect way to add some interest and sophistication to a living room.
Incorporate dried plants

.

Dried plants are great for two reasons: you don't have to take care of them, and they add a natural feature to your living room.
Combine minimalist design with another style

.

Minimalist decor goes great with rustic, industrial, nautical, and other styles.
Incorporate existing architecture into your design. Some living rooms have quirky aspects, angles, and features, so it's important to embrace them.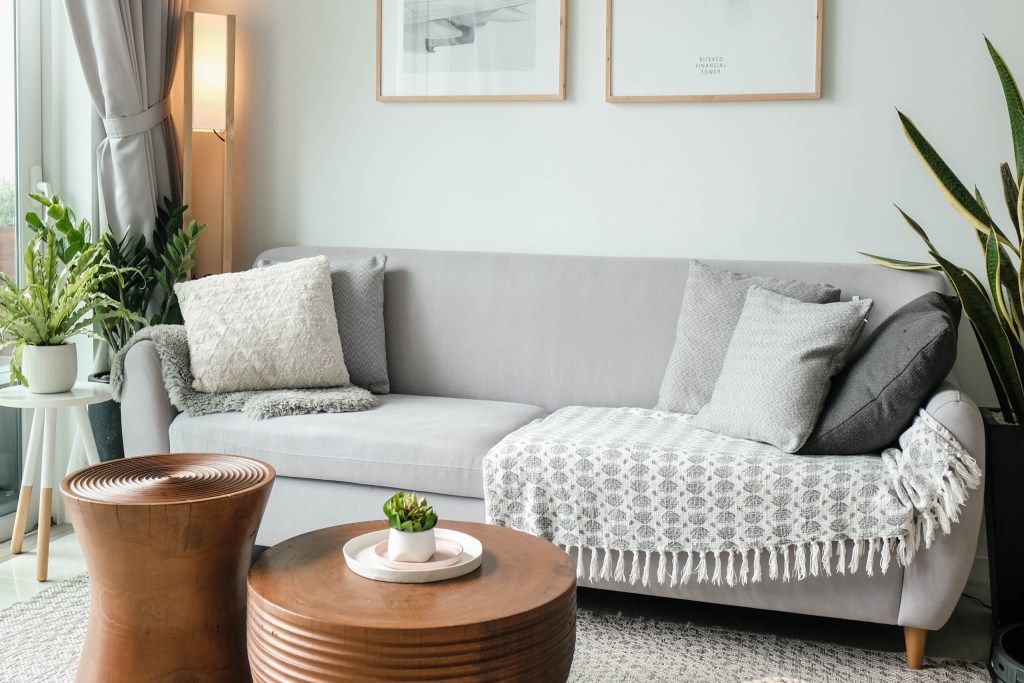 What is a minimalist living room and how do you design one?
Minimalist style can be defined by one word: simple. This is a type of style that continues to make its mark on the interior design world. That being said, the living room and minimalism can sometimes be seen as opposites. The living room is all about getting comfy, displaying your picture frames, and playing games. It's a place to watch TV, eat snacks, and have a good time.
Although the minimalist style appears to contrast with this way of living, it does not prohibit it. A minimalist living room is one that reduces the clutter. It is clean, has sharp lines, and elegant design. It is still a place to have fun and enjoy your favorite activities, just with less of the bulkiness, bright colors, and visual clutter.
When it comes to designing a minimalist living room of your own, following the ideas above or getting inspiration online are some great options. You can also consult with interior designers and get an idea of how to achieve a minimalist style that best suits your personality and lifestyle.
Designing a minimalist living room can transform it from chaotic to peaceful. Since minimalist design thrives on the idea of simplicity, it is important to incorporate this guideline as often as possible. No matter what size space you are working with, you can create the perfect minimalist look you've been searching for.
Editors' Recommendations