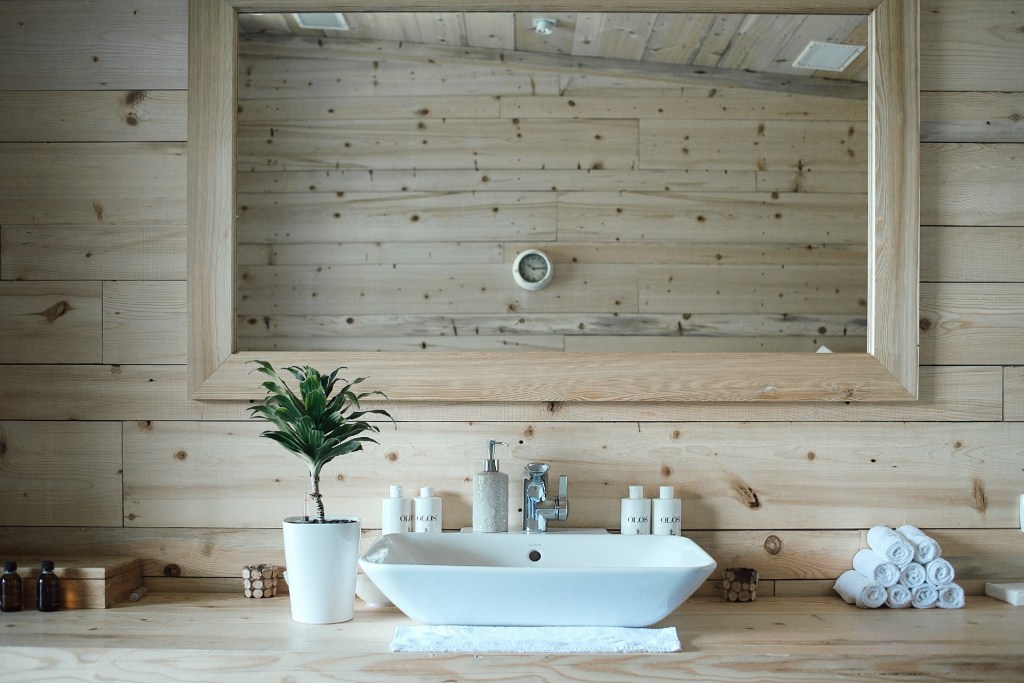 Looking for small bathroom ideas? We scoured Instagram to highlight a few of our favorites. One look at these bathrooms, and you will forget about what they lack in space. These designs are bursting with personality and incorporate clever elements like eye-catching patterns or colors that give the illusion of greater square footage. The resounding takeaway? Just because a bathroom is small in size doesn't mean it has to sacrifice style.
Use one material
This space is what small bathroom design is all about. Extending the white subway tiles beyond the tub area gives the room a larger feel because the walls are not broken up with various materials. The narrow vanity doesn't overwhelm, and its earthy tone and leather pull handles warm up the design. A convenient wooden shelf sits just below the appropriately sized circular mirror. The black honeycomb tile floor grounds the space, and small touches of the color in the window frame and artwork pull the design together. Chic accents like the winking graphic rug and zebra artwork give the room a modern flair, and a weathered wood tub tray is the ideal spot to display accessories like candles and a plant.
View this post on Instagram
Don't be afraid to go dark
Who says a small bathroom can't take a dark color? In this design, textured brick walls are painted in rich ebony, while an oversized framed mirror is hung just above the warm wood counter is balanced by dual sconce lights. A sculptural bowl sink is accented with a sleek faucet, and open shelving below houses rolled towels, a basket, and attractive bottles. A simple glass vase of flowers brings a soft element to the modern space. Who wouldn't love this bathroom?
View this post on Instagram
Create the illusion of wider space
Shiplap works perfectly in this farmhouse-inspired bathroom because its horizontal lines give the illusion of a wider space. The crisp white sink basin and toilet stand out against the deep green hue, giving it beautiful contrasts. A gold-framed mirror and matching, rustic light fixture add charm to the design, while a plant and candle are displayed on a wooden shelf, pairing nicely with the vanity base. The simple addition of a patterned mustard and white hand towel completes the look.
View this post on Instagram
Make a statement
Want a bathroom your guests will remember? Find a funky wallpaper like this one. The spring green background of this fun butterfly print paper gives the design a playful vibe. Bright white wainscotting adds a nice architectural detail and contrast and an unusual navy bathtub brings a secondary color into play. The patterned floor tile pulls it together by marrying accent colors from the wallpaper and tub.
View this post on Instagram
Mix up the usual
Think outside the box when choosing a bathroom rug. Why not use one that would be at home in any room? In this petite space, an antique-inspired floor covering gives the design an element to play off of. Its warm, earthy hues pair perfectly with rattan shelving and a rustic wooden stool. Two small shelves above the toilet are filled with charming accents like botanicals and candles, and a circular mirror adds interest to the neutral wallpapered walls. The overall result is a space that feels inviting and homey.
View this post on Instagram
Open up with white
One of the easiest ways to make a space feel airy and open is by using a clean white hue. Here, a classic subway tile with light grout is the focal point. Black details on the vanity, shelving, and shower enclosure make a striking contrast, while the graphic black and white flooring add a unique element that brings it all together. The finishing touch? Plants always bring life to any design.
View this post on Instagram
Use a classic combo
Sometimes there is a reason why combinations are classic. This stunning bathroom features a timeless trio of black, white, and gold. Luxurious paisley wallpaper is the backdrop for a vertical mirror and a pair of sleek sconces. A built-in black vanity perfectly fits into the space, and the gold faucet seamlessly accents the clean white counters. A few well-placed accessories add a luxurious touch to make this bathroom classically perfect.
View this post on Instagram
Small bathrooms can pose a challenge when it comes to design, but these seven spaces prove even the tiniest ones can be as memorable as any room in your home. The key is paying attention to scale and bringing in elements that make the space unique. Your small bathroom will be packed with so much style; size will be the last thing you think about when you are in it.
Editors' Recommendations