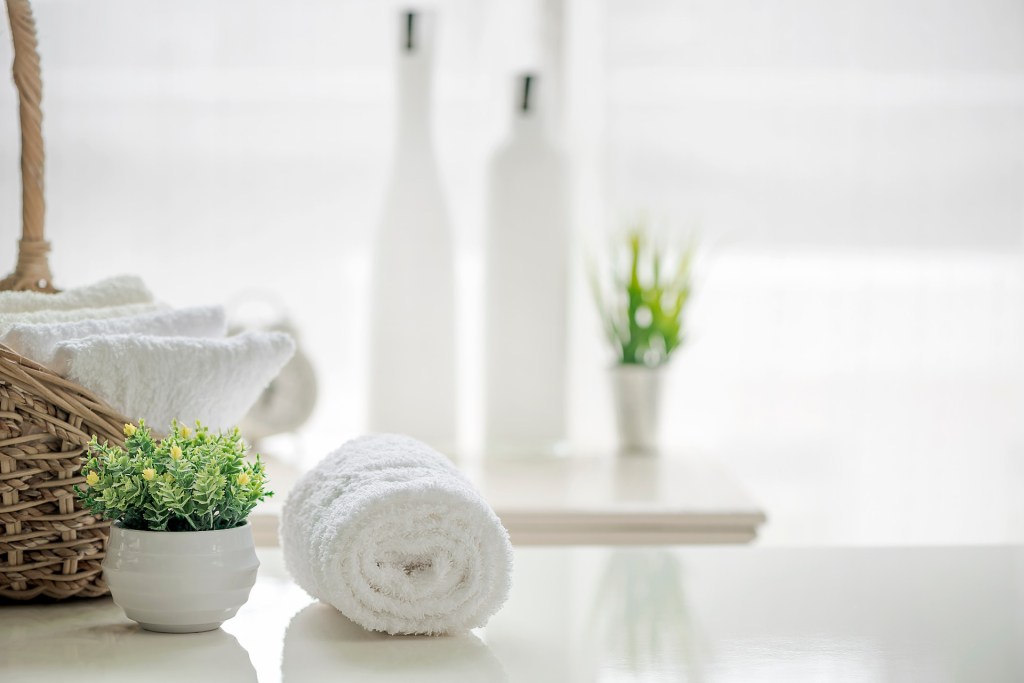 Bathrooms are a prime candidate when it comes to deciding which rooms in your home to renovate or revamp. Sure, a full renovation may give you a completely new look, but adding elegant bath decor touches will also have a huge impact and can make your bathroom feel like a restful, calming retreat. Looking for a little inspiration? Whether you are considering a big change or some small stylish accents, there is no shortage of elegant bathroom decor ideas on Instagram and Pinterest. Here, we share some of our favorites.
Roll with it
Every bathroom needs towels, so why not make them part of the design? Find the plushest ones you can and roll them just like they do in high-end hotels or spas. Place them in groupings on shelves or in a decorative basket. This is not only a clever storage option, but it also gives your space a luxurious touch that guests will appreciate.
Add a wood tray
Set the scene for a tranquil oasis. A simple wooden tray cut to the width of the bathtub gives this bathroom a luxurious touch. It is the ideal place to display decor. Top it with candles and a vase of flowers when the tub is not in use. For a serene bathing experience, use it to hold a cup of tea, a glass of wine, or to prop up a book.
Accent with black
There is something about the contrast of crisp white and sharp black accents that gives a bathroom a timeless appeal. The bold geometric tiles and clean ebony hardware add a modern flair and draw the eye around the airy, bright space. If you have a simple white space, try adding a few black touches to give it a grounding element.
Bring in botanicals
Want to infuse life to a neutral bathroom? By bringing in a few plants, this white bathroom has added interest and a fresh feeling. A stool tucked on the side offers the perfect place for a potted plant. This is nicely balanced by a rustic wire basket with rolled bath towels.
Add a pop of color
Looking to use a bold color? A bathroom is the perfect place, and green is having a serious moment. Whereas a strong color like this one might be overwhelming in a large room, here it gives the space a unique and cozy vibe—the white tile, wood edging, and shelving act as neutrals to break it up and add warmth.
Makeover your vanity
Here is that green color again, but this time it is on the vanity. Painting an existing vanity and installing new pulls and knobs is a great way to update your bathroom and give it a custom look. Adding in clever vessels like these wire and wicker baskets offer storage and add a chic design element.
Try a two-tone
One word—shiplap. We love it, and the use of color on it in this bathroom gives it a new twist. The white upper wall and fixtures make this bathroom feel airy and open, while the small wood touches bring warmth to the space. The use of soft blue elicits thoughts of the ocean and a summer sky, and the geometric tile gives the room a modern twist.
Bathe by candlelight
Want to transform a space instantly? Here is an easy trick—add candles to give your bathroom a soft, dreamy glow. By turning off harsh overhead lighting and replacing it with candlelight, you will feel like you have been transported to a relaxing retreat. Various candleholders and lanterns give this bath an effortless and inviting look.
Set the mood
It's all in the details, and keeping an assortment of attractively packaged products for guests to try is always a welcoming touch. Displaying finely milled soaps not only looks chic, but it is also useful. Find ones like these—fragranced with cedar, black raspberry, and vanilla to awaken the senses and create inviting scents in your bathroom.
Bring in some bling
Sometimes you don't need to change the whole space; you just need to update the finishing touches. Swapping out faucets can give a bathroom a serious update. This sleek brass one pairs well with the deep-colored tile behind it but would look great with any aesthetic.
Editors' Recommendations