Whether you are looking to redesign a bathroom or are in need of brighter lighting when you get ready in the morning, there are tons of bathroom lighting ideas depending on your needs. Nowhere is lighting more important than in a bathroom, so you want to make sure you're choosing wisely. You need to consider bulb type, lighting direction (downlighting is key for dark bathrooms), size, and, of course, overall design. The bathroom is where you start and end your days, a place where you put makeup on, shave, and style your hair, so you want lighting bright enough during those times but that can also be dimmed to create a spa-like environment if you want to soak in the tub.
Here are bathroom lighting ideas we think you'll love.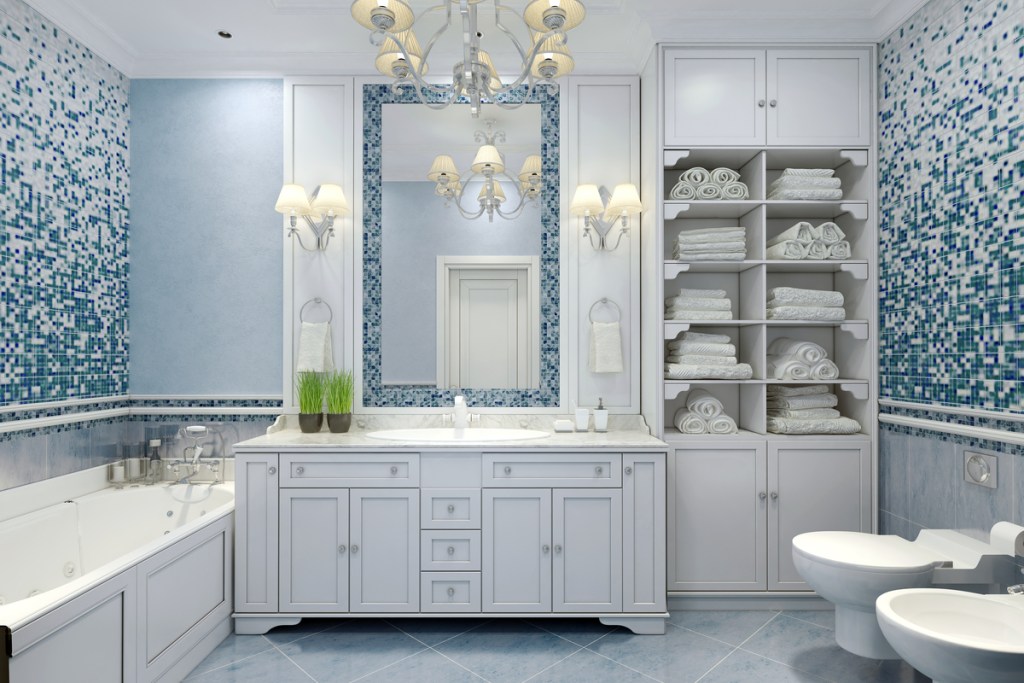 What type of lighting is best for bathrooms?
There are tons of different types of vanity lights — caged, tube, shaded, and globe — and different bulb types for each. We like lights with a high Color Rendering Index (CRI) of 90 or higher so you can see all the colors in the room.
If you have a bathroom with a lot of natural light, you can opt for shaded options that may not give off as much light. Conversely, if there is limited natural light, choose lighting like bulbs or wall sconces on either side of the bathroom mirror that are more illuminating.
What type of lighting is best for makeup?
We love the old-school lighted mirror for putting on makeup. It's lasted through the decades because it works. This one from Amazon has thousands of 5-star reviews and has 21 LED lights built-in so you can see exactly what you're doing. You can also adjust the brightness via a touch sensor, so it can be really bright when you need it and dim if you're putting on makeup while someone is sleeping near you.
If you're really ready to take the lighting plunge, you can also invest in a vanity mirror that has built-in LEDs. These are perfect for putting on makeup and automatically give your bathroom a more upscale look.
LEDs in general are great for a bathroom because they are bright, energy-efficient, and less hassle than any other type of lighting — so don't just consider them for a mirrored makeup light.
What is trending in bathroom lighting?
As we've all spent more and more time at home, our bathrooms have become a sanctuary where we can get away and relax. So why not make your bathroom feel like an actual spa?
Statement lighting has become a big trend this year. Choose a large chandelier or elegant pendants like you'd see in a hotel spa. Nature is also having a big moment, so why not combine the two and go for something like this Monique Lhuillier chandelier from Pottery Barn? This will offer both mood lighting and the drama necessary to create an at-home oasis, all while feeling like you are bringing the outdoors in.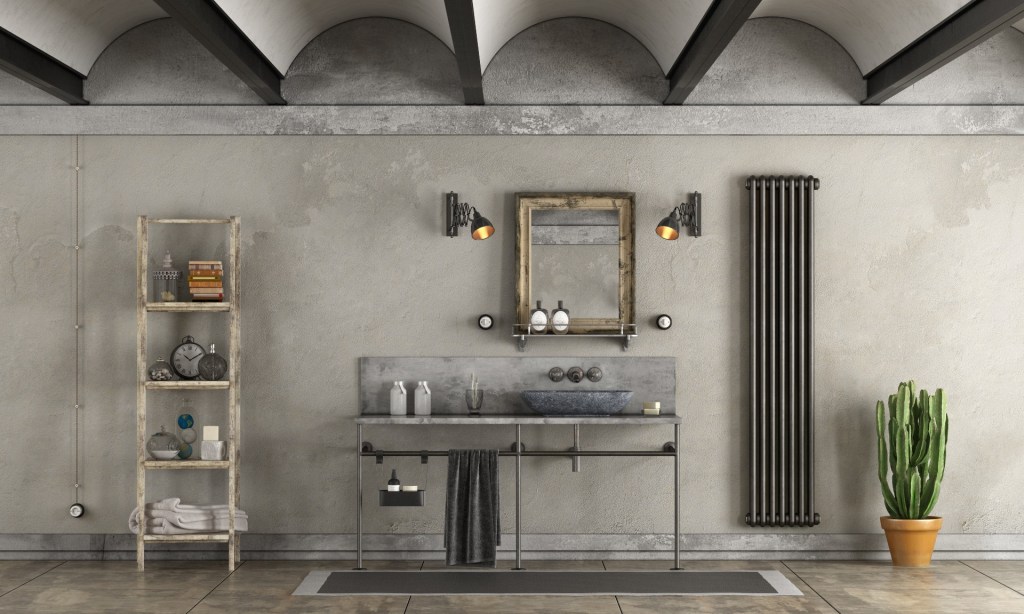 Think about layered lighting
Another form-meets-function trend we love is layered lighting. This means there are multiple lighting sources throughout the bathroom depending on what's needed. For instance, you could have accent lighting like the pendants mentioned above for mood, task lighting like recessed lights above the shower (which is key for leg shaving), and overall lighting to illuminate the entire space. You can mix and match different styles and metals or have one uniform look throughout the bathroom, depending on your personal style.
Your bathroom is a place for putting on face masks, shaving, plucking, and showering, so you need a room that provides proper lighting throughout, especially if you don't have a lot of natural light or have a large bathroom that needs multiple lights. Bright lights are important for this, but not when you want to relax, light a candle, and listen to soothing music in the bath. One idea we love for a bathroom is to install dimmer switches so you can have the best of both worlds, and you can switch them up and down depending on your needs.
There are dimmers available for fluorescent, LED, and incandescent lights. Some come already available depending on the lighting your choose and others can be easily installed to existing lighting. Before you choose fixtures, make sure you know what wattage the lights can take and factor this into how you use the space on a daily basis. Spend time looking at all the options out there, especially if you are building or remodeling, and have the option to really map out where the lights will go and how you want the fixtures to flow. Bathroom lights can make a space, so get creative and have fun.
Editors' Recommendations