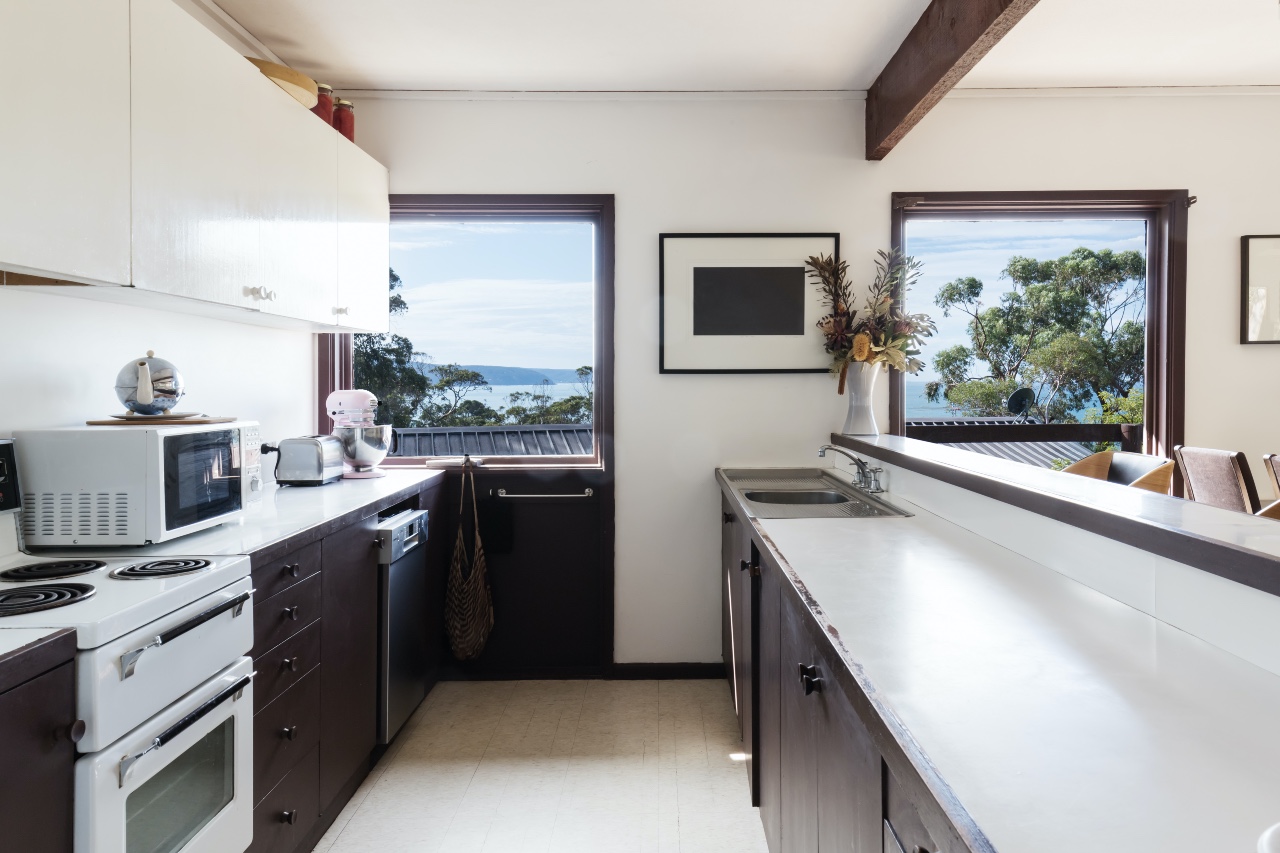 A galley kitchen is two parallel runs of cabinets with an aisle in between. It is sometimes referred to as a corridor kitchen. Ships and airplanes have galley kitchens because they are efficient and have a small footprint. They are popular for apartments, but some builders and homeowners favor them for open-concept homes as well as smaller homes. They make optimal use of space because food storage, prep area, and cooking area are all within easy reach. They can have a very sleek, contemporary feel.
Some galley specifics
When designing a galley kitchen, you need to know how much length and height you have to work with. You need at least 42 inches of space as an aisle between the cabinets. More is less efficient, but you also need to take into account if more than one person is going to be working in the kitchen.
Unless there is something at the end of the two cabinet runs, like a wall or a seating area, the corridor between the cabinets becomes a sort of thoroughfare. If children or pets are going to be constantly moving through the aisle, you may want to rethink this idea because of safety concerns.
Galley kitchen ideas are fairly flexible, but you need to keep in mind where the electrical is because of the stove and other appliances and what to do about the refrigerator. The standard depth of a refrigerator is 32 to 36 inches, and the standard depth of a countertop on top of a lower cabinet is 25 inches. You are either going to need a custom refrigerator or you need to configure the kitchen to have the refrigerator at an end. Putting a tall, deeper pantry cabinet across from the refrigerator will correct the symmetry.
There is a sort of prep/store/cook triangle you need to be aware of, so the sink, stove, and refrigerator should be within a couple of steps of each other.
Having the sink and stove on the same side of the cabinet run is a good idea, though it may not seem as efficient as having them each on one side, but taking a few steps sideways is safer than turning around.
Think about the dining area
Galley kitchens don't usually include dining space, which means you'll be taking the food to a dining room or a dining area. However, one way to get around that is to create a lower area on one run of the cabinets. Put stools or seats on the other side. Or, put in a smaller raised counter and use the space as a pass-through to the dining area.
You can also put a dining area at the end if there is a wall there. Mount a countertop and put in stools or seats and use that as a cute little dining nook.
Cabinets, shelves, and colors
You've figured out how much you have for space on either side of your aisle, and you've gotten the specs for the appliances and put them into the equation. Now, think about whether you want upper cabinets along the top of both runs of cabinets, or do you want open shelving to break up the space and give the design a little air?
To brighten up the space in general, use a countertop that has some shine to it to move the light around and use a bright, glossy tile backsplash.
Put the tallest cabinets at the end, so it doesn't feel like you are walking into a closed-in space.
Use glass in some of the cabinets because that will also reflect light and brighten up the space. If you are reluctant to put glass in because that means your dishes will always have to be organized, use a textured or frosted glass. You will still get reflected light, but people won't be able to see in.
Put in enough storage to keep small appliances like blenders, food processors, and toasters off the counter. Keep your kitchen organized to make the area look bigger. Think about where you are putting the shelves in the pantry cabinet or cabinets so taller appliances will fit.
Before deciding on a galley design, go over the pros and cons, On the pro side, galley kitchens are efficient, they maximize space, and they can, depending on the appliances, cost less than a regular kitchen. On the con side, the kitchen is cut off from the rest of the house — so no socializing while cooking, it's difficult for more than one cook to work in the kitchen, and there's no view of the outside while you are at the sink. But if you tweak the design to take care of any misgivings you might have, a galley kitchen can be a great idea.
Editors' Recommendations