Owning a home is a big responsibility, and remodeling it can be a huge undertaking. Choosing the right look and then materials that work for you can be a daunting task. There are so many different materials you can use for kitchen countertops these days that the choices can be overwhelming. Once you figure out the look you are going for and what matches the other decor in your kitchen, you then need to figure out what materials you want to use. There are pros and cons to any material that you choose, and we've outlined them for you below to make the choice a bit easier.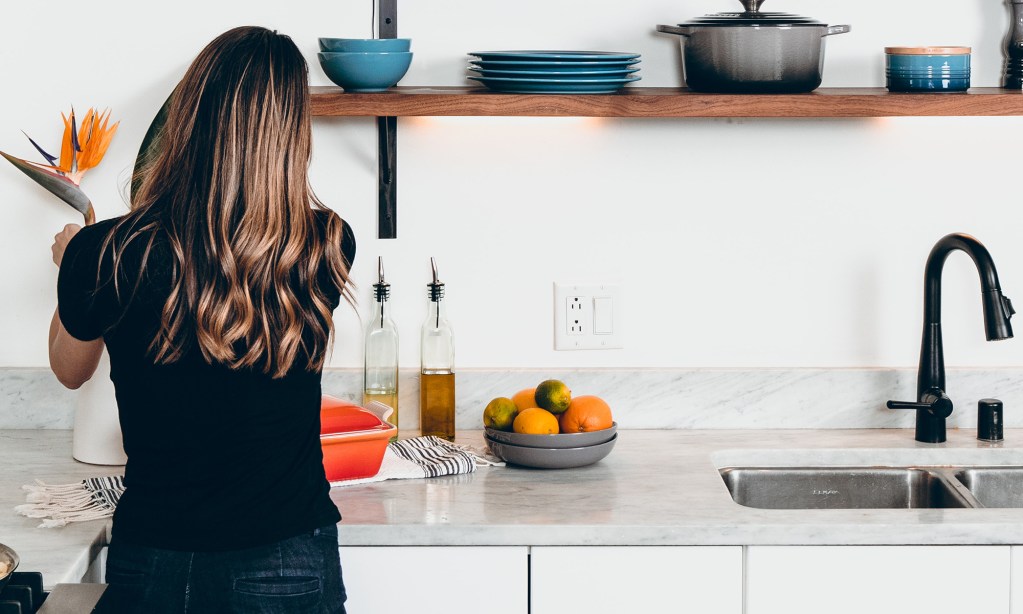 Granite
Pros of granite
Granite has been a top choice for homeowners looking to improve the look of their overall kitchen for years and for many reasons. The pros of granite are plentiful, beginning with the fact that it is visually appealing.
Versatile look: First of all, every slab of granite is unique; each piece has its own lines, colors, and patterns. This is a major plus for anyone looking to have a one-of-a-kind piece that doesn't exist anywhere else. Also, since there are over 20 different shades of granite to choose from, you're sure to find a color that suits your tastes.
Durability: Granite is very durable, which means your investment will last for years. It is a hard material that is scratch-resistant to anything other than diamond or granite itself. This is excellent news for anyone who loves to cook because you don't have to worry about damaging your new counters if your knife slips off the cutting board.
Heat-resistant: Granite is also heat-resistant and thus very practical when it comes to cooking. Placing hot pots and pans directly onto the countertop is not a problem because the granite will not become damaged or weakened. They're not only heat resistant, but granite countertops are also stain-resistant because they don't absorb liquids when they are correctly sealed.
Cons of granite
Staining: The downside to the heat-resistant feature is that if your granite is not sealed properly, it will absorb liquids such as wine, coffee, or juice, and this will stain your granite. Improperly sealed granite can also house bacteria because it is porous.
Chipping: Though granite is extremely durable, it can chip if you drop something substantial on it, especially if it is an overhang or corner. Again, this can cause liquids to get into the pores of the granite where bacteria can grow.
Cold: One of the most common complaints about granite countertops is that they are cold. If you lean on a granite countertop, it is cold on your skin. This is because a large slab of granite has so much mass that it pulls heat away from the skin and makes the brain perceive that the surface is cold.
Expense: The last main downside to granite is that it is expensive. Because granite is one slab of material and that no two pieces are alike, granite can run anywhere from $100 – $250 per square foot. Comparatively speaking, this is much more expensive than quartz or laminate.
Marble
Pros of marble
Marble is another top choice for homeowners looking to add some elegance to their kitchens. Marble has been a favorite medium of sculptors and architects throughout history, and today's designers love it for high-end bathrooms and kitchens. Beauty does come at a price, however, so weighing the pros and cons of investing in marble before you buy is crucial.
Visually appealing: As stated above, marble is a gorgeous material and makes any kitchen beautiful. Much like granite, no two marble countertops are the same since they are naturally occurring slabs of stone.
Availability: One of the best features of marble is that it is a naturally occurring stone that can be found all over the world. This makes it widely available in many different varieties and will give you a unique countertop.
Increases the value of your home over time: When well maintained, marble can increase in value over time. This fact makes your new kitchen countertop an actual investment in your home and can significantly contribute to your home's marketability. Taking proper care of your marble countertops is imperative yet totally worth it. It can be a bit of work to keep your marble in good shape, so if you're not prepared to invest the time and energy into the material, you may want to consider another type of countertop.
Cons of marble
Expense: Aside from being one of the most expensive materials available for kitchen countertops, marble is also very heavy, states Hunker. It is so heavy that the idea of installing it on your own is almost out of the question. This means that you will not only have to shell out the money for your slab of marble, but you also have to pay for professional installation, as well. You will also have to consider the weight of your chunk of marble to be sure that the counter you are installing it on is sturdy enough to support it.
Staining: One of the other main downsides to marble in a kitchen is that it stains easily due to the natural porosity of the stone. Anything that you spill on a marble countertop can easily seep down into the marble and become a stain if you don't wipe it up right away. There are stain removers made for marble, but this is another added expense to maintaining your countertops.
Prone to damage: In addition to staining easily, marble can also be prone to nicks, cracks, and scratches because it is one of the softer stones. Dropping anything heavy or sharp on your countertops can cause permanent damage. On top of the accumulation of wear and tear over the years, marble also breaks down naturally over time, as most stones do. If you don't stay on top of the upkeep, you will speed up the natural process of deterioration.
Quartz
Pros of quartz
Quartz countertops have been a popular choice in Europe for many years now but are still a growing trend in the U.S. Quartz combines the attractive qualities of stone countertops with the affordability of laminate countertops into one likable option. Quartz is versatile and visually appealing.
Color options: One of the best reasons to choose a quartz countertop for your kitchen is that there are endless color options. Quartz can be a quarried slab or an engineered piece, which means you can get any color you can dream up. This fact makes quartz a reasonable choice for those who are remodeling and trying to find a color to match their existing decor.
Low maintenance: Quartz is also a low-maintenance option when compared to other stone materials. Quartz is virtually indestructible, and many quartz countertops come with a warranty. Because quartz isn't porous like other stone options, there are fewer sanitary concerns, as well.
Durability: Due to its durability, quartz also resists staining and corrosion, unlike marble and granite. Liquids such as oil, red wine, and juice are no match for a quartz countertop. There is no need to reseal a quartz countertop over time either, since the medium is naturally liquid resistant.
Cons of quartz
Heat: Unlike granite, quartz is not heat resistant. Excessive heat will damage a quartz countertop quickly, so even momentarily setting a hot pan on the countertop is enough to damage it. Heating pads are a must-have for anyone with quartz countertops.
Expense: Quartz can be on the expensive side, but it is not as expensive as granite or marble. However, once you add installation costs, quartz countertops can cost around $100 per square foot. When you consider the cost of upkeep, quartz is a more affordable option when looking to upgrade your kitchen countertops.
Limited sink options: One of the things that is probably considered the least but is very important is that quartz countertops limit your sink options significantly. Integrated sinks are not an option with quartz countertops as they are with granite and marble. Instead, you must use a flush-mount, drop-in, or undermount sink to avoid damaging the countertop.
There are other materials that are popular choices for kitchen countertops that are not stone: laminate, stainless steel, concrete, tile, wood, and more. They all have their pros and cons. Concrete is extremely durable but can be expensive. Laminate is significantly cheaper than the other materials but is less durable and damages easily. Ultimately, the choice comes down to what your budget is and what look you are going for. Durability, weight, and stain resistance are all important factors to consider and play into the longevity and resale value of your home.
Editors' Recommendations