Remodeling a kitchen is without a doubt the most complex, time-intensive, and expensive home project. "The timeline of a kitchen remodel can be quite significant considering the investment of time up front designing the new kitchen, lead times for production, shipping, and ultimately the actual remodel of the kitchen itself," explains Rob Shaw, who has over a decade of experience in residential construction and is a ProTip "virtual expert" on the app that connects users with verified home-improvement experts on demand for personalized step-by-step virtual help with home-maintenance questions, repairs, and DIY projects via one-on-one video calls.
If you are planning a kitchen remodel, here is everything you need to know about it — including where to start.
First, consider your budget
The first step in a kitchen remodel is defining what financial resources you can dedicate to a project like this. "Understanding your budget will help narrow the scope of where your kitchen's design can go, things you can splurge on, things you may be more cost-effective with," says Shaw.
For the sake of our article, consider a budget on the higher end of a mid-range budget with $45,000 +/- to work with to cover materials, appliances, installation, and any design costs. But before you start shopping for the fun stuff, keep in mind that installation is costly. "Typically, it is safe to factor around 15-25% for your installation budget," Shaw points out.
Next, start designing your kitchen
Regardless of your style, you will always have the support of a kitchen-design consultant ,whether you go to a high-end contemporary style like Scavolini or want a more classic design you can accomplish with your local custom millwork shop. If you are being more budget-conscious, Home Depot and Lowe's offer reputable kitchen-design services, as does IKEA for the more modern style.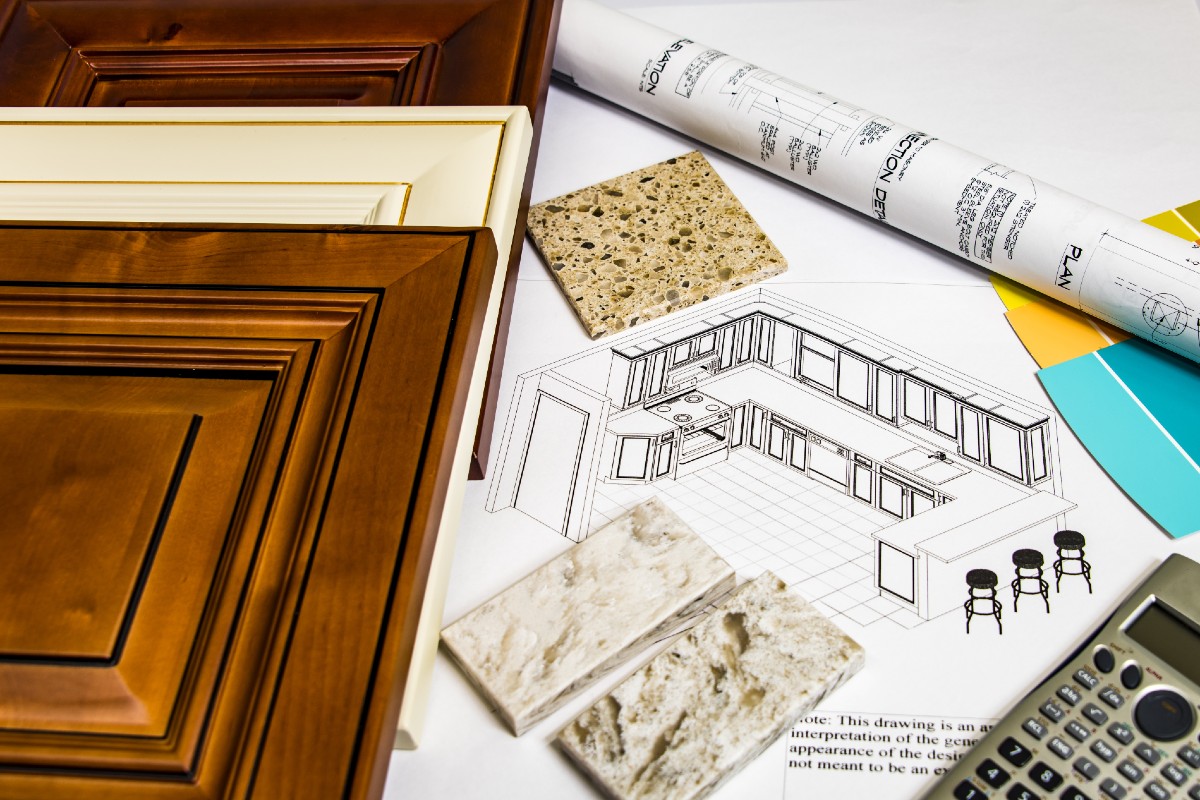 Schedule your timeline
Next is figuring out the timeline and completion goal. Designing a kitchen layout and selecting your casework is the first order, which can take one to four weeks, mostly depending on how hard you want to shop around, explains Shaw. "You will also want to shop some appliances at this time such as your stove and refrigerator, so your designer can incorporate that into the cabinet design," he says.
Shop around
For the above budget, Shaw explains that a bulk of it will go toward cabinetry. "If we can get a price for custom white shaker cabinets for a 10×10 kitchen with tall upper cabinets and crown molding around $10,000-$12,000, we would be in great shape," he explains. "Appliances will likely consume another $3,000-5,000 of your budget." Keep in mind that great deals can be found for those who search for things like showroom models that are discounted heavily. "Custom cabinetry will allow you to control all aspects of your kitchen's layout," Shaw adds. "The only compromise needed for the individuality is patience, as it will likely be over 10 weeks before these are ready for delivery."
Plan your finishes
Finishes can make or break a kitchen remodel. Once you have the general design planned out, it's time to star shopping for finishes like backsplash tile, plumbing fixtures to match your appliances, flooring, and of course countertops (more on countertops coming)! "Safely budgeting for $7,000-$9,000 will allow you to have terrific options for all," Shaw says.
Procurement and installation
With your design complete and materials selected, it is time for procurement and installation. "Lead times will always vary manufacturer to manufacturer," Shaw explains. For example, products from Europe are often going to take six to 10 weeks for delivery compared to local suppliers, which may be able to cut lead times to one week or less. With all or most of your materials ready for installation, you can expect approximately three weeks or so of demolition, installation, and completion. "Keep in mind while you may select your countertop stone, they cannot be templated until the cabinets are installed," he says. "So make a push to get those cabinets in to stay on track."
Biggest mistakes
Shaw reveals that there are a number of common missteps that people make during the kitchen-remodel process. "Avoiding big mistakes prevents projects from going above budget, long on completion time, and keeps stress low at home," he says.
Scattered lead times
You don't want to turn your home into a warehouse for a kitchen project. "If you are scattering your product purchases, you are now feeling the invasiveness of the project earlier than necessary," he suggests. "Schedule deliveries all for a week or so before your desired start date."
Fast, cheap, or good?
This is more of a rule than anything, but there is an old saying in construction: "There are installers that are fast, cheap, or good, but you can only pick two because all three don't exist!" "Understand that cheap labor might not be a money-saver in the long run, and quality craftsmanship commands more of a premium," Shaw says.
Starting the project before selecting materials
"It can be exciting to watch HGTV and see people smashing out walls and beginning a project, but that is not the start!" says Shaw. Instead, design then demolish. "You don't want to be without a kitchen for months on end," he notes.
Using marble
"Marble is beautiful, but it is soft and porous leaving it vulnerable to breaking under weight — including its own — and absorbing things like red wine that will never come out of the stone," Shaw points out. New technology in porcelain development has allowed for innovative options that allow the marble look with the strength and durability of porcelain, as well as many other many made hard surface materials.
Editors' Recommendations