Your kitchen is the heart of your home, where your family members gather to eat and chat several times a day. Keep it updated with a few easy DIY remodel projects you can tackle without much hassle. Whether it's your wall that needs restoration or your cabinets that need repainting, our budget-friendly ideas can help you remodel your kitchen with little to no help.
Put up a tile backsplash
Your kitchen tile backsplash prevents water and food particles from staining the wall above your sink, oven, and countertops. In the days of old, we would need tiles, mortars, adhesives, and a handful of tools for this project. Good news: Today, there are peel and stick backsplashes that look like the real thing. These trendy backsplashes can look like tile, wood, tin, marble, or brick. My Design Rules revealed she installed "glass peel and stick backsplash tile without a wet saw. Like real glass tile. Not the vinyl peel and stick or aluminum adhesive tile stuff."
This remodel takes minutes, and the only prepping you need is cleaning the wall and making sure it's dry before applying the stickers.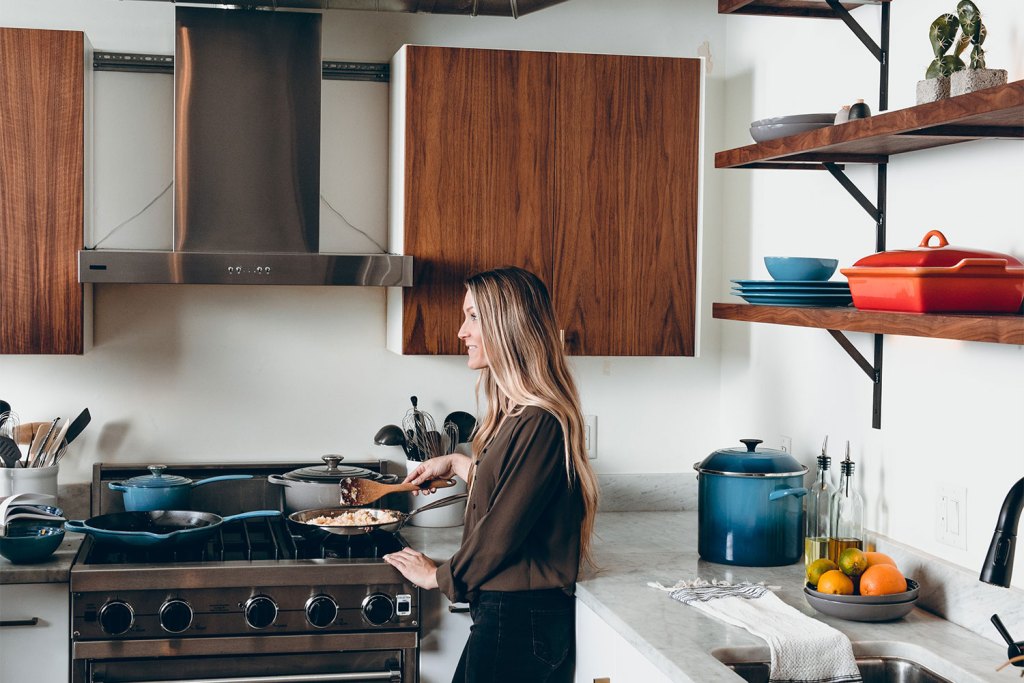 Repaint your cabinets
If your cabinets are old, dark, dated, stained or faded, the chances are that they make your kitchen look lackluster. No worries — you can repaint your cabinets even on a restricted budget. Granted, repainting your kitchen cabinets may take a whole weekend, but the results are so worth it.
This easy, cost-effective DIY remodel instantly brightens up your kitchen and brings it into modern times. Choose a gloss or semi-gloss finish that will withstand even the busiest of kitchens for years to come.
However, Lowe's cautions us, "If your cabinets were previously painted and your house was built before 1978, the paint may be lead-based. Use a testing kit or call a professional for help. Always refer to the manufacturer's instructions on all paint-stripping products."
Replace your faucet
Replace your old-fashioned faucet with a contemporary alternative. Matte black and stainless steel faucets are popular, thanks to their versatile look. Pull-down brass faucets are also a stylish choice to help warm up your kitchen. No matter which material you go with, choose a faucet with a gooseneck to help you wash dishes, produce, and your hands easily.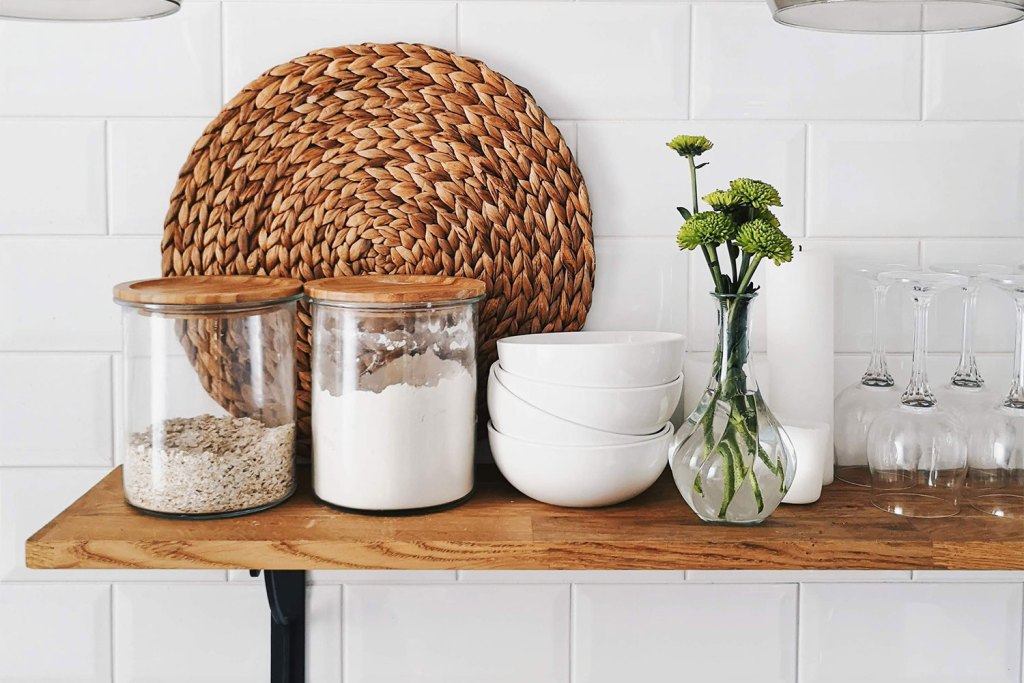 Introduce floating shelves
A floating shelf gives you more storage when your cabinets are full. Beyond that, you can display unique dishware, flower vases, and cookbooks artistically on floating kitchen shelves. Wood is the best choice for floating shelves since they are the easiest to install. Metal is a little trickier to manipulate, but metal shelves are not entirely impossible to put up.
For floating shelves, you'll need your shelf pieces, a level, a drill and bit, brackets, and measuring tape.
Create a kitchen island
The coveted kitchen island doesn't need to cost thousands of dollars. In fact, the most charming kitchen islands result from a DIY remodel. Simphome suggests making your own, as it won't cost you "an arm and a leg." For your own kitchen island, you'll need cabinets and a solid top. Tops are commonly made of concrete, butcher blocks, solid wood, quartz, or granite. Note that wood and quartz are your most budget-friendly choices.
Besides traditional cabinets, invest in a rolling cart, hidden trash bin cabinet, or wooden table for your DIY kitchen island. With the right top and paint finish, any of these options become attractive kitchen islands.
Install lights under your cabinets
Lighting under your kitchen cabinets provides ample visibility even without turning on your overhead lamps. Installing under-cabinet lighting requires a wiring plan, cable lights, a wire stripper, a hacksaw, a drill, and a voltage tester. This is an all-day project, so allocate one of your weekend days for this DIY remodel.
Puck lights and strip lights are popular choices for under-cabinet lighting. For an easier project with similar results, consider tape lights or rope lights, which don't require much elbow grease or time.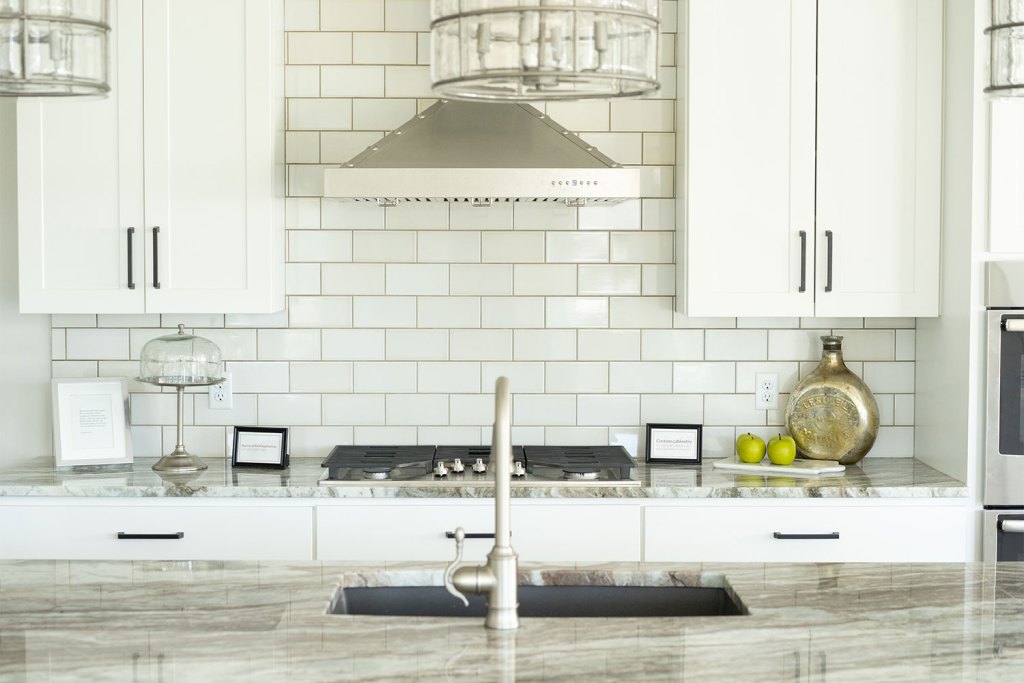 Revamp your kitchen tiles
Yellowed grout and stained tiles can be easily fixed with an extra-strength grout paste, a brush, and a little bit of time. Make the space between your tiles brilliantly white again for an easy upgrade. If you're up for another paint job, use stencils to paint designs on your plain tiles to re-decorate your kitchen in a subtle way. You won't need to replace your flooring, but you'll look forward to walking into your kitchen with your new tile designs there to greet you.
This DIY project takes about a day, depending on how large your kitchen is and how quickly your choice of paint dries.
Stylize your ceiling
When we think of DIY kitchen projects, we might stick to cabinets, kitchen islands, and appliances, but we rarely consider the ceiling. This unused kitchen real estate can be revamped with glue-on ceiling tiles. Plain white ceiling tiles or faux tin tiles featuring decorative embossed designs make your kitchen feel more sophisticated with little effort. If you have a popcorn ceiling, these tiles are your saving grace.
Stick to white or light metal tiles to brighten up your kitchen, or choose darker tiles for a dramatic effect.
Your kitchen is one of the designated hangout spots for family and friends, so keeping it looking like new and in working order might be on the top of your home remodel list. Nevertheless, kitchen renovations can be costly and time-consuming. However, with some muscle and any of the budget-friendly DIY remodel ideas on our list, you can revamp your kitchen yourself with confidence.
Editors' Recommendations