The kitchen is one of the most used rooms in many households. Not only is it the place for preparing and sharing meals, but it's also a room to gather and chat over coffee, do homework, play board games, or prepare ingredients. If you don't have a kitchen island, however, you're missing out on half the fun.
Kitchen islands can add extra storage space to your existing cabinetry, provide additional seating for guests, and provide a few more outlets for those small appliances. If you've been searching for an easy DIY kitchen island, you've come to the right place. We found seven free DIY kitchen island projects that you can complete in a single weekend.
Farmhouse kitchen island
To add some farmhouse charm to your kitchen décor, this DIY island featuring two large cupboards (with shelves inside), three shelves, and a large drawer will not disappoint. The overall dimensions of the finished island are 24 inches wide, 60 inches long, and 35.5 inches tall, so be sure to measure your kitchen before breaking ground on this, or any, project. You can purchase all of the materials needed from your local hardware store, or repurpose old wood if you have it on hand.
Michaela's kitchen island
This design combines two islands: one designed by Ana White and another modified by Michaela Harlow. The design blends rustic beauty and modern functionality and comes complete with two large drawers and a wooden work surface. The dimensions of the finished island are 24.5 inches wide, 6o inches long, and 36 inches tall. Feel free to add your own personal touches when choosing the hardware for any of these designs to personalize the finishes.
Shanty-2-Chic island
This DIY plan from shanty-2-chic.com is rustic, functional, and great for small spaces since it's on wheels and can be rolled out of the way if need be. This is also a good option if you are new to the DIY game since this simple plan requires many fewer cuts than some of the others. This design lends itself to a natural finish due to the notch work, but feel free to stain the finished product if necessary to match your décor.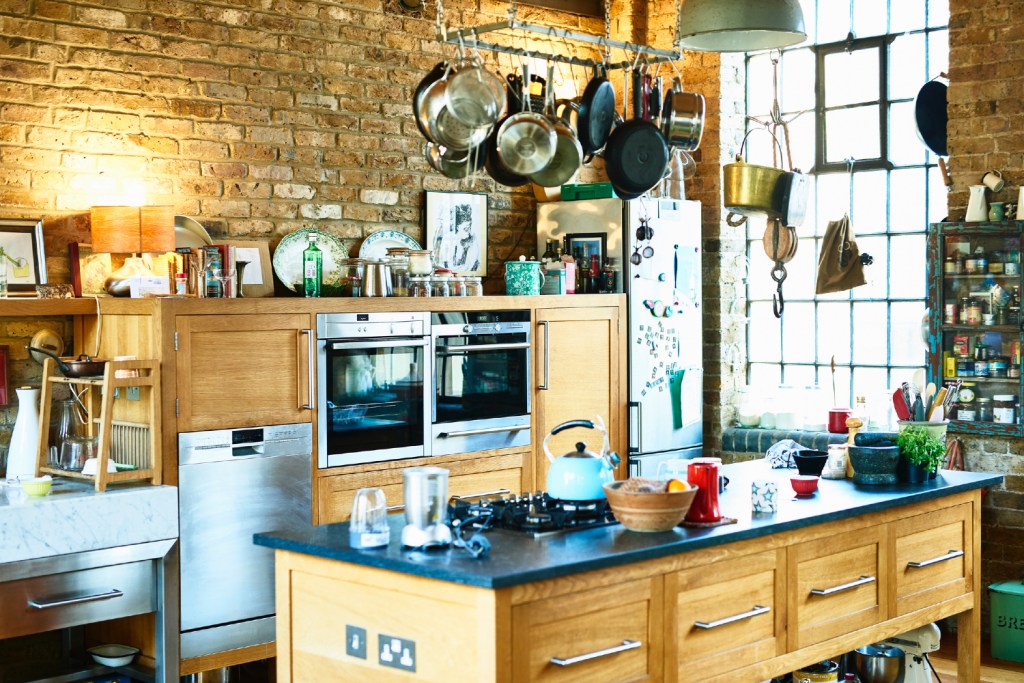 White island with drawers
This island from Cherished Bliss has a classic white and natural wood finish that will match almost any color scheme. The island features two cupboards and four drawers for plenty of storage. The plans for this island are highly customizable. If you're ambitious, turn one of the cupboards into a pull-out trash bin holder or transform two of the drawers into one deeper drawer. Once you get the basic idea planned, you can tweak it to fit your specific needs, and the possibilities are truly endless.
American Barnwood kitchen island
This Napa Style Inspired island is longer than some of the other islands we've seen. The two slat shelves, push-through drawer, and cabinet with a door on both sides provide plenty of extra storage, and since the shelves are open, you can display cookbooks and jars as well. This specific design calls for Barnwood, but if that look doesn't match the rest of the kitchen, feel free to substitute another material.
Cedar rolling island
Cedar is a durable and lightweight wood that isn't super pricey, making this rolling island great for penny pinchers. This particular plan is smaller than many others, which is perfect for smaller spaces and though it doesn't have any drawers or cupboards, it does have a shelf for storage. Because it's on wheels, you can easily move the cart if you want to use it in another part of the house or just stow it away to open up the floor space.
This classic worktable features modern touches, making it another great option for kitchens with the modern farmhouse style. The counter-height workstation has drawers, a pullout waste bin, a storage shelf, and a drop-leaf top to provide even more serving space. The designers painted their workstation green and finished it with brass hardware, but you can paint and finish yours to match your personal style.
With these DIY islands, you can add extra storage and workspaces to your kitchen without committing to an entire remodel. The projects above can all be completed in a day or two and add more functionality to your kitchen at a fraction of the price of a professional installation.
Editors' Recommendations