Fall is much more than pumpkins and Halloween. If you have a mantel and are looking to upgrade your decor, autumn provides endless opportunities. Fall mantel decor should be warm and inviting, a reflection of the feelings the season evokes. A fireplace can be the focal point of the room, and with proper decor for the fall season, you can achieve just that. If you're stuck in a rut of pumpkins and Halloween decorations, worry not. We have some excellent fall mantel decor ideas for you no matter what style your fireplace.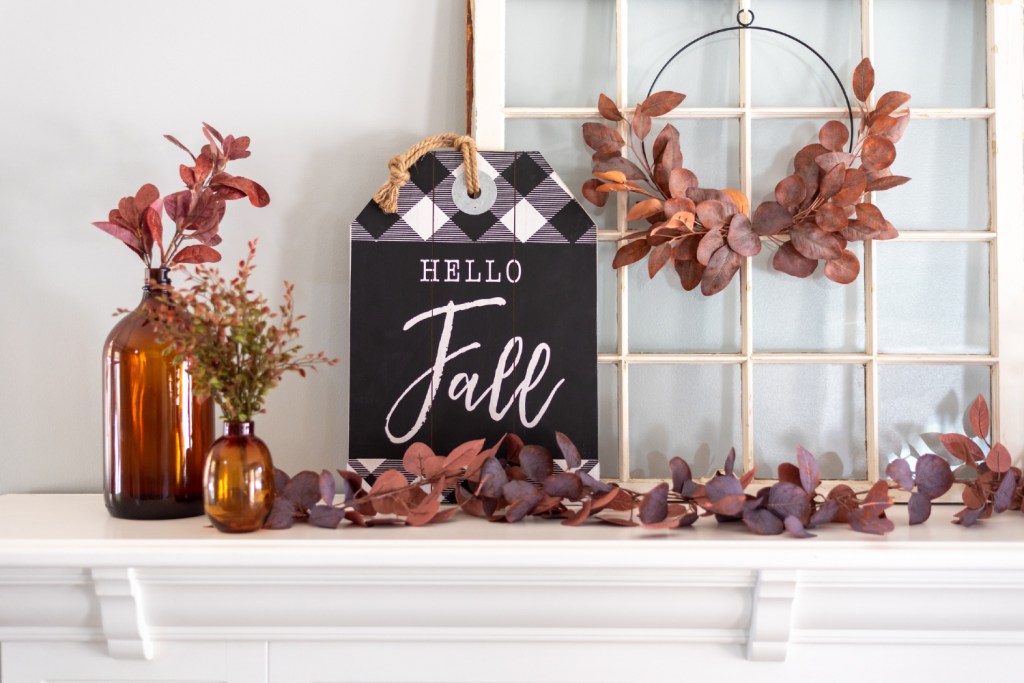 Farmhouse fall mantel
To achieve a farmhouse fall mantel, you want to consider incorporating deep greens, soft oranges, creamy whites, and even some greys. Now is also a great time to break out your farmhouse-style thankful signs and cotton sprigs. You can also incorporate a rustic turkey, country wall hangings, and a fall wreath to round out the look. Metal canisters in white to hold sprigs of foliage or an old wooden crate flipped over to hold another decorative piece will also look great.
Rustic fall mantel
If your fireplace is already rustic, you'll want to keep the fall decor rustic as well. Rustic decor lends itself to repurposed wood and items very well. For example, old wooden shutters flanking a wreath made of leaves is a great DIY rustic look. Repurposing an old window to back up the candles or foliage you put on the mantel is also a great idea that gives off a rustic vibe. Be sure to incorporate bright oranges, deep reds, and vibrant greens to tie everything together.
Traditional fall mantel
Just because you want to avoid pumpkins doesn't mean you can't still go traditional with your mantel decor. You can't go wrong with classic fall colors like vibrant reds and oranges paired with golds and browns. Traditional leaves paired with sprigs of bright red berries and galvanized metal will create a standout mantel. Sunflowers, pinecones, and acorns are all great fillers for the areas around your candles and other pieces. Candles are super traditional and necessary for a fall mantel.
Modern fall mantel
If you're tired of the classic fall decor and your existing motif is modern, a modern fall mantel is just the thing you need. You can still use a wreath; just choose one with a leafy design in white or a monochromatic color scheme. Using colors like silver, black, cream, blush, and sage will give your mantel a fall look without using traditional shades. Don't be afraid to use a few live plants or dried flowers to surround your candles. Another way to achieve a modern look is to go smaller rather than larger. A small display can actually make a more significant statement than a big and busy one. For example, a few cinnamon sticks next to a candle and bourbon bottle will do the trick nicely.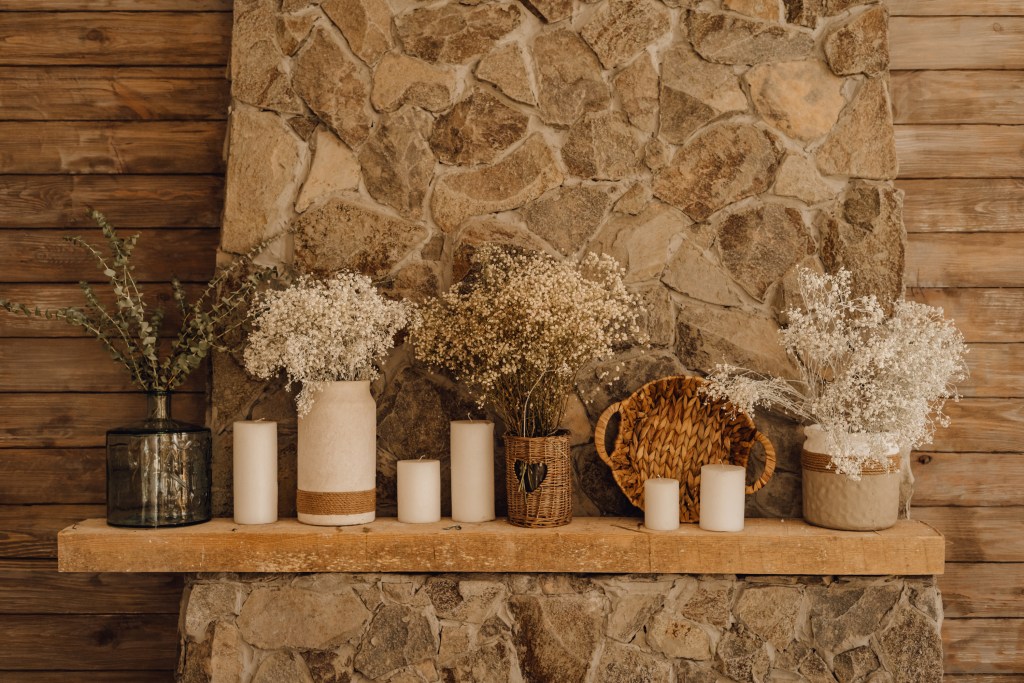 Neutral fall mantel
Neutral fall decorations are calming and relaxing, which is the exact vibe you want when in front of the fireplace, and the possibilities are extensive. Natural wood pieces, vintage pieces, and metallics such as copper will create a natural look easily. Lots of whites, off-whites, and candles will help round out the natural look. Wheat bushels in clean glass vases paired with natural wood will also help you pull off a natural look. A wreath with light blue and green leaves hung on a mirror above the mantel will also make a statement.
Cabin-style fall mantel
Though it may seem like cabin-style is the same as rustic, it can be different. Keeping it simple is the key here — think antlers, chopped wood, and plaid throw blankets. Any decorations you've seen in a cabin in the woods will work on your mantel for fall. Wicker vases and baskets filled with spruce bows and surrounded by pinecones will give you a cabin vibe for sure. Your cabin-style mantel is also a great place to utilize any vintage pieces you may have.
Regardless of what your fireplace decor is, you can find a way to decorate your mantel for fall without falling into the jack-o-lantern and ghost trap. Halloween is a tiny portion of the autumn season, so it's no wonder people are looking for fall decor alternatives. Don't be afraid to stray from the expected fall decoration, and be sure to mix up colors, textures, and patterns to give your fall mantle a fresh look. Once you choose a look, you'll be ready to snuggle up in front of the fireplace in no time.
Editors' Recommendations