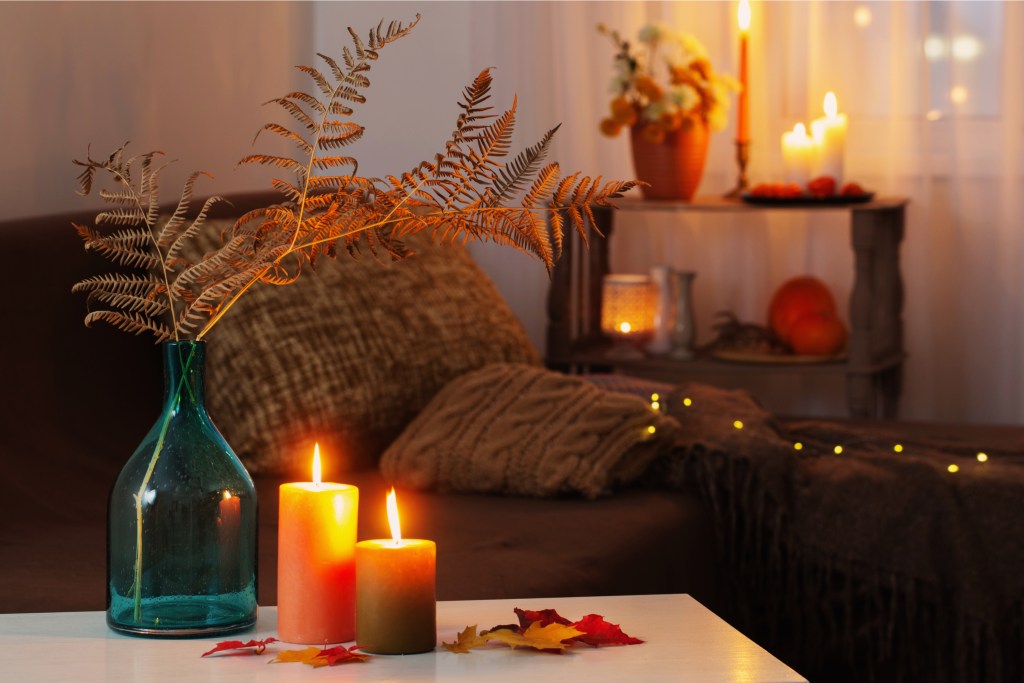 Fall decor and rustic design were practically made for each other. The rich, authentic feel of natural woods, exposed brick, raw materials, and neutral color palettes are the backbone of rustic design, making for a cozy style that's perfect for the autumn scene. If you're ready to refresh your home this season, we have the perfect tips for you. Below, check out some of the best fall home decor ideas from Pinterest that will fit right in with your rustic theme.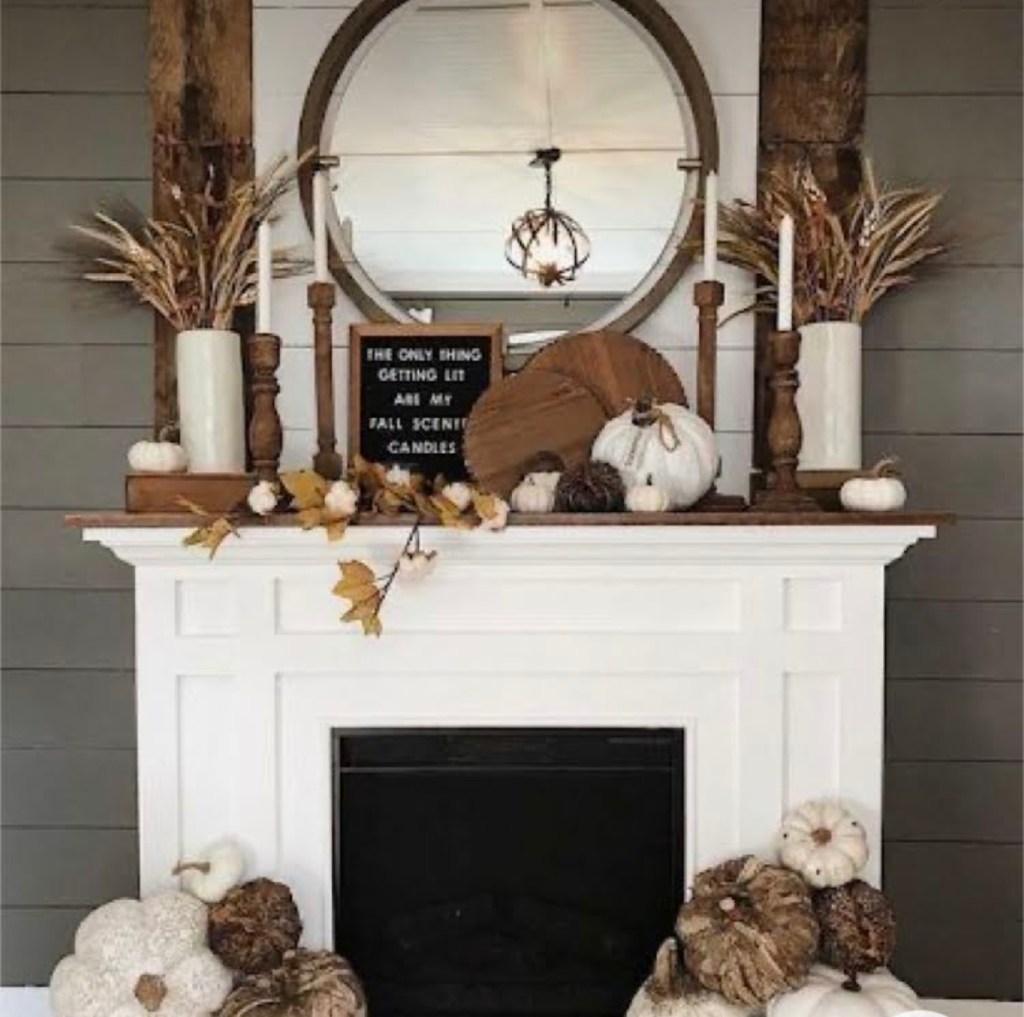 Dress up the fireplace with organic materials
Whether your fireplace showcases raw wood, exposed stone, or a sleek white frame, you can always enhance its beauty with natural elements.
This pin by Brick Anew features a stunning white fireplace adorned with neutral-colored pumpkins, a plank of raw wood, and fall grasses and leaves. Be sure to stagger the materials you use — there is no need to keep things in line. Your natural materials will look best when they are a bit haphazard. Additionally, feel free to experiment with twigs, mini hay bales, and gourds to diversify your natural fall decor. We also recommend pairing these organic items with materials like glass, stained wood, and chalkboards to add a little intrigue to the items on display.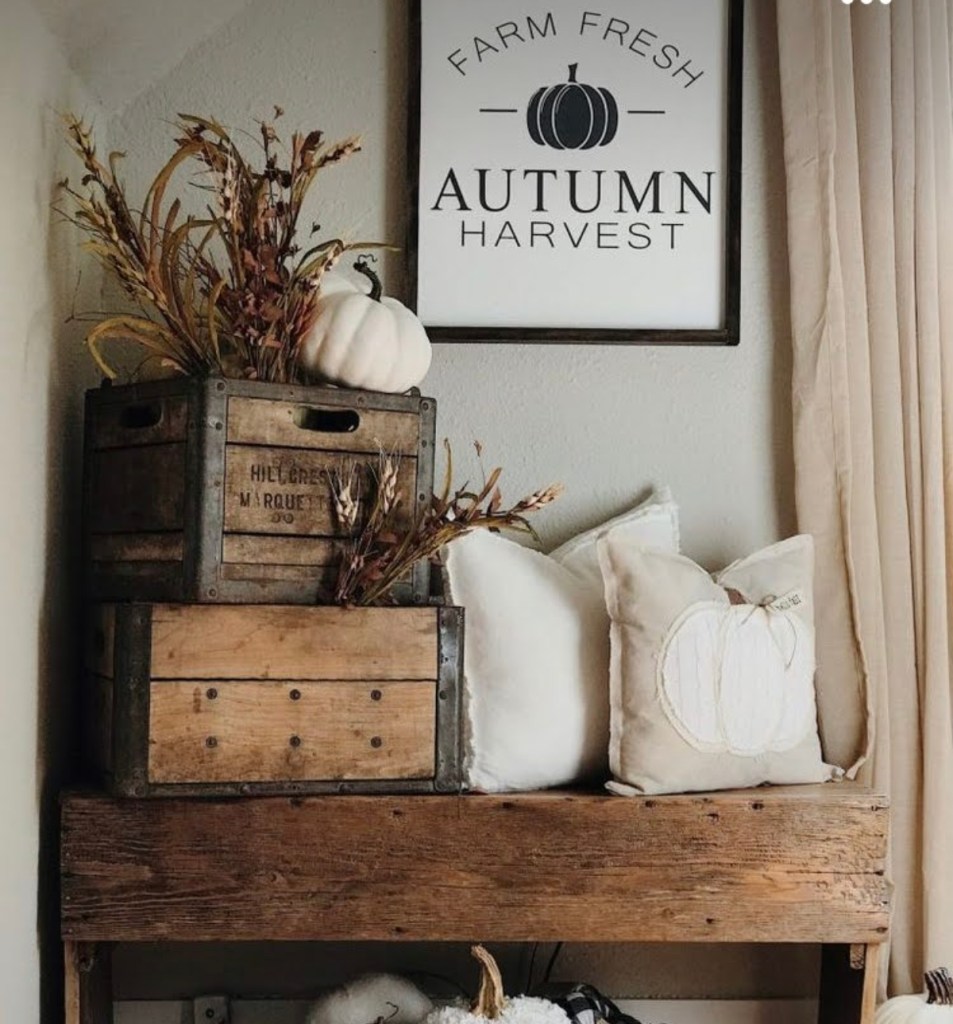 Opt for natural wood
Natural wood is a staple in rustic design. This pin from One Thousand Oaks embraces the use of raw wood in a small entryway. This design features a reclaimed wooden bench that holds some antique crates and plush white pillows, making the perfect sitting area for getting ready in the morning.
Use reclaimed wood to create coffee tables, dining tables, or even a small shoe rack if you like. Raw wood looks stunning in many homes and creates a wholesome, cozy feel in the fall, but it still needs a pop of color. When decorating these pieces for the season, be sure to use colorful pumpkins and soft pillows to enhance the cozy fall vibe.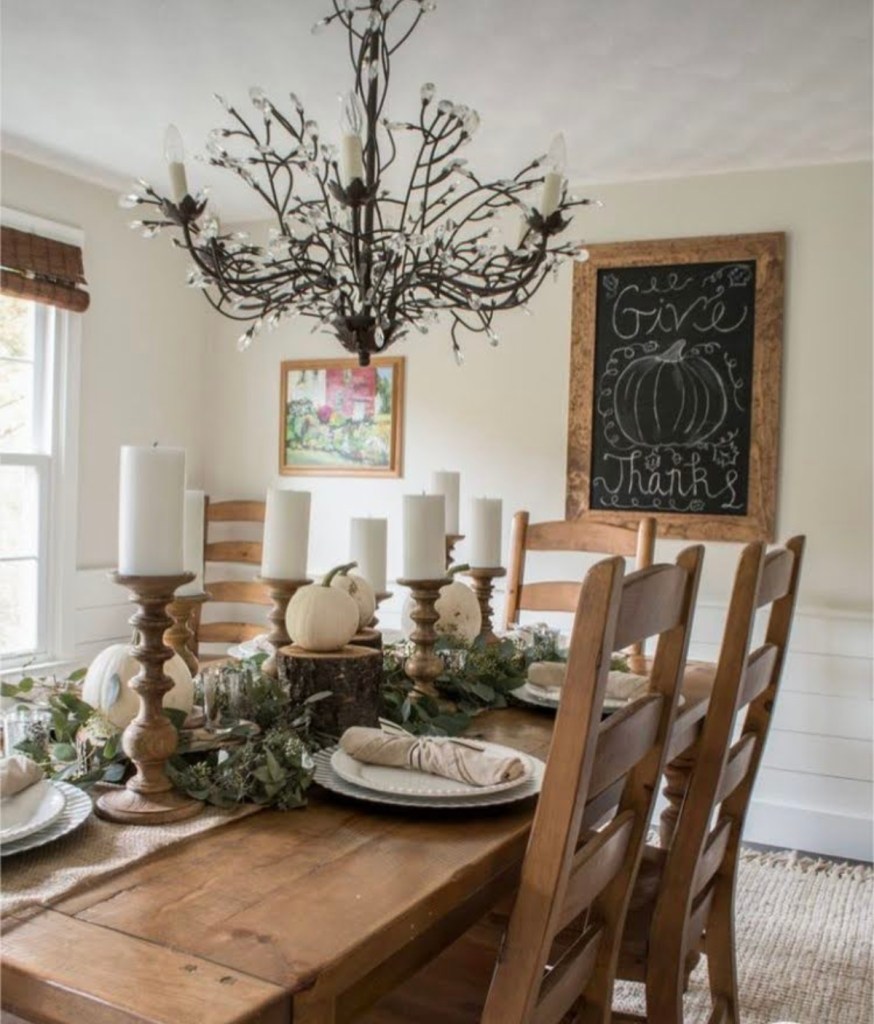 Decorate the dining table
Your dining table will see a lot of action during the holiday season, so this is one area of the home that simply can't be neglected. Decorate your dining table to match the fall season outside to create an inviting atmosphere for you and your family.
This pin by Nina Hendrick Home features a wooden dining table decorated with white candles, natural leaves, pumpkins, and a few cut logs to add elevation across the table. It's a creative way to create that "lived-in" look that rustic design favors, preventing the decor from becoming too seamless and organized. When decorating your dining table this fall, try to use grandiose centerpieces with cornucopias, logs, pumpkins, fall leaves, branches, and lots of candles. The harvest season is all about celebrating abundance, after all, so keep your arrangements loose and place things in asymmetrical ways to create visual movement.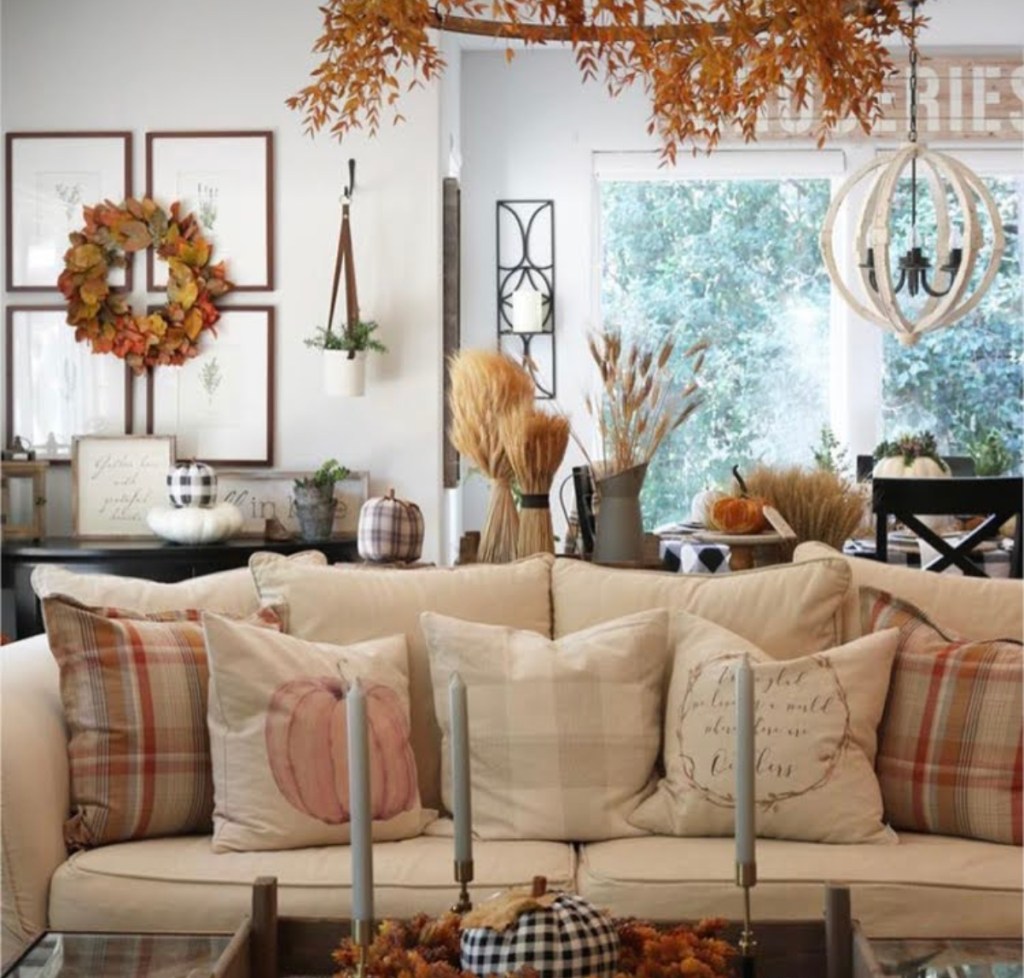 Keep a neutral color palette
While bold reds and yellows are popular seasonal colors, go for a softer look this season and opt for neutral tones like creams and browns. We love this setup curated by Canadian Log Homes — the use of color is minimal and gentle on the eye, making for a relaxing atmosphere. Softer colors and neutral palettes definitely break away from the traditional fall color palette, but it allows the individual pieces to shine, not just the crazy colors.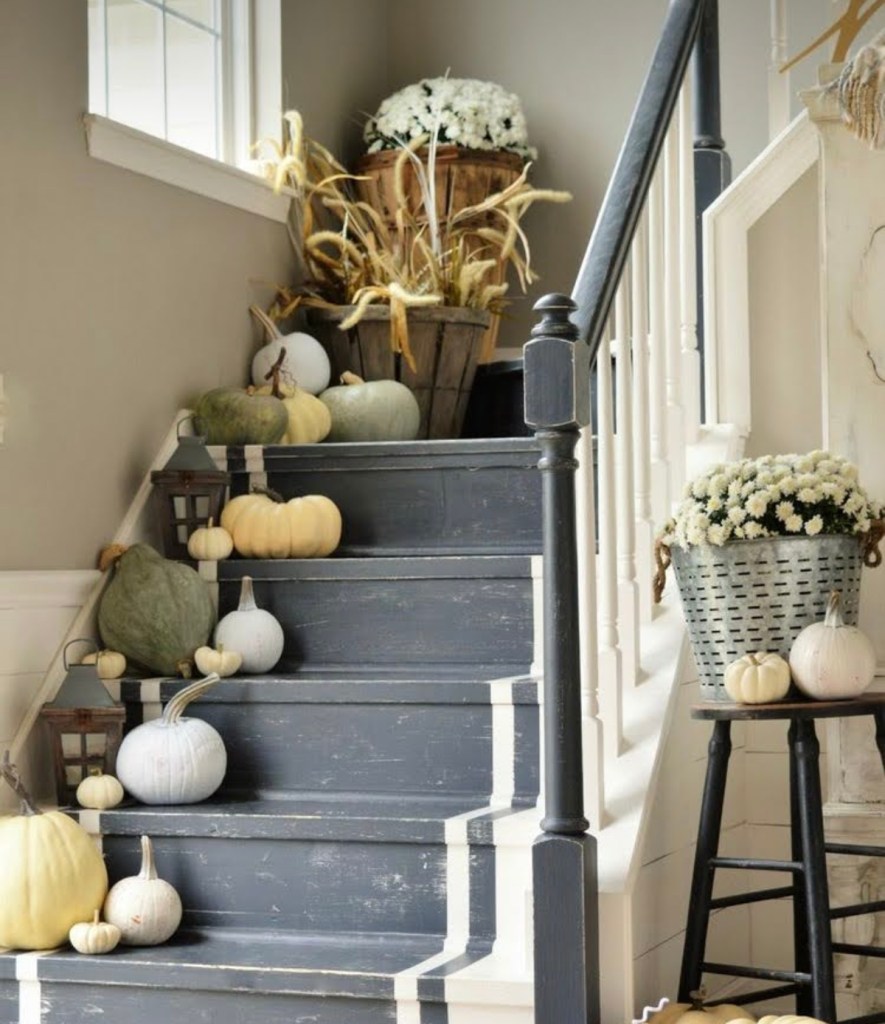 Adorn the staircase
If you have a staircase in your home, this could be an excellent opportunity to adorn it with your fall decor. Rustic fall decor looks incredible on staircases because the natural elevation draws the eye up and around the whole space. This pin by The Other Side of Neutral is a great example. This designer used pumpkins, lanterns, corn stalks, and large wooden containers to add life to an otherwise barren staircase.
You can also use these ideas as inspiration for an outdoor staircase if you have one! Use colorful chrysanthemums, pumpkins, hay bales, lanterns, and wooden elements to create a beautiful pathway that is sure to impress any visitors.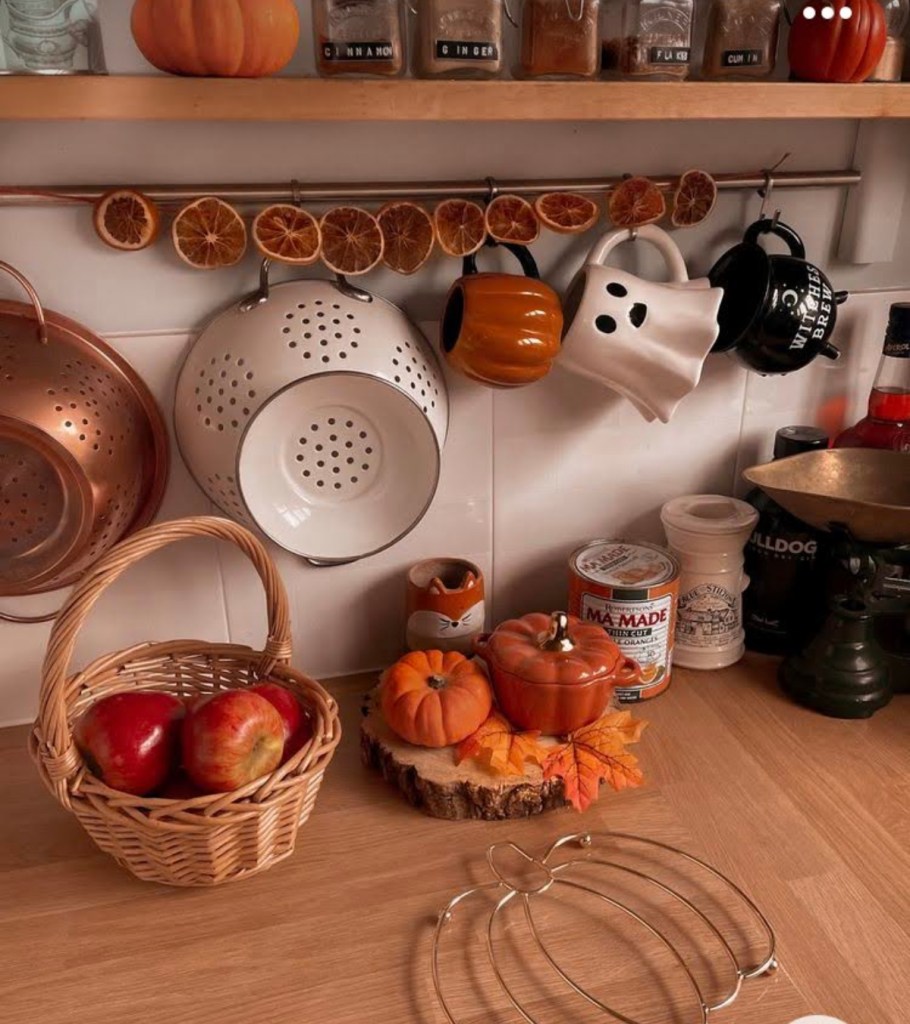 Decorate the kitchen countertops
From baking fresh apple pies to perfecting that gorgeous golden roast on your Thanksgiving turkey, your kitchen becomes the central hub of nearly all of your fall festivities. So, sprucing up your space could be just what you need as you begin adorning your home for autumn. This pin from Pintsizedbeauty shows just how cozy and festive fall decor can be on the kitchen counters.
Rather than cluttering the space with only decorative pieces, this pinner uses functional autumn-inspired utensils and bowls to help elevate the fall kitchen design. Fall-themed mugs, a basket to hold fresh fruit, pumpkin ceramic containers, and a small raw wood slab add the perfect touch of autumn without sacrificing precious counter space. Get creative and swap out towels, placemats, cookbooks, bowls, and even your cooking utensils to bring more fun, rustic, and fall-themed decor into your space.
Embracing rustic design this fall is a great way to create a cozy and welcoming atmosphere in your home. Elements like raw wood, organic materials, and the "lived-in" look of rustic design suit the fall season perfectly. Be sure to also use plenty of natural fall materials like branches, pumpkins, and corn stalks in your design. Creating a lovely rustic, fall-themed room is all about embracing the bounty of the harvest, so add your favorite fruits, vegetables, gourds, and even wheat to celebrate the season.
Editors' Recommendations