Natural wood kitchen cabinets are timeless, simple, and clean, and are easy to mix with various design styles to create an entire kitchen experience. And why not? It's a room we spend a lot of time with family and friends. While color is one trend in kitchen cabinets, there's something about leaving wood in its natural state that transforms a busy kitchen into a serene oasis perfect for nights in cooking. Even though natural wood is trending, certain colors and woods are more popular than others.
If you're thinking about going natural for your kitchen cabinets, there are design tricks that will help complete the room into a space that'll last long into the future. Here are a few ideas to consider if you're looking to redo your kitchen space.
Are natural wood kitchen cabinets coming back?
The short answer is yes. (To be honest, something this timeless never really goes away.) We're seeing lighter shades gaining popularity, so think oak, hickory, and birch. That said, walnut is also super popular, especially if you love a mid-century modern design, but this is less true for woods like cherry and maple, which peaked in the early 2000s.
Natural wood kitchen cabinets, with no paint or stain, allow for the grain and character to be front and center. They also allow you to style around them easily with metals, textiles, backsplash, and countertops, which will bring in color and pattern. Think of natural cabinets as a backdrop around which you can add and change door styles, crown molding, and hardware as your style changes.
Speaking of door styles, depending on your design style, they can be left without panels or added to with shaker panels, herringbone patterns, or glass doors to showcase dishes and other items inside. Open shelving in natural wood also remains popular this year.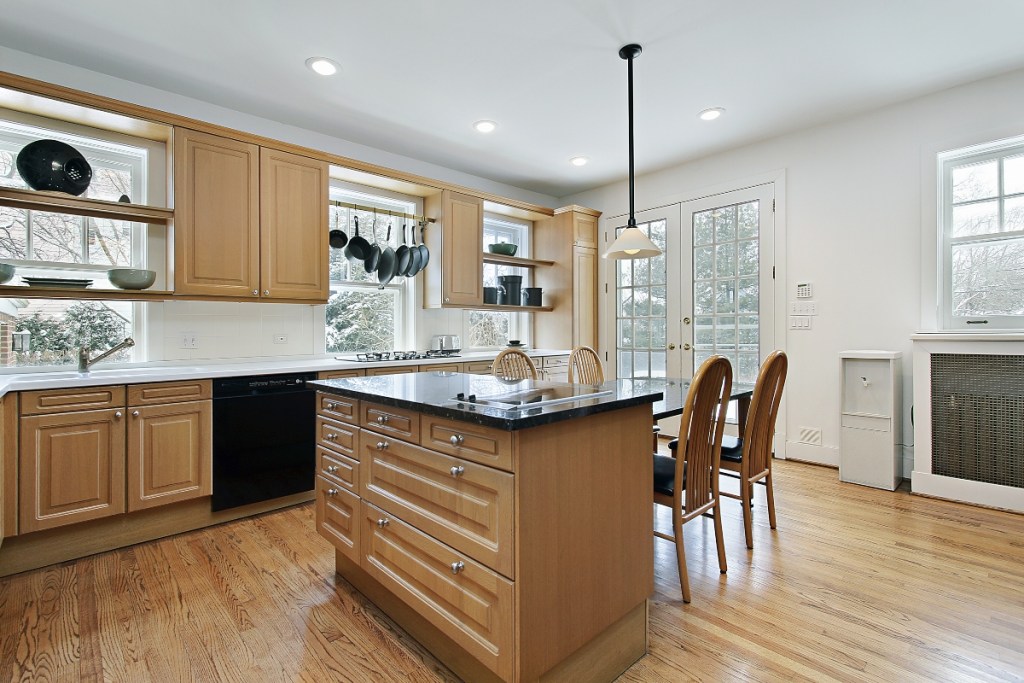 How much are natural wood kitchen cabinets?
Because of the different types of wood and depending on how large your kitchen is, natural wood cabinet costs can vary from as little as $6,000 to $20,000, which includes materials and installation. If you are handy (or feel up to learning a new skill), you can order stock cabinets and install them yourself, which will save thousands in labor.
If you're looking for custom or semi-custom cabinets, they will be on the higher side. On average, fully custom kitchen cabinets cost between $500 and $1,200 per linear foot (again, depending on the type of wood you use) versus stock cabinets, which run around $200 to $400 per linear foot. Additional costs will come depending on whether you have framed or unframed cabinet doors and whether you want to add storage, pull-outs inside the cabinets, or wood paneling to hide appliances, which continue to be popular.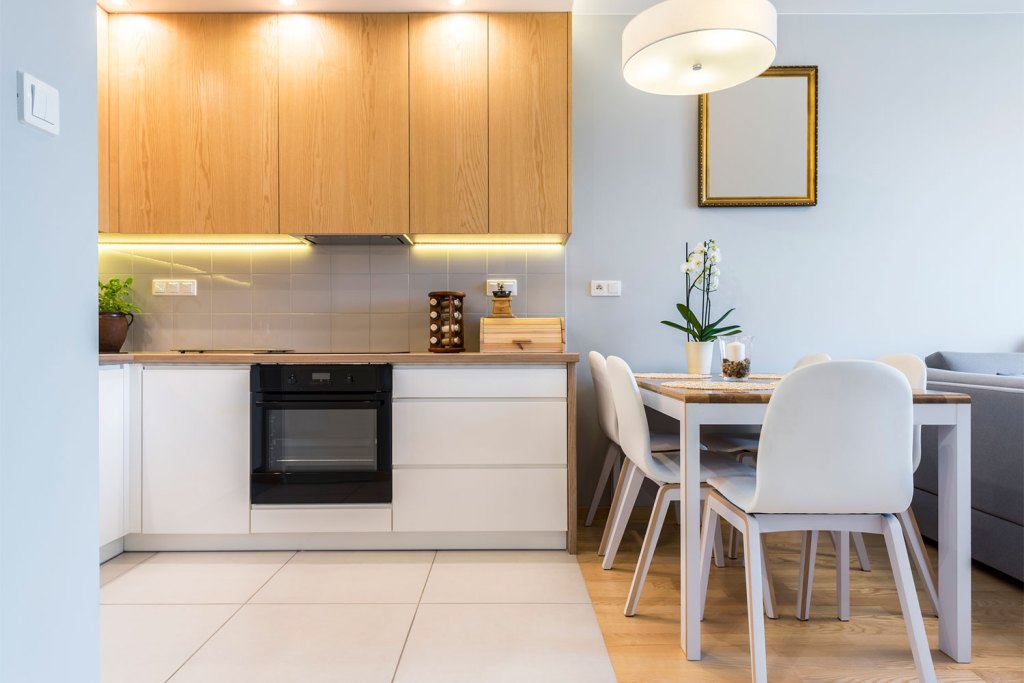 How to decorate around natural wood kitchen cabinets
The great thing about natural wood kitchen cabinets is that there are many ways to bring in color and design around them without taking away from their simple beauty.
We love mixed metals in dark bronze and muted gold, a vintage rug underneath the kitchen table or as a runner, and a bold chandelier or pendant lights over a kitchen island. You can also go a bit bolder on a tile backsplash, perhaps with a geometric print or herringbone pattern for added contrast to the simplicity of the wood. In terms of flooring, you could continue the same wood on the floor or opt for a lighter or darker grain.
Natural wood cabinets have seen a reemergence with the farmhouse design rising in popularity because they offer the perfect backdrop to that style of kitchen. That said, natural wood looks stunning in boho, modern, or traditional kitchens as well. A lot depends on what you choose for decor, color, door style, and hardware. If you do ever tire of the look, you can stain or paint your natural wood kitchen cabinets to bring a whole new look (and life) to your kitchen for decades to come.
One thing to keep in mind when leaving wood in its natural state is cleaning. Kitchens can get messy, so make sure you regularly clean your wood cabinets with mild products that will help keep them stain-free. A 50/50 mix of vinegar and warm water on a cloth will help them stay looking as beautiful as the day they were installed. It's important to treat stains right away when they do happen, especially if it's something acidic like orange juice or spaghetti sauce. Purchasing new cabinets is a big investment, and you want to protect them so they will last. Because a kitchen is one of the rooms that sell a home, it's also important to maintain them for resale value.
Editors' Recommendations