Now, more than ever, people are realizing how crucial it is to have a kitchen that is both functional and beautiful. Over the past two years, most of us have spent more time in our kitchens than ever before, and this fact alone has changed the way we look at and decorate the room.
Kitchens should be both welcoming and practical, soothing and functional, especially when it comes to storage and cabinetry. In 2022, interior designers are embracing natural materials, colors, and forms to bring the relaxing nature of the great outdoors into the home. How can you incorporate this overarching trend and others into your kitchen design? Read on to discover some new kitchen cabinet ideas that you can use to refresh your traditional kitchen.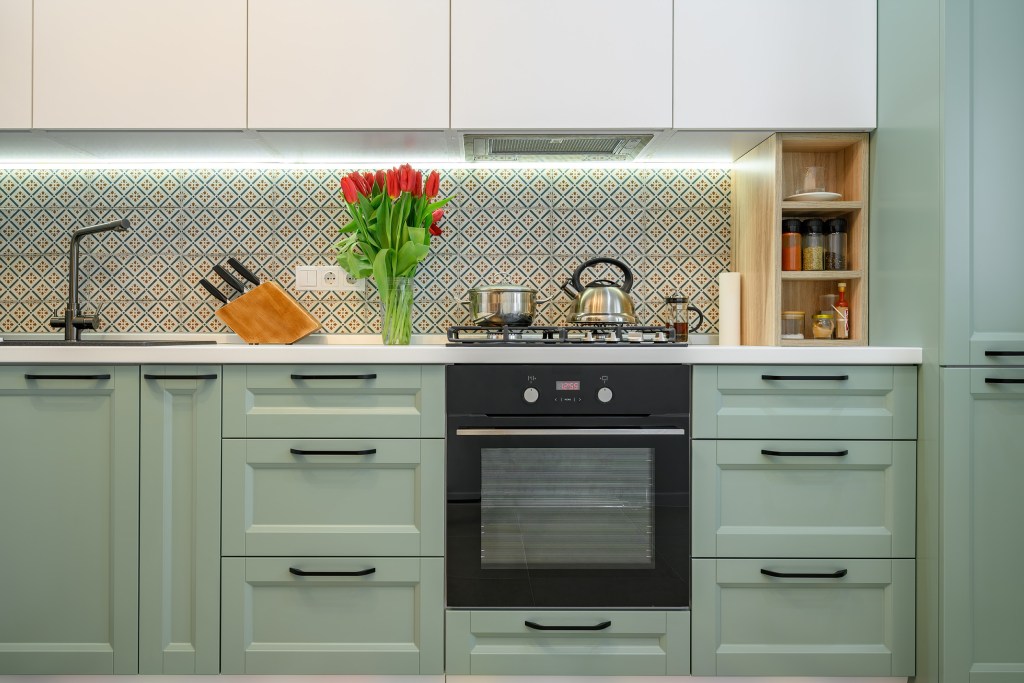 Refresh the kitchen with shades of green
There are so many great kitchen cabinet color ideas that you can incorporate in your design, making it simple to find one that matches your style. With the popularity of natural materials and colors, it's no surprise that green will be one of the most significant cabinet colors of the year. Thanks to its soothing and almost-neutral look, sage green will be the trendiest shade for 2022. Choose a deep, rich forest or emerald hue to add more drama and opulence to your kitchen. Or get inspired by the foods in your refrigerator and try a mint or olive green.
Embrace natural wood grain
If you're updating your cabinetry this year, you can forgo the paintbrush altogether, shun glossy finishes, and instead welcome natural wood grain. Wood cabinets are naturally beautiful; each piece of wood has a totally unique grain, creating a one-of-a-kind look in your kitchen. The material is natural, creating a soothing environment, and classic, signifying a desire to return to long-lasting and timeless design. Add some luxury to your sustainable design by choosing walnut cabinetry. Its fine grain and warm, dark color can instantly take your kitchen to the next level.
Say goodbye to handles
For modern kitchens, handles are about to become a thing of the past. This year's modern kitchen trends are all about multifunctional design with a minimalistic, streamlined look. Handleless cabinets have push-open doors, which offer a sleek design ideal for any contemporary kitchen. If you don't like push-open cabinets, you can achieve a similar look with doors that have recessed handles. Regardless of which you choose, the simplicity of these designs has earned them an essential spot in any modern kitchen.
Swap navy for cobalt and sky blue
Navy blue has long been an old standby in interior design, thanks to its versatile, almost neutral tone. But this year, a few new shades of blue are coming for navy's crown. Sky blue is making waves this year. The soft, pastel shade lends an air of tranquility to the busiest room in the home. Painting the cabinets baby blue is also one of the best kitchen cabinet ideas for small kitchens, because using lighter colors can make your space look larger. Cobalt is another popular hue for 2022. This striking shade of blue adds drama to any room, making it a bold choice for your kitchen cabinets.
Try metal and other unconventional materials
Design experts are expecting an increase in the variety of cabinetry materials in the upcoming year, too. Metal cabinets are set to be very popular this year since they fit the natural materials trend. These cabinets look great in modern and industrial-style kitchens. Plus, this type of quality cabinetry doesn't just look great; it's ultra-durable too. Designers also expect to see unconventional materials like plaster, concrete, and luxurious stone make their way from countertops to cabinetry to create really unique and beautiful kitchen storage.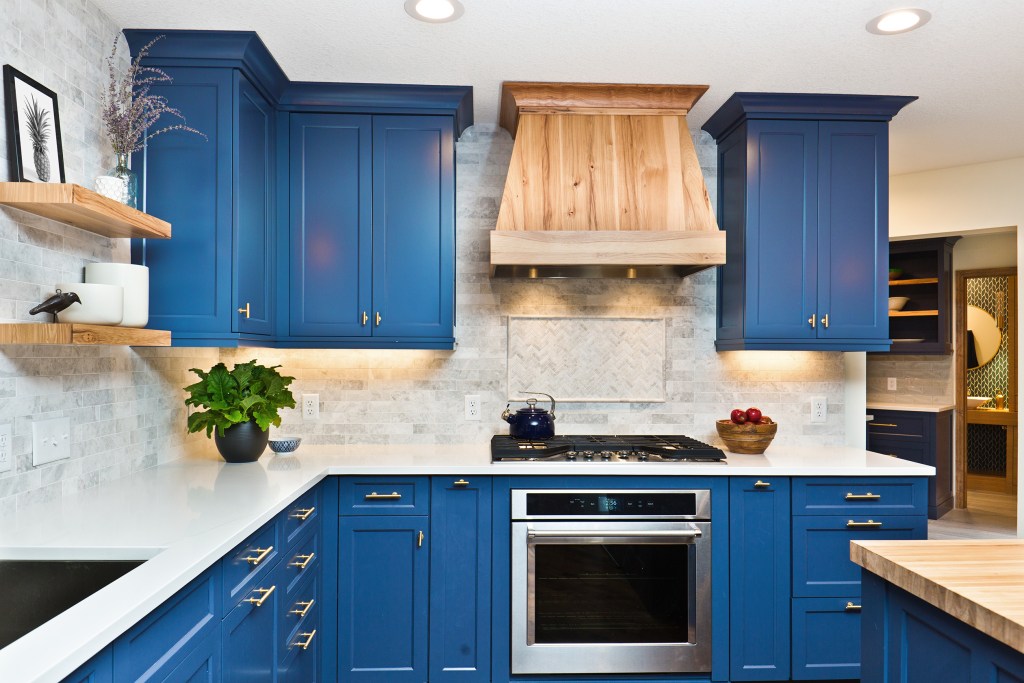 Add some dimension with frame fronted cabinets
Frame fronted cabinets, also called in-frame cabinets, are a style of cabinet door characterized by a rim of raised edging. The three-dimensional design of these cabinets adds a bit of visual interest to the kitchen. They create depth and add light and shadow, which breaks up the monotony of flat cabinetry. You can take this cabinet style to the next level by adding decorative mesh inserts, giving the classic look an industrial spin.
Incorporate more old-fashioned storage options
Cabinets aren't the only kitchen storage space you should consider; more traditional storage options like open shelving, pantries, and larders are making a comeback in a major way. Thanks to the popularity of the cottagecore aesthetic, these traditional kitchens will be super common in 2022. To get this look in your home, consider adding a larder or other freestanding storage unit to store your food. Or, if you have the space, give your pantry a makeover so you'll have plenty of room to hold all your bulk food purchases. Floating shelves or a single open shelf can offer a traditional look, too.
If you're looking for kitchen cabinet organization ideas, you'll want to pay close attention to this trend. These options can give you a ton of extra storage space, allowing you to optimize your kitchen and make the room more functional overall.
The kitchen design trends of 2022 are more exciting than ever before, especially when it comes to cabinetry and storage. If you're planning to update your kitchen, get inspired by the beauty of the natural world. Use materials like wood or metal for your cabinets, leaving the material in its natural state or adding a pop of color by painting the cabinets green or cobalt blue. Consider handleless cabinets for a modern look, or add depth to the room with frame fronted cabinets. And don't forget about the other storage opportunities you can add to make your kitchen even more functional than before! With any one of these cabinet trends, you can level up your design and create a Instagram-worthy kitchen.
Editors' Recommendations