If you're building a new home or planning a kitchen remodel this year, you're likely on the lookout for what's trending in kitchen design. The kitchen is the heart of the home, the place where prepping, cooking, eating, and entertaining happen regularly. Kitchens should be both functional and stylish, which can be accomplished fairly easily if you have a plan and do your homework.
In 2022, clean lines, classic designs, simple storage ideas, and bold colors and textures are making an impact in kitchens. We talked to the experts about what this looks like to give you a starting point when planning your remodel. Whatever style kitchen you seek — modern, traditional, farmhouse, contemporary — there's an idea (or two) you can pull out to use in your new kitchen design.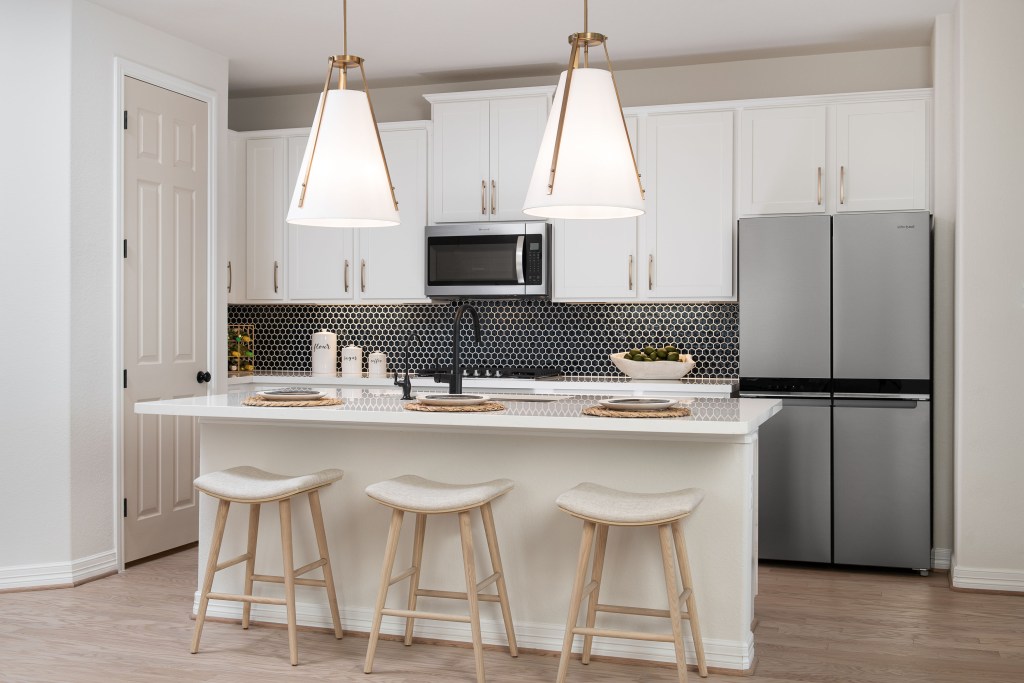 Are all-white kitchens a thing of the past?
While a white, clean kitchen will always remain classic and on-trend, according to experts, the time to bring color into the kitchen is here. "White and neutral kitchens have been viewed as a safe choice for a long time," said Teri Simone, the chief kitchen designer for Nieu Cabinet Doors. "However, kitchens now have more multipurpose functions as many people work remotely and study from the kitchen island or dining room table. As people spend more time in the kitchen, they are embracing richer color palettes to create a warmer atmosphere, especially dark, moody greens and blues that bring a sense of nature inside."
Joe Fava, CEO of Fava Design Group in Miami, agreed, adding that warm contemporary colors rather than cold contemporary colors (like white, gray, and black) aren't going anywhere. Fava noted that "in South Florida, blues and greens — much bolder versions of this, like cobalt blue, emerald green, and semi-precious slabs like amethyst" are rising in popularity.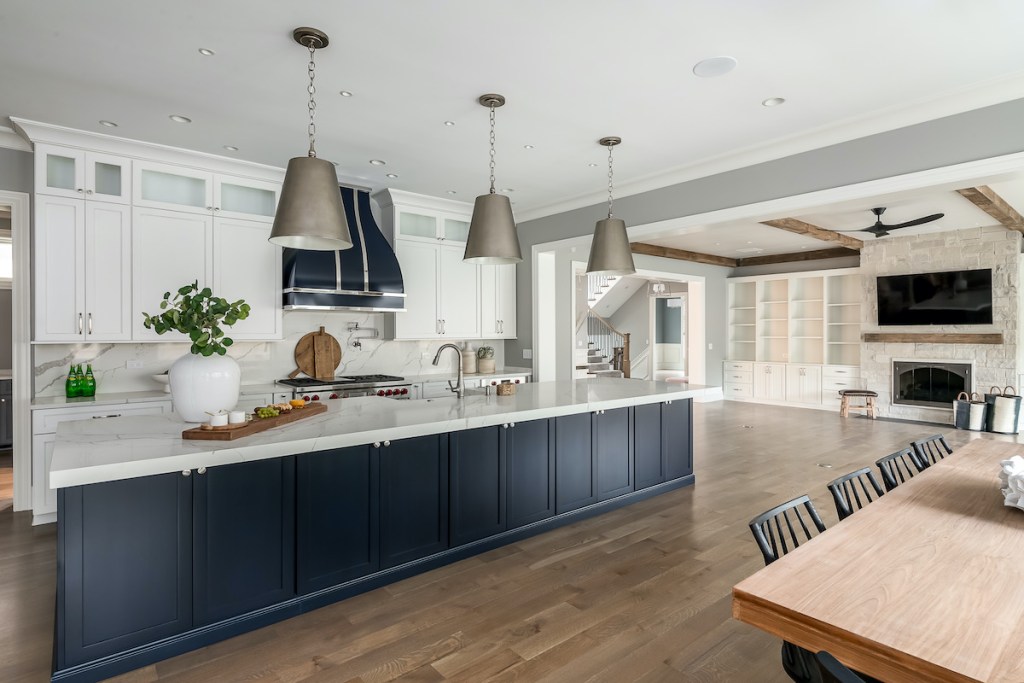 How to add color and texture to a kitchen
Color can be added in many places, like kitchen cabinets, backsplash, and flooring, but people are embracing new ways to add patterns and texture to their kitchens. "Pattern is being embraced by introducing wallpaper and dramatic marble countertops," said Simone. "These elements are being finished off with luxury metallic textures for kitchen hardware" in hues of muted gold, brass, and copper.
You can also add texture through textiles such as kitchen rugs and window curtains, and by choosing fabric benches over dining room chairs.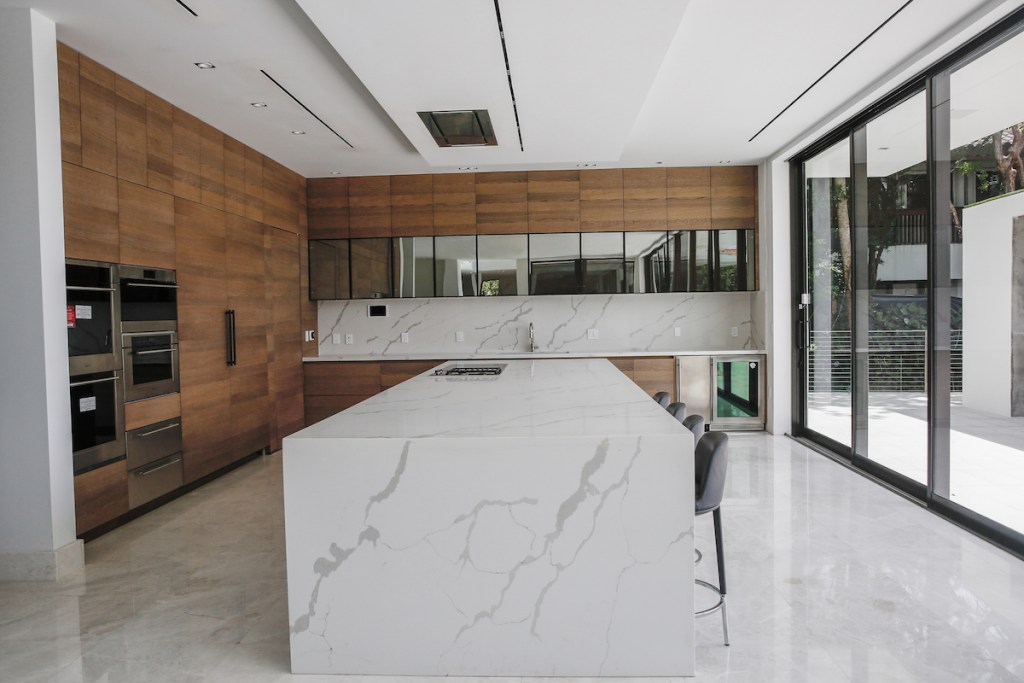 What are the new kitchen design trends?
Hidden spaces are on the rise
We've seen an emergence of cleaner workspaces and hidden areas for storage, appliances, and other kitchen surprises. "We have seen a significant amount of our clients requesting invisible hinge doorways — which allows for spaces to appear 'invisible,'" said Manny Angelo Varas, president and CEO of MV Group USA. "This trend began in Italy with Lualdi doors, which create a frameless and cleaner look. We've taken this design and executed it with kitchens featuring hidden doorways into walk-in pantries and secret wine rooms."
This also includes finding spaces for appliances. "We are designing more hidden pantries for house appliances, like toaster ovens, mixers, and extra dishes," added Betty Brandolino, founder and creative director of Fresh Twist Studio. This allows you to have everything you need handy without it taking up space on the countertops or in your line of vision.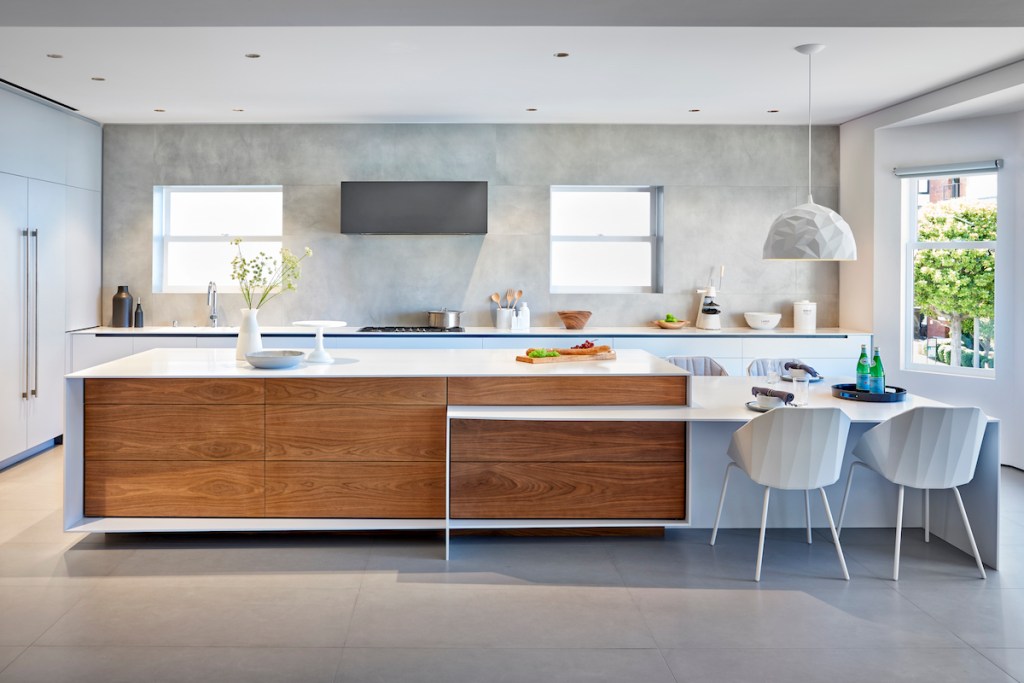 Luxury kitchen items are in
People are spending more time at home and want the luxuries they once found in restaurants and coffee shops to extend to the home. This comes in the way of "larger refrigerators and freezers, speed ovens, and warming drawers," said Fava. People "want to entertain and cook at home."
Brandolino agreed, explaining that her customers are asking for nontraditional items to be added into their kitchen designs, like "steam ovens, wine fridges, and latte machines," which speaks to the "attention we've been giving to our life in our home."
Smart appliances will continue to make a big impact in homes, and the kitchen is no exception. "You have to look at it with a little humor," said Mary Maydan, principal of Maydan Architects. "You consult with the faucet about the water temperature and you discuss the food ingredients with the fridge. You definitely have company when cooking in today's kitchen!"
Whatever design you land on, make sure it's one that stands the test of time. You can never go wrong using luxurious materials in your kitchen — and that includes lighting, appliances, countertops, and cabinetry. Natural materials, metal, marble, wood, and anything that brings the outdoors inside (think greens, wood, stone) will remain popular for many years to come, so have a little fun when it comes to your kitchen's style. With the amount of time most of us spend in ours, it's well worth the investment.
Editors' Recommendations