Turning off the lights in your home has never been simpler than with Amazon Alexa. There are LED smart lights that are compatible with Alexa, making it as easy as adding items to your grocery list or playing your favorite artist's playlist. There are many smart bulbs that work with Alexa on the market, but some are more well-reviewed than others.
What's more, several are on sale for Black Friday at major retailers like Amazon, Best Buy, and Walmart. Here are our favorite smart lights this season that you'll want to stock up on when they are available. We say "when" because there were supply chain issues last year and again this year due to the pandemic, causing price increases from manufacturers. If you're looking to add smart lights to your home and find them available, the time is now to jump on them!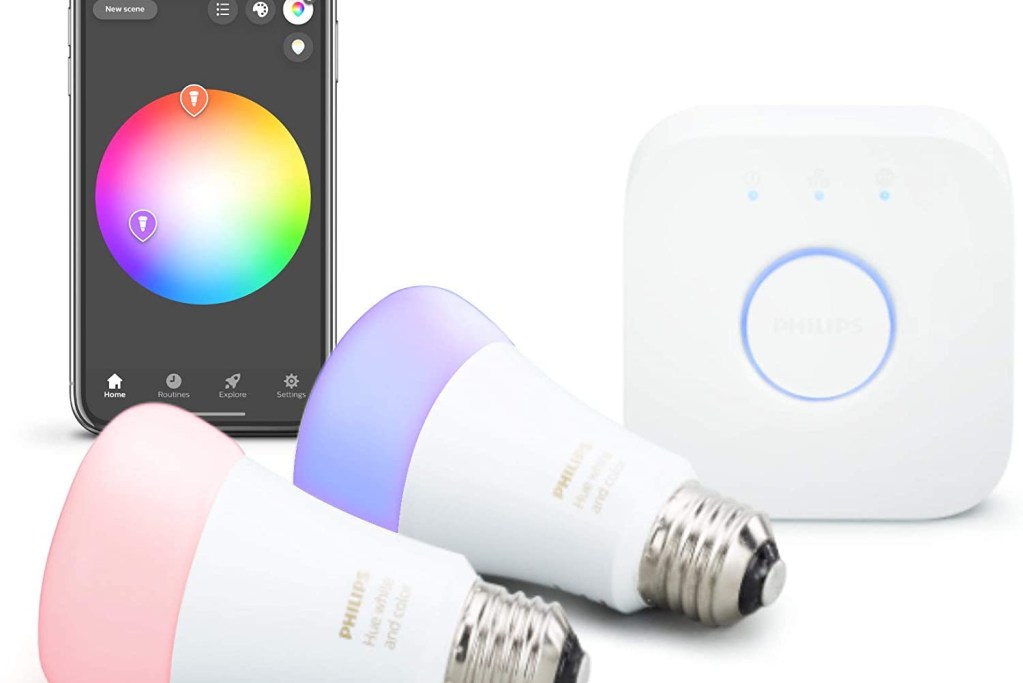 Why we love Philips Hue smart lights
Philips Hue lights have always been heads above any other LED light compatible with Amazon Alexa. They will be on sale during Black Friday at Amazon for the two-pack starter kit, which is a big deal when they regularly retail for $160. There are several reasons why we love them:
They work with Alexa, Google Assistant, and Siri
They come in tons of colors (when we say tons, we mean 16 million)
Last a lifetime
Voice-activated
Easy to set up and use
They've got hundreds of perfect ratings on Amazon, which also gives a lot of information on frequently asked questions if you've never used them before. Keep in mind some need a hub (bridge) to work, but after 2019, they did add a Bluetooth-equipped bulb to work with your smartphone.
Geeni Prisma LED Smart Bulb is a close second
The Geeni Prisma smart bulb is another solid choice for Alexa and a great budget purchase if you've never used smart bulbs before. Not only can you control the lights via the Geeni app, you can give it commands like "turn lighting down by 25%," from the comfort of your own couch. Additionally, you can:
Use two-factor authentication for extra peace of mind
Works with Alexa or Google Assistant
Best value for money
Preset or custom lighting scenes depending on what you need
You can find them already on sale at Home Depot for 11% off.
Feit Electric's Smart Bulb is affordable and easy to use
The Feit smart bulb is similar to the Geeni in terms of price and ease of use. These are able to be controlled using hands-free voice control with Alexa but does not work with Apple's HomeKit and does not support two-factor authentication.
Inexpensive
Color-changing bulbs
Easy to use
Works with Alexa or Google Assistant
The three-pack is now on sale at Walmart for $33.49 with free returns within 30 days.
Smart bulbs can take a bit of getting used to and can be an upfront outpour of cash to replace your existing bulbs. However, once you have them installed, you'll wonder why you didn't switch sooner. Smart lighting offers the control over your home lighting the same way you do other smart electronics in the house, and you can turn them off and on from anywhere using the app. This comes in handy if you're on vacation and want it to appear as if you're home or if you are coming home late at night. They can also help you set a schedule (or a mood) depending on what you're in the mood for at that exact moment.
Smart homes are the way of the future for good reason, so why not get on board now and get the benefits while they're on sale?
Editors' Recommendations