Curtains are a fantastic way to dress up or down a room, add color and pattern, and bring new life into an old space. Nowhere are they more necessary than in the dining room. They can be used to let light in or out depending on what time of the day you're entertaining, and they can offer a dramatic effect to a space where friends and family often gather.
There are many dining room curtain ideas that are affordable but still look like a million bucks. Whether you're attempting to brighten up a room, add a bit of color, or make the dining room functional as a workspace and entertainment area, curtains are a must-have. Here are a few ideas we love, and the places to find affordable dining room curtains.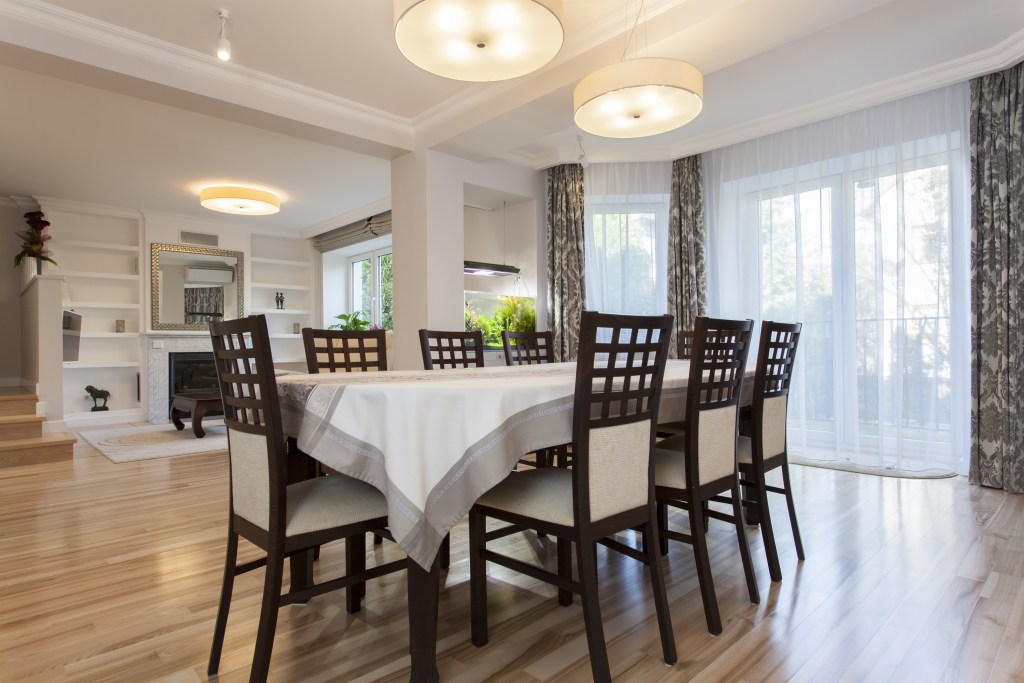 Dining room curtain ideas
Be bold with color or pattern
There are so many choices when it comes to dining room curtains, so you need to know what you're trying to accomplish. If you really want a conversation starter, go bold with prints and color. We love these floral curtains because they are blackout and really do look like an exotic garden. If you've got a midcentury modern vibe going on, check out these abstract curtains. Both options are affordable and will make the room come to life.
If it's color and pattern you want to introduce, you can also consider this geometric print. You can choose from four different color options and sizes to fit most windows. If it's just color you're after, check out these hunter green velvet curtains that will add drama. These are also ideal if you need to filter all light from the room, because they are blackout and offer maximum privacy.
Curtains are a perfect option to try out patterns without committing to something like wallpaper if you're not ready, especially because that's a more permanent and expensive decor item. With curtains, you can hang them up and live with them for a while, and if you absolutely don't love them, you can sell them to someone who will.
Try extra tall curtains
If you are interested in some real drama, why not try extra tall curtains to draw the eye up and out? Most designers recommend hanging your window curtains a couple of inches above the windows, but for an even more striking look, hang them higher. This idea works well if you don't have particularly tall ceilings, because it will give the illusion of the room being larger.
You can also do this to add length if you have small, skinnier windows by placing the curtain rods several inches longer than the window itself.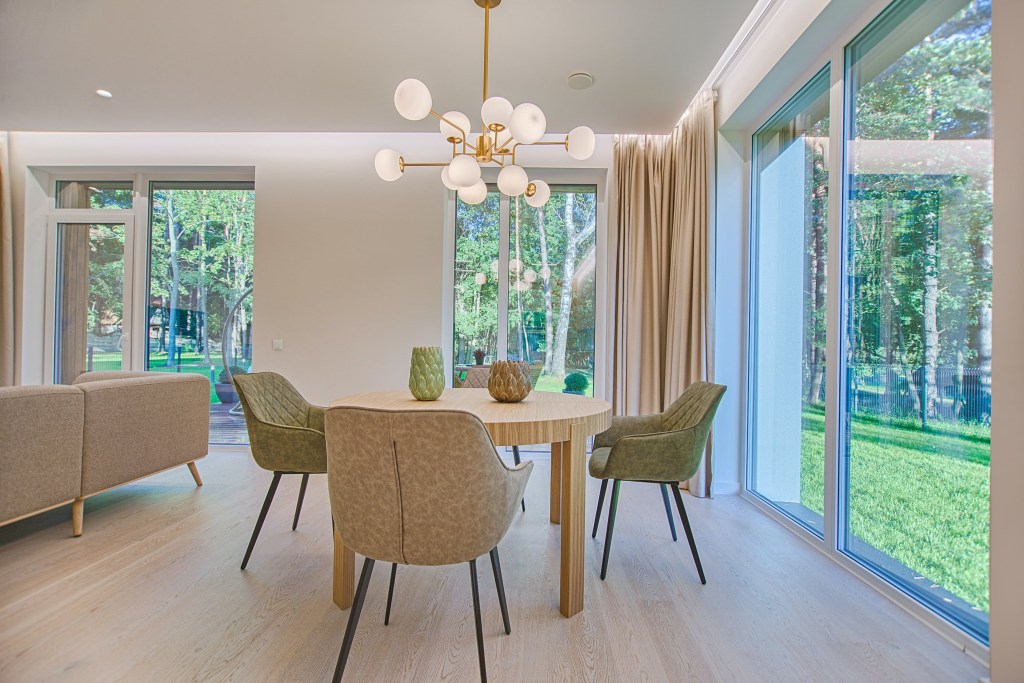 Go natural
If your dining room has a lot of color and texture already or you are looking for a monochromatic look with lighter furniture, curtains can also help soften the room. We love these natural linen curtains from West Elm because they are the perfect shade and can be custom ordered to fit any unique sizing requirements. Another affordable option is these faux linen curtains, available at Overstock. They offer the same benefits of letting natural light in and are even less expensive.
How to keep your curtains from looking drab
One thing to consider before you buy is what additional money you may need to spend to keep them clean. Certain materials like linen or silk will have to be dry cleaned, or you'll need to hire a service with the proper equipment and cleaning products to keep them looking new. Additionally, if you have small kids or pets running through the room on the regular, you may want to stay away from colors that show pet hair and sticky fingerprints. Finally, take time to choose the right curtain rod, especially if it's visible. You can find ones that blend into the color of the curtains themselves, or you can opt for additional interest by contrasting them with, say, a brass or metallic rod.
The material can also decide how formal or simplistic the room will be, so do your homework on what you should be looking for based on the room's aesthetic. Curtains can add the finishing touch your dining room needs, but if they are fighting with the balance of the room, they can also become a design mistake. If you're unsure, visit a few home stores that sell curtains so you can see how they look and feel in person before you buy. It will pay off in the end to put a little time into their selection.
Editors' Recommendations