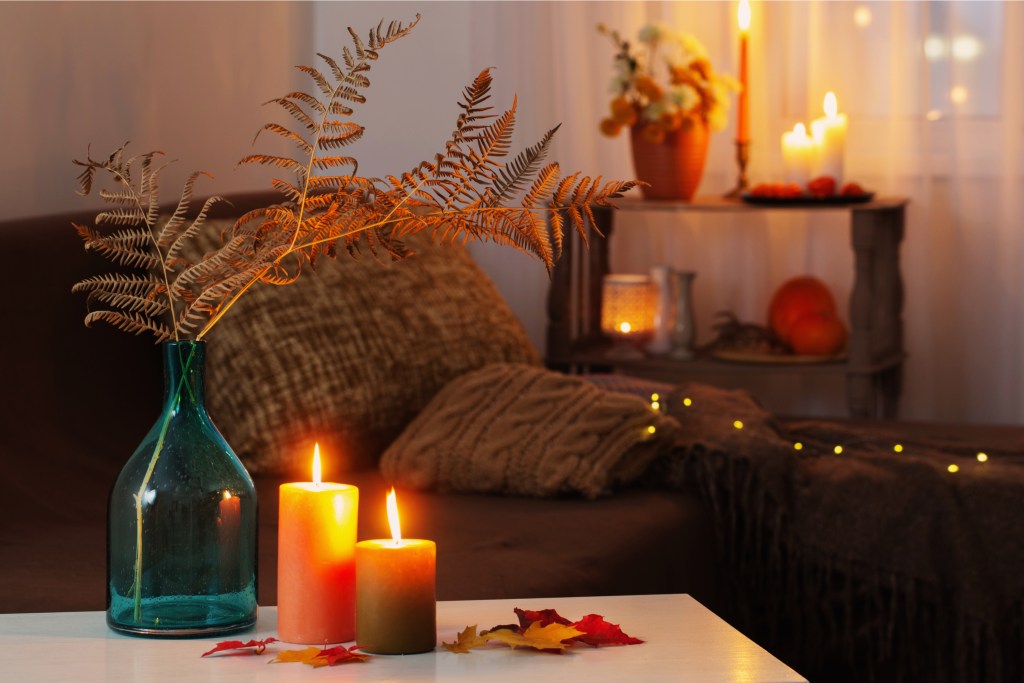 Fall is here, which means it's time to redecorate our homes to reflect the changing of the seasons. This year, several noteworthy trends are sprouting up on Instagram, inspiring us to break the mold and think outside the box this season. Many Instagram designers have up-leveled fall decor this year by branching away from traditional fall styles and welcoming a wave of fresh, eclectic, and inspiring trends to help homeowners enjoy the season while also maintaining a modern aesthetic.
To make your home stand out, take a look at some of these eye-catching Instagram fall decor trends from a few of the trendiest interior decorators on the web.
Keep things cozy and bright
A hot trend this year is to keep things light and bright while also inviting coziness into the home. Instagram user @simplecozycharm shows us how to balance a bright color palette with the cozy comforts of autumn. By pairing soft fabrics and fluffy pillows with a sturdy tweed, you can create a textural juxtaposition in the space that makes it more visually interesting. Additionally, floral wallpaper is a creative touch that's a bit more fun than the season's traditional creams, browns, and reds.
By pairing the floral wallpaper and pink fabrics with neutral tans and creams in natural materials, this designer shows how to create a new take on what we've come to expect from fall decor.
Get creative with fall wreaths
User @kclee.co is an expert in wreaths, and this year, she's setting a high bar for your front door's adornment. Her wreaths are full and filled with color, using white as a base for her creative designs to add a touch of lightness. Each one is bursting with greenery and hints of orange to pay homage to the fall season. Her additions of pumpkins and dried leaves also create the perfect autumn feel without being too kitschy.
Use porcelain pumpkins
Instagram user @pretty_little_home recently shared a more modern and grown-up take on decorating with pumpkins. Traditional pumpkins in home decor can be distracting, and they start to decay after a while. If you're working within a more sophisticated design style, step towards a solution that complements your more mature aesthetic.
Porcelain pumpkins are the perfect way to add elegance to your fall home decor. The dainty pumpkins paired with natural elements like pinecones add a hint of fall to the home without being too loud. It's a gentle way to decorate, and we can't help falling in love with the simplicity and sophistication of this trend.
Try layered doormats
Have you noticed all the cute doormats that spring up on porches and entryways in the fall? Functionally, they're great at preventing soiled and muddy shoes from tracking dirt through your home, but they can be super stylish too.
User @willowandnest shared a creative solution for updating the front porch walkway by using not one but two doormats. By layering doormats, you can mix patterns and colors to create a more visually interesting entrance to your home. This user also added some pumpkins and other small decorative pieces to the front porch to tie in the fall theme and make the entryway even more joyful and cozy.
Swap to soft color palettes
One of the attention-grabbing decor trends we've seen this fall is the use of soft colors. Typically when you think of fall, you think of bold reds, oranges, and browns. However, user @_christmas_in_new_york_ has forgone tradition in favor of a color palette that focuses on creams, whites, and neutrals.
The autumnal dining table spread is layered with white pumpkins, white candles, soft pastel beige runners, and cream napkins. The table has all the iconic fall decor like pumpkins, rattan, and pip berries, but the whites and creams keep it more subtle and less thematic.
Show off fabric decorations
@ittybittycottage shows off her adorable fabric pumpkins and apples, perfect for fall season. We love these pieces because they make cute and affordable additions to any home design scheme, adding a rustic touch to warm up the space. You can use fabric pumpkins in place of traditional pumpkins on the porch or as a centerpiece for your dining table.
This trend is popular across Instagram this year, with users displaying patchwork sewed plushies, crocheted decorations, and cozy pumpkin pillows. Instead of delicate porcelain pieces or messy real pumpkins, you can decorate your house with easy, kid-friendly pieces that you can keep for years to come.
Embracing the 90s Halloween nostalgia
The 90s have made a comeback in recent years, with young millennials aiming to adorn their spaces with their childhood nostalgia. One way many designers are doing so is by adding plenty of 90s Halloween motifs to their fall decor. Sure, pastel pumpkins, cute "Thankful" signs, and a simple fall color palette look stunning. But there's something fun and whimsical about going all-in with the kitschy Halloween decor.
Take some inspiration from @glass.manor on Instagram as she shows off her vintage Halloween kitchen makeover. Jack-o-lanterns, a pumpkin floor mat, a Halloweentown sign, and black spiderweb decals on the cabinets give this kitchen a playful and spooky aesthetic, perfect for the fall season. If you love autumn but aren't a fan of traditional fall decorum, why not try leaning into your childhood nostalgia by adding plenty of Halloween decor to create a "spooktacular" aesthetic?
Thinking outside the box is the key to creating a memorable design that's more personalized than traditional setups. Experiment with different colors, textures, and materials to craft an autumnal scheme that's uniquely yours. Whether you're setting up for a kid-friendly Halloween party or an adults-only cocktail night, these trends are sure to elevate your interior decor to new heights.
Editors' Recommendations