Boho design is all about celebrating global travels, an untethered lifestyle, and a laid-back persona. It's a fun, often surprising combination of colors, patterns, textiles, and furniture that, upon first glance, may look like it doesn't mesh together. However, upon closer inspection, you find everything has a place and that place means everything to its owner. People who love boho design are whimsical and eclectic and the space they surround themselves with is a reflection of their personality.
So, what is boho decor? While it is clearly in the eye of the beholder and very personal, there are some general rules that apply when choosing colors, materials, and furniture pieces commonly found in this style. If you think it may be an aesthetic you could find yourself falling in love with, here are some easy ways to get started.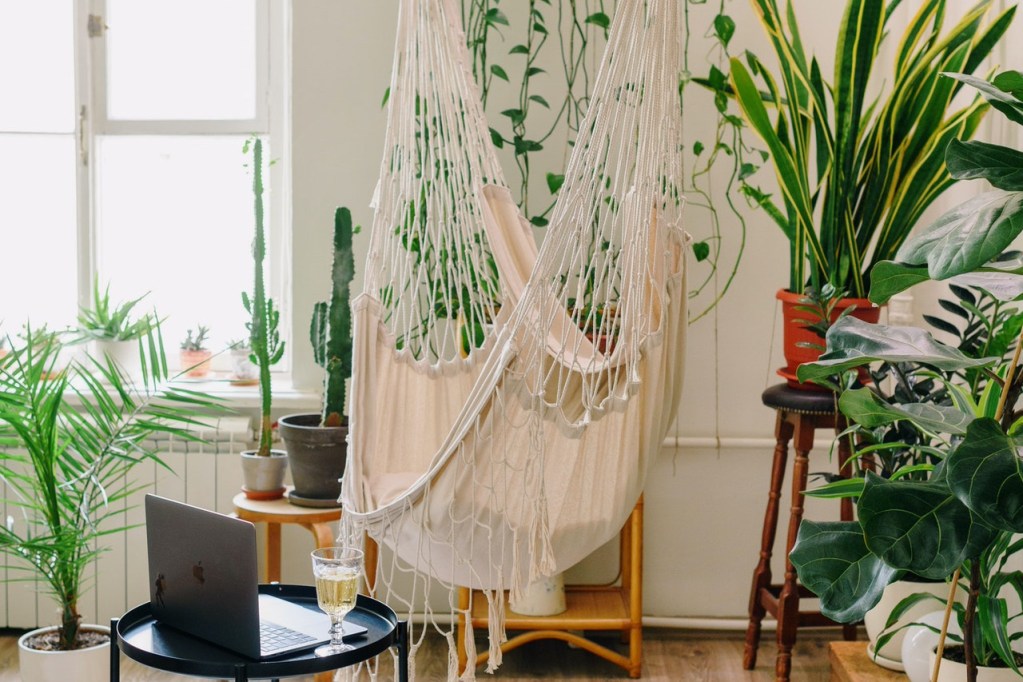 What does boho style look like?
Boho style has long been a favorite of the creatives like writers, artists, and actors because it surrounds them with all the culture, experiences, and inspirations of their craft. Maybe it's stacks of books that line an antique bookshelf or clay pots from various travels abroad.
It will also definitely have all the comforts of home like blankets, candles, unique lighting, and pillows in abundance. Mixing and matching styles, decor, and other items only adds to the charm of a boho style.
What is boho in interior design?
Boho style doesn't have a space for rules. Anything goes when it comes to designing your home, and that can be a freeing and exhilarating mindset. It means adding global elements of past travels along with personal items passed down from generation to generation. It's vintage, it's antique, and it envelops you in all your favorite memories and life experiences. The more, the merrier. We love including crochet blankets, macrame wall decor, worn picture frames from estate sales, and first editions of your books. Long story short, boho means vitality, comfort, and warmth.
What are the rules of boho design?
Though there aren't any rules in boho design, you'll generally see a few recurring themes.
Primarily, most boho schemes are filled with earth tones and warm metals like copper and bronze. Boho designs are also not afraid of saturated hues. As we mentioned above, mixing textures and patterns is also part of boho design, so consider carefully pairing plaid curtains with floral pillows and patterned wool rugs. Keep a few simple pieces like dark wood furniture or neutral walls to anchor the design.
When it comes to decor, remember that not everything should be in pristine condition. Having a few scratches and dents gives your decor more history, paying homage to the object's past. When shopping for furniture, skip the retail stores in favor of pieces found in antique stores or on Etsy.

How do I know if boho is right for me?
If you don't plan to follow any design rules and love a mix of styles and character in your home, boho just may be for you. Boho lovers often find comfort and warmth via lighting, fire, and candles. The coziness extends to the furniture, featuring relaxed pieces like a well-worn ottoman or a refurbished chair from your grandmother's house. Some homes look like they came straight off the showroom floor, but boho spaces have much more personality.
It can work for anyone who enjoys living in the past, present, and future. If you've kept things from your travels, feel inspired when you see a vintage chandelier, or love serving guests on mismatched plates, you may be closer to achieving a boho style in your home than you think.
The key to really pulling off the style is choosing items for the living room, bathroom, or bedroom that speak to you, come from your own life or your family, and don't replicate something you could find at, say, Pottery Barn. It should be a space that's uniquely yours. That being said, unless you have tons of old furniture, photos, frames, and knick-knacks in storage, this isn't a style you can achieve overnight. Instead, it's one that will grow with you, expanding as you collect more items from your travels and find must-have wingback chairs at garage sales. Once you're committed to the style, you can fill your home with all the greatest pleasures of your life and spend your days enjoying them over and over again.
Editors' Recommendations