When redecorating or sprucing up a living room, consider getting a coffee table. It is one of the most noticed — as well as utilized — pieces of furniture in that area. Coffee tables come in a wide variety of shapes, sizes, and materials, so the sky is the limit when finding one that fits your personal style. They can also make a big statement in a neutral space and draw your eye in.
"Using decorative accents on your coffee table is a simple yet impactful way to add style to a room," Gavin Brodin of Brodin Design Build explains to 21Oak. He points out that once you style a coffee table, you can easily restyle it to reset the overall mood of the space — seasonally or any time of the year! Here are ten interior designer-endorsed coffee table decor ideas, and we love them all.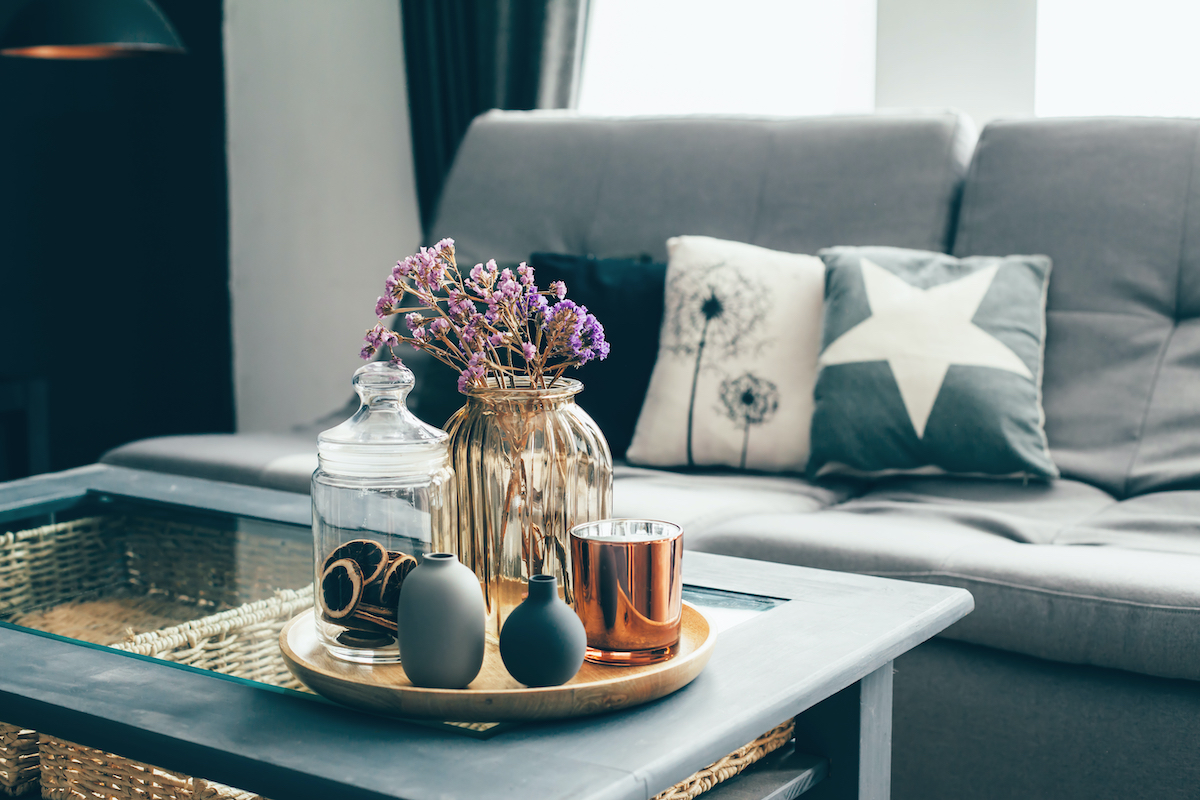 Coffee table decor ideas you'll love
Shop vintage
"I love a layered approach to styling a coffee table," suggests Kellie Sirna, CoFounder of Studio 11 Design. However, instead of shopping for brand new pieces from home good purveyors, she suggests searching for hidden pre-loved treasures. "My recommendation is to source pieces from local antique shops that lend a sense of place to your home." You will likely not only save money, but you'll also avoid accents that look too staged or generic. If you don't have time to shop for vintage home decor in the flesh, online retailers such as Chairish, Etsy, 1st Dibs, and Rejuvenation are great places to start.
Look for conversation starters
This ties into Sirna's next tip for coffee table decor, which is to avoid generic pieces altogether. "Thoughtful placement of visually interesting, sculptural elements on your coffee table can spark conversation among your guests," she points out. Even something as small as this Jonathan Adler elephant sculpture on Amazon, which conveniently houses matches, will get your guests talking.
Coffee table books are a must
Coffee table books — larger, gorgeous glossy books filled with images and information about topics you love — earned their name due to where they belong. While many people use them to decorate shelves, you should definitely have a stack on or under your coffee table for guests to peruse. "A collection of timeless table books covering art, fashion, and history topics are always a conversation starter," says Sirna. You can purchase new and used coffee table books on Amazon. Photography books, like any from Slim Aarons or Malin Grey, are not only gorgeous additions to your coffee table but will also provide hours of entertainment for your guests.
Add some texture
Most interior designers utilize several textures in every living space to add interest and dimension. Your coffee table decor is the perfect place to try this yourself, encourages Sirna. She suggests adding interesting and unexpected objects — like West Elm's Rattan Wrapped Object — which "is an affordable piece that lends a sense of geometry and movement to an otherwise bare tabletop."
Declutter while making a statement
An important rule when styling your coffee table is to keep it uncluttered. An easy way to do this, according to Sirna, is by incorporating storage into your decor. "Joss & Main offers beautiful, affordable options for decorative boxes that enable you to quickly declutter your coffee table in a pinch," she points out.
Joss & Main Wood Decorative Boxes
Layer, layer layer
A great tactic to decorating your coffee table like a pro is to focus on layers, suggests Michelle Harrison-McAllister, one of San Diego's premier interior designers and owner of Michelle Harrison Design. "Add books with a candle alongside a plant or a decorative box that you love," she suggests. "There should be variations in height with your plants, books, or even a sculpture. The trick here is keeping your arrangements in pairs of three, and you can never go wrong."
Incorporate mementos
Before you start shopping for coffee table decor, check your own inventory. Gavin Brodin of Brodin Design Build suggests adding some figurines or personal items you have purchased over the years from your travels.
Light it up
Pretty much every interior designer we spoke to suggested adding a candle or two to your coffee table. Not only is it a great way to infuse mood-setting fragrance into your space, but you can also add a design element as well if you choose a candle that doubles as decor. One of our favorites? Capri Blue Volcano, an intoxicating scent filled into a simple but statement-making blue glass jar.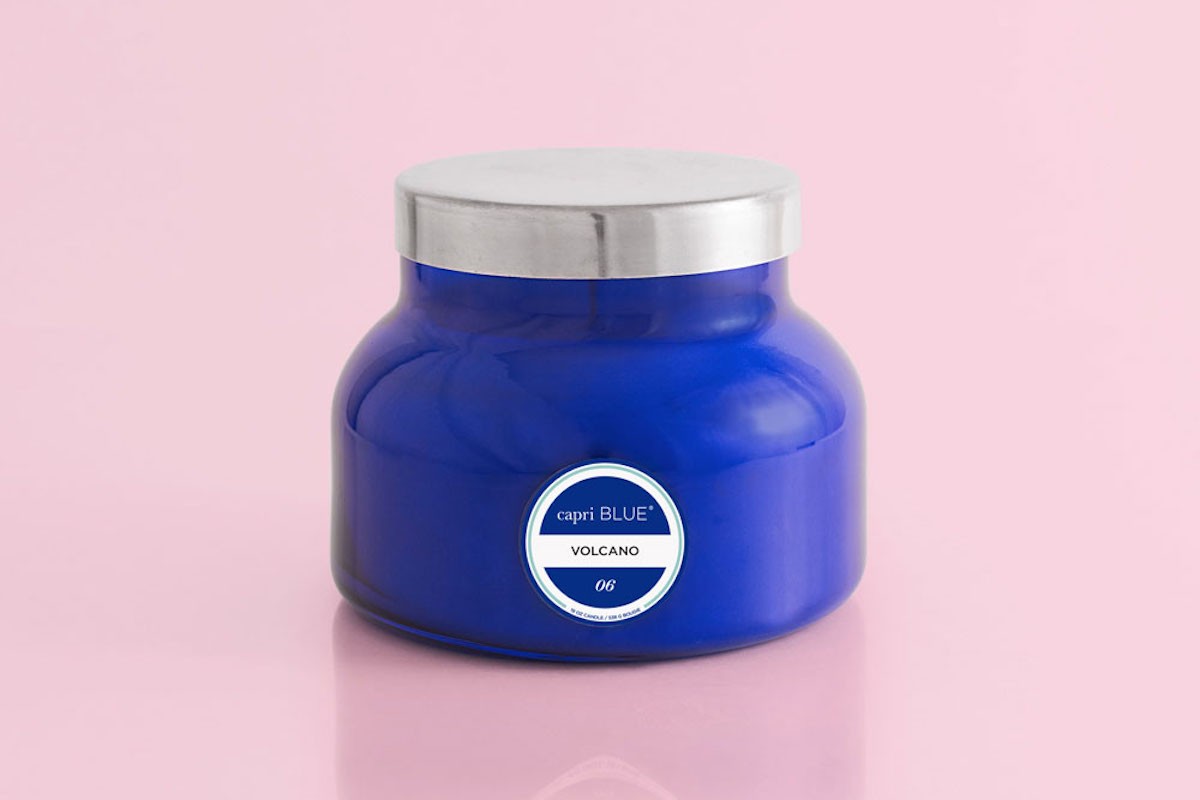 Utilize levels
A coffee table with more than one surface space expands your styling options. The lower level of this Serena and Lily Blake Rectangular Coffee Table is perfect for stacking books, blankets, or other decorative accents, giving you more space on the actual table for necessities.
Make an arrangement
The trickiest aspect of decorating a coffee table is that, unlike other shelves or console-style tables, you actually need to use its surface space. One easy way to overcome this challenge is by using a basket to arrange all of your decorative items. Find something large enough to keep a few books, a candle, and other decorative elements, but that's light enough so you can lift it up and stash it somewhere else (even under your coffee table) when you need to utilize the table.
West Elm Large Coffee Table Rush Basket
These are just a few ideas to get you started on coffee table decor. The best part is finding the accents that speak to your own style and personality and letting those do all the talking.
Editors' Recommendations