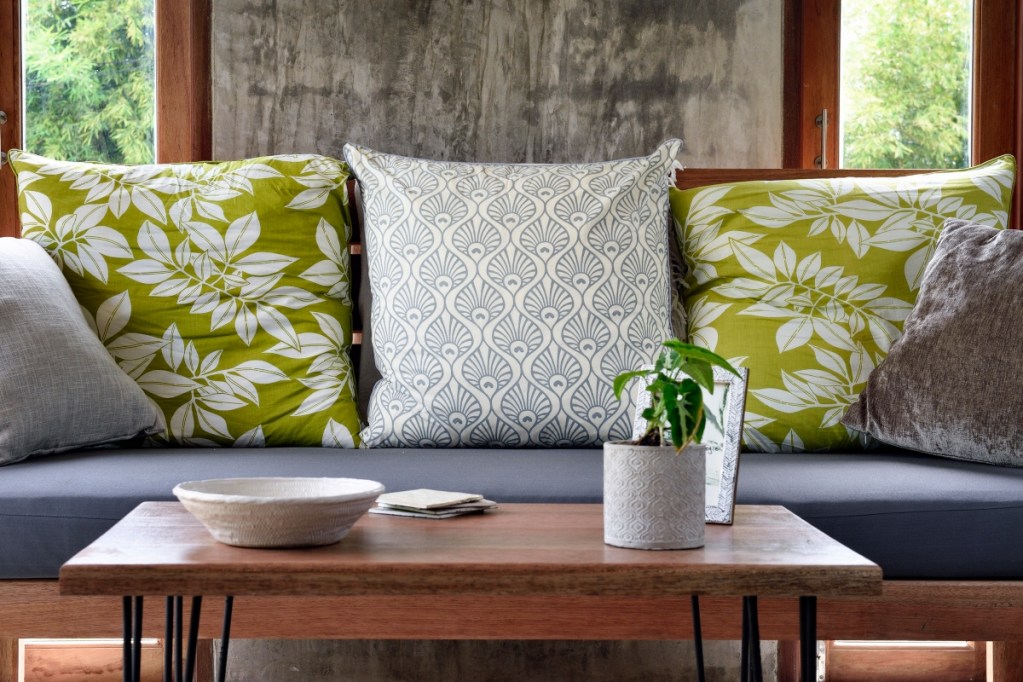 A living room's coffee table is an important piece. Not only does it bring the whole room together, but it's also a functional part of a living room. Your coffee table holds beverages on family movie night, game boards and puzzles, and your laptop on work-from-home days.
When you have a small living room, you may be tempted to forgo the coffee table in favor of more floor space — but don't. The right side table won't make your room feel too cramped. In fact, it can actually make the room feel larger if the placement and size are right. You just need to know how to choose a coffee table that works with your small space. We're here to show you how.
How to choose a coffee table
While round or rectangle coffee tables are the most common, they come in a wide variety of shapes, heights, and widths, so you're bound to find the right one for your cozy space. In smaller living rooms, coffee tables that have an oval or rectangular shape work best since the narrow width allows them to fit comfortably in a snug area. If you have children, opt for a shape that has rounded edges or none at all, since sharp corners pose a safety hazard.
Pick an appropriate size
Obviously, since your living room space is smaller, it's best to choose a smaller coffee table as opposed to one that is large and bulky. Before purchasing anything, measure the space to ensure the height, length, and width not only fit in the space but will look visually appealing and not over or underwhelming.
Coffee table height
The height of your coffee table should be similar to the height of your sofa's seat, give or take a few inches. Any taller and it will look awkward and overbearing in your small space. Any shorter and your coffee table may not be as functional as you'd like it to be. Placing drinks or other items on a short coffee table may not be an easy reach or a comfortable angle from a seated position on the sofa.
Coffee table length and width
Coffee table length and width should leave about 18 inches between the table's edge and your sofa and chairs. This gives you enough space to move easily around the living room without stubbed toes or knocked knees. Likely, because of these parameters, you might need a smaller coffee table than you initially thought.
Look for a coffee table with versatility
In your small living room, you need all the space you can get, right? Maximize your square footage with a coffee table that has extra features, making it a multiuse item that reduces the need for additional storage and furniture.
Extra seating
Small living rooms tend to have limited seating, so we recommend going with a coffee table that doubles as an extra seat. Benches, ottomans, and even trunks can serve as coffee tables on a daily basis. Then, when more seating is needed, you can quickly transform it into a comfortable space to seat your extra guests.
Built-in storage
If you don't have space in your living room for a bookshelf, board game cabinet, or a basket for your throw blankets, choose a coffee table with built-in storage. A functional trunk, storage ottoman, fabric storage bench, or table with cube storage underneath are great space-saving options.
Convenient extension features
Tables with extenders give you the flexibility to customize their size depending on the occasion. Consider a nesting coffee table, which has a hidden second table that you can pull out for more surface area. Further, removable trays that rest on the table make hosting a breeze, as you can sit around the table to snack or also pass it around to share appetizers across the room.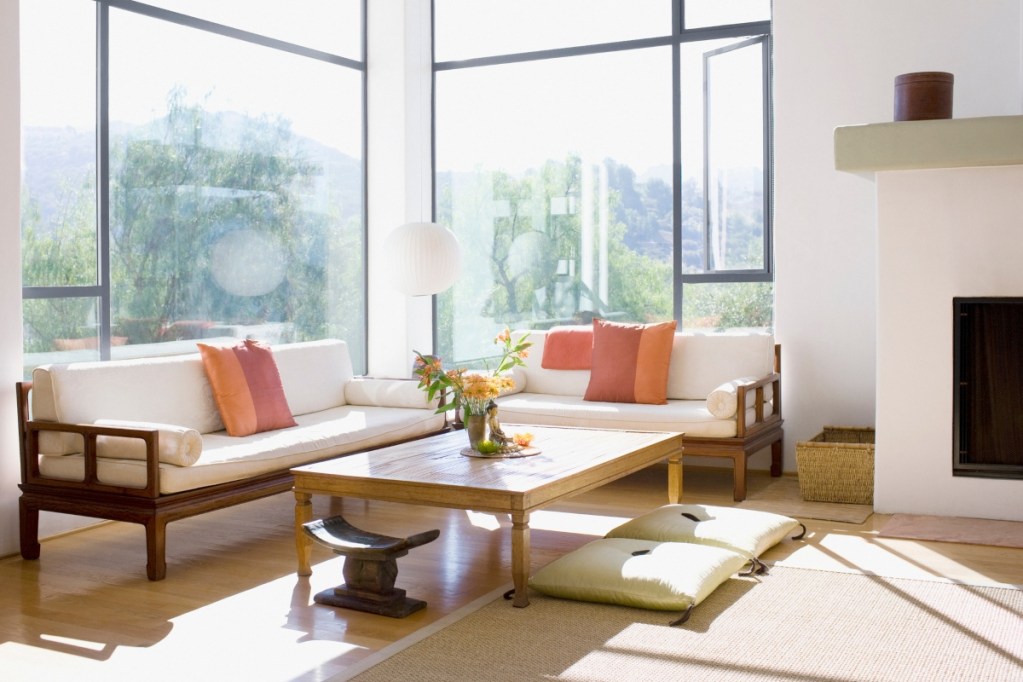 What shape is best for a small living room coffee table?
When choosing the right coffee table for your small living room, you'll want to ensure that you're maximizing the functionality of your table while still prioritizing plenty of walking space. Unfortunately, while circular and round coffee tables look incredible in many living rooms, they aren't the best option if you're working with limited square footage. A circular table has too much "unused" surface in the center and often takes up a lot of walking space.
Instead, when working with a small living room, you should opt for a rectangular or oval shape for your coffee table. Rectangle coffee tables have plenty of functional space that everyone can enjoy. Additionally, you can easily find the length of coffee table that suits your couch, so every guest has a spot at the table. And if you favor rounded edges, an oval table better maximizes your coffee table space without interfering with walkways like circular tables often do.
When furnishing a small living room, don't limit yourself to traditional styles. The most common style of coffee tables just may not work in your space. Instead, get creative and pick pieces that fit both the size and style of your space. Whether it's an ottoman-turned table or a DIY side table made out of a few 2 x 4s, your coffee table can be a unique and useful piece that fits perfectly and elegantly in your small but cozy space.
Editors' Recommendations