Get into the spirit of fall and prepare your patio for some cozy nights huddled under fleece blankets. If you're starting from scratch, this guide will help you put together a cozy patio space from seating to heating. If you're wondering how to make your patio feel even more inviting, this guide will also go over some accent piece ideas and personal touches like lighting. Let's dive right in.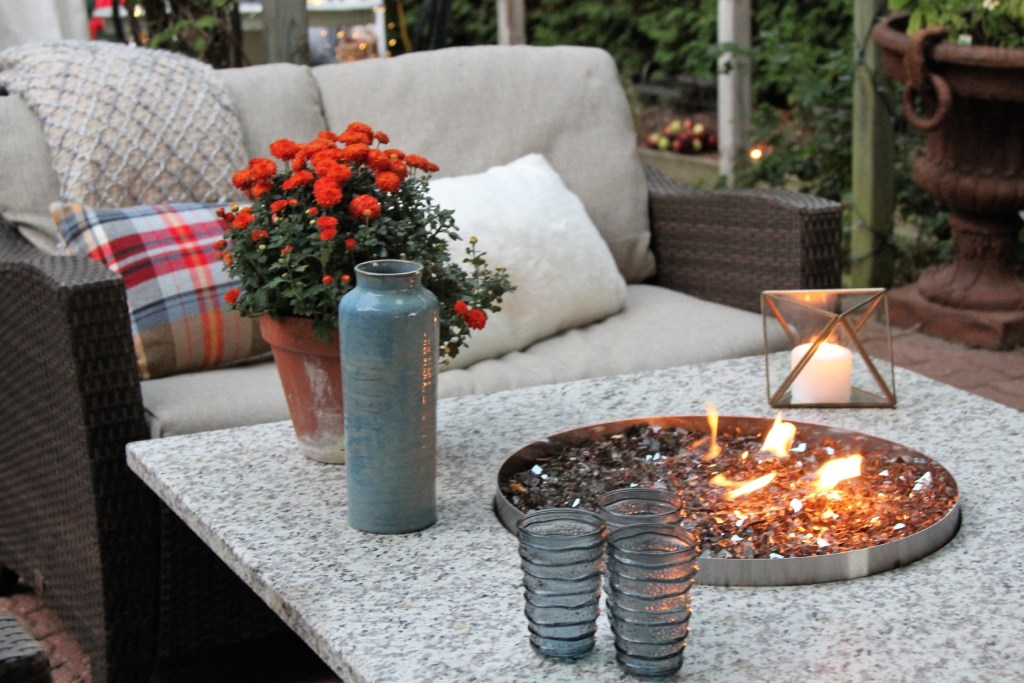 What seating should I get?
If your patio is covered by a pergola, you're in luck. You can choose any type of seating including large sofas with cushions, loveseats, woven lounge chair sets, wooden patio lawn chairs with cushions, and metal garden chairs. Bistro sets with rocking chairs make the space feel more welcoming instead of your regular folding chairs.
If your patio is vulnerable to the elements, consider waterproof and/or rust-proof furniture. You might also bring in delicate materials like seat cushions when it's raining or snowing. Arrange the seats facing each other and as close as is comfortable.
What heater or heating equipment do I need?
Electric heaters are great, but you can also try a propane heater, especially if you want a larger style. Moreover, there are electric heaters you can attach onto your patio umbrella pole.
This is super convenient especially if you have a tight seating arrangement where the heater can directly reach everyone. Otherwise, we recommend a freestanding heater that radiates heat in different directions so everyone stays snug.
Bob Vila suggests to install a firepit– another great way to add some warmth and comfort to your patio. Lastly, a wood-burning, cast-iron fire pit in the shape of a charming lantern can really elevate the look of your patio. They're stylish, romantic, and easy to use. However, if you're sensitive to smoke, stick to electric styles.
What lights should I put up?
String lights are a guaranteed way to transform your patio into a fairy-tale scene, like HGTV shows. String them across the yard in various directions over your sitting area, or decorate a tree or other tall structure to make it a focal point. Mini globe lights in a yellow tone provide a warmer feel than white.
Besides string lights, consider LED or candle-lit lanterns for a whole different vibe. Paper or metal-framed glass lanterns both look beautiful, though paper lanterns tend to be strung together like fairy lights. Scatter lanterns around your yard or line the path from your patio to the back door for an effortless look.
What kind of table do I need?
One of the most important parts of a cozy patio space is a common table where you can put food, drinks, board games, and accent pieces. You might also grab an end table or two if your set comes with a rather small main table. If you use your patio mainly for eating meals together, choose a large rectangular table that has enough room for dinner settings. Of course, this means you might have to reconsider your chair selection to make them table-height.
Otherwise, a petite, coffee table-sized model will work just fine. Make sure it's a comfortable height compared to the chairs you've chosen. Ideally, it should be waterproof and stainproof since it'll have to endure the weather, food, and beverages. Also, folding patio tables can be a great option.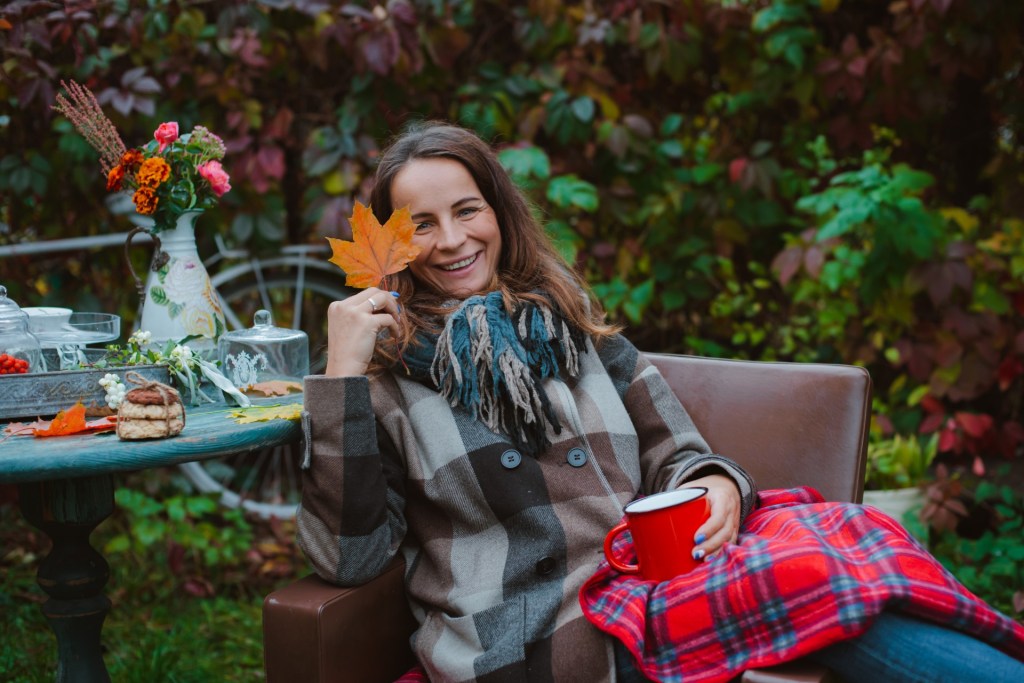 What other accent pieces should I add to my patio?
First, pick a theme or a color scheme. Fall color palettes tend to mimic the natural surroundings during the season, so warm colors like orange, red, yellow, and brown reign supreme. You might also center a theme around a favorite pattern of yours or a textile you've recently discovered.
Bring in lots of cushions and different throw blankets. Light a few candles if it's a nighttime event, and even in the daytime candles will inject some character into your patio space. String up seasonal decor like banners or dried foliage. Arrange pumpkins in assorted sizes throughout the space if you want to acknowledge the cooler season but don't want to go full-out.
Keep mini lanterns on your table(s) and fill them with LED candles. Always have snacks and drinks available and a game or two if weather allows. Bonus points for having a thermos of hot cocoa at the ready. Well + Good also agrees with these tips.
Keep a portable speaker close by and play calming music like nature sounds or instrumental soundtracks — whatever fits the mood.
Creating a cozy patio space for fall is easier than you think. One big change you can also start with is installing a pergola, some wall panels, or a fully closed canopy. These help close off the space, making it much more cozy while still serving you that carefree outdoor ambience. Then start by choosing a theme or color palette, seating and tables, lighting, heating equipment, and finally, accent pieces.
Editors' Recommendations