Patio umbrellas keep you comfortable in the hot summer sun, rainy spring weather, and even on days with light snow. The main factors to look for in a patio umbrella are their opening mechanisms, fabrics, bases, and rib strengths. We've gone ahead and detailed how to shop for the perfect patio umbrella for your home, and we put together six different types worth checking out.
Types of opening mechanisms
When looking at patio umbrellas, consider what type of opening mechanism works best for your family.
Manual crank: You might be most familiar with this type of opening mechanism. On the pole or the base, you'll find an attached arm that you need to crank when you want to use your umbrella. This type of opening is popular because you can adjust how expanded your umbrella is.
Pin and pulley: This type of opening requires a little more work than manual cranks, but they are still fairly common. You'll need to pull on the string, cord, or cable attached to the top of your umbrella until the canopy is fully expanded. Then, you'll insert the provided pin through an opening in the pole to keep the canopy open.
Button or pop-up: Like regular hand umbrellas, a pop-up umbrella opens and closes with a button.
Type of poles and shades
The most common type of patio umbrella is the market or beach umbrella. They're easily removed from the base, so you can take them with you on a picnic or a breezy outdoor nap on your backyard lawn. Market umbrellas usually have fixed shades that do not tilt.
By contrast, cantilever umbrellas are built with two poles: One to hold it up and another to hold the shade off to the side. This lets you cover various seated areas without the pole getting in your way. For instance, you might use a cantilever umbrella to keep you cool on a pool chair.
When it comes to shade type, you can choose from single or double canopies. Single canopies are best for smaller groups of people, and double canopies can provide shade for about eight adults. Commercial-grade double canopy umbrellas feature two large, separate canopies on either side of a pole, but for patios and decks, opt for connected canopies on a smaller pole.
Rib strengths and fabrics
If you live in a particularly windy or rainy area, choose durable fabrics and rib strengths. The ribs provide structure to your umbrella, and the more it has, the stronger it will be against all conditions. Fiberglass is the strongest option, while wood and aluminum are ideal for light use.
Acrylic, sunbrella, and polyester are common materials because they're durable and weather-resistant. Specialized materials like fiberglass and synthetic grass are also available, depending on your umbrella model.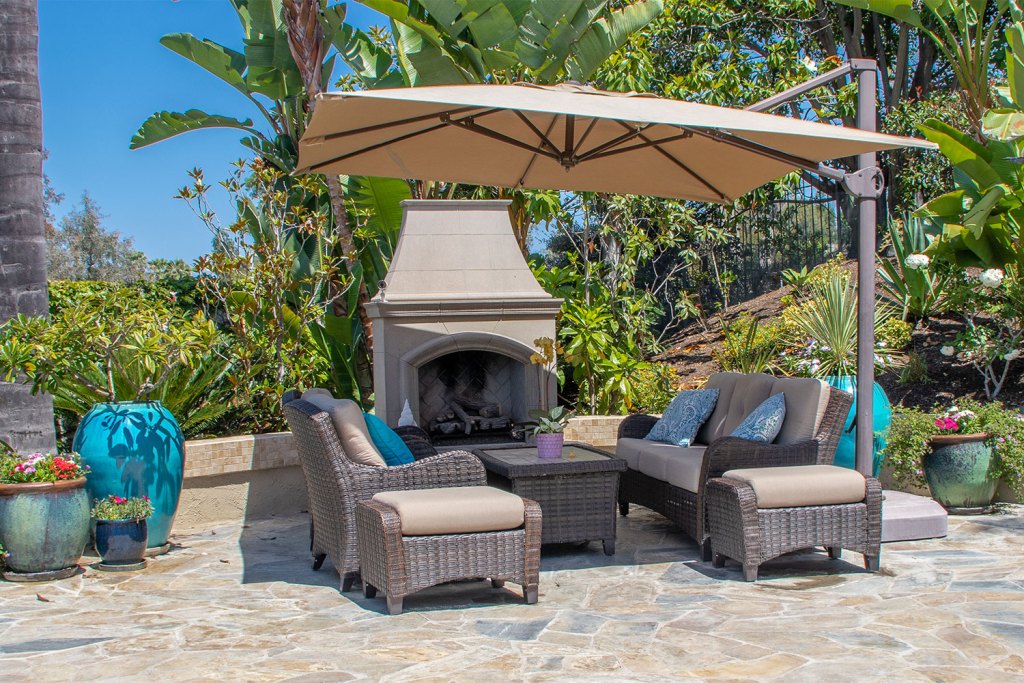 Market umbrellas
Best for: Round patio tables
A market umbrella is the traditional option. They're attached to a base that is strong enough to keep the umbrella in place on windy days, and some are detachable, so you can stake them through soil or sand.
Cantilever or offset umbrellas
Best for: Versatile seating arrangements
Cantilever umbrellas are sought after because they don't require a center pole to stay in place. There won't be an awkward pole in the way during summer lunches or when squeezing around a small table for a little bit of shade. "When it comes to providing shade with elegance and class, nothing beats a cantilever umbrella," says The Patio Pro.
Double canopy umbrellas
Best for: Large seating arrangements
Double canopy umbrellas are great for covering multiple tables or rows of chairs. If your family spends ample time outside, this means a table arrangement and a playing area can both stay covered under one umbrella.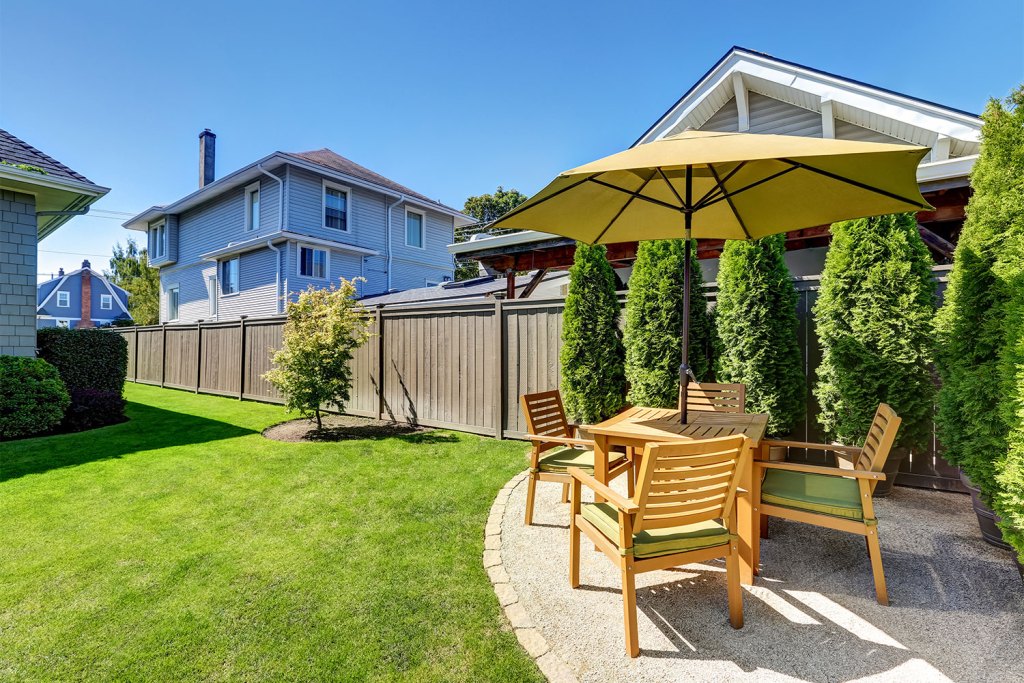 Pagoda umbrellas
Best for: Single poolside chairs
Pagoda umbrellas are small and are used mainly for aesthetic reasons. A pagoda umbrella features an exaggerated pointed tip resembling a circus tent top, and they come in a variety of fun colors and designs. The classic choice is white and red striped (or any stripe combination).
Pagoda umbrellas typically give shade to just one or two people, making them ideal for lounging next to the pool.
Fiberglass umbrellas
Best for: Windy regions
Fiberglass umbrellas are hardy and weatherproof. They won't budge during storms or break down even when exposed to rain. Although these are typically used in commercial settings, they're a charming addition to any patio. "Fiberglass umbrellas are most popular in very windy environments," states Patio Living.
Sail umbrellas
Best for: Families with children
As the name suggests, a sail umbrella is shaped like a boat sail and is held up by multiple poles. You can design your own shade structure with a single or multiple sail umbrella, thanks to their versatile installation methods. You can attach them to existing poles in your yard, fences, ground stakes, or even walls, given the right tools. They offer wide shade coverage and don't require bulky bases, so parents should take note!
Patio umbrellas protect your family from the elements and make your outdoor spaces more inviting. Whether you choose a classic market umbrella or unique fiberglass umbrella, make sure the fabric, rib strength, and type is appropriate for your climate and family lifestyle. With any of the umbrella types on our list, your patio might just become your family's new favorite hangout spot.
When upgrading or remodeling your kitchen, you may want to add attractive features to it in order to impress visitors or to simply have an especially aesthetically pleasing room. But what components can be made to look particularly interesting? A variety of options exists, which have a wide range of costs and designs. Read through this list for a succinct summary of the many potential choices for kitchen details.
Cabinet Door Accents
As a step up from plain wooden cabinet doors, consider installing decorative handles and engraved, recessed, or glass doors. These additions can make your kitchen space look more luxurious, and the open feeling of glass doors creates the illusion of more space. Better Homes & Gardens says designs on wooden cabinet doors can tie together the theme of a kitchen, especially when paired with the appropriate hardware and tile. See-through doors also allow for fine china or wine glass collections to be easily seen.
Special Storage Options
Visible shelving and waste receptacles might appear clunky or even unsightly in an otherwise beautiful kitchen. Instead, Bob Vila suggests opting for hidden storage solutions, such as a Lazy Susan in a corner cabinet or a pull-out trash can/recycling bin drawer. These alternatives can unify the design of your kitchen and save space. For quick access to pantry items, put in sliding shelves, which eliminate the need for stretching to reach things in the back of a cabinet. Also contemplate racks for smaller items that are attached to the inside of cabinet doors. Drawer organizers can also help straighten up previously cluttered spaces.
Editors' Recommendations