Your patio should be the outdoor space you've always wanted. It should serve as a relaxing retreat from the outside world – a space where you can cuddle with your dog or chill out with wine. If it's looking rather rundown at the moment, there are inexpensive patio refurnishing ideas to consider, in case a massive undertaking is too much for your budget. But whether you want it filled with beautiful potted plants or decked out with the best grilling gear, it should feel like an outdoor oasis to you. One thing that all patios have in common is a table. Patio tables can be smaller-sized tables for drinks or larger ones that offer room for board games, dinner, and more. Folding patio tables are a popular and great option for your backyard. They can easily be folded up and slipped away into a shed, in a crawl space, or under your deck for another time. These tables provide you with comfortable use and easy storage for when you need it.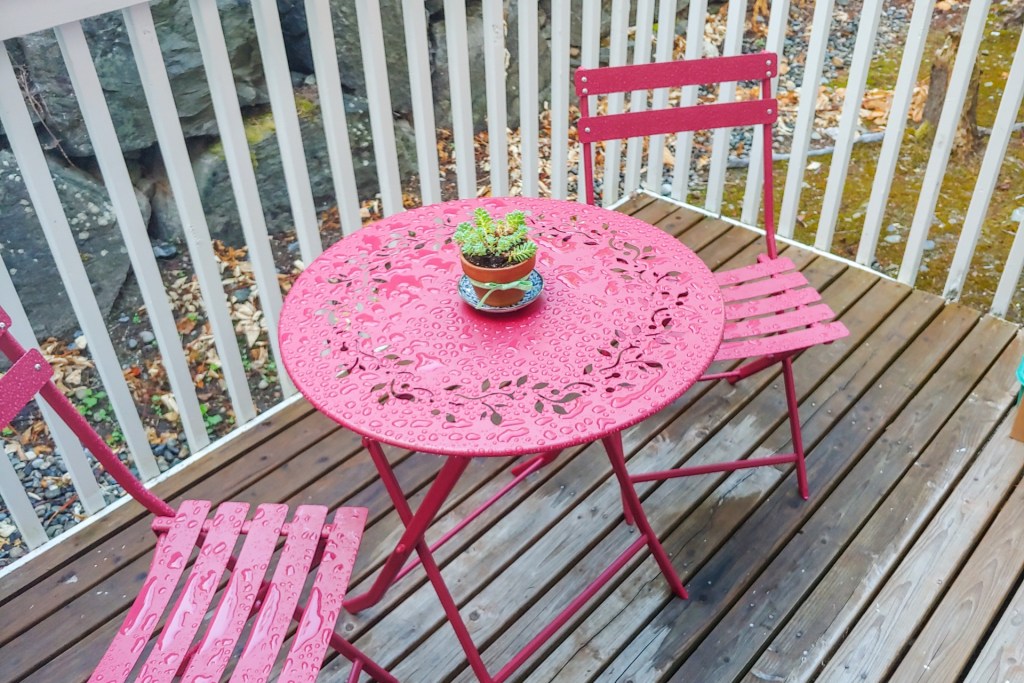 Foldable bistro table
A bistro table is a simple-looking table. Bob Vila explains how to make one if you choose. They are usually small, round, metal tables with fold-out legs that can lie completely flat when collapsed. These tables come in many colors and designs. Look for a bistro table made out of steel or aluminum to ensure a waterproof seal and long-lasting durability.
These tables are small and oftentimes come in a set with two matching chairs. The lines of this table are clean and thin. It has skinny, delicate-looking legs to give off that minimalistic look. Bistro tables would work great on any backyard patio, especially smaller-sized ones. It creates the perfect little space for two people to hang out, talk, play games, eat, and drink. You will love how elegant this table looks and is perfect for if you need to save space for other items.
Pros of bistro tables:
Simple design
Compact for smaller-sized patios
Sturdy metal style
Weatherproof
Light and easy to store
Comes in a variety of colors
Cons of bistro tables:
Only accommodates two people
Is not great for hosting large parties
Usually only available in metal materials
Metal can get hot in the summer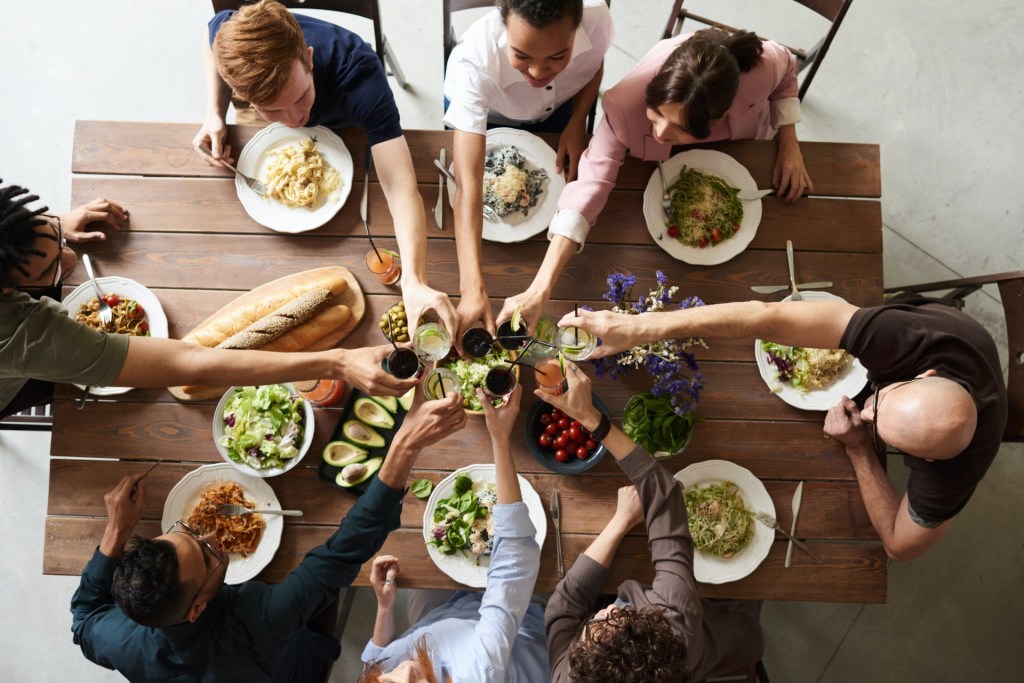 Foldable rectangular dining table
Dining-room tables are meant to be grand and inviting. They are a must for anyone who loves to host or has a big family. Luckily, there are many great dining tables to bring the dinner party outside. Most of the sturdiest foldable tables of this size will be rectangular. Many of them have legs that either collapse along with the top of the table so the whole thing lies flat, or the legs pull in and lock from the two ends of the table (like those plastic foldable white tables that almost everyone has or has used).
Regardless of which style you choose, these tables will be a great addition to your patio to help you maximize its space.
Foldable rectangular dining tables come in materials like metal, wood, a combination of both, or metal and glass. You'll be able to find the perfect size and look to best suit your outdoor-patio space. This type of table is the best of both worlds. It looks beautiful while on display but also allows for easy, quick storage in the cases of harsh weather or winter months. You will love how much space you have to entertain on your patio with this type of table.
Pros of foldable rectangular dining tables:
Can accommodate many people
Comes in many types of materials (wood, metal, glass, etc.)
Sturdy and large
Weatherproof
Collapsible for easier storage
Can usually hold umbrellas for hot days
Cons of foldable rectangular dining tables:
May be heavy and bulky to store even with foldable feature
Only works for large-sized patios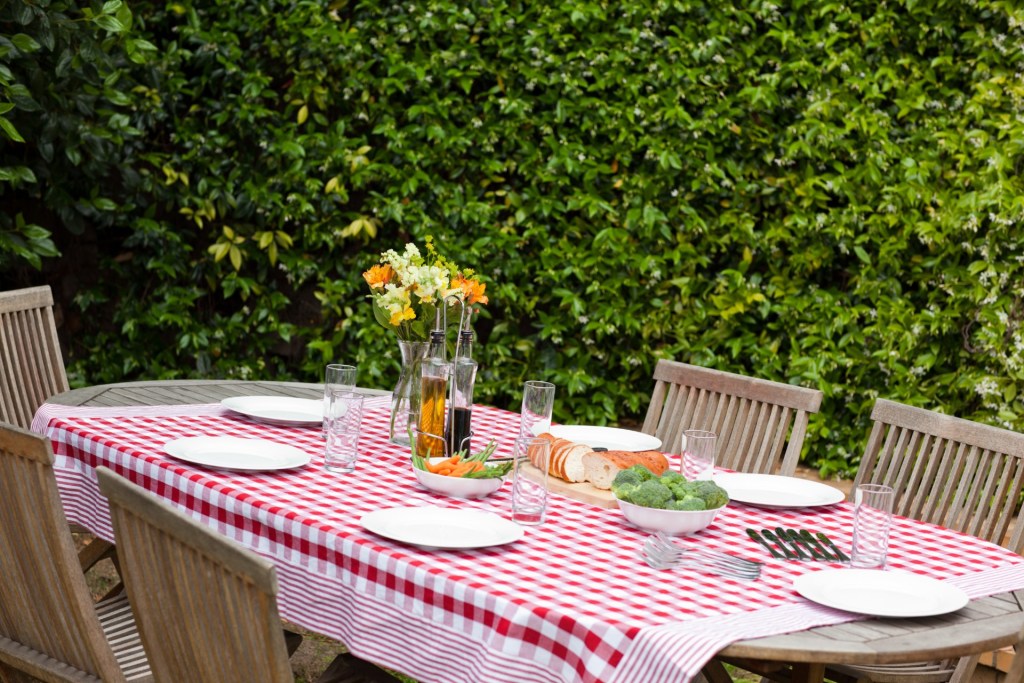 Wooden oval/circle folding tables
A fun and comfortable design for a patio table is an oval or a circle. These rounded shapes are designed to be inviting and make everyone at the table feel included. Many of these tables come in woods like teak, cedar, oak, and more. Teak wood is typically more expensive than other materials because of its beautiful finish and durability. Most wooden tables are more pricey in general due to their beautiful, finished look on furniture.
Wooden rounded folding tables are great for any outdoor patio. They come in many sizes to perfectly fit your space. These tables typically collapse directly in half with each half of the oval/circle folding down to meet the legs. This can make them easier to store during the winter months or in the case of abrupt, harsh weather. These tables are heavy and sturdy, making them great for enduring the outdoor weather. They are beautiful, classy-looking tables that will wow anyone who sees them.
Pros of oval/circle folding tables:
Beautiful design and finish
Sturdy and durable
Unique shape
Foldable feature for easier storage
Statement piece in your backyard
Cons of oval/circle folding tables:
Heavy and bulky to store even with folding feature
More expensive than other material types
Patio tables can and should be the real centerpiece of your backyard space. They are a place to gather and entertain comfortably. When looking into folding patio tables, look for ones that best suit your needs like size, material, and design. There are many great options to choose from between hosting two people to hosting 20. The options are endless. You will love the functionality of folding patio tables and how easy they are to store any time of the year.
Editors' Recommendations