An outdoor space is a perfect place to relax and entertain friends, but if it gets too hot or it lacks privacy, you may be looking for a design solution to help. Outdoor curtains are an elegant way to turn your patio into a private oasis. Not only do they shield you from nosy neighbors and the hot sun, but they are also a chic addition to the overall design. Follow our guide for how to hang outdoor curtains and take your patio from standard to sanctuary in no time.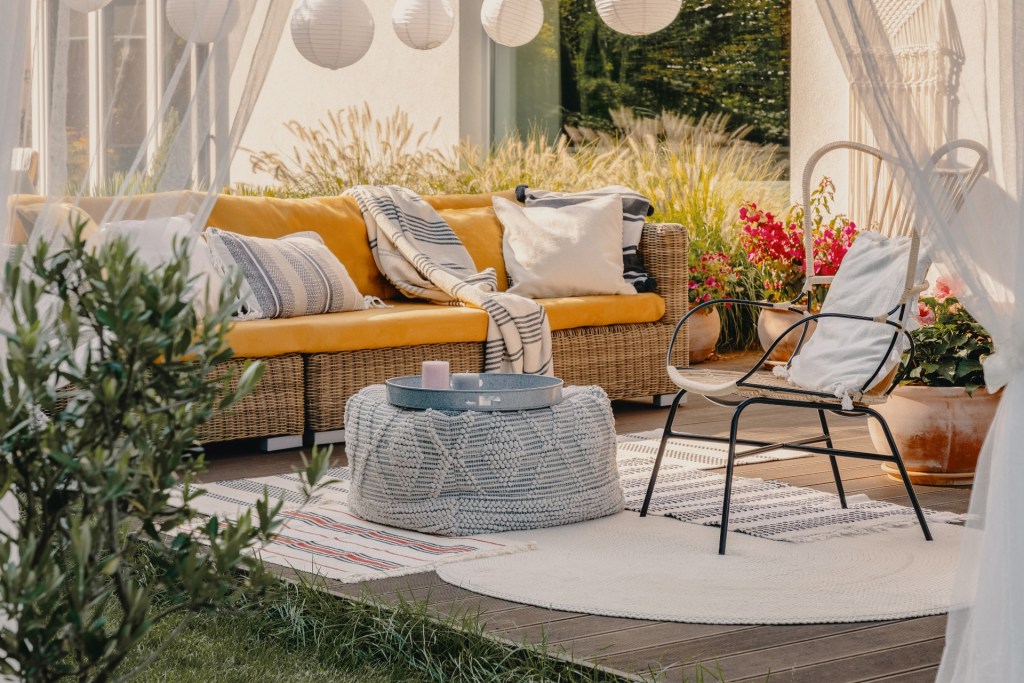 Why curtains?
Outdoor curtains create a dreamy, flowing look reminiscent of a resort. By using them, you designate the space and let visitors know it is the central hub. Curtains also allow you to introduce more of your personal style to the patio. Imagine white panels blowing in the breeze with palm plants nearby or brilliant panels in pops of color surrounded by containers of vibrant plants. Two very different looks, but both beautiful ways to enhance the aesthetic.
What to look for
There are a few things to keep in mind when choosing curtains for a patio space. First and foremost, make sure to purchase curtains specifically made for use outdoors. These will be waterproof, fade and mildew resistant, and have light-blocking/UV protection. Unlike interior curtains, here, you want the curtain to be a few inches off the ground so it will not collect dirt or be in standing water. If you think you will be opening and closing the curtains frequently, look for ones with anti-rust grommets, which move much smoother and won't get snagged on the curtain rod. You can also find options with weighted hems to keep them from blowing around.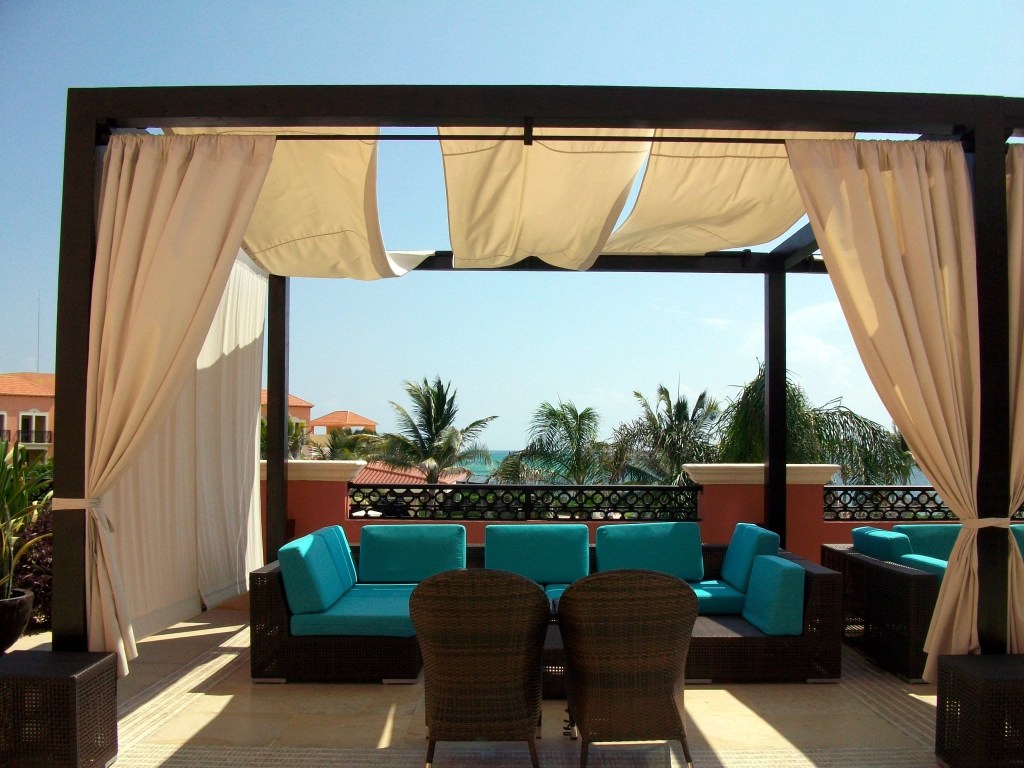 What they can do for you
Curtains can tackle a lot of functions. Whether you have a neighboring house close by or a view you are not too fond of, they allow you to close off what you don't want to see. Subtly, it tells that chatty neighbor you are engaging in private time. Simply close the curtains and catch up with friends, read a book, or surf the web.
Curtains also work wonderfully for managing all kinds of weather conditions. They keep the hot sun at bay and can be adjusted throughout the day. If a chilly wind is coming from one direction, close the curtains on that side. Fully enclosed, they can even help keep the bugs away.
What to hang them on
Ideally, you will need either a frame or solid structure made of wood or metal to hang your curtains from. This can be as easy as setting posts in the ground as you would for a fence or building an actual frame. Once the patio has posts or wood columns, you can use a curtain or tension rod to hang the curtains. Make sure to select a rod that is made for the outdoors to stand up to the elements. Another possibility is to hang your curtains from a clothesline or rope, but these will only work if the drapery is lightweight. A third option is to use heavy-gauge wire, which is sturdier than rope and faster to install than rods.
If you choose to go the wire-hung route, grab some heavy-gauge steel wire rope, eye hooks, and wall anchors. Use the eye hooks and wall anchors to fasten one end to a solid structure (post, beam, or exterior of your home). Feed the curtain on and get the wire as taut as you can, leading to the opposing structure, then secure it to the second eye hook. Depending on the length, consider if additional support is needed in the middle to prevent sagging.
Finishing touches
Now that you have your curtains up, you can enhance the overall look by adding decorative containers, accent plants, or hanging baskets around your space. Throw pillows in a fabric that works with the curtains will make the seating area look more inviting. Tiebacks made with the same or a coordinating fabric come in handy when the curtains are not in use. It is also good to have clothespins on hand to hold curtains together on breezier days.
Creating a welcoming outdoor patio expands the living area in your home. By upgrading the space with outdoor curtains, yours will be a private gathering spot that showcases your style and offers a retreat to relax in.
Editors' Recommendations