After a year of spending more time at home than usual and staring at the walls all day, many people have come to the same realization: It's time to remodel. One of the most popular remodels right now is the addition of an outdoor kitchen. If you're among those considering upgrading your backyard space, it's essential to first do your homework and research specifics such as the cost of your kitchen, the amount of space needed, and any electric or plumbing considerations. While it may sound like a big undertaking, constructing your outdoor kitchen is easier than you might think. With these few tips, you'll create a space that's sure to be the talk of the whole neighborhood.
Choosing the right setup
When it comes to outdoor kitchens, choosing the correct setup is crucial. Whether you want a grill and prep station, a wet bar and wood-fire pizza oven, or a full-out kitchen with refrigerators and stoves, it's essential to pick a type that works for you. The decision comes down to three main choices: moveable, prefabricated, or custom.
Moveable
A moveable setup is perfect if you don't have a ton of space or don't want to invest a lot of money in this project. To begin, all you need is a portable gas or charcoal grill and a rolling cart with shelves. These compact additions are easy to maneuver and store, plus, you can take both with you if you move. Basically, you can't go wrong with portable prep tables, and they can double as side tables when you're not cooking.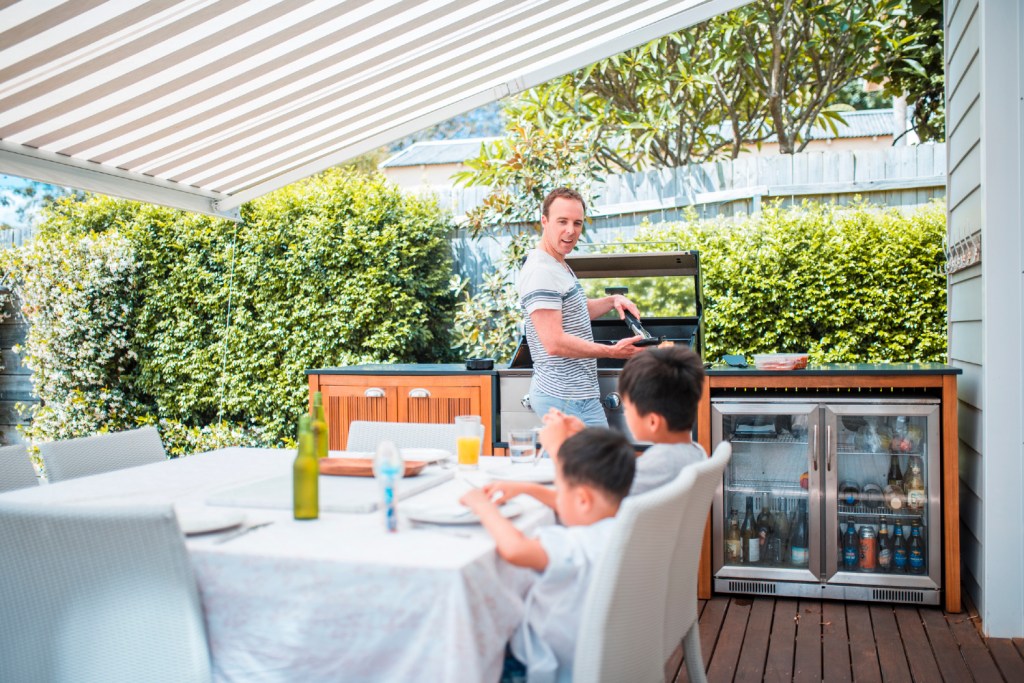 Prefab
The prefab option is the typical all-in-one setup including a 5-foot island with a tile counter, drop-in gas grill, and cupboard doors to hide the propane tank. From there, you can usually customize your design by adding additional pieces such as a fridge, oven, sink, wine cooler, and more.
Custom
Whether you make it a DIY projector hire professionals, custom outdoor kitchens offer the most flexibility but definitely cost the most. The possibilities are pretty much limitless, with many upgraded setups including smart appliances, extra storage, extensive lighting, and additional counter space. Custom designs also allow you to match the outdoor kitchen with the interior of the home or patio decor for a more cohesive design.
Choosing the style
When styling your space, there are three general aesthetics: rustic, contemporary, and traditional. Traditional setups usually feature some masonry or stone items with wood or tile accents. Contemporary designs will typically have sleek lines, polished finishes with minimalistic undertones, and upgraded appliances. Last, a rustic finish typically includes matte, stucco, and terra-cotta style finishes for a more lived-in, cozy look.
Choosing the correct shape
The next big decision is choosing the configuration of your new outdoor kitchen. The space you have to work with will likely dictate which shape will work best for you. Placing all your appliances, tables, and cabinets along the wall takes up the least amount of space, making it most suitable for small, budget-friendly projects. An L-shaped setup is good for incorporating extra counter space, the U-shaped orientation works best for freestanding kitchens with several appliances, and the island configuration creates a central entertainment hub.
Other items to consider
Stay close to the house
If you have the option, install your new outdoor kitchen relatively close to the house, ideally 15 to 20 feet away from your indoor kitchen. The closer to the house you are, the shorter the trips back and forth while hauling food will be. It is also more cost-effective to run utilities a shorter distance, and building on an existing patio will save money too. The walls of the house also provide built-in shelter at no extra cost.
Materials
Choose materials that are easy to maintain, affordable, and stylish. Stone veneer looks like natural stone, and it might be the better choice as it's easier to install, cheaper, and much more durable. Brick is also affordable and easy to maintain but will likely require a professional to install. Like brick, stucco finishes also create a more rustic look, but this material has a flameproof finish. Stainless steel is durable, weatherproof, and will probably match your grill, while marine-grade polymer finishes are maintenance-free and come in many different colors. Granite countertops will stand up to the elements and won't stain as easily but are expensive and heavy.
Splurge items
If find yourself with a bit of money left in the budget, you can add some extra items that will make outdoor cooking much easier. For example, a sink makes staying sanitary much more convenient and will limit your trips in and out of the house. To upgrade the grill, consider adding a natural gas line to eliminate the need for propane tanks or an extra burner to keep side dishes warm.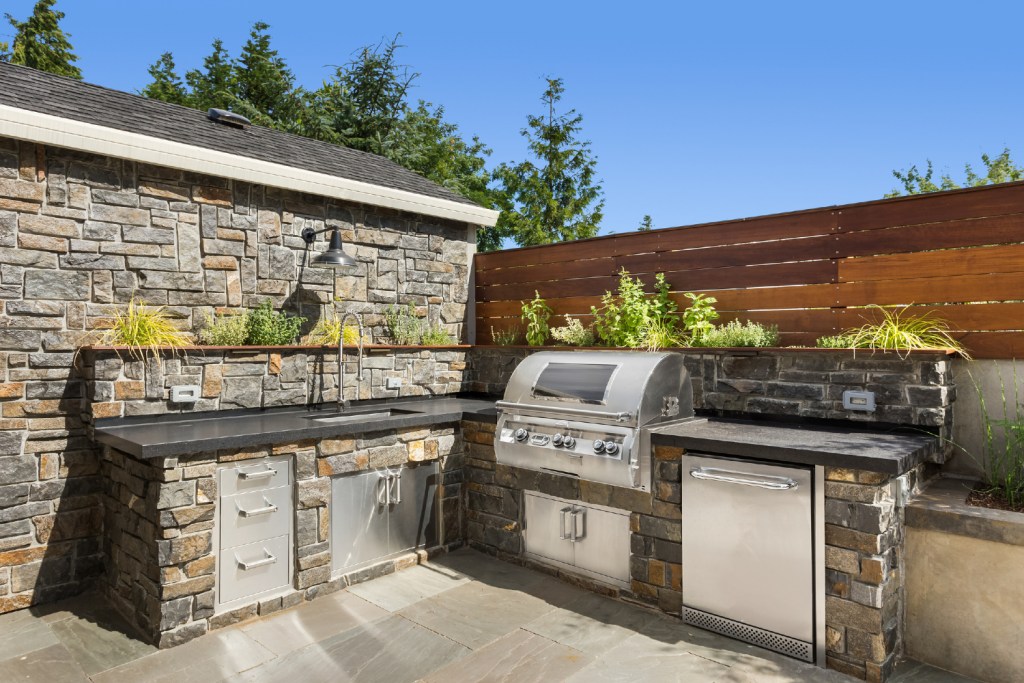 Building your dream outdoor kitchen on your back patio is much easier than you'd think. With a little bit of planning and budgeting, you can craft an outdoor space that you and your guests will enjoy for years to come.
Editors' Recommendations