Bathrooms are one of the most popular rooms to revamp in a home. The design you select says a lot about who you are and what your personal style is. Finding the right one can be overwhelming. Do you gravitate toward a modern aesthetic? Maybe you love traditional? How about a rustic or farmhouse look? Which of these popular bathroom designs speaks to you? Sometimes, the best place to start is with a little inspiration. Here, we explore a few of the most popular bathroom styles and highlight the hallmarks of each to help you determine your perfect match.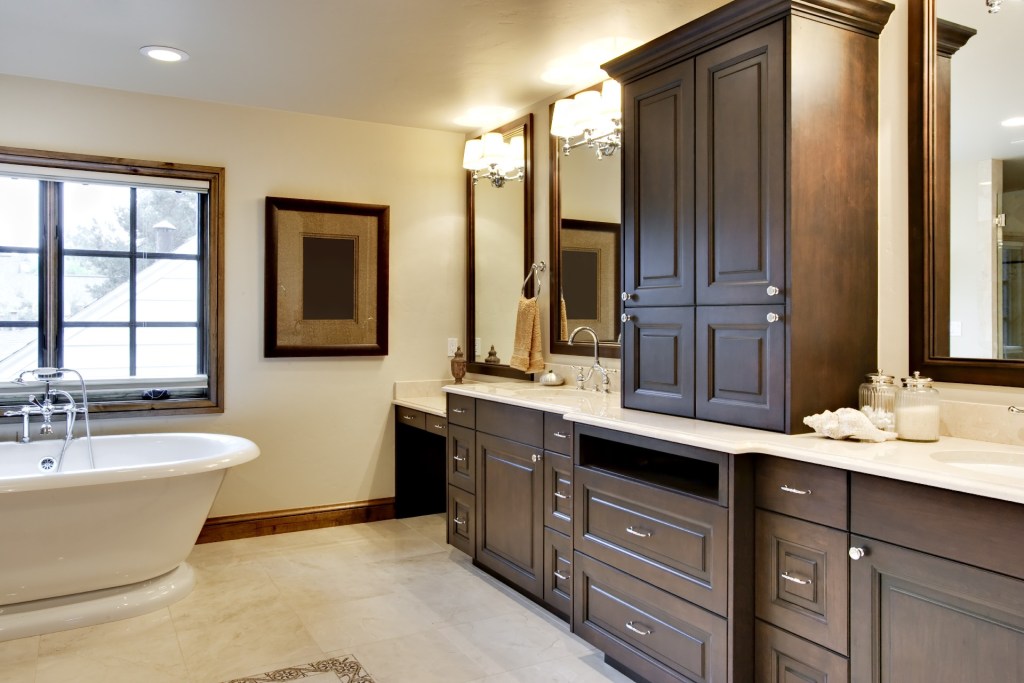 Traditional
This look relies on paying homage to classic details. It will include attention to architectural detail by using decorative trim and paneled cabinetry. Lines will be more flowing, and the materials used will have a timeless feel. A clawfoot and pedestal tub would fit right into this space. Counters are often made of marble, quartz, and granite. For lighting, chandeliers or antique-inspired sconces are the favorites.
Trademark details:
Furniture-style vanity with trim
Classic lighting with shades
Luxurious stone counters and flooring
Free-standing tub
Elegant fixtures and hardware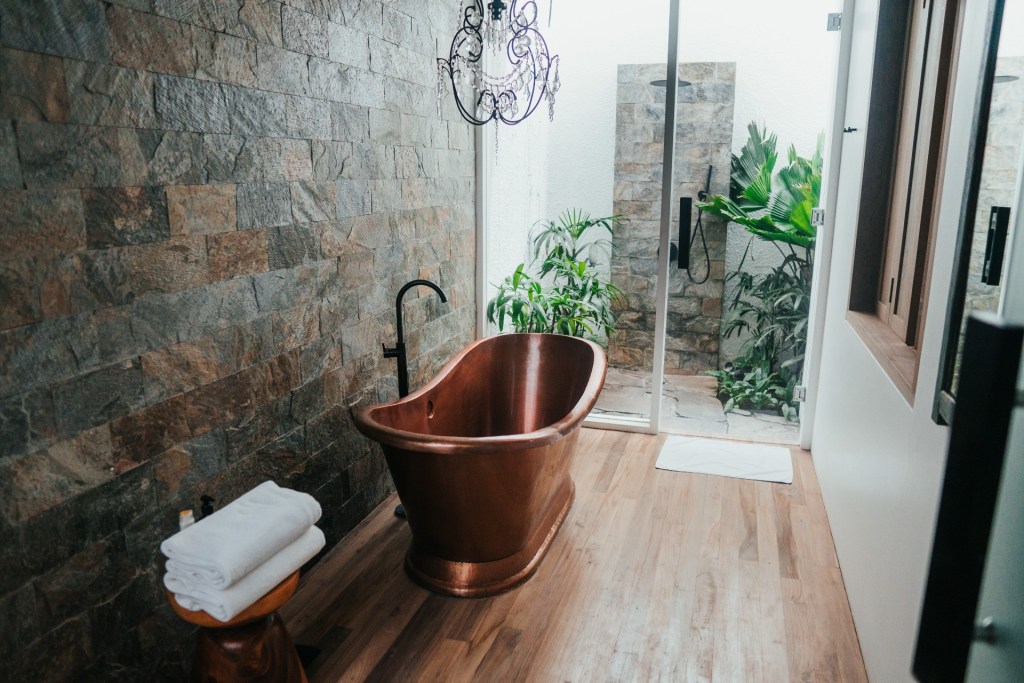 Rustic
No frilly or fancy trim here. Rustic interiors pull inspiration from the outdoors by incorporating organic elements like reclaimed wood and natural stone. Think solid pieces that create a cozy, warm feel without any fussy details. A feature wall with aged wood or rough stone detailing is the perfect backdrop in a rustic space.
Trademark details:
Use of rough natural stone
Wood flooring
Bringing elements of the outdoors in
Sturdy fixtures with a classic aesthetic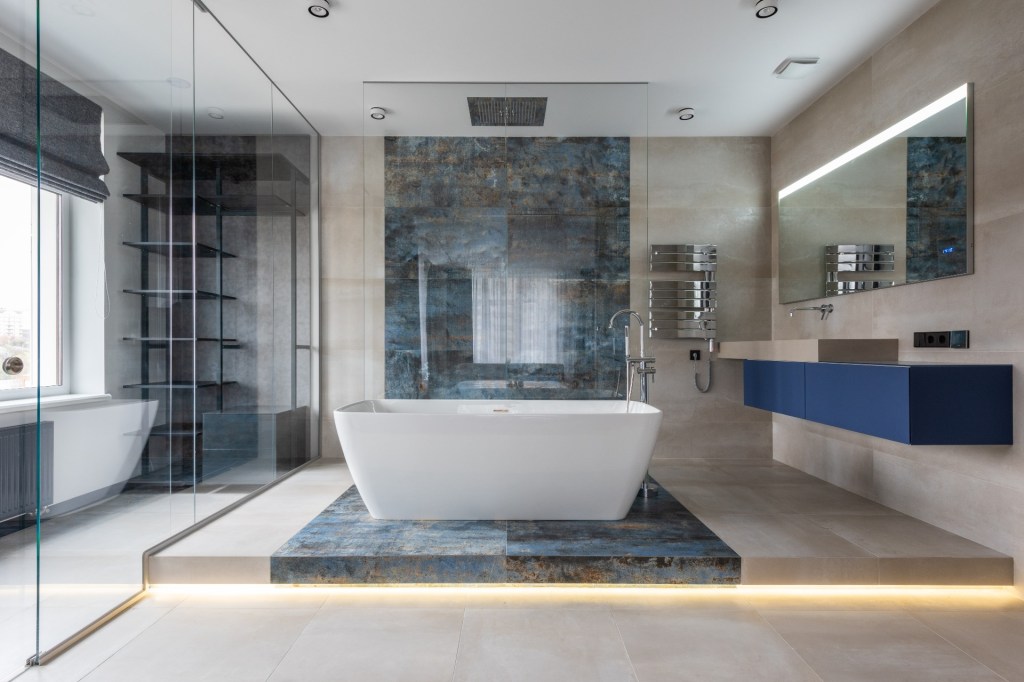 Modern
Sleek and streamlined, these bathrooms offer a clean look with strong lines. Pieces throughout the space should be geometric with no fussy detailing or ornamentation, and surfaces should be uncluttered. Color is often minimal, but a striking detail such as an unusual natural stone can make a design stand out.
Trademark details:
Sleek, clean lines
Glass enclosures
No fussy ornamentation
Minimal-style hardware and lighting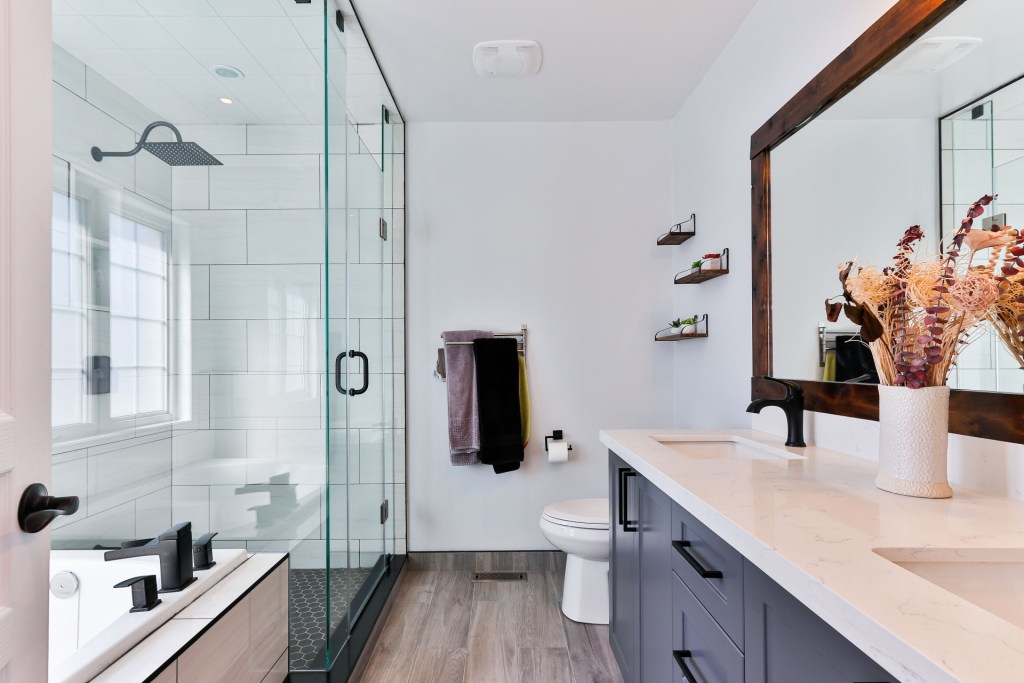 Transitional
Transitional takes modern and traditional elements to create a look that includes timeless components yet still feels current. When done well, it doesn't veer too far in one direction or another. Instead, it perfectly marries the two for just the right balance. It can also be a good compromise if two people involved in the decision-making have different aesthetics.
Trademark details:
Feels timeless yet contemporary
Shaker-style cabinetry
Uses classic elements with updated application
Clean, unfussy hardware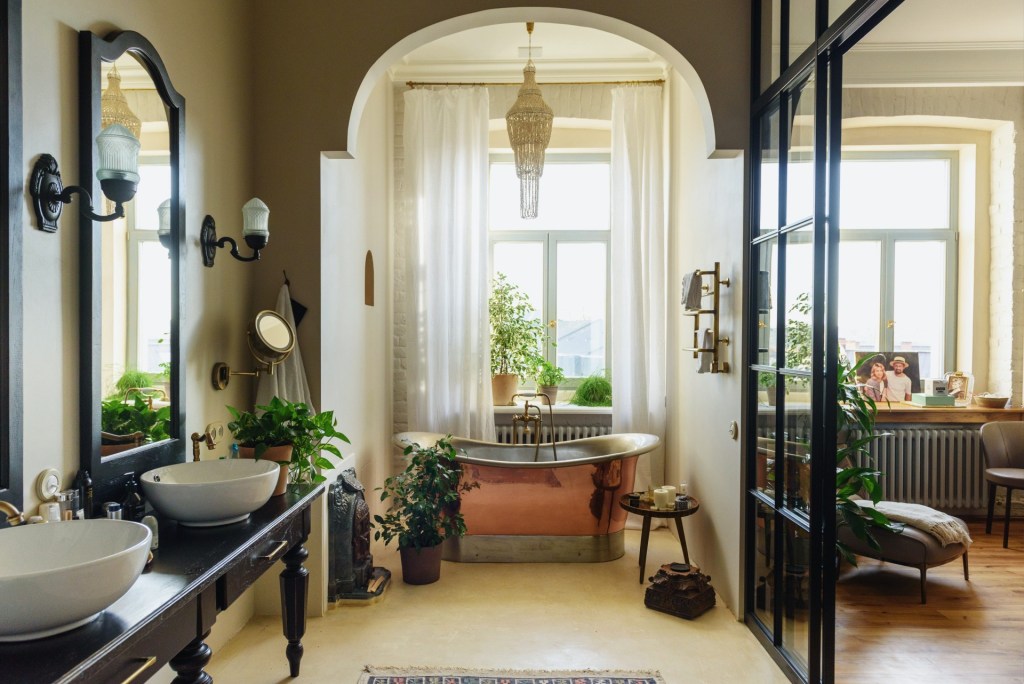 Mediterranean
This look gets its inspiration from the sunny coastal regions that border the Mediterranean Sea. It imparts a global feel with warm woods, brick, stone, hand-painted tiles, and earthy colors. Rich wood tones and furniture-style pieces bring a vintage European vibe to this space.
Trademark details:
Global-inspired lighting
Unusual architectural detail
Warm paint colors
Antique-inspired cabinetry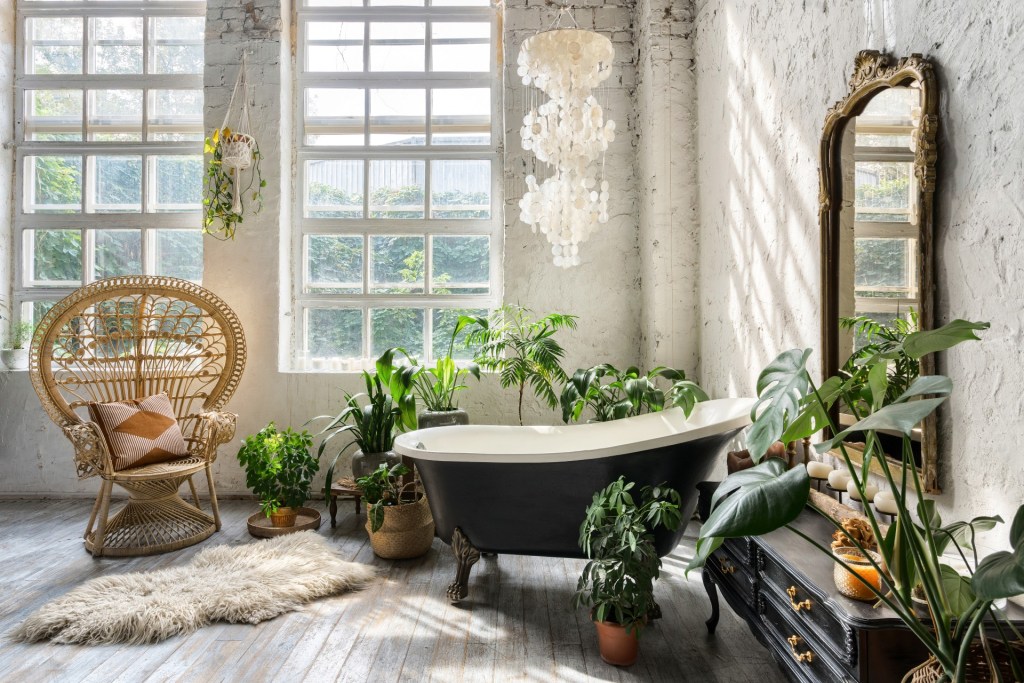 Boho
If you are looking to create a relaxing, retreat-inspired space, boho may be for you. This popular look is about mixing in well-worn pieces from all over the world from different time periods. It is more about telling a story than sticking to one style. Think patterned rugs, organic global accents, plants, and groupings of candles.
Trademark details:
Eclectic mix of vintage pieces
Use of organic materials
Plenty of botanicals
Unique lighting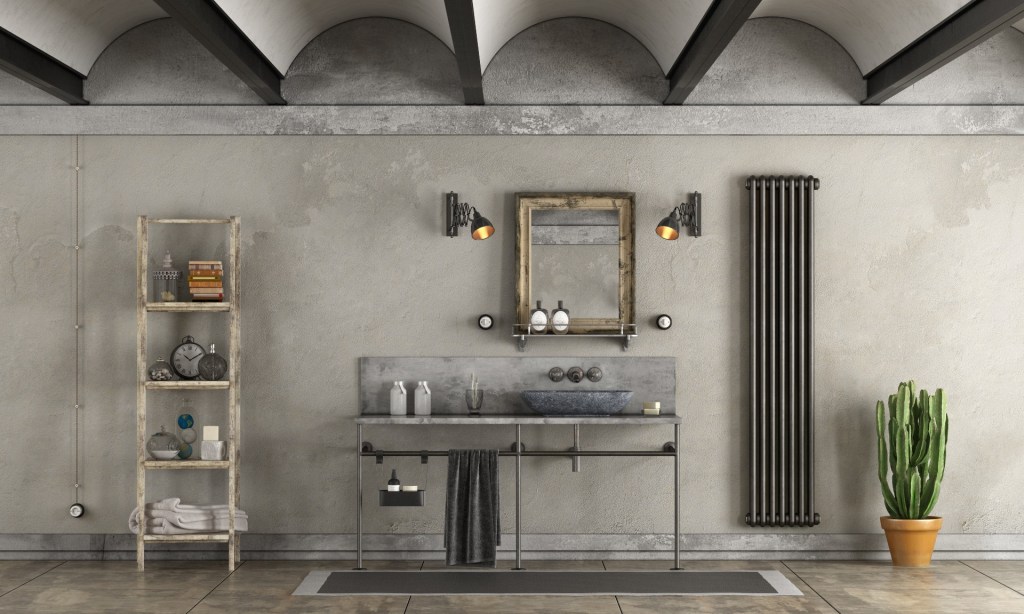 Industrial
The industrial look is a nod to the utilitarian practicality of factories and warehouses. It incorporates simple, tough materials that are free of ornamentation. There is nothing frilly about an industrial space—the pieces selected should be solid and sturdy. When it comes to color, minimal and aged weathered surfaces reign.
Trademark details:
Practical, sturdy pieces
Use of metal piping
Sturdy lighting fixtures
Minimal color
Farmhouse
Channel your inner Joanna Gaines for the ever-popular farmhouse-style bathroom. Homespun, simple elements that play off the inviting charm of a rural setting make this look long-lasting. Nothing too ornate or trendy with the farmhouse look, just the comfort of an uncomplicated, rustic design done in a way that feels fresh.
Trademark details:
White shiplap
Rustic cabinetry
Black wrought iron
Use of classic materials such as subway tiles
Choosing the right style is key when it comes to redesigning your bathroom. Each one has its own characteristics, but you will have a space that feels like home by finding the one that speaks to you.
Editors' Recommendations