When you're planning to update the decor of your home, it's possible that you have to choose between two polar opposites. You either go with traditional styles and its warm charm, or you embrace the sleek design of modern trends. The good news is that you don't need to pick one over the other. There is a growing trend called traditional modern design, and it marries both — helping you transform your home. We are in love with this type of design and want to share everything you need to know.
The best of both worlds
The traditional modern design has been one of the fastest-growing home-design trends. It has influenced the most famous architects, interior designers, and homeowners alike. Its allure resides in the fluid combination of traditional family-centric design, rustic and heirloom-statement pieces of furniture, modern functionality, and sleek architectural elements.
Although it might seem like an extension of the modern farmhouse, where elements are more planned and staged to showcase the contrast, the traditional modern design aspires to create the feeling of legacy, so a home feels like it has taken many well-lived years to come together. It's an exciting marriage of functional vintage with modern comfort.
Timeless sensitivity
For many, the one element that makes their living spaces feel like home is the timeless element. Flashy trends might come and go, but when you merge the forward-thinking elements of modern design with a traditional vibe, it will build a solid and long-lasting base.
If you anchor your interior design with natural materials, colors that blend, and highlight key elements like farm tables, eat-in kitchens, and exposed plumbing, your home will find the perfect balance to become a unique space that will host your family for many, many years.
The farm table
If there is one piece of furniture that can be the building block of your traditional modern remodel, it would be the farm table. The heart and soul of this home-design style is creating the perfect place for the family to gather. Reclaimed wood projects, tables passed on from generation to generation, and original heirloom pieces are at the heart of this trend.
This is exactly where you can incorporate your rustic decorating ideas, because this is where its influence can shine the most. However, unless you are starting from scratch, it is always a good idea to consider the existing decor of your home and find balance in your interior-design choices.
Open design with a purpose
Another key element is creating new open and cross-functional spaces. Gone are the days where rooms had a single purpose and were disconnected from one another at times. Now, we are looking for a sense of transition and continuity. You should look for big, well-loved tables in open spaces where you can relax and receive the nourishment and love of a family meal.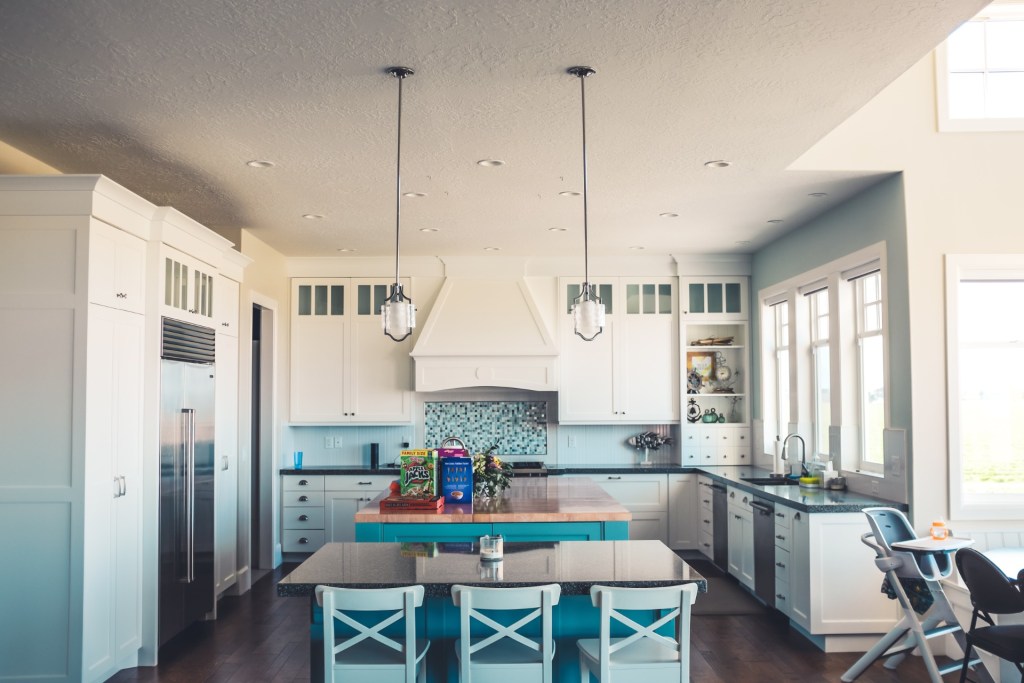 Preparing dinner can happen in clear sight of the dining and living room, and the family chef can continue to be part of the gathering while enticing everyone with the aromas coming from the antique pots and pans.
Creating design vignettes
The traditional modern design is all about minimalist decor moments. Embrace the "less is more" concept and use a single element to create an impactful feature that stands on its own. These choices are always functional and can be built around a chair at a staircase base, a headboard with hanging hooks, or exposed Edison light bulb arrangements.
Simple details with real-life use
When you're looking to truly fulfill the traditional modern design aesthetic, you need to make sure you're working with subtle and quaint details in your home. The key here is to be true to the functional nature of the elements you choose. Benches, end tables, and traditional artwork are all great opportunities to create the perfect traditional modern home.
However, unlike other transitional styles, we don't recommend displaying pieces just for decoration. You want features that don't bring too much attention to themselves, but once you notice them, they have an impact because of how useful and stylish they are.
Transform your home and live your best life with a new interior design. If you are ready to go full-on traditional modern, remember the main cornerstones that make it so special: Handmade furniture, homegrown detail, washed colors, and organic materials combined with sleek surfaces, modern appliances, and connected spaces. Combine Shaker, Americana, modern Victorian, and more in this warm and inviting home-design trend.
Editors' Recommendations