Traditional design is far more versatile than its name suggests. Yes, it encompasses Victorian living room sets with ostentatious designs, but modern traditional, at its core, is warm, inviting, and age friendly. If you're thinking of furnishing your home in this style, you're in luck. Here we go into detail about what traditional interior design is, what traditional modern design is, and some ideas for your home.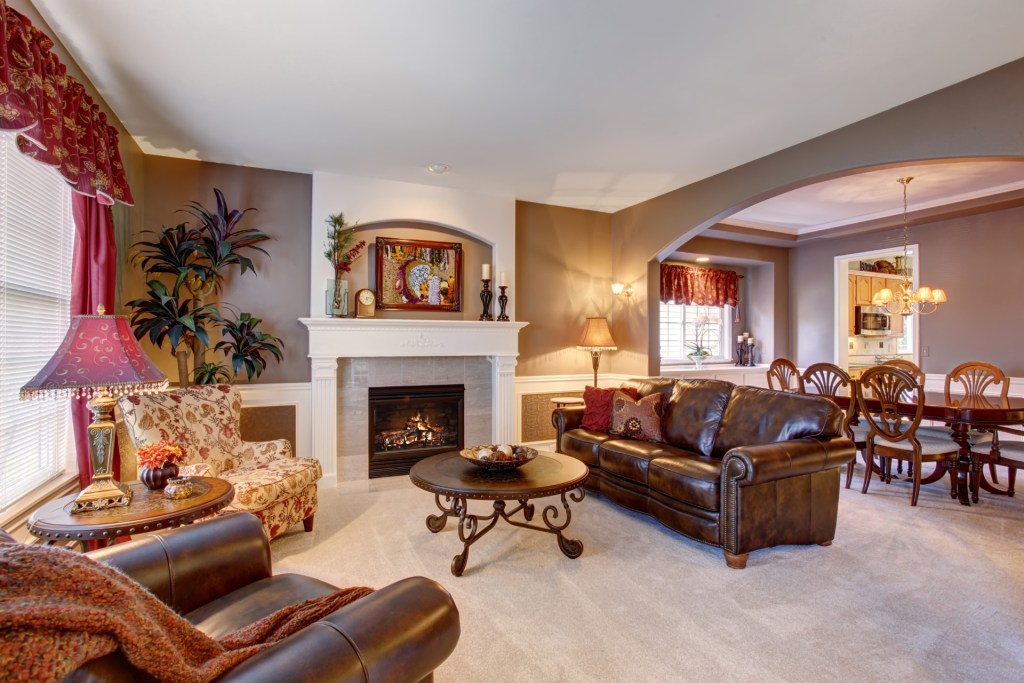 What is traditional design?
Before we dive into what makes a house traditional, here are some quick facts. Traditional design is largely influenced by the aesthetics of the 18th and 19th centuries, as stated by House Beautiful. When you walk into a house decked out in traditional furniture, you might feel a little déja vu. That's because traditional design is predictable, orderly, and coordinated. The key word of the day is symmetry.
Symmetry in Seating
When choosing loveseats or chairs, you'll want to get them in pairs. Arrange them in an anticipated layout like facing each other flanking the fireplace.
The same goes for the dining room. If you have a four-person table, there should be four chairs. In the bedroom, two nightstands and two night lamps should grace either side of the mattress.
For accessories, think of aesthetic before function.
You'll encounter extravagant china, valuable vases, and other opulent accents.
Fabrics are plush, ornate, and rich.
Take advantage of this feature for some really comfortable sofas and effective window coverings.
Choosing colors
Warm hues in dark shades are preferred.
Darker woods like ebony, mahogany, and walnut shine in this category.
Don't shy away from saturated jewel tones like green and red for other accents.
What is modern design?
Modern design refers to works inspired by the period between the 1900s to the 1960s. Among experts, you'll likely hear the term mid-century modern, which correlates to the 1950s and 1960s aesthetic.
Organic materials and shapes are prominent in modern design.
This means simple shapes, natural materials like metal, plant fabrics, and neutral color palettes.
You can likely distinguish a modern piece by its hairpin legs or low profile. Like traditional design, modern aesthetics also value balance and harmony.
Open-floor layouts are also a key characteristic in mid-century modern homes. Lots of natural light permeate the room through the use of floor-to-ceiling glass windows. Simple and relaxing, modern design is a call for returning to basics. The trick is to do it without the house feeling bare. Apartment Therapy describes this style as "born from a need for simplicity."
What is traditional modern design?
Traditional modern design as a term hasn't gained a lot of traction. However, many designers use elements of style from both old-school and modern forms, so traditional modern design is more common than it may seem.
Both strive for order and both prioritize natural materials.
Opt for lots of wood in neutral shades
Using iron or other metal fixtures as strategic accents
While traditional lighting borders on lavish, choose more streamlined fixtures like a single pendant light over the dinner table in lieu of a chandelier.
Emily Henderson had this to say about traditional modern design: "Modern Traditional evokes a sense of gathering and family in a very casual, unfussy way. So instead of formal dining rooms with finely detailed paneling like you might find in Modern Victorian, this style will have a large well-loved table in the kitchen that everyone can gather around."

What are some traditional interior design ideas for my home?
By now you're wondering what specific styles you can try out for a traditional touch. Here are some ideas:
Woven shades made of bamboo, jute, linen, or another natural material lend a traditional flair without feeling heavy compared to fabric curtains. Pair shades with long, sheer white curtains or floral valances.
Center your seating arrangement around a fireplace or large, mounted artwork. This instantly makes your living room feel more orderly.
Install crown molding to make any room feel more sophisticated. Choose plain boards instead of design-clad styles like dentil or egg and dart molding.
Place matching bookshelves in your living room. Put them up against the wall with a loveseat in between or on either side of your room's focal point, such as a fireplace or artwork. Choose open silhouettes instead of the conventional cabinet which can feel bulky and outdated. Fill them up with vases, artwork, photographs, travel mementos, and books.
Swap out dark or tarnished hardware with brass or bronze. Choose thin, horizontal drawer, cabinet, and door pulls that feel modern while keeping the traditional spirit alive.
This is the point where you've gotten a feel for what traditional and traditional modern design entail. What makes a house traditional doesn't necessarily mean using the exact same fabrics, patterns, or furniture silhouettes. Instead, take elements of traditional design and elevate them through a modern perspective. This way, your home can feel classy without looking outdated. The best part about traditional design? It works for any age group and family.
Editors' Recommendations