There are a lot of kitchen cabinet styles one can choose from when designing a kitchen. Landing on the right one is a matter of personal preference and your overall aesthetic. If your home has an open concept, it's important to pay attention to the rest of your home's design so you don't end up with, say, a French country-style cabinet opening onto a boho living room.
With all the kitchen cabinet door styles on the market, you'll want to take the time to do your homework on what's available. The kitchen is the heart of your home, so picking the right cabinet style is important. It's not just about color; it's about a door style you won't want to change two years in. Here are some of our favorite available options.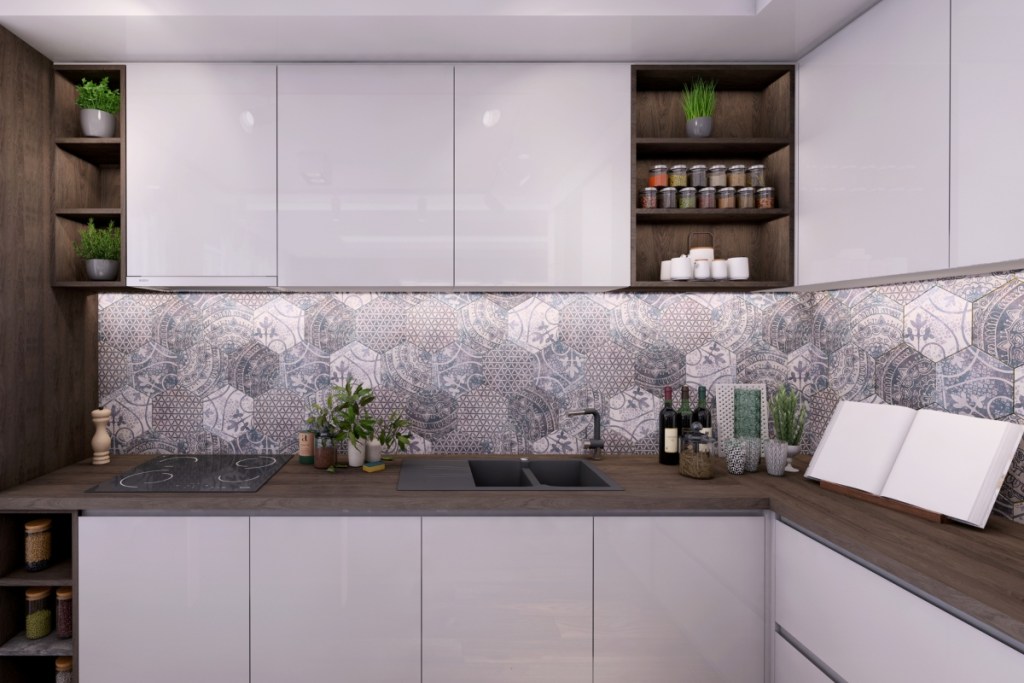 What are the different kitchen cabinet styles?
There are tons of kitchen cabinet styles, especially if you are going with custom cabinets, but a few are most popular for certain design styles.
Modern kitchen cabinets
If you are going for a contemporary, modern look, you may prefer flat-front cabinet doors with no crown molding or decorative trim on them. They are clean and sleek, and they offer a simple look for your kitchen. These are ideal in small kitchens because they can make a space feel larger.
Rustic kitchen cabinets
Rustic cabinet doors are ideal if you are going for a farmhouse kitchen. Again, these don't necessarily need a lot of crown molding — perhaps a simple flat trim piece to offer some character. These are called shaker style. Rustic cabinets don't have a lot of embellishments, but the hardware can be chunky and dark. Typically, they are finished in matte or flat paint to keep with the rustic look. Often, farmhouse kitchens will have some glass-front cabinets to showcase vintage plates or glassware.
Traditional kitchen cabinets
If you're looking to stay traditional, raised panel or beadboard cabinet doors may be for you. These are less trendy but still very popular among homeowners.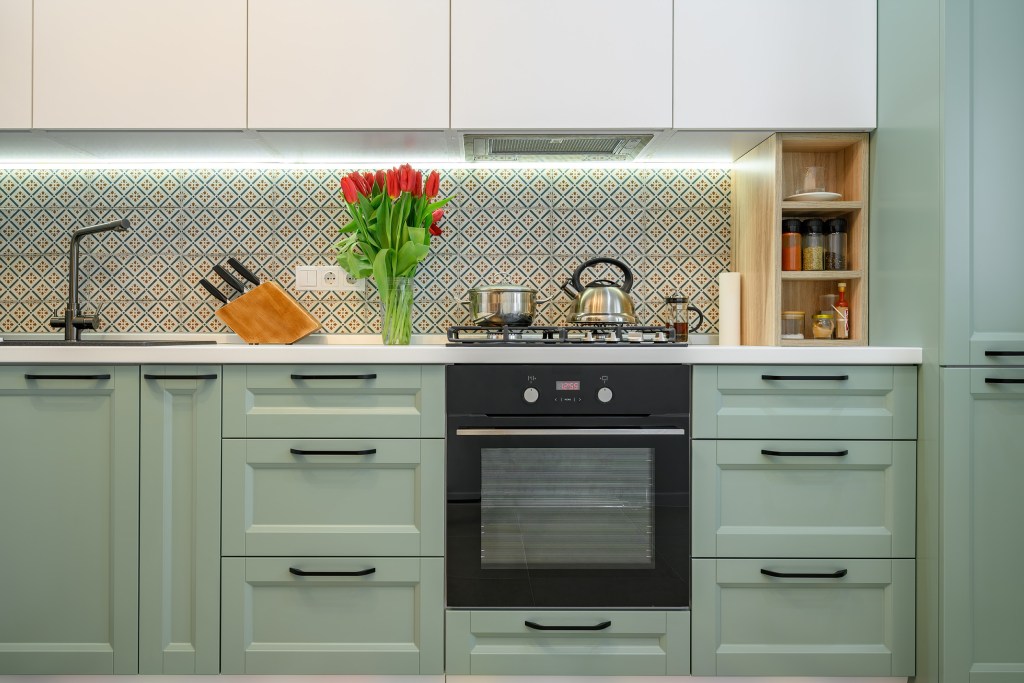 What is the most popular type of kitchen cabinet?
Today, we are seeing more flat-front or shaker-style cabinets as industrial-meets-farmhouse continues to be popular. Clean lines with minimal distraction in terms of embellishments or fancy hardware is the name of the game in most kitchens with hidden hinges and handles.
There's also a "no rules" trend when it comes to kitchen design, meaning mixing and matching different styles, colors, and designs is welcome. This could mean flat doors on the main cabinets, shaker style on the island, and different colors for each. Additionally, flat and matte finishes have risen in popularity in recent years, which look good with hickory, pine, or birch wood.
What colors are popular for kitchen cabinets?
Color is the way forward, no matter what type of door style you choose. Dark blue, ivory, black, and most shades of green still rule when it comes to interior kitchen styles, so get creative and let some color in. To contrast this, choose white or off-white matte countertops.
Hardware can range from none at all (for a more minimalistic look) to metallics like brass and muted gold. Again, don't be afraid to mix and match colors, perhaps going bold with your center island and choosing a more subtle color for the main cabinets. Add in open shelving and a few glass cabinets, and you'll have more than enough character to wow your guests.
Now more than ever, the kitchen is being used for multiple purposes such as cooking, entertaining, homework, and office work, so you want it to feel open and inviting. Much of this can be achieved through the door styles, colors, and finishes you choose. You can opt for a total remodel if your budget allows, or if you don't have the money or desire for such a major overhaul, you can simply switch out the cabinet doors for a more stylish upgrade. This, combined with adding trendy hardware and paint that breathes new life into the space, can completely transform your space from drab to fab without a complete remodel.
You wouldn't think the style of your kitchen cabinet doors would make such an impact in your kitchen, but the style you choose can not only give insight into your design preferences but also date or trend the room quickly. It's important to do your homework by researching door styles and finding ones that speak to you before you buy. It's not an inexpensive decision, so take time and be sure about exactly what will work for you.
Editors' Recommendations