Industrial-farmhouse style seems to be all the rage these days — and for good reason. It is the perfect combination of modern and rustic, offering a homey feel with a rugged edge. Industrial-farmhouse bathrooms can be as minimalist or dramatic as you desire, and with the variety of tile, paint, accessories, and furnishings on the market, you're only limited by the size of the powder room itself.
There are many inspirations available online to get your creative juices flowing. Think untreated wood, hand-hammered metal, barn doors, warm tones, and vintage tiling — all which have secured a place in an industrial-farmhouse bathroom.
I tend to find one piece or pattern that centers the entire room. A good place to start for a bathroom would be tile. It's one of the most fun parts to pick out (in my humble opinion) and can give you a palate to base the rest of the room. This Kenzzi 8″ x 8″ porcelain Spanish wall and floor tile from Wayfair is made of "durable, frost-resistant porcelain material with impervious water absorption," so it's perfect for a high-traffic space. If you have a larger bathroom, try this herringbone Barberry 24 x 24 brown matte porcelain tile from TileBar for a rustic, wooden look.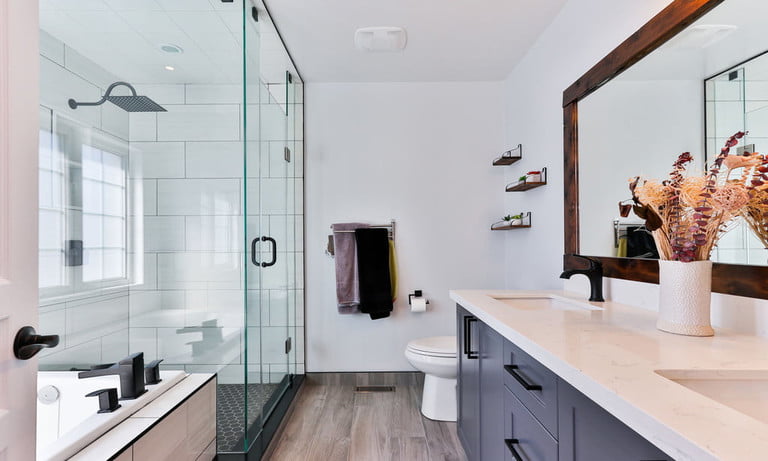 Both can be used for the floor or even brought into the shower space. For hardware, anything with oil-rubbed bronze like this rain shower head or copper helps tie the industrial look together. I'm not a huge fan of mixing metals (though I've been gently reminded by friends this is very on-trend), but you could also add in pewter or silver for a more industrial look.
Finding the perfect vanity is easy no matter what sort of space you're dealing with. For larger bathrooms, this Greyleigh 60″ Double Bathroom Vanity could be paired with more modern, industrial-looking wall mirrors for a stunning combination. If you've got a smaller space to work with, there are plenty of rustic/modern vanities that pack a big punch of character into any size room.
For a twist, consider skipping a standard vanity altogether and opting for a wall-mounted farmhouse sink. It brings back memories of elementary schoolhouse bathrooms and offers the charm and whimsy an industrial-farmhouse bathroom calls for.
In any industrial-farmhouse bathroom, floating shelves or floor-to-ceiling shelving made from piping and wood can be used to store towels, place glass canisters full of cotton balls or small soaps, or add other knickknacks you've picked up over the years.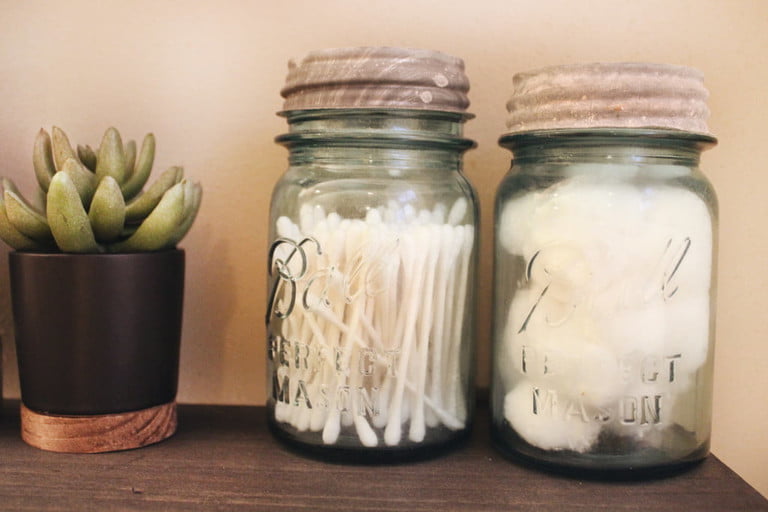 I'm a big fan of wallpaper to help achieve a farmhouse look. Depending on the budget, you could do a feature wall or put in wainscoting and wallpaper the remaining wall. Options like this Serena & Lily Luna Stripe Wallpaper or Wayfair's Stag Toile wallpaper lend a perfect backdrop to any industrial-farmhouse room.
Barn doors are a great way to add to the aesthetic, and if your bathroom has a closet or another room attached, you can create privacy that is functional and stylish. If you have a small bathroom you're designing, consider one with a mirror on one side to make the space feel larger.
If you have the room and are feeling luxurious, adding a clawfoot bathtub in stark white or one with a copper base lets you soak away your problems and offers a place to sit and admire all the work you've accomplished (book and glass of wine optional).
Other materials to consider for the room include concrete, metal, exposed piping, brick, and upcycled pieces you can find at local antique or vintage shops that can add one-of-a-kind charm and balance a more minimalist version of an industrial farmhouse. The Victorian Era was home to the Industrial Revolution, after all, so if you have a love of all things vintage, it's a perfect way to combine the two.
The best part about an industrial-farmhouse look is you can play with a ton of different materials to achieve a look that feels right for you. Plus, if you share your bathroom space with someone else, you can incorporate another opinion into the room while still maintaining the desired result.
It's time to be the envy of all your guests — regardless of your budget — and there are hundreds of options out there to put your imagination into motion.
Editors' Recommendations