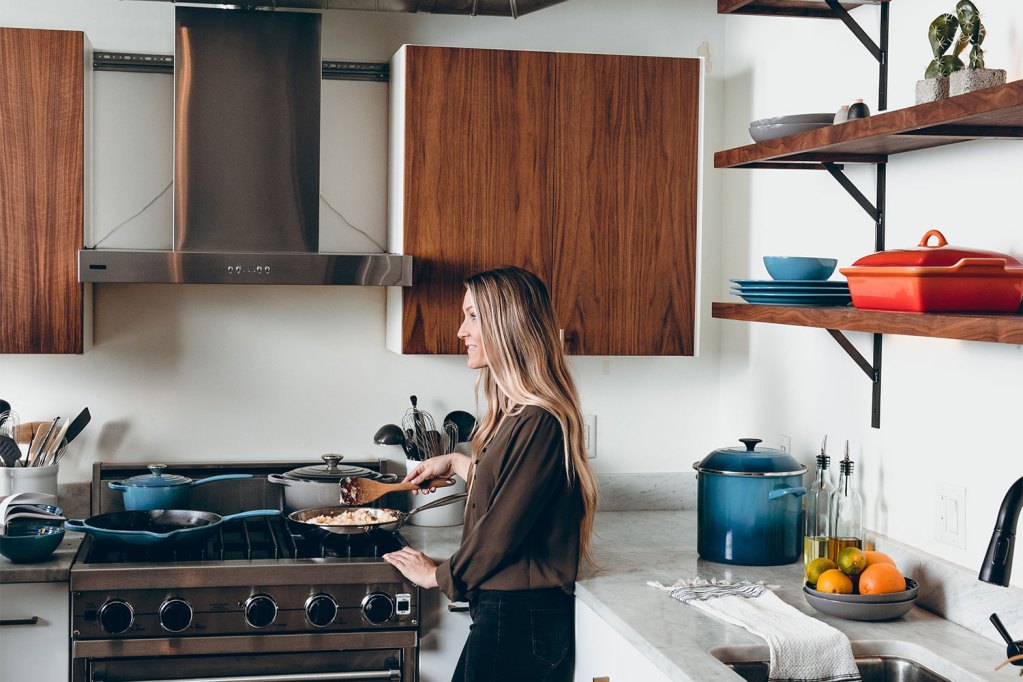 As we kick off into a new year of home design, 2023 shows us that sometimes the best inspiration comes from the past. This year, homeowners are craving organic and natural pieces. So, it should come as no surprise that a prominent trend for 2023 is transitioning your outdated kitchen cabinet design to dark wood cabinetry.
Not widely used in kitchen interiors since the 1970s, this trend brings a bit of nostalgia while also suiting the modern interest of adding organic-looking materials to the home. If you want to learn more about this trend and what it could do to benefit your space, then we have everything you need to know.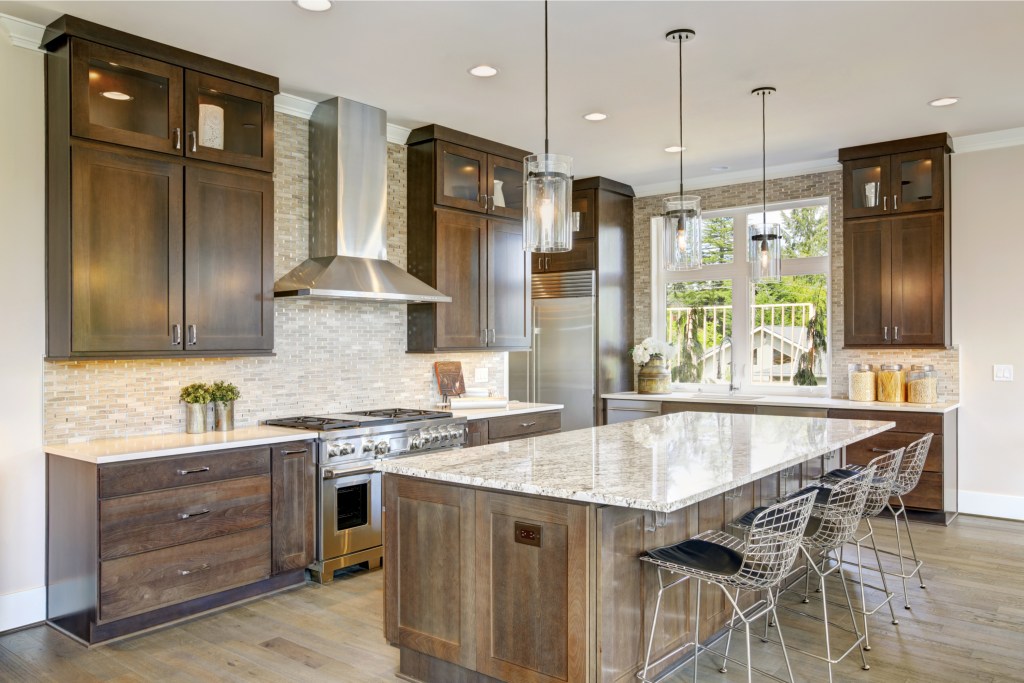 Why is dark wood cabinetry returning to kitchen design?
White-washed and gray-toned cabinets had their moment. Think back to 2013 and 2014, at the height of modern farmhouse and minimalistic interiors. These styles favor clean lines and crisp white- or gray-washed tones. Flash forward to the 2020s, and homeowners began aching for more color in their spaces!
Today, you might find people moving toward brightly colored cabinetry or natural woods as neutral-painted styles slowly fall to the wayside.
When it comes to dark oak cabinetry, these homeowners are searching for a way to bring something more natural and refreshing to the space. And with 1970s decor in full swing, re-entering the home with a modern twist, we're excited to share that oak wood cabinets and wooden cabinetry with standout grains are making a comeback!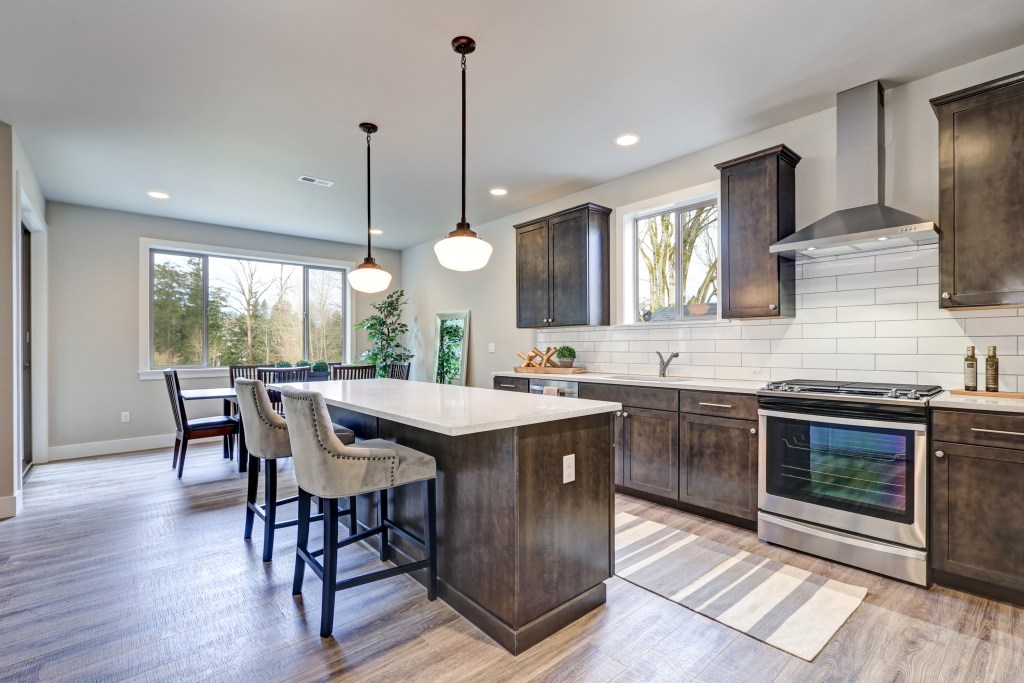 What stains look best when creating dark wood cabinets?
If you want to update your old cabinets to look fresh and revitalizing, then you can't go wrong with a nice wood stain. For the best effect, we recommend staining over unpainted wood cabinets, as this will help you bring out the natural grain.
When looking for stains, you'll want to find tones that bring out the natural hues of your cabinets. For example, a trendy color could be this Verathane wood stain in Special Walnut. This wood stain is reminiscent of 70s styles and adds a midcentury feel to the space. Alternatively, this Minwax Aged Oak wood stain highlights the natural red and deep brown hues within the wood, capturing their warm effect.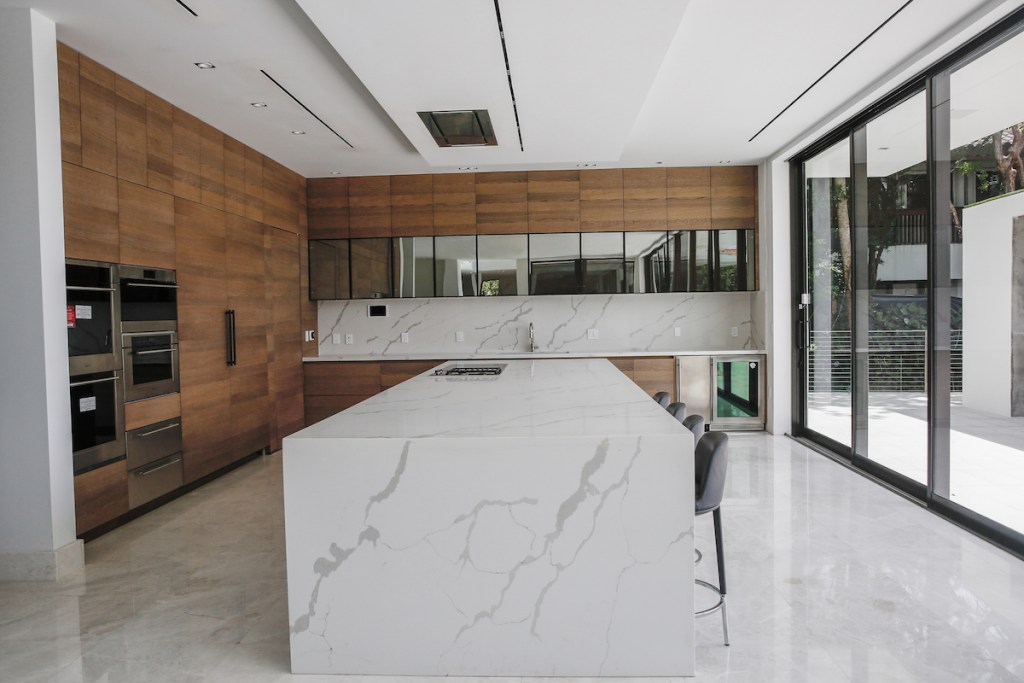 How to style dark wood cabinetry
Styling dark wood cabinetry is much easier than you think! There's a tendency to believe that dark wood weighs down the look of the kitchen or makes the room appear too moody. The truth is, it's all in the styling. Just because natural wood hasn't been in the kitchen in such abundance since the 70s doesn't mean your home has to look like your grandma's house. Adding a modern flair to help this trendy aesthetic make a statement in your home is essential.
Use light accents
Light accents throughout the space prevent your dark wood cabinetry from feeling too heavy. Light quartz counters, a simple airy-toned backsplash, light-colored appliances, and light wood or tile floors lift up the look of your space. Dark wood cabinetry looks best when you mix and match the texture with other materials like stone, tile, quartz, and metallic wares.
When in doubt, opt for a light wall tone like soft cream. Pair that with a white quartz countertop and light silver-hued appliances to keep the space from feeling too moody.
Focus on organic textures for a modern look
Another tip to make dark oak wood cabinets look elegant and contemporary in your room is to focus on adding additional organic textures. Stone is a trendy addition to many spaces this year, often added through tabletops, stools, and stonewares. Mixing your metallics through the hardware, hanging pots and pans, utensil holders, and your fixtures can also help create a more organic look. Tweed rugs, rattan furniture, glass, and potted plants also add a natural biophilic feel to the space.
Opt for two-toned cabinetry
If you don't want to go all-in on the wood cabinetry, we suggest opting for two-toned cabinets. Choosing different colors and textures for the upper and lower cabinets is still a popular trend in 2023 kitchen design.
Opt for wooden lower cabinets with clean white cabinets up above. Or, get creative by painting your upper cabinets a fun pop of color. Navy blue and sage green can enhance the natural feel of the space. Additionally, you could place oak cabinets on the upper shelves and add darker-painted cabinets underneath.
Open shelving is also a great idea for homeowners looking not to go all-in with the wood tones. Though, be aware that open shelves limit space, so unless you have a large pantry, it isn't a good idea to get rid of all of your upper cabinets in place of open shelves.
Bring in a bit of glam
A great way to spruce up dark cabinetry is by adding a bit of glam to your design. Now, you don't need to go all out with diamonds and jewels, but adding reflective materials like a mirrored backsplash, metallic accents on hardware, or even a few glass statement pieces will help uplift a dark design. Use copper and bronze metals for a luxe and elegant look to prevent the space from feeling too earthy and rustic. Or, if you want something more eclectic, a colorful glass backsplash can create more dimension and a central focal point for the room.
Don't forget to choose a few kitchen rugs to add color, pattern, and texture to the floor. This can also make darker cabinetry stand out and feel more natural in the space, as the eye will be drawn to any light or colorful floor decorations.
'70s styles are back, and they're entering homes in more creative ways than ever before. The sleek minimal styles of the 2010s had their time in the spotlight, but now it's time for bold colors, bold patterns, natural materials, and wood cabinets! When done appropriately, dark oak wood cabinets can add a homey feel to the space. Just be sure to keep it fresh and modern by limiting the amount of wood in the space and blending in plenty of other organic materials.
Editors' Recommendations