When you think about wooden kitchen cabinets, what's the first thing that comes to mind? If you picture an 80s kitchen filled with dated oak cabinets, you are not alone. Throughout the 1980s and 1990s, they were all the rage; in the 2000s, the backlash was swift—for almost 20 years, homeowners favored the clean, crisp look of white cabinets.
Today, wooden cabinets are making their way back into more and more kitchens with updated lines and detailing that work in any space – and designers have identified which is the best wood for cabinets in any kitchen. Here, we take you through our favorite wooden kitchen ideas and what to look for to bring this modernized classic into your home.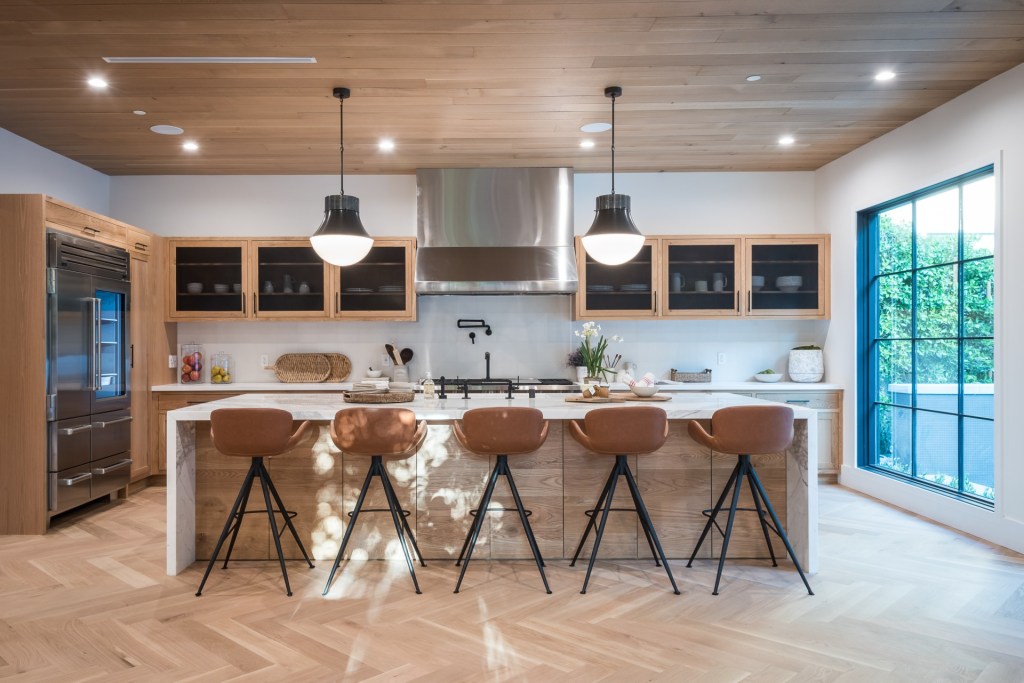 Which wood is right for you?
Nothing beats the durability of real wood. There is a reason why so many of those cabinets from the 1980s are still around — they last. Unlike cheaper MDF or particleboard cabinets, wooden ones are much stronger and sturdier. Aesthetically, nothing infuses a space with more warmth and character than wood. It also looks at home in almost any design, whether your kitchen is sleek contemporary or farmhouse rustic.
When it comes to stained cabinets, some woods are better than others. Oak garnered so much popularity because it was an easy wood to work with. Today, it is still frequently used, but there are also a wide variety of other woods to choose from, including alder, walnut, hickory, and cherry. Each one will have its own color, grain, and texture, so be sure to explore them all and see which one speaks to you. Keep in mind that each one will have slight variations and unique patterns, unlike a painted cabinet. If your budget is tight, pine or poplar will not hold up quite as well but will be much more cost-effective options.
Stain color is also an important factor. You will have to live with whatever you choose for years, so it is vital that you do your homework. Stains range from blonde to ebony. Lighter stains tend to be associated with more traditional kitchens, but if you like a lighter finish, flat-fronted cabinets will give a more updated look. Dark brown will provide contrast to stainless steel and a lighter backsplash. Black is typically seen in modern kitchen designs.
If you want the durability of wood and the option of painting the cabinets, maple is the way to go. That wood has a small grain and very little texture, so it is ideal for paint. Softer maples are a good option for less money.
At the end of the day, when planning a modern wooden kitchen design, you need to consider what look you are trying to achieve. Think not only about your own taste, but also about what will fit in with the rest of your home. Wood works wonderfully with some of today's most popular looks. A boho-chic kitchen with rustic wood cabinets or live edge open shelving; a sleek kitchen in a dark-stained finish with clean lines and stainless-steel accents; a traditional kitchen with rich, fluted trim accents demonstrates the versatility of wood.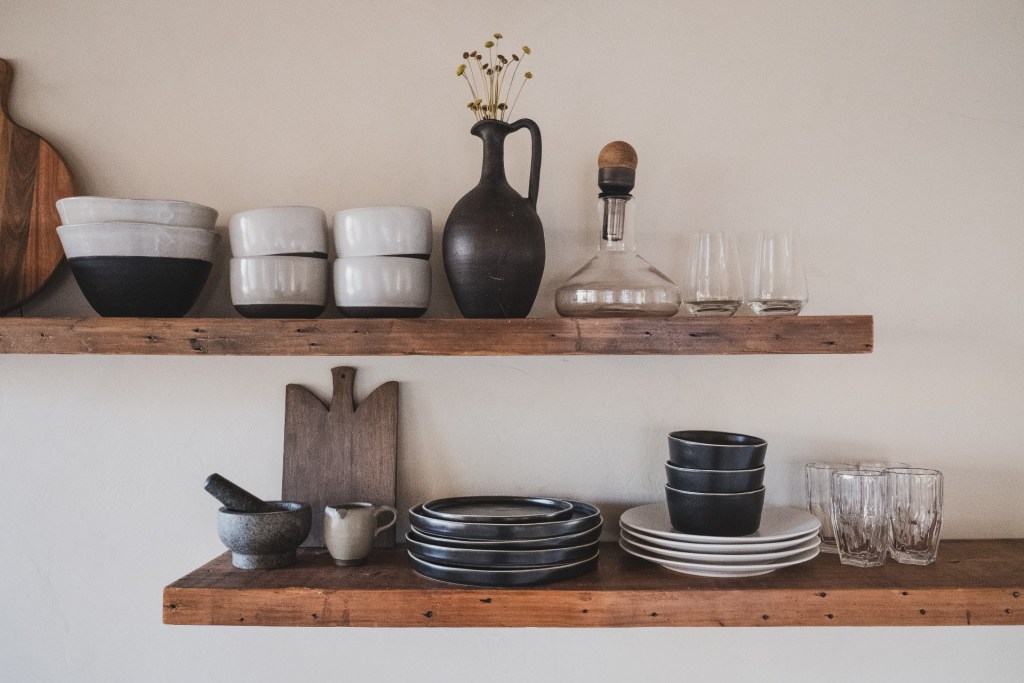 Update the old
Already have wooden cabinets that are in solid shape, but could use an update? One of the best ways to give dated cabinets a whole new look is to paint them and add new hardware. This is a great way to bring new life into an old kitchen and can be accomplished in a weekend. Just remember to sand them thoroughly, use a good primer, and finish with at least two coats of paint.
Don't ignore the selves, either. The best shelf liner for wood cabinets is one that prevents shelves from damage caused by moisture, including rings when putting damp dishes back in the cupboard.
There are other ways to bring the warmth of wood into your kitchen without replacing the entire kitchen. One of the biggest kitchen trends is mixing it in with painted cabinets. Adding an island in reclaimed wood to a white cabinet kitchen brings character into the space. Even a few simple, wooden open shelves can add interest and are a good place to display decorative objects. However you bring wood into your kitchen, nothing beats its durability, and with today's new designs, your kitchen will have a fresh look that is sure to leave a lasting impression.
Editors' Recommendations