Redoing the kitchen is a big undertaking. While you'd like to put some personality into your kitchen, you ultimately want a design that's going to enjoyed year after year. Luckily, among the many trends that come and go, a few have stood the test of time.
These design elements are always a good idea and can help ground your kitchen in a solid design. You can play with smaller design details, like painting cabinet hardware or wall art, as the seasons change, but the big things will be timeless.
Here are the top 13 timeless kitchen trends to help you make the most important decisions about your kitchen renovation. Let's take a look at what they are.
1. Stone Countertops
Countertop materials may come and go, but one class of countertop is always in style. Stone provides a wonderful, textured finish to your kitchen and allows you to customize according to your budget, says HGTV.
Marble and quartz are upgraded finishes that give a high-end look and feel, but they can be a more significant investment. However, if you've got it, they instantly add value, not just to your kitchen but your whole house.
If you want a more affordable option so you can put that money to other things, granite and limestone are excellent options. They may fall out of favor here and there for more trendy countertops, but they never go out of style.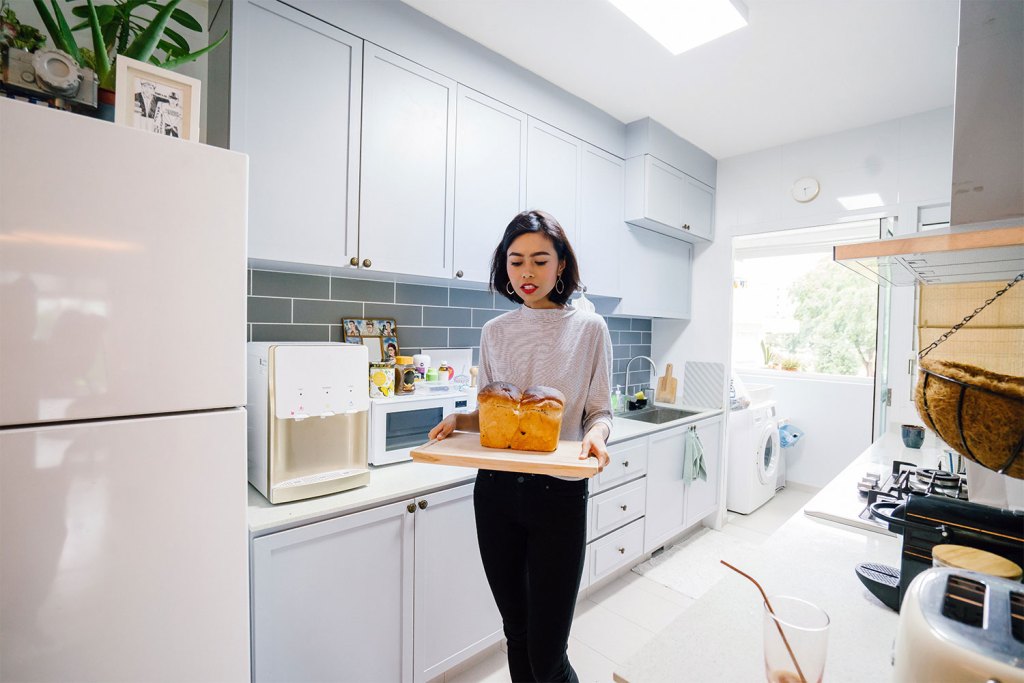 2. White on White
Every year, designers herald the end of the white kitchen. The following year, people still come back to white kitchens. They just look fantastic year after year.
White kitchens provide an excellent backdrop for changing art, cabinet hardware, appliance styles, and even lighting. They're like a blank palate you can always use as a jumping-off point to reinvigorate your kitchen each year.
New Life Kitchen & Bath lists several reasons why white kitchens are a timeless choice. "White cabinets are the perfect backdrop to draw attention to the other details of the kitchen: beautiful fixtures, artistic lighting, funky knobs or pulls – all of which can be updated as needed," states New Life Kitchen & Bath as one of the many reasons.
3. Kitchen Islands
Kitchen islands are also a feature that provides space, efficiency, and convenience. They make great focal points for everyone who likes to congregate in the kitchen to visit (and who doesn't?). They can be customized with wine fridges, dishwashers, composting bins, storage — really anything you'd need. If you've got the space, go for it.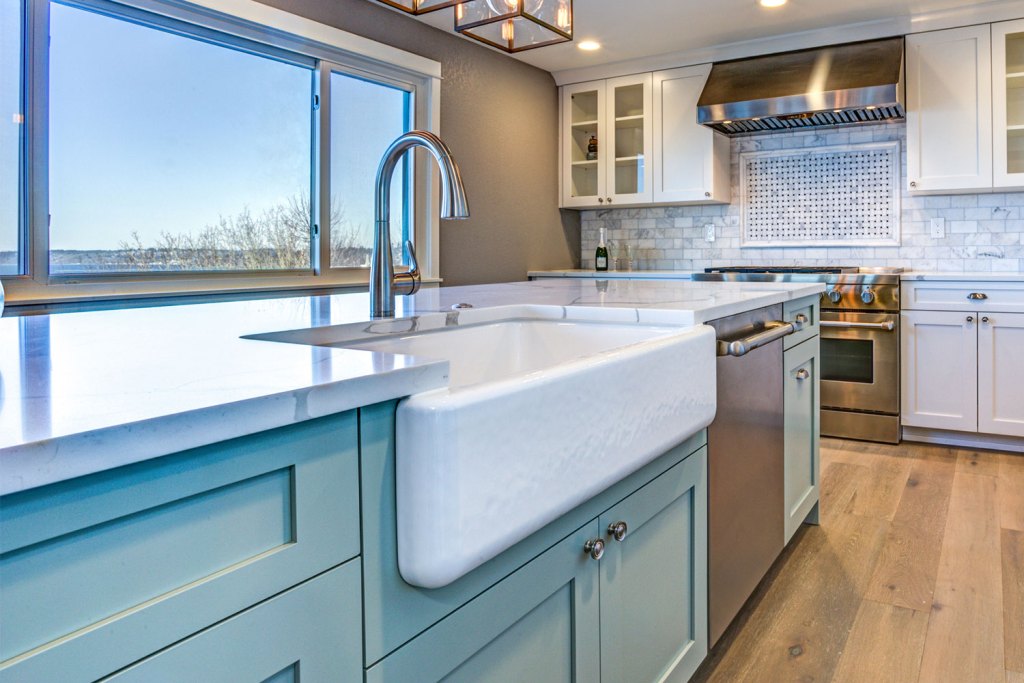 4. Deep or Farmhouse Sinks
You need enough space to handle all your dishes while still having room to wash your hands. A deep sink, especially one with a cutting board, is never a bad idea. These sinks have a classy, upgraded feel, and if you get a nicer material like porcelain or tile, they look even better.
Deep sinks increase the efficiency of your kitchen, a nod to what "Design elements that provide true efficiency to the kitchen" — not just looking great — are often the most timeless. Upgrade your sink. You won't regret it.
5. Blue Kitchen Cabinets
Of all the colors to use for a "pop of color" in the kitchen, shades of blue tend to have the most staying power. Blue can function as a neutral when it's a grayish hue or a subdued tone, and jewel-toned blues look great with a variety of appliance styles and backsplashes.
If you want to add some color to your kitchen, blue is a pretty safe choice. You get a bolder design element but keep the timelessness of your cabinets. With simple hardware and that upgraded farmhouse sink, you'll have an excellent design combination.
6. Accent Ceilings
Don't miss your chance to upgrade what's above you. Ceilings are an often overlooked piece of your kitchen design. Accent ceilings can make a kitchen feel like a truly custom space. A textured ceiling such as tin tiles can provide a significant visual impact, or shallow coffers can break up the space.
if you have the height. Simple molding can also highlight the space. You could also forgo any architectural details and simply paint the ceiling a contrasting color — extra points if your walls are white and the color is above you.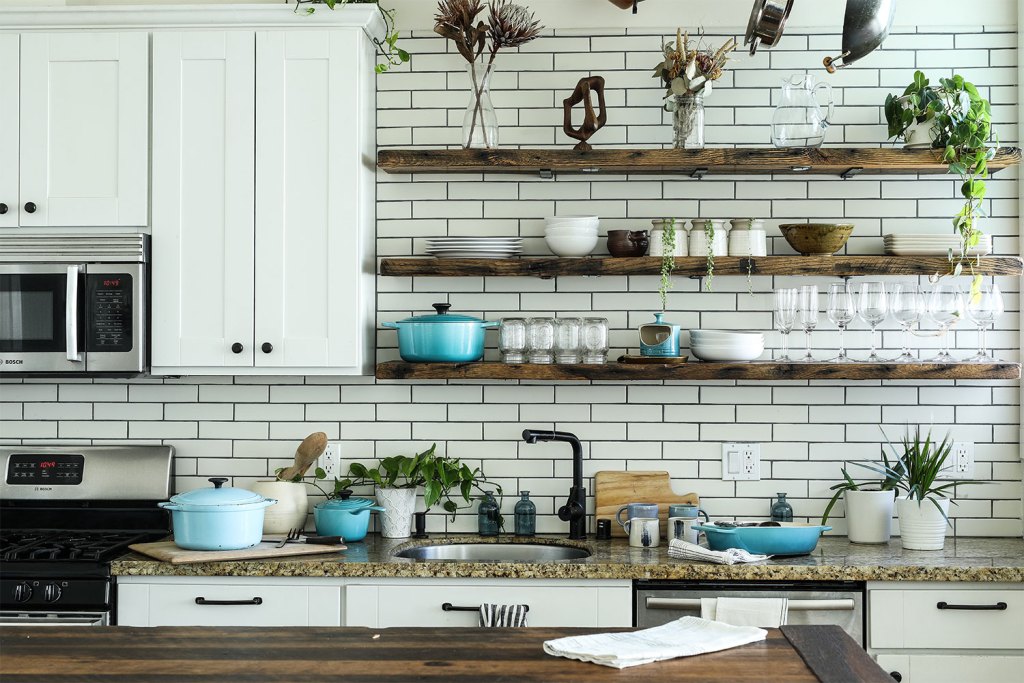 7. Subway Tile
Like the white kitchen, designers spell the end of subway tile every single year. It preserves despite these predictions. It's easy to clean, easy to install, and fits in with a variety of aesthetics. With multiple design patterns available, they offer quite a bit of flexibility. These durable tiles aren't going anywhere.
Remodelista quoted Deborah Osburn, "Think of subway tile as a timeless, practical wardrobe staple that goes with just about everything."
8. LED Lighting
You must be able to see well in the kitchen, and no light provides that kind of illumination the way LED does. It's not uncomfortable the way fluorescent lighting is, but it has the same longevity.
Kitchen lighting comes in a variety of styles. That pendant you love or those recessed lights can easily be converted to LED, providing you with more than enough light to see what you're cutting, clean your dishes, or just make your coffee.
9. Built-Ins for Appliances
A truly luxe addition to a kitchen is creating built-in spaces for your appliances. Keeping the appliances hidden behind doors and in nooks is an excellent way to streamline the look of your kitchen. Because it's a custom edition to a kitchen, it makes the space feel like an expensive renovation, even if all you've done with the kitchen is add the built-ins.
10. Polished Silver Fixtures and Finishes
There's always going to be a trendy finish on the horizon, but one type of finish stands the test of time. Polished silver coordinates with a variety of colors and is easy to keep clean. It looks expensive and weathers trends from year to year. Upgrade your fixtures and finishes to this metal and enjoy your design for a long time.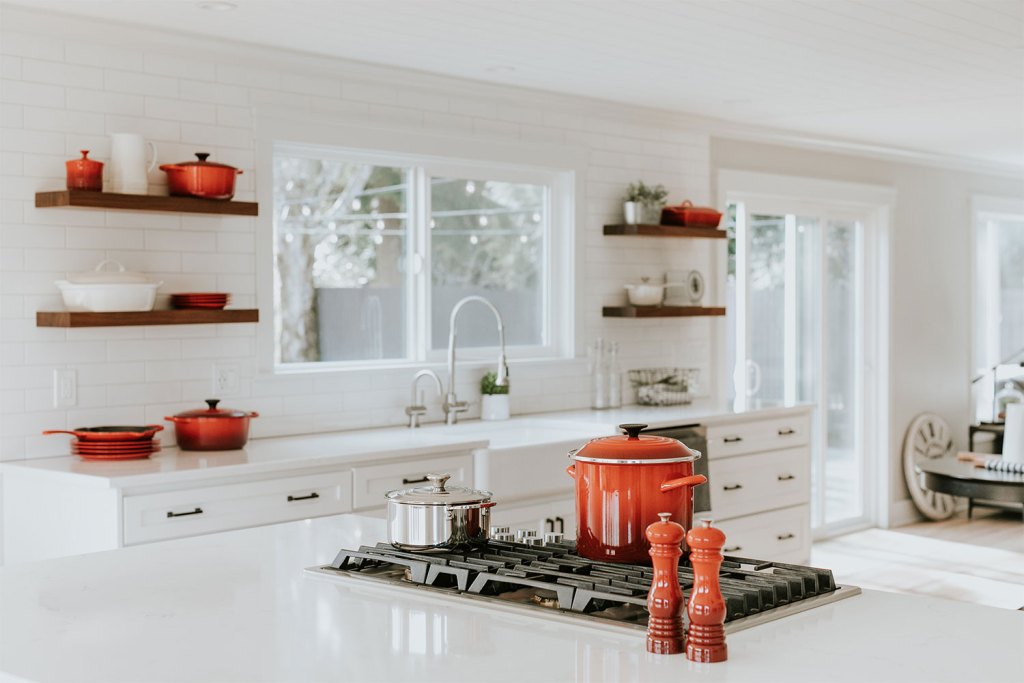 11. Fewer Upper Cabinets
If you love the minimalism of open shelving, but you aren't sure you can make it work practically day to day, fewer upper cabinets could do the trick. You can make the few upper cabinets you have work for the bulk of your kitchen gear and have a few open shelves here and there for displaying just a few your pretty kitchen things.
12. Stainless-Steel Appliances
Appliance colors also come and go, including bright and bold colors, but one option that always stays a crowd-pleaser is stainless. Stainless upgrades the look of your whole kitchen and can fit in with a variety of other finishes well. Plus, they offer excellent resale value if you decide to put your home on the market.
Thor Kitchen explains why stainless-steel appliances are timeless. It's neutral tone is what makes it appealing and match with the rest of the kitchen. It's considered easier to clean and sanitize. Stainless-steel also adds value to the home.
13. Minimal Farmhouse Design
We aren't talking about frilly country kitchens or shabby chic here. This design style uses clean, minimal lines, neutral colors, and upgraded finishes to create a serene kitchen with good lighting.
Farmhouse design uses efficient and realistic design elements to hide clutter and make prep work easy. It assumes you'll have visitors in your kitchen and that you may even be serving food directly from the kitchen itself. It's streamlined and classic.
Have Confidence in Your Kitchen
Timeless doesn't mean boring. Choosing certain timeless elements to anchor your kitchen design can give you the freedom to play with other elements. Change your artwork or your shelving arrangements. The core of your kitchen will always be timeless.
Editors' Recommendations