A fireplace is the statement piece in any room. It is the cozy, inviting, and beautiful feature that immediately catches the eye. But that doesn't mean you should neglect the mantel that sits above it — the mantel is just as important to your home design. It is a place to add your own personal touch with creative, fun, and elegant design ideas. Need a little inspiration? We've got you covered.
Natural arrangements
One of the most common and most beautiful ways to decorate your fireplace mantel is with floral arrangements. You can utilize dried plants or flowers and wooden decorations. Decide to make your mantel entirely floral or mix it up by adding in some hand-carved, wooden elements or dried plants. You can choose to be inspired by a specific culture and use indoor, decorative plants like bonsai trees or utilize dried flowers and plants in vases for a low-maintenance, clean look.
Wooden elements like carved bowls, vases, or figurines can add a more modern feel to an otherwise completely natural look. Hand-carved, wooden elements still stick with the natural theme while adding a more refined element to your mantel.
The great thing about natural design is how vast your options are. This is a great way to be creative. Utilize your own design style to make your natural-themed mantel suit your individual personality.
Reflect with an antique mirror
Whether you have an antique mirror that has been passed down for generations or you found one you absolutely love at a thrift store, a mirror can be the perfect touch to your fireplace mantel. The mirror can hang just above the mantel or rest on top of it for a more relaxed look. The great thing about antique mirrors is that they add a beautiful, sophisticated look to any room while also making the space feel larger.
You can utilize multiple small mirrors along the mantel wall or one large mirror to create a dramatic statement piece. The great thing is that the options are only limited by your imagination. And, if your living room is on the smaller side, mirrors are a great way to create the illusion of more space so your family room doesn't feel cramped.
Display your favorite collectibles
If you have a collection of something that you want to display, the fireplace mantel is the perfect place to ensure your treasures are seen by guests. You can display your vinyl records, framed comic books, coins and currency, stamps, fine china, and much more. The options are endless and completely unique to you and your favorite collections.
By adding your collectibles to your fireplace mantel, you are adding more personality and character to your living room. This is a great way to be creative with framing, different display methods, color options, and more. (Plus, by adding your passion to your living room decor, it gives you another reason to keep purchasing your favorite collectible — you don't have to worry it'll just sit in a drawer somewhere, taking up space.)
Light it up
You may not use your fireplace year-round, but that doesn't mean it has to lack in brightness when it's not on. Utilize candles, lanterns, battery-powered light strings and other compact lighting options to add a little flair to your mantel. Adding a little light will draw the eye and make your living room feel that much cozier. You can combine lights with picture frames, figurines, vases, and other decorations to tie the look together. Use your creativity and explore all the ways you can add some extra light to your fireplace.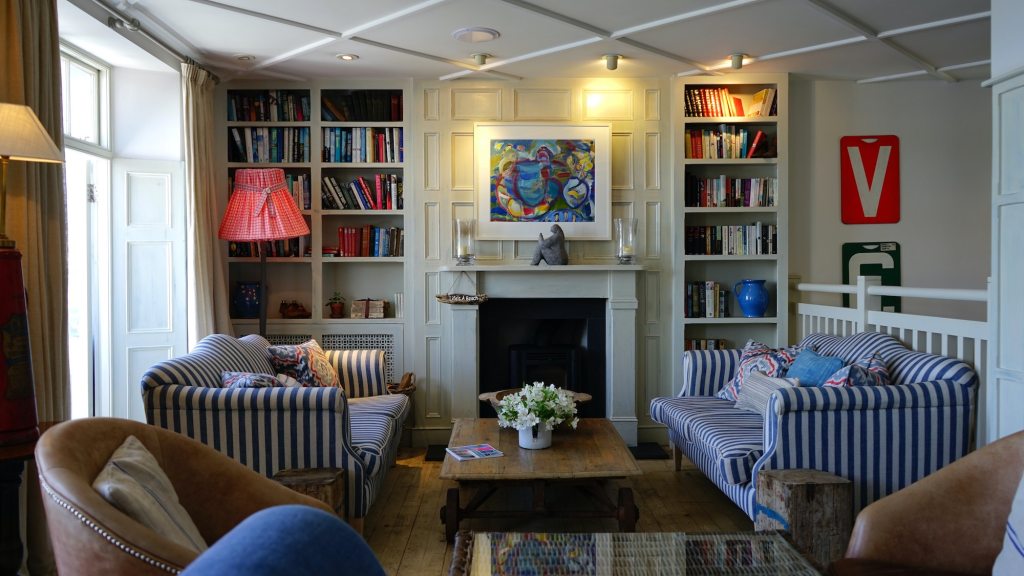 Art as a focal piece
Artwork is a broad term. It means paintings, photography, sculptures, and drawings, to name a few. Putting your favorite artwork on your fireplace mantel can be one of the best ways to appreciate it and share it with guests. Your favorite artwork could be a painting that you spent hundreds on, or a drawing your talented child created just for you. Art is interpretive and unique to everyone so there is never a wrong answer when it comes to your favorite pieces. Make your mantel a little more artistic with one or more beautiful pieces that make you smile.
Your fireplace mantel is a place to be fun and bright or traditional and elegant. It should be completely personalized to you and your style. There are endless options and combinations when it comes to decorating your fireplace mantel. You can let your imagination run wild! The great thing about decorating your mantel is you can change decor each season or whenever the mood strikes, trying out all of the styles you love.
Editors' Recommendations