Rustic design celebrates the ruggedness and beauty of nature by embracing natural tones, earthy textures, and much more. It's easy to be inspired by rustic style thanks to the soft finishes, deep colors, and freedom to put your own spin on it. Adding some indoor plants, brown tones, and a few other tips we'll mention here, you'll achieve the look you're looking for. If you've recently been inspired by rustic design, check out these fun decorating ideas for bringing rustic charm into your home.
Woven basket lamps
A woven basket lamp is a trendy design feature in a lot of rustic homes. Essentially, it's a beautiful woven basket hung upside down over a light to create a lampshade-like effect. These baskets are available in many great sizes, shapes, and natural tones, so you can pick out one for any space in your home.
Since these lamps tend to be a little pricey online, it can be easy to make one on your own if you have the time and materials. It can be a great way to not only save money, but also put your own personality into the project. All you need is a woven basket that you love, a lighting kit, and a drill.
How to DIY woven basket lamp:
Simply drill a hole in the bottom of the basket

Slip the lighting wire through it

Hang it up in the desired location.
Woven basket lamps look great hanging over the kitchen counter, living room couch, bathroom sink, bed, and any other place you can think of. It can also be a beautiful touch to an outdoor living space.
Faux beams
A huge staple in rustic design is the exposed beam, says Home BNC. Beams are the perfect way to add rustic charm to any space, even if the rest of the space sports a mostly modern design. Put beams wherever you see fit and have fun with it. Sebring Design Build lists several areas where to add faux beams.
Where to add faux beams:
Kitchen
Bedroom
Living room
Den
Dining room
Solid, wooden beams tend to be very pricey, so a great alternative are faux beams. These beams look just like the real thing, but can be half the price. They are also much easier to install on your own, bringing costs down even further.
Mason jar lamps, cups, and more
If you are looking for something a little smaller to add to your rustic space, mason jars can be a great option. You can use the clear glass jars for so many adorable things. Some mason jar ideas include:
Lamps with small battery-powered candles or real candles

Cups

Food containers for flour, sugar, snacks, dry pasta, dog food, and more

Toothbrush holders

Flower vase or plant pot

Kitchen utensil holder
If you want to add some color to mason jars, try applying a coat of paint on the interior. You can even create designs with painter's tape and paint over it for some fun patterns.
Wood, leather, and metal furniture
Wood, leather, and metal are the three main materials used in rustic design. A great way to add some rustic style to a space is by incorporating furniture that features these materials. Some fun furniture pieces to look into include:
Leather chairs with metal accents

Wooden coffee tables

Metal side tables

Wooden dining room table with matching chairs

Wooden bed frames

Leather couches
Nature-inspired artwork
Rustic artwork typically features anything involving nature. This is one decorating idea that really comes down to your own personal style. You can find artwork of flowers, plants, farm animals, tools, barns, grasslands, landscapes, and so much more. When it comes to choosing types of artwork, mix and match photographs with paintings and drawings. The key here is to find the art pieces you enjoy and celebrate them in different areas of your home.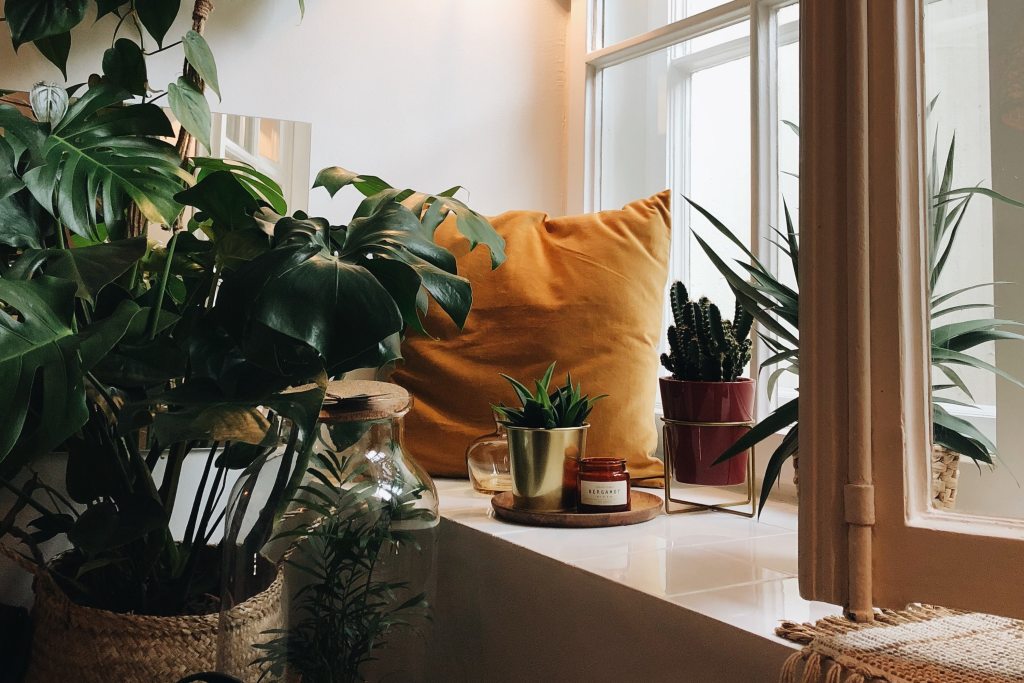 Potted plants
Since rustic design is all about nature and the earth, why not utilize the actual natural world in your home? Potted plants, whether they are dried, fake, or alive, can be a perfect touch to any room in your home. Pair the plants with pots in an earthy color scheme. Apartment Therapy suggests adding plants to bring the outdoors in and indulge the rooms with a rustic look.
Wood-paneled wall
Wood paneling on walls can create a cozy cabin feel in a room. You can utilize dark, painted, or light wood to achieve the right look for the space. Wood-paneled walls work great as feature walls, but can also be used on all the walls in the room. They also work great as a kitchen backsplash. Realtor shares several ideas on how to spruce up old wood-paneled walls.
Editors' Recommendations