Sorry Chip and Joanna, there's a new farmhouse style that's capturing everyone's hearts. While modern farmhouse decor is still a popular choice, many are turning to a cozier, breezier aesthetic: coastal farmhouse. This style combines the best parts of farmhouse and coastal decor to create a chic but still homey design style. How can you mix coastal and farmhouse? Keep reading to learn more about this laid-back aesthetic and ways to incorporate it into your living area.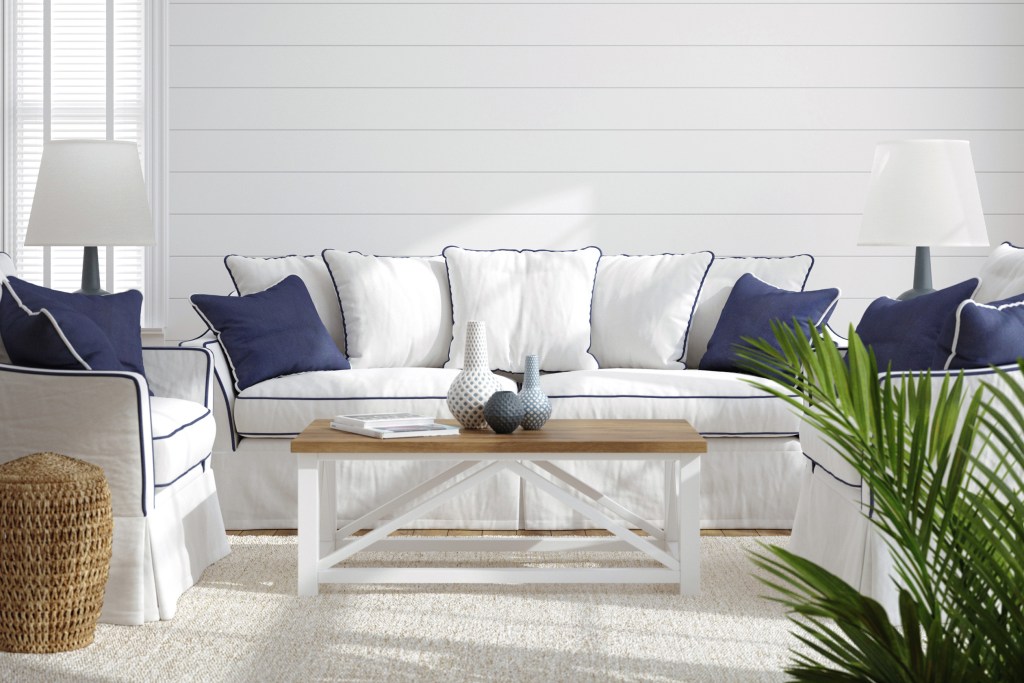 Understanding the basics
Before you incorporate coastal farmhouse design into your home, it's important to know the essential elements of each style. Farmhouse is a rustic interior design style inspired by colonial American farmhouses. The style prioritizes comfort and function and feels inviting for family and friends. Design elements are often simple, relaxed, and cozy. Furniture and decorative elements appear vintage and rustic, with a worn-in charm. Classic farmhouse elements include exposed wood beams, open shelving, rough textures, and welcoming, neutral hues.
Coastal style is light, breezy, and calming. The design is inspired by elements of the seaside, like the sky, sand, and ocean waves, and it's all about replicating the peace and fun you feel when you're relaxing by the water. Colors, textures, and light are some of the most critical elements needed to achieve the laid-back yet sophisticated look. The beach-inspired color palette includes neutral hues with pops of navy blue, light blues, and greens. Patterns are simple with basic stripes. Tons of natural light and airy linens continue the bright and open feel. Coastal style uses raw textures from weathered wood, rocks, and rope but avoids nautical design elements like anchors and seashells, which often end up looking tacky.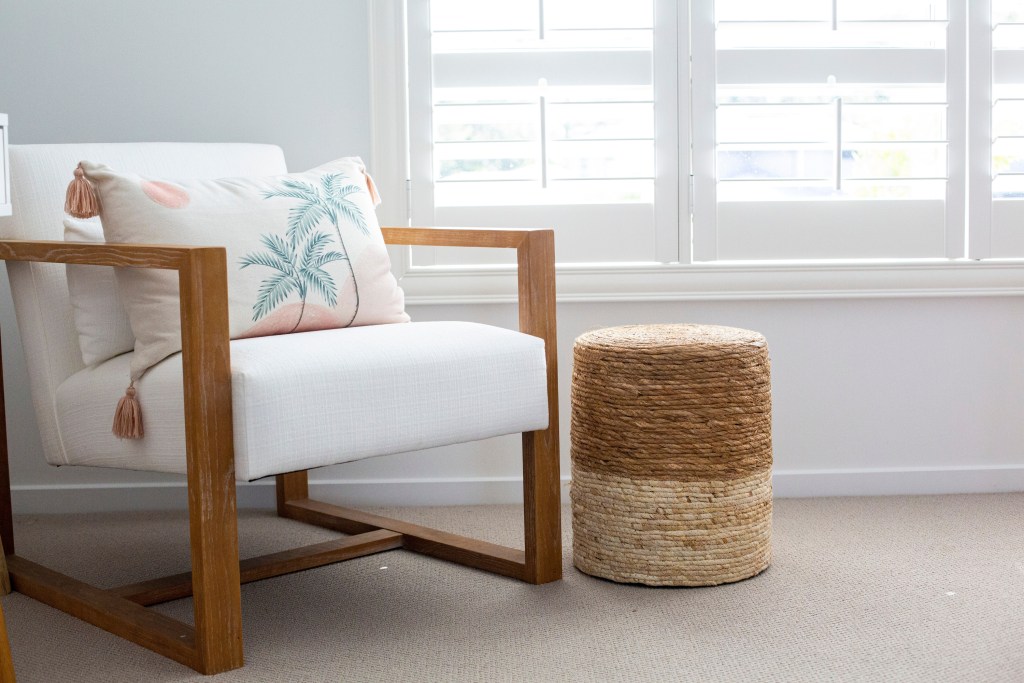 What is coastal farmhouse style?
Coastal farmhouse design is an eclectic mix of both styles. It's a beautifully blended aesthetic that gains inspiration from the country and the seaside. The design adds a beachy flair to the shabby chic style, highlighting the traditional and homey appeal of farm living and the breezy, casual coastal lifestyle. Farmhouse is a classic style that often serves as the building block for interior design trends, which makes combining the two very simple. Both coastal and farmhouse designs incorporate similar features, like natural materials, neutral colors, and relaxed vibes.
When combining two different design styles, balance becomes the most crucial element to consider. Focus less on individual pieces from both styles and instead on the overall themes that can be effectively integrated. Coastal farmhouse homes may feature exposed wood beams, vintage furniture, and distressed, rustic designs with simple patterns, breezy linens, and shades of blue, white, and green. There are tons of ways you can incorporate coastal farmhouse design into your home and really make it your own. Keep reading to learn a few tips to get started.
How to create a gorgeous coastal farmhouse living room
Transforming your home into a coastal farmhouse retreat is fairly simple once you know what elements to look for. Use these suggestions to redecorate your living room.
Choose a natural color palette. Coastal farmhouse homes are typically light and airy. Use sandy beiges, warm whites, and gentle blues and greens for accents.
Install light hardwood floors. Wood flooring is essential to farmhouse and coastal design. Lighter wood fits with coastal design while complementing rustic farmhouse elements. If you want to add some texture to the room, lay down a woven area rug.
Focus on texture. You'll find a lot of natural textures, like wicker and weathered woods, in coastal design. Pair these elements with farmhouse-style distressed woods and metals to load your space with texture.
Try a slipcovered couch. This sofa style is quintessentially coastal, so pair it with a rustic coffee table for balance.
Keep it light. Natural light is vital in coastal farmhouse homes. Let the sun shine in with large, open windows accented by sheer white drapes.
Blend old and new elements. Coastal style usually tends toward modern design, but farmhouse decor incorporates old and new; it's crucial to find a balance between the two.
Add nautical elements without getting too kitschy. Even if your home isn't by the sea, you can still bring elements of the ocean into your decor. Hang beachy artwork or place decorative driftwood on the coffee table. But remember: With nautical features, less is more.
Showcase imperfections. Coastal farmhouse homes feel so welcoming because of their lived-in feel. Put your weathered wood, chipped paint, and worn-in accents on display.
Coastal farmhouse combines the best elements of both styles to create a stunning and welcoming home. The two interior design styles blend excellently, creating a new aesthetic that is both cozy and upscale, casual and put-together. With rustic, vintage farmhouse accents and crisp, clean coastal elements, you can convert your home into an inviting and sophisticated oasis. If you want to refresh your home decor, look to the countryside and the sea for all the inspiration you need.
Editors' Recommendations