Summer entertaining is a widely enjoyed pastime, especially for those of us who relish in all things devoted to the great outdoors. Everything from preparing and enjoying meals, entertaining guests for game night, or simply enjoying a good book can be done outside.
If your tired and outdated patio furniture could use replacing, or your outdoor space could use an update, we have a few ideas and suggestions on how to revamp and freshen your home's best-kept secret—the patio. Take your space from so-so to stunning with these modern, fresh, and clean patio designs.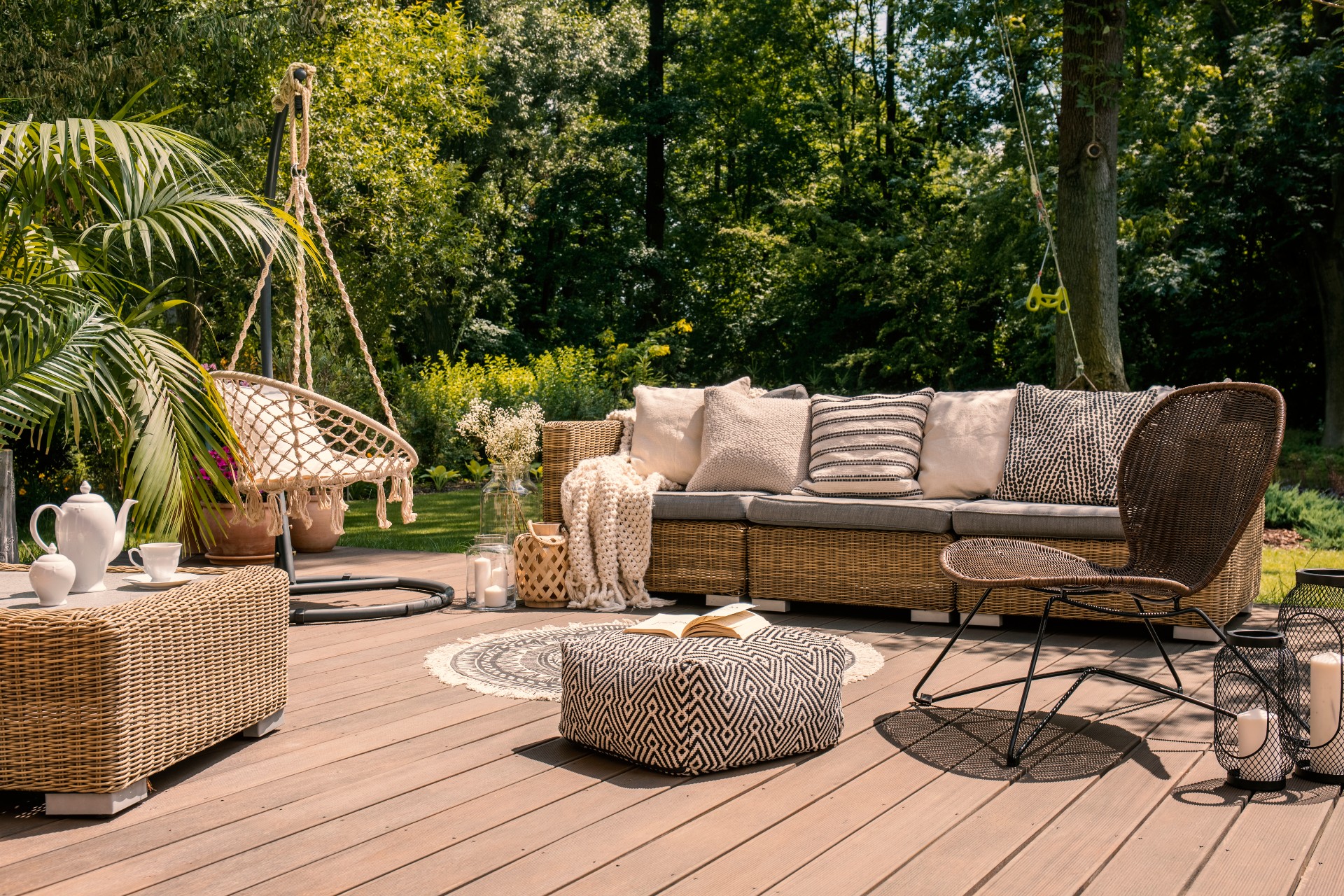 An exotic oasis
The colors, patterns, and tropical plants used in this patio plan truly allow you to be transported to another world altogether. To achieve this type of look for your outdoor space, some design suggestions to include are:
Large, leafed plants: Large potted palm trees, banana trees, fiddle figs, and other shade plants help keep the hot sun from beating down on you too much while adding great deep green contrasts to your exotic aesthetic.
Neutral and bright colors: While this may seem counterintuitive, having a nice balance of neutral woods blended with bright reds or oranges gives a highlight to your space while contrasting nicely with the large, leafed plants that surround them. Neutral wood furniture with brightly paired cushions helps to achieve this look.
Hanging wicker seating: This trendy and adorable seating option screams exotic, adding an additional muted element to your outdoor space. Take it up a notch by selecting complimenting colors to match your furniture cushions, or add a few animal print throw pillows to deepen the effect.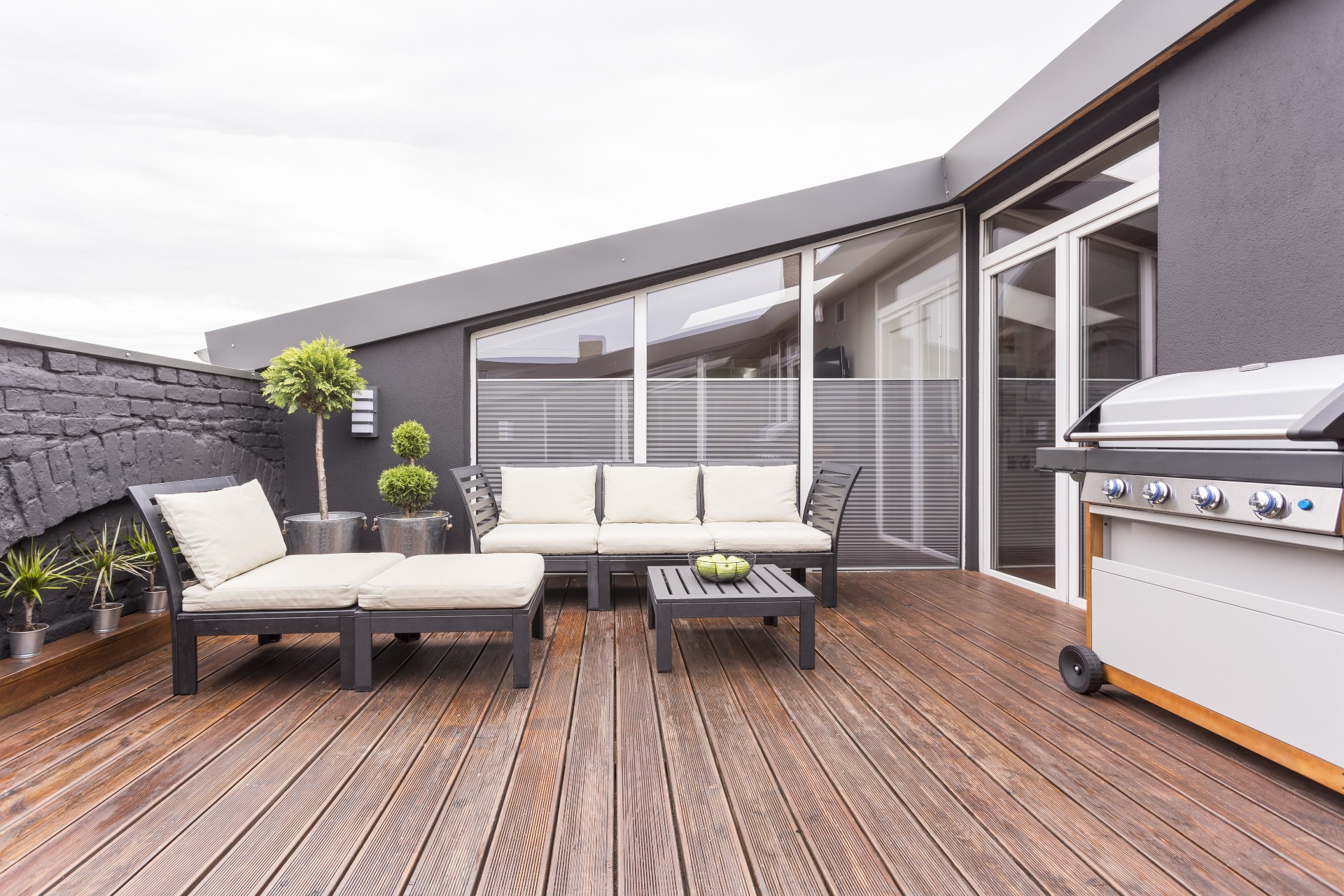 Classic modern
This space looks so well put together, all done with minimally designed furniture and additional pieces needed to achieve the look. This design relies heavily on industrial elements and sports clean lines, dark and light contrasting colors, neutral flooring/decking, and a few pops of green to draw guests in. A few elements to consider adding if this motif is piquing your inner interior decorating interests:
Textured metal accents: Anything from furniture framing to railings, adding a dark and textured element to your minimalist modern look accents the clean lines surrounding it.
Poured concrete: Nothing says minimalist quite like a poured concrete floor or seating. Concrete is easy to keep clean, lasts for years to come, and can be easily updated with seating cushions or throw pillows.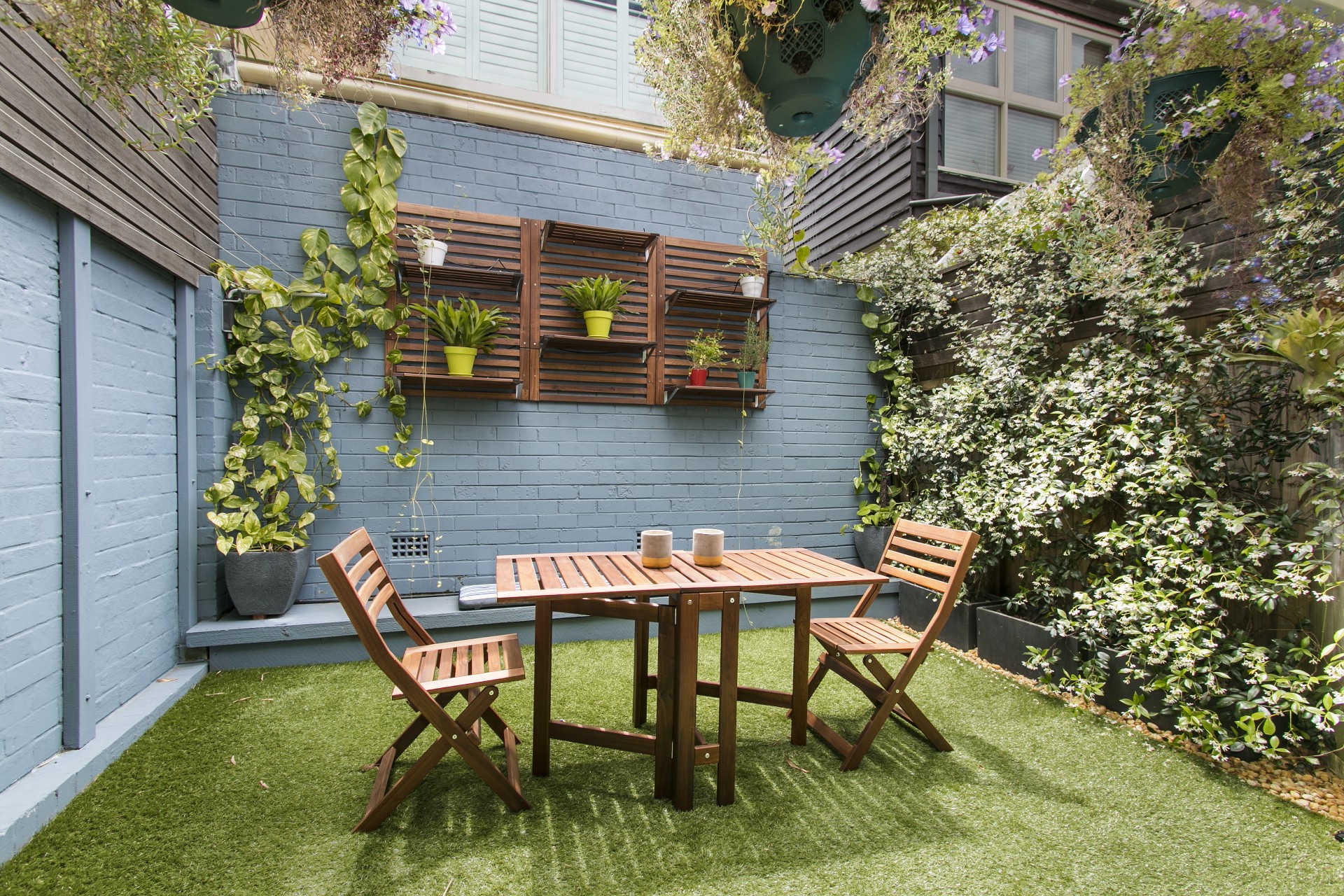 Tea garden
If your ideal backyard space's future is something akin to an English-styled garden, you will love these design tips to give you just the elegant look you desire. To replicate something the Queen herself could be proud of, consider:
Perennial plants: Once these plants become established in your tea garden-themed space, they will come back year after year, becoming more and more of a staple in your space. Roses, hedge shrubs, azaleas, hyacinths, Shasta daisies, lilacs, and hydrangeas provide structure as well as beauty to your garden/patio area.
Whimsy: This may seem like a design tip out of left field, but there is usually more than a touch of whimsy and mischief to it when it comes to English countryside gardens. This can include the shape of the space, including winding pathways, shrubbery/hedges, large flowering plants, and ivy walls.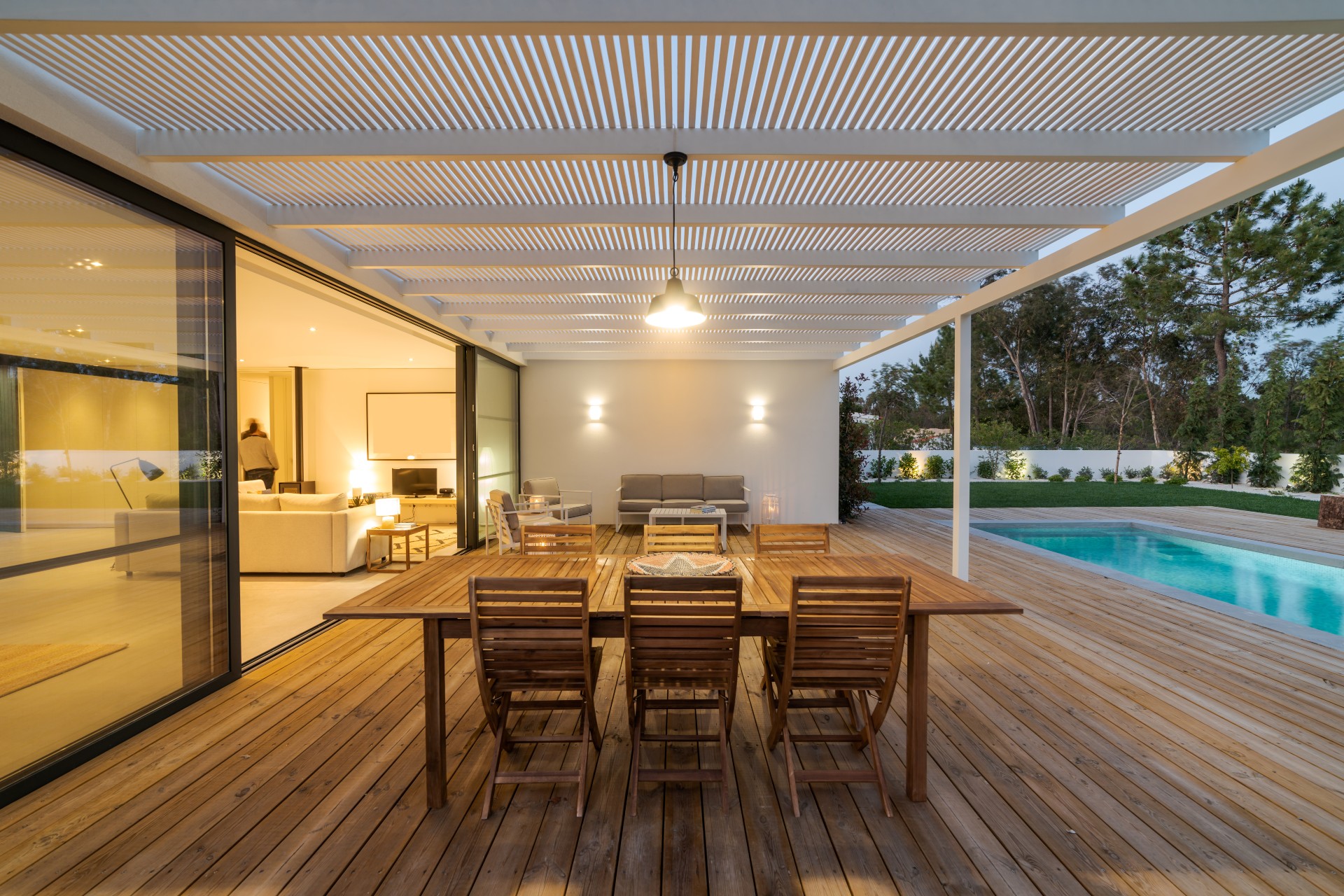 Updated splash zone
Pool owners can often feel left out of modern outdoor suggestions, mostly because the pool itself often takes up most of their outdoor space. However, when it comes to finding a way to beautify an area that gets more than its fair share of water thrown around, there are a few design elements to keep in mind when revamping your pool pagoda:
Waterproof or water-friendly furniture: When your backyard area includes a pool, most homeowners understand that their outdoor furniture will see its share of splashes and wet towels. To combat this, we suggest securing furniture—and furniture cushioning—that repels water. By doing this, you are keeping your investment beautiful in addition to updating your seating in a practical way.
KISS: The pool area often has a lot going on, from pool toys to floats; there's a ton of colors and patterns thrown in there that can quickly overwhelm the aesthetic. By keeping it simple, silly (KISS), you can allow the beauty of your plain and simple furniture, neutral decking selections, and natural privacy plants to sing without overwhelming your guest's minds with too many "things going on"— aka too many bright colors and busy patterns.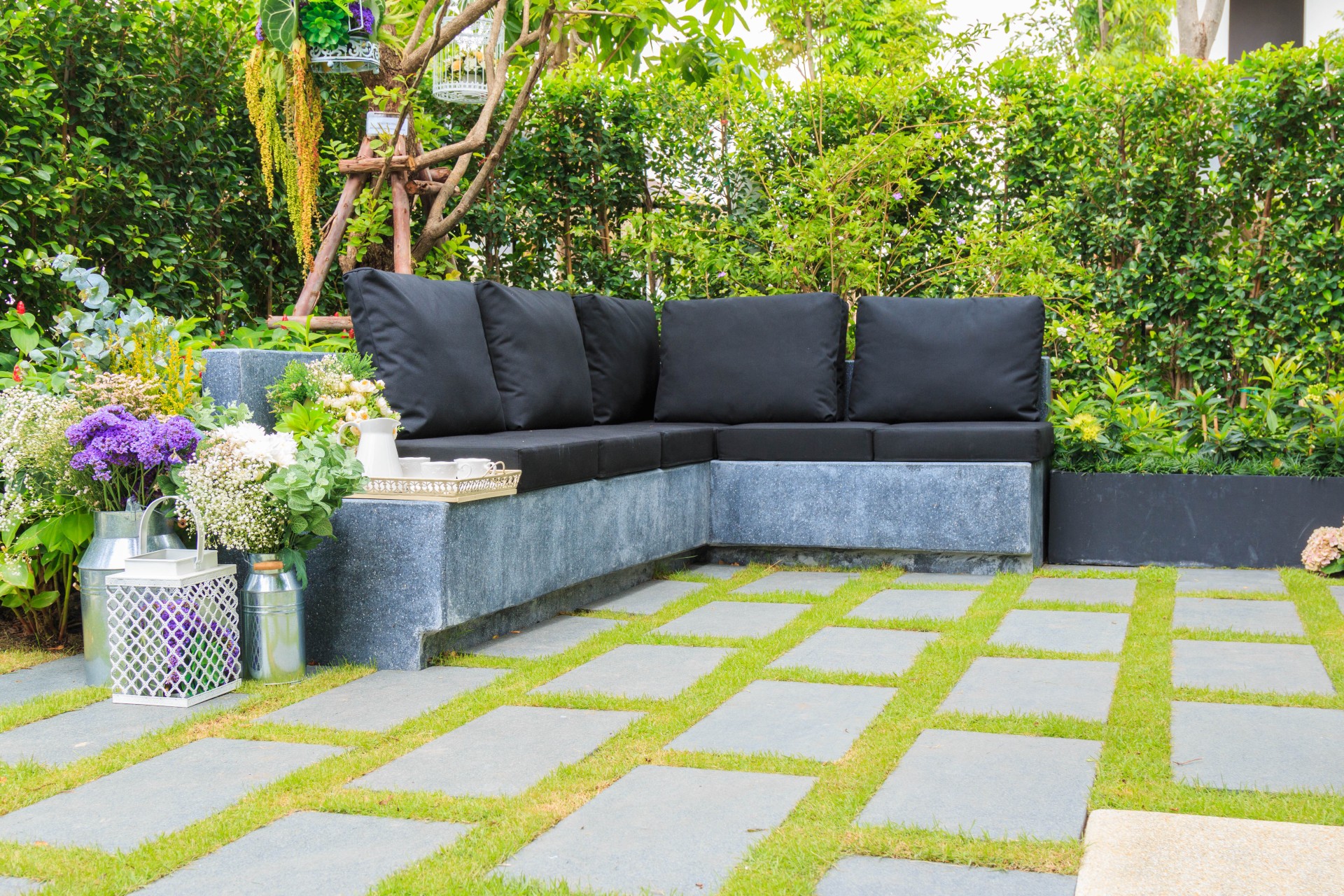 Rustic, reclaimed, and revamped
While this styling idea is not something new, it is a design theme that has seen a few recent updates and improvements that make it more than just throwing every vintage or antique element you can find into one area.
Something old, something new: By blending newer minimalist elements like poured concrete seating or dark to light accented cushions with recycled planters, shabby chic will underscore the theme of modern rustic.
Cool tones: Think deep blues, purples, and greens. These muted colors allow the addition of cast or wrought iron elements, reclaimed planters, chicken wire, or galvanized steel decor to sing.
From the far reaches of the earth in exotic patterns and bright colors to English-styled gardens with winding pathways and walls of ivy, our list of patio designs has options and themes sure to fit any homeowner's vision, just itching to update their space. If you are a lover of all things outdoors, enjoy spending quality time in the bright sunshine with your family, or simply want something beautiful to look at and enjoy each glorious summer day, then consider adding a pop of color, easy to maintain perennials, or sentimentally reclaimed pieces to make it a stunning space you will want to sit in day after day.
Editors' Recommendations