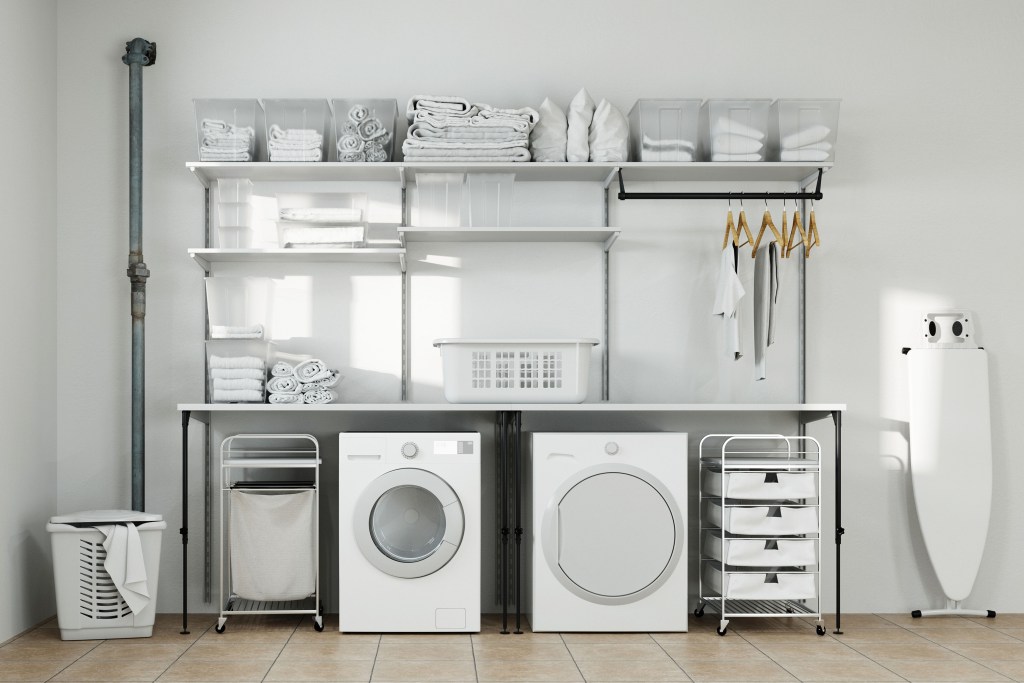 As one of the most time-consuming and dreaded chores, laundry often falls by the wayside. We procrastinate doing laundry until it becomes a necessity, and we even stick our washers and dryers in odd corners or basements to keep them out of sight. But washing your clothes doesn't have to be unpleasant; by creating a designated space for laundry, not only can you make the chore simpler, but you may even begin to enjoy it. For many homeowners, garages hold almost limitless potential to become laundry areas thanks to their wide-open spaces. Check out these great ideas to help you transform your garage laundry room into a functional and beautiful space.
Ensure the garage is the right spot for the laundry room
Have you been wondering if you can put a laundry room in a garage? In theory, the garage seems like the perfect place for a laundry room. It allows you to create a designated space for doing your chores without taking up space or creating too much noise in your home. However, there are a few factors to consider before deciding to transform part of your garage into a laundry area.
You must ensure that your garage has access to plumbing and electricity.
You should also make sure there is enough room to place your machines and everything else you need for your designated laundry space.
While it may be simple to clear the space for your laundry nook, adding plumbing and wiring to a garage can be quite a project and will require the help of a professional before you can begin setting up your new space.
Will a garage laundry room add any value to your home?
For many homeowners, tackling renovations on the house is a long-term investment. If you're considering turning part of your garage into a laundry space, you may be wondering if it is worth the time and money to install. The good news is that while in-house laundry rooms add a lot of value to your home, garage laundry rooms can also be just as useful. Sure, they may not be as glamorous or attract every type of buyer, but having the plumbing and electrical capabilities of installed laundry in the garage is fantastic for your property value.
This can be a great investment if you don't have the space for in-house laundry. Additionally, most garages have plenty of space, meaning you can create a dedicated laundry area as big or as small as you like with plenty of custom shelving or other neat features.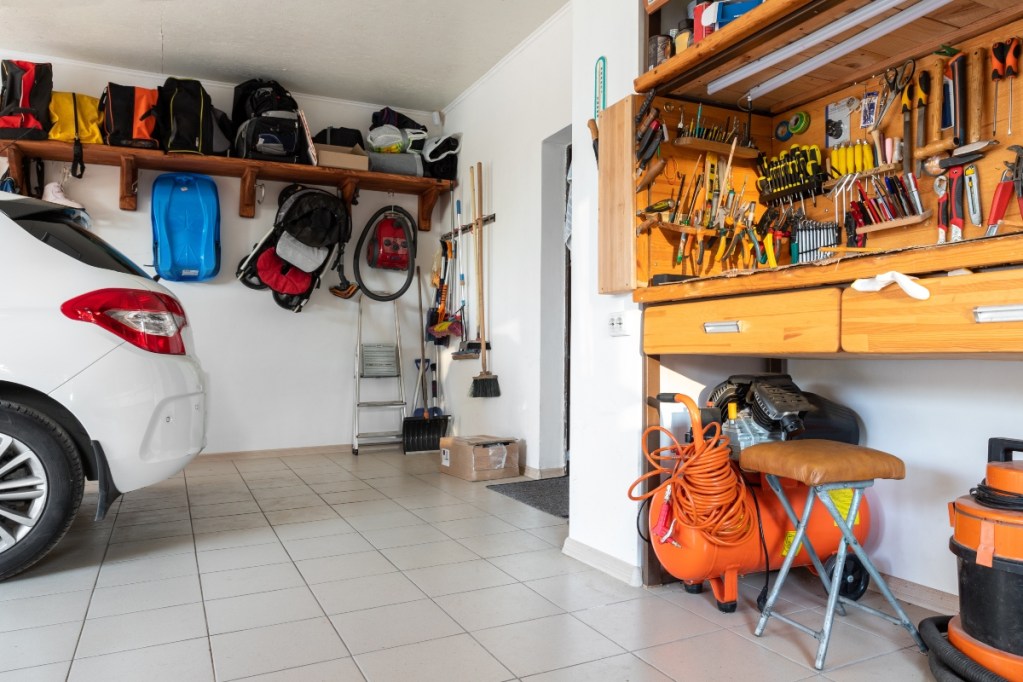 Insulate the area
When considering whether to build a garage laundry room, one of the first questions homeowners have to answer is whether they can put a washer and dryer in an unheated garage. In areas where temperatures reach below freezing, putting the washing machine in an unheated garage can be a risk, as the hoses and valves can freeze or burst when it gets cold. But if a garage laundry room is your only option, protect your appliance by taking these precautions:
Close the windows and doors tightly during the winter.
Put up weather stripping around the doors and windows.
Add snap-on foam insulation around any exposed pipes.
On dangerously frigid days, set the water temperature to warm and let three to four inches of water pool in the basin. Set the cycle to spin and repeat this process every three to four hours.
Consider the features you want
A laundry room is so much more than just a washing machine and a dryer. Consider how you usually do laundry and want the space to function before designing the room. Will you use it just for washing and drying, or do you line-dry, iron, and fold clothes too? Do you usually hand-wash items in a sink? Do you want to include spaces with additional functions, like a mudroom, pet washing area, or cleaning supply storage space?
Once you decide precisely how you plan to use the room, you can plan the essential features you want to include. You'll want to consider adding counter space, shelving and cabinets, a deep sink, a folding ironing board, and more.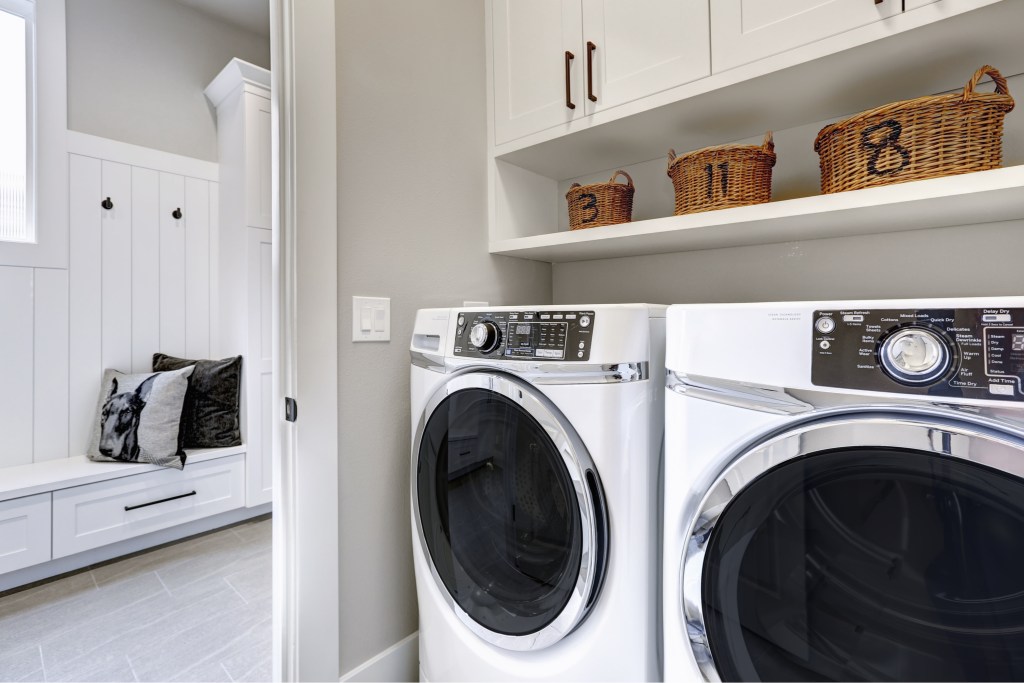 Separate the area
If you don't have a separate room designated for laundry, it's essential to create separation between the chore area and the rest of the room. You don't want to be reminded of all the clutter you have stored in your garage while you're washing your clothes, nor do you want to accidentally park your car too close to the laundry area. Create a closed-off space for your laundry room, if possible. Use curtains or a stylish room divider to set boundaries, or strategically place shelving and other storage units to close off the laundry area as much as possible.
Install ample storage
No matter how you plan to use the space, storage is key to any functional laundry area. Even with a small laundry room in the garage, there are ways to maximize your storage.
Instead of spreading outward, think vertically. Use a wall-mounted storage station with shelves, hanging racks, and a pegboard to clear clutter and organize your cleaning supplies. For simpler hanging storage, put up pegs with hanging shelves and drying racks.
Alternatively, you can install floor-to-ceiling storage with plenty of cabinet space and even room for laundry baskets. To create even more space for storage, consider getting a stacked washer and dryer to free up some room.
Add stylish touches
Now you may be wondering, "How do I make my garage laundry room nice?" Adding just a few personal design touches will take your laundry room from drab to gorgeous.
Curtains: Hang some sheer curtains to let the natural light flow in through the windows.
Lighting: Install a stylish lighting fixture so that you can do laundry any time of day or night.
Storage: Use trendy woven baskets for storage.
Flooring: Throw down a cute area rug to make the space warmer and cozier.
Plants: Finally, put a few plants (real or fake) on your shelves to add some life to the space.
Building a laundry room that looks amazing and functions how you need it to doesn't have to be complicated. Focus on practical matters like electricity, plumbing, and insulation first. From there, you can think about all the things you'll use the area for and how you can optimize the space for your needs. Last, add finishing touches like stylish decor, lighting fixtures, and greenery. Using these garage laundry room ideas, you can completely transform your boring, bland garage into a purposeful clothes-washing oasis.
Editors' Recommendations