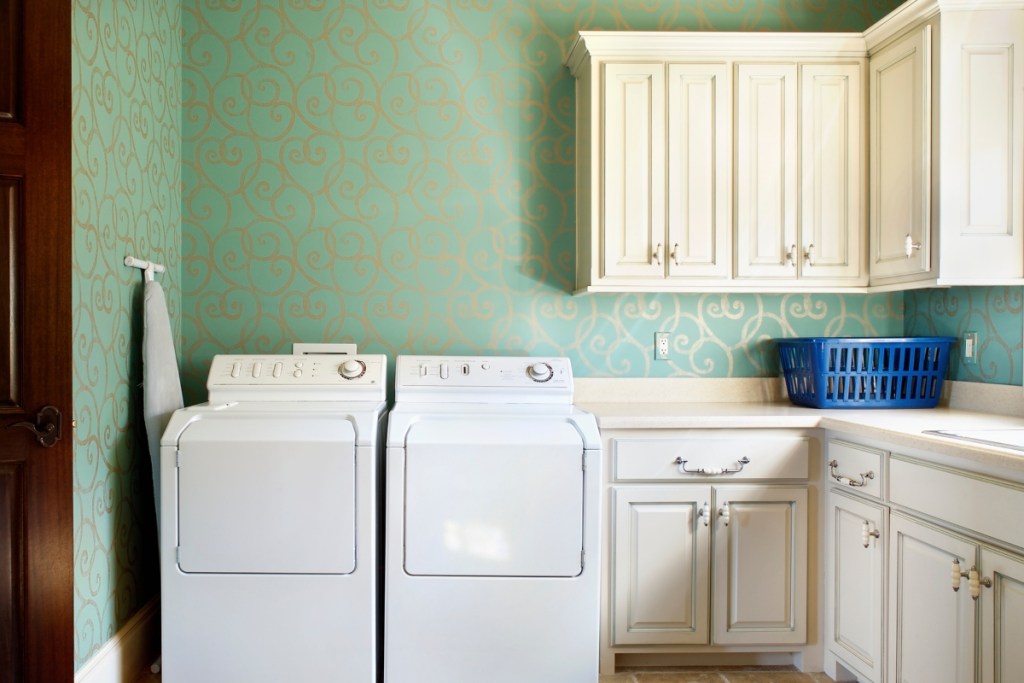 What's your laundry room looking like right now? Chances are it could use some TLC. And by that, we mean some cute, fun decor to make doing laundry a bit less dreadful.
The laundry room is the one space in our home that many of us neglect to decorate, because it's small, doesn't get much foot traction, or we simply never thought of it. But if you think about it more, sprucing up your laundry room could make the task more enjoyable.
Here are some laundry room decor ideas to help you bring this practical space from drab to fab.
Colorful wallpaper
Your laundry room doesn't have to be this dull, dark room in the basement that you despise being in. Even if your laundry room isn't in the basement, we bet it could use some brightening up. Why not add some color to the space?
There are plenty of simple peel-and-stick wallpaper brands with many different patterns and colors to choose from. You can cover all the walls, an accent wall, or only add a block of wallpaper right behind your washer and dryer. Even a small pop of colorful wallpaper could do wonders for your laundry room.
Shaggy rug
What's more fun than a shaggy rug, so soft under your toes while you load and unload your laundry machine? Find the plushest rug to fit in your laundry room and we're sure it'll send the good vibes way up in there.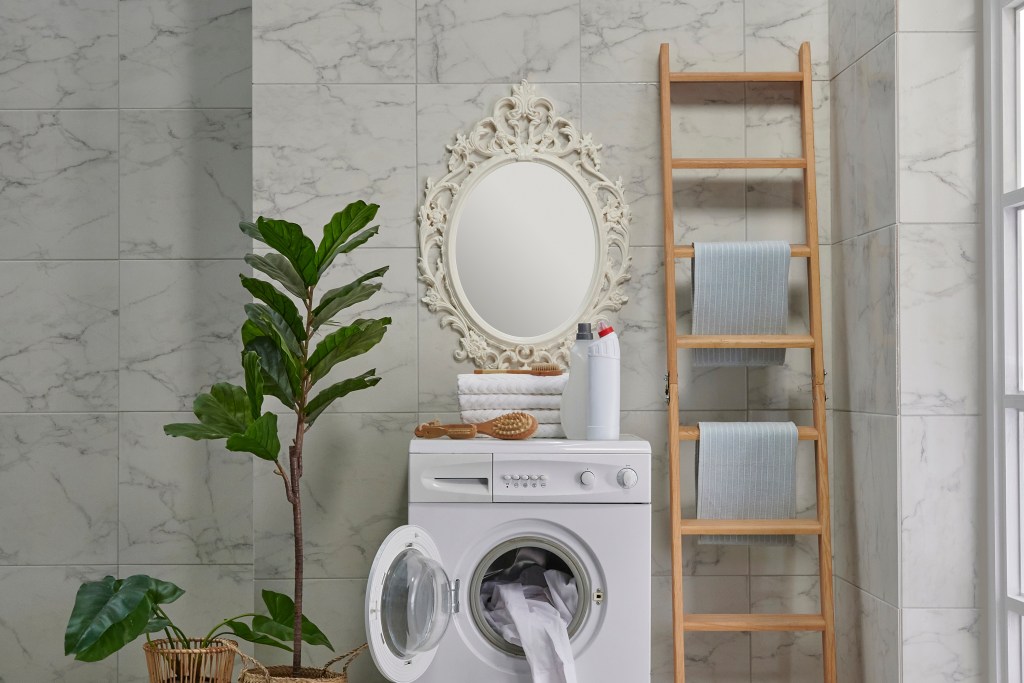 Decorative mirrors
Another laundry room decor idea we love is hanging up some decorative mirrors. If you have a blank wall that you don't know what to do with, this is a great solution. You can either get one big mirror or a few small ones. Either way, mirrors can make small spaces seem larger, so this could be a decor game changer.
Faux plants
Adding some faux plants to your laundry room is the move and here's why: We love plants in any room, but taking care of a real one could be tricky if it's tucked away in the laundry room. Yet you can still get that earthy atmosphere in your laundry room by using fake ones.
We specifically recommend faux succulents placed on shelves or faux vines hung across a wall, from the ceiling, or even in the doorway.
Corner shelving
Mix up the storage in your laundry room with some corner shelves. Whether this is a single floating corner shelf or a tall corner shelving unit, this decor technique can work great to use every inch of this small space.
So we ask: Why not make the chore of laundry a bit more fun with some exciting decor? These five laundry room decor ideas can help you turn this tiny, boring space into a place you actually don't mind sneaking away to every now and then.
Editors' Recommendations