If you're thinking about renovating your garage, you're not alone. These days, garages are used for more than just parking cars and storage space. It's exciting to think about all the innovative ways to reinvent this area of your house—convert your garage into a home gym, laundry space, or even an extra apartment. If you're thinking about remodeling your garage, then it's also time to think about the less fun part: The garage makeover cost.
When going through your checklist and determining your budget, one thing you'll want to do is allot 15-20 percent of your budget to garage mishaps and hidden fees. Allowing yourself some wiggle room ensures you won't go over your budget. To help you prepare for any fees that can come your way, we've curated a collection of seven hidden costs that can come along with a garage renovation:
Permits
Floor remodeling
Electrical installation
Wall painting
Plumbing
Heating and cooling
Storage
Permits
Depending on how you want to reinvent your garage space, the first thing you'll have to do is research your local law to see if you'll need a permit. If you plan on converting your garage into a living space, you'll most likely have to purchase a permit to be able to do your huge overhaul. In addition to the permit, you may end up increasing your property taxes by adding livable square footage to your home.

Flooring
Make sure to carefully plan what happens to your garage floor because if you're prone to moisture problems in your garage, a remodel won't make them go away. One workaround is to put removable, interlocking tiles down for a new floor because you'll be able to remove them for any future floods or leaks. However, before you even put down any mat or tile flooring, take care to fix any current cracks in the concrete because broken pieces can continue to expand, ending in a future costly fix. Waxing or buffing your floors won't fix the problem either—you need to have a clean slate for any floor coating you'd like to affix.
Electrical installation
One of your highest garage remodeling costs will come from electrical work. The type of re-wiring and electrical installation will depend on what you plan on implementing in the space. If you're installing appliances like a stove, or washer and dryer, you may have to insert more breakers or volt boxes. However, one of the major electrical undertakings will come in the form of your garage door if you plan on transforming it into a solid wall. Before you paint or reconfigure wall space, make sure you know exactly where you need outlets and wiring so that you can complete it before anything else in the renovation process.
Painting
Painting your garage should be one of the very last steps you check off on your remodel to-do list. If a mistake is made during the electrical rewiring or plumbing stages, the last thing you'll want to do is have to tear out your walls post paint job. While painting initially seems like one of the cheapest parts of your garage remodel, it can quickly become expensive if you don't plan accordingly.
Plumbing
From laundry units to utility sinks to a spare bathroom, installing garage plumbing will become a massive undertaking since most are not designed with a system in place. You may need to install water lines, drain lines, gas lines, and perhaps a new water heater. Breaking open walls and digging up the foundation are possibilities with a new plumbing system, so make sure you're prepared for it all! When it comes to both plumbing and electrics, as soon as you rip open a wall, you are bound to run into hidden costs. Take the time to make sure current and new systems are up to code.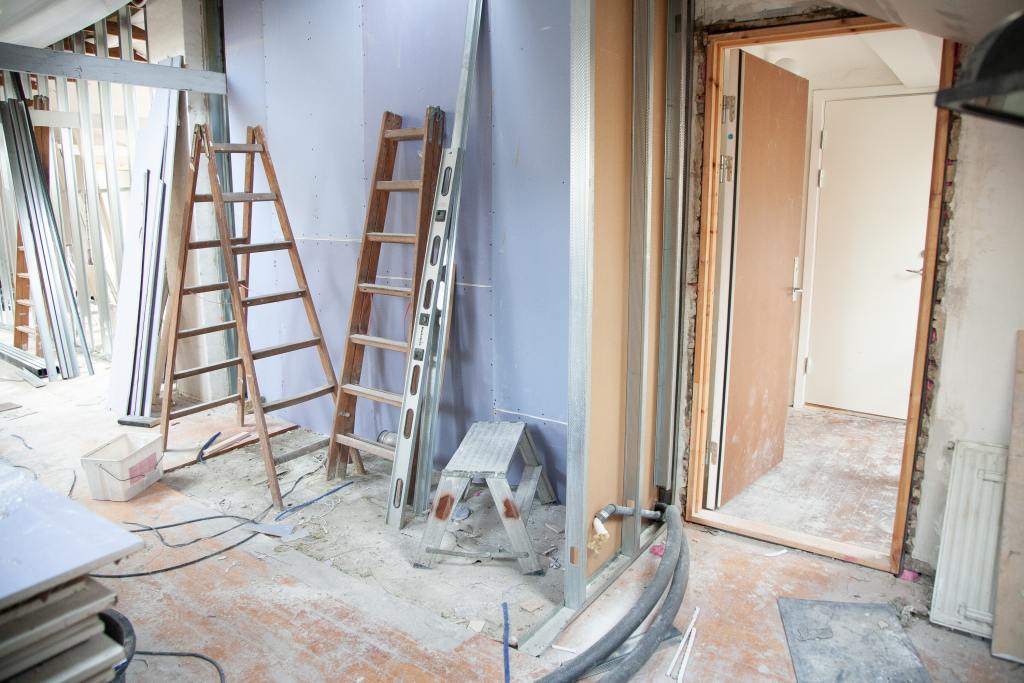 Heating and cooling
It's no secret that garages do not retain heat in the slightest, so you'll need more than a space heater to keep you warm, especially if you plan on removing your garage door. If you want a temperature-controlled space, make sure to install insulation in all of the walls and even the floor. Without the insulation, your heating and cooling systems will have to work a whole lot harder, and in turn, you'll end up with higher bills.
Storage
Have you thought about the items you currently have in your garage and where they will go post remodel? Purchasing storage bins, building a setup somewhere in the basement, or even installing a tool shed can be unexpected expenses when you're done with the renovation. Make sure to consider the organization of your cars and other items before you begin to redo your garage space.
Before you take a hammer to your garage walls, think about these seven hidden fees so you can be prepared for them. No matter what you're transforming your garage into, the job deserves to be done properly, so make sure you consider every detail and cost. From the paint job to plumbing installation, no detail is too small. If you stay on track and thoroughly complete every step in the renovation process, your home project will be completely worth it in the end.
Editors' Recommendations