A garage can sometimes be the forgotten part of a home. They tend to be dusty, dirty, and full of all kinds of things like tools, equipment, bikes, and more. Some garages are overrun with clutter, while others lack anything other than a couple of cars, as Garage Smart states. Regardless of how your garage looks, a nice makeover will make it feel just as stunning as the rest of your home.
Fortunately, makeovers do not always have to come with a high price tag. They can be easy to do and affordable for any budgeting needs. You will love how these simple makeover ideas can make your garage clean, fresh, and enjoyable for however you use it.
Give your walls a fresh coat of paint
No matter what project you are working on, nothing feels complete without a clean coat of paint for that pristine finish. Painting is not only affordable, it is easy to do. You can find all of the materials you need at your local home-improvement store.
Flow Wall says, "Painting a garage requires a few more steps than painting a regular wall in your home."
It's easy for garage walls to get dings, dents, and scrapes. Over time, these imperfections on your walls can bring down the overall appearance of the space. Luckily, it's a quick and easy fix. Painting the walls will allow your garage to have a clean finish. It is a great way to bring some freshness to the space. Explore different colors and see what you like the most. Your garage doesn't always have to be the common beige or off-white color unless you want it to be. Regardless of what color you choose, you will love how new, clean, and modern your garage will look after a fresh coat of paint.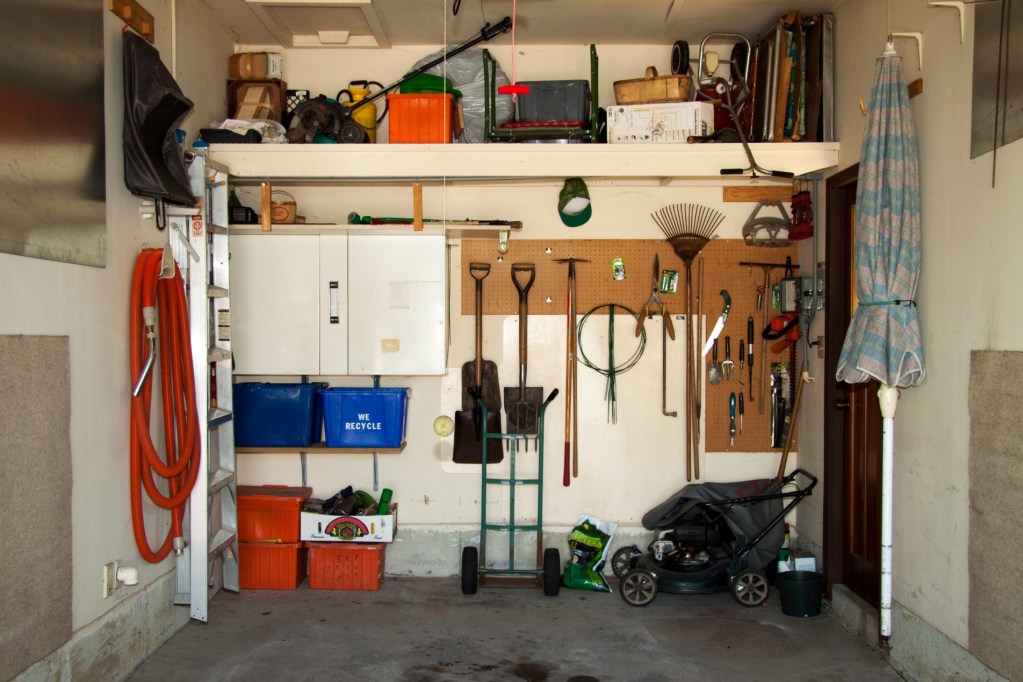 Make storage stylish
A proper storage system or unit can make all the difference when it comes to the appearance of a room. Storage is all about making the space feel more put-together and clean. It is intended to keep your items dust-free, while also allowing you to find everything you need with ease. Since a garage is the ultimate storage location for many families, it can be helpful to have some practical and stylish storage units. When it comes to picking out the best storage for your garage, it is important to look at what you have first.
If your garage is overrun by tools, look into storage specific to tools and other woodworking equipment. Check out some great storage options to easily and affordably makeover your garage:
Magnetic storage panels for tools
Shelving unit
Hanging shelves
Cabinets
Plastic bins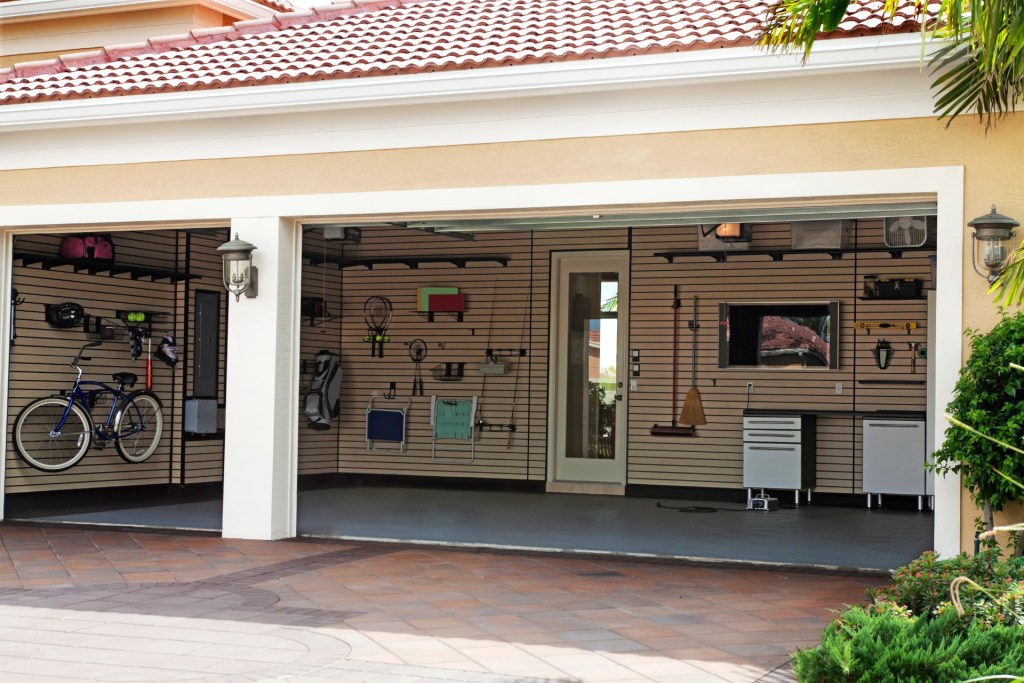 Paint your garage floor
Painting your garage floor may seem like a strange concept to anyone who has never had a painted garage floor or seen one. The end result, however, yields many great benefits for any homeowner. Making Pretty Spaces says, "There are a lot of reasons to coat your floor. The most obvious one is the aesthetics that it provides but it also can provide great protection."
This process is just as easy and affordable as painting your garage walls, so there is no reason to not give it a go. It can be a perfect way to add a fun little makeover to your garage that is both easy to do and affordable. You will love the many benefits of painting your garage floor, such as:
Clean and stylish makeover. Boring, old concrete can be dull and sometimes an eyesore. It is a blank, gray space, just asking to be brought to life. No matter how you use your garage, the floor can take a real beating. Leaks from your car, spills from harsh chemicals, dings and dents from dropping heavy equipment, stains from food and drinks, and so much more can leave your garage looking less than pristine. Luckily, a quick coat of paint can wash that all away. Choose a paint color and texture that you love, so you can enjoy walking into a garage that is clean, practical, and beautiful.
Impact resistant. Epoxy is the best type of paint for your garage floor because of its immense strength. You can drop tools, heavy equipment, and more on an epoxy floor and never have to worry about dents or scrapes.
Covers cracks/flaws/stains in concrete. Epoxy paint is thick enough and strong enough to fill in any cracks and cover any flaws. This will ensure your garage floor remains sealed, safe, and shielded from whatever you might drop on it.
Makes your floor easier to clean. One of the other great benefits to painting your garage floor is how much easier it will be to clean. A fresh coat of paint will ensure the floor is smooth and easy to wipe down. A painted garage floor can be mopped or swept with ease, removing dust and dirt quickly and efficiently.
Your garage is a unique room in any home. It is a space designated for cars, bikes, tools, and more. It can oftentimes be thought of as dirty and dusty, but it doesn't have to be that way. Your garage is a great space to enjoy. It can be kept clean and organized with an easy and quick makeover that you will love. Making over your garage can be as simple as a coat of paint or the addition of some stylish storage. Enjoy making your garage customized to your needs through fun paint colors, useful cabinetry/shelving, and durable flooring. You will love the outcome of your new garage and how easy and affordable it was to accomplish it.
Editors' Recommendations