When you're planning a serious interior-design makeover, you should definitely consider your garage. It's spacious and practically a clean canvas, and you can experiment with some modern garage ideas that would totally transform it. With our list, you will discover new ways to brighten the space and find inventive ways to improve its look while storing personal items — as well as organizing your space. Our end goal is to help make your garage feel more like a true extension of your home instead of just an overlooked storage area.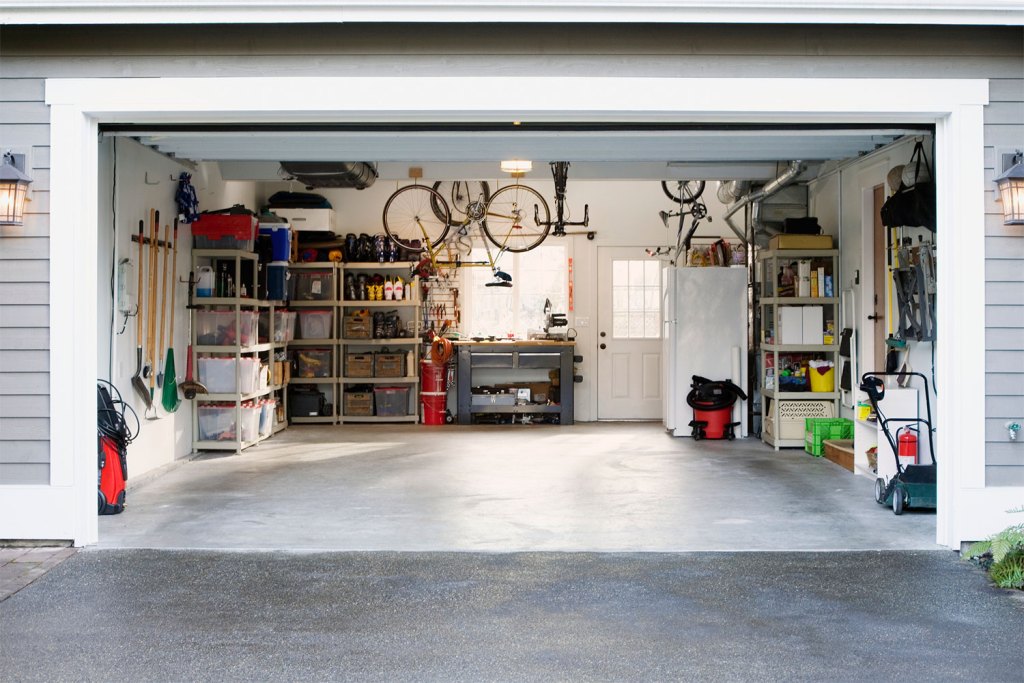 Track lights
Instead of conventional fluorescent lights or hanging shop lights, you can modernize your garage with track lights. We recommend going for long, straight bars with smaller bulbs. Choose a black powder or chrome finish in lieu of brass, white powder, or nickel. Track lights not only look very cool, they allow you to adjust the mini spotlights around to where you need illumination the most.
Hang the tracks as close to the ceiling as possible for a cleaner look and higher clearance for vehicles.
LED or neon lights
On the same note, LED lights look incredibly futuristic and modern. Install them in straight lines across ceilings and walls to give your garage a stylish edge. LED bulbs use less power but still give you just as much visibility. You can create geometric shapes or a design of your own with multiple narrow tubes, making them a focal point in the garage if you mount them on a prominent wall.
By contrast, you can custom order a neon sign for a more personalized take on garage lights. Spell out your family name, your favorite phrase, or any meaningful word that comes to mind. You can also order signs that depict an object or person. A neon car sign is on the nose, but we won't judge you for ordering a life-size neon outline of your favorite car — it's your garage, after all. Choose a sign in a color other than white to break up the brightness of metallic decor and to warm up the space.
Floor-to-ceiling industrial cabinets in a bold color
Industrial cabinets pack the most punch when it comes to garage decor that is super functional. These tall and expansive storage solutions are usually available in stainless steel, fiberglass, or carbon fiber. Since most feature a modular design — separate compartments you can stack, arrange, or display any way you like — you have more creative control when it comes to your garage.
Gray, black, and chrome are popular choices. We recommend going for a bold color like red or cobalt blue, especially if the rest of the room is neutral.
Reclaimed wood wall
Is clean, shiny, and metallic not really your style? We hear you. For more organic-centric homes, a reclaimed wood wall offers a timeless look that complements just about any space. Wood features rarely go out of fashion, so don't be afraid to go all out on a custom wall. Additionally, most reclaimed wood comes from barn siding and doors, which make them very durable.
Get in touch with local woodworkers or a woodshop, even if it's just to ask for leads on a good lumber source. If you're going it alone, search for sellers through trusted sites like eBay, Etsy, and even large stores like Home Depot. We suggest darker types like chestnut, red oak, or walnut. However, a varnish treatment is a quick DIY, especially if you're going to cover a whole wall with reclaimed wood.
Checkered tiles covered in epoxy
While technically not a decor idea, per se, showing your garage floor some love can drastically improve its final outcome. A modern take on the garage floor includes some tile, epoxy paint, and no foot traffic for a few days. Before you know it, you'll have a very future-forward floor that can withstand spills, stains, and heavy use.
Black-and-white tiles in a checker pattern is a classic choice, but if your garage might need some more color, substitute another color for black. Switching out white for a different color is also effective.
Right now, your garage may be dusty and full of clear plastic storage bins haphazardly stacked on top of one another. Fortunately, modernizing this space is pretty painless. To start, consider what your stance is on modern decor, whether it's futuristic and chrome, natural and wood-clad, or bare and minimal. Whichever style you choose, we hope our short-but-sweet list of garage decor ideas helps guide your way.
Editors' Recommendations