Garage floor tiles are a popular choice for many homeowners. Ordinary concrete garage floors are prone to damage, cracking, water stains, and other unsightly problems. But choosing the right garage floor tiles can be a challenging process. How do you know which material is best for your space? And which garage floor tiles are the most long lasting?
What garage tiles bring to a space
Garage tiles can bring life and longevity to any garage. They are a fantastic solution for people who prefer an elegant touch while also maintaining a sturdy and long-lasting floor.
Aesthetic appeal
As you may have guessed, one of the most significant benefits of installing garage floor tiles is their aesthetic appeal. Regular concrete can look dreary and uninviting. It's dark, cold, and often makes the garage feel like a gloomy place.
Garage floor tiles come in several styles so you are sure to find one that works best for your home. A popular design is the use of checkered tiles. You can alternate the coloring and match it to the finishes within your house or your garage walls. The classic black and white checker pattern is especially lovely, offering a retro vibe to your home.
Moisture control
Aside from just looking nice, garage floor tiles protect your concrete. Concrete wears down over time, and while there isn't a way to completely halt the degradation, you can stall it.
Garage floor tiles act as a protective layering over the top of your concrete, sealing it away from the elements. It's not uncommon for water to find its way into your garage. Whether you walk in with your rain shoes or drive in on wet tires, water is tracked into the space and can sometimes cause damage.
Water weaves its way into the cracks of the concrete and will begin to mold or erode the foundation. Garage tiles are an extra preventative measure to help keep moisture at bay.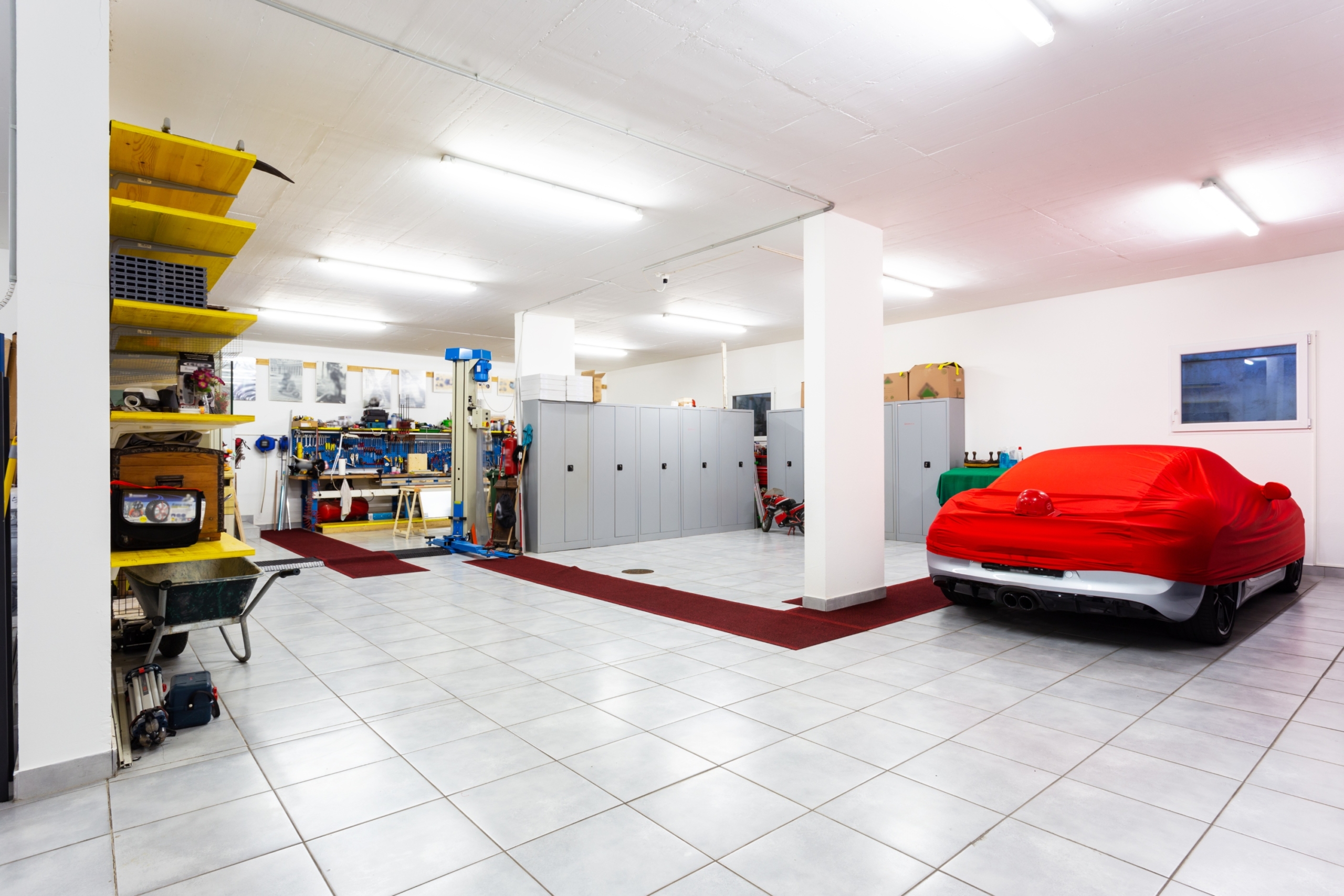 Reduces dirt tracked into the home
Another way that garage tiles help protect your home is by reducing the amount of dirt tracked into the house. Dirt will inevitably find a way into your home, but garage floor tiles can significantly reduce the amount of dirt present.
Ridged garage floor tiles are an excellent option for homeowners who want to prevent dirt from following them inside. Additionally, ridged tiles help prevent stains that can sometimes occur on ordinary concrete. While concrete is prone to staining and hard to clean, garage tiles eliminate this stressor and offer tidier solutions.
What to look for when deciding on garage tiles
When deciding on garage tiles for your home, there are a few factors you need to consider.
First, you need to decide whether you want ceramic or plastic garage floor tiles. Both have unique benefits and hindrances that are dependent upon your lifestyle.
Ceramic garage floor tiles
Ceramic garage floor tiles are long lasting and appealing to the eye. They often have a glossy, smooth finish and look great for workshops and functional rooms. Garages that house nice cars away from the elements or used as small workspaces do best with ceramic floor tiles.
While ceramic tiles may be the most aesthetically pleasing, they are also more expensive and may require a professional to install them. They also need routine maintenance and cleaning to keep them looking fresh and good as new.
Plastic garage floor tiles
Plastic garage floor tiles are ideal for temporary solutions. They are less costly than their ceramic counterparts and require less maintenance and care. Plastic floor tiles click together similarly to a large puzzle and are great for moisture prevention and dirt control.
Unlike ceramic tiles, plastic garage floor tiles can be smooth or ridged to aid in the maximum amount of control needed. These tiles are ideal for families who are in and out of their garage often and who come into regular contact with elements like snow, rain, mud, and dirt.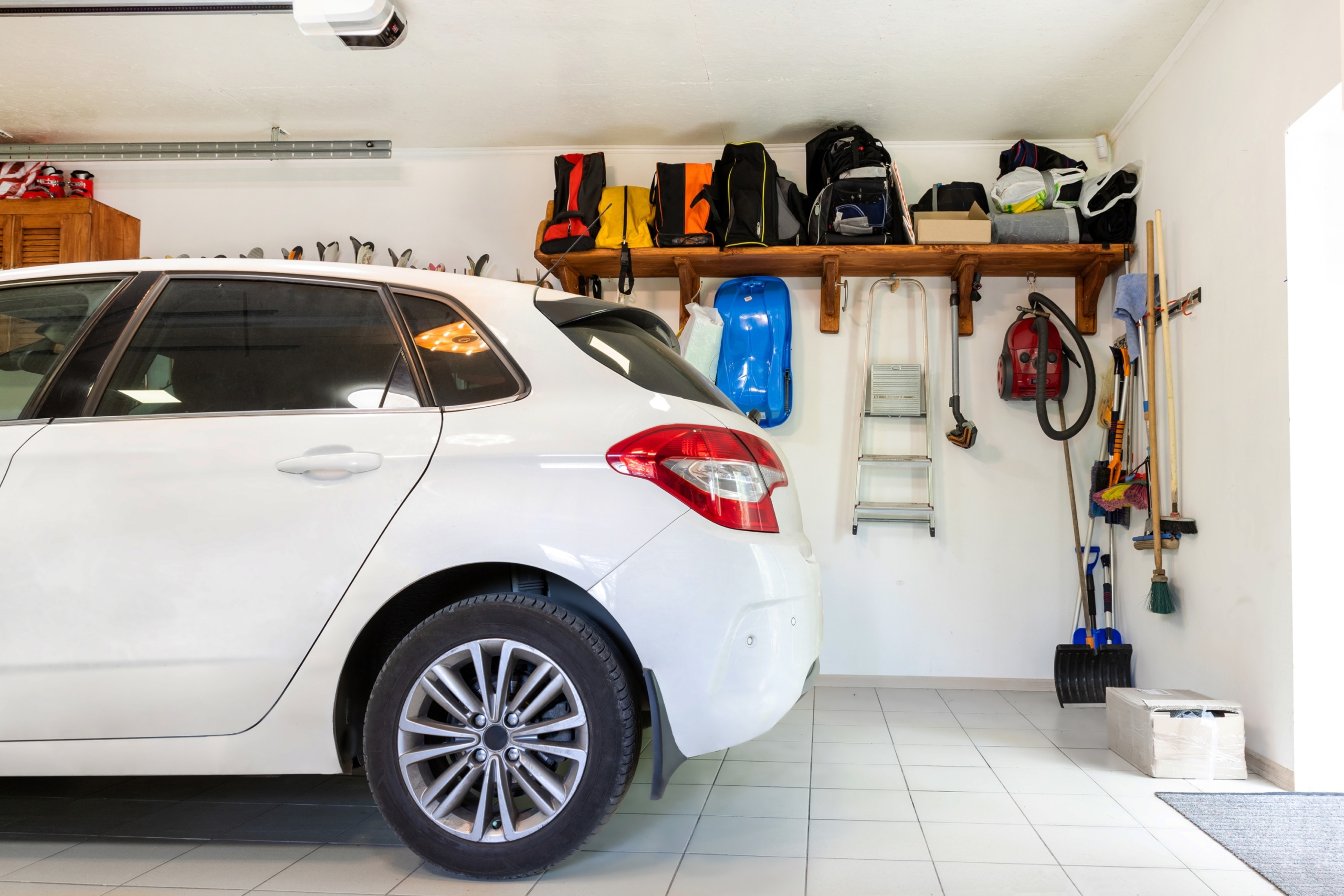 Choosing the right floor tiles
When choosing the right floor tiles for your space, it's important to keep in mind how you intend to utilize your garage and the amount of foot traffic that will cross your tiles. Deciding between smooth and ridged tiles is another factor to consider among style, purpose, and ease of installation.
Editors' Recommendations