A garage is a great place to store a car — and much more than that, too! If you don't have much storage space inside your house, you can keep lots in your garage instead. And you can keep even more in there by using some of our suggestions on how to use your space most efficiently.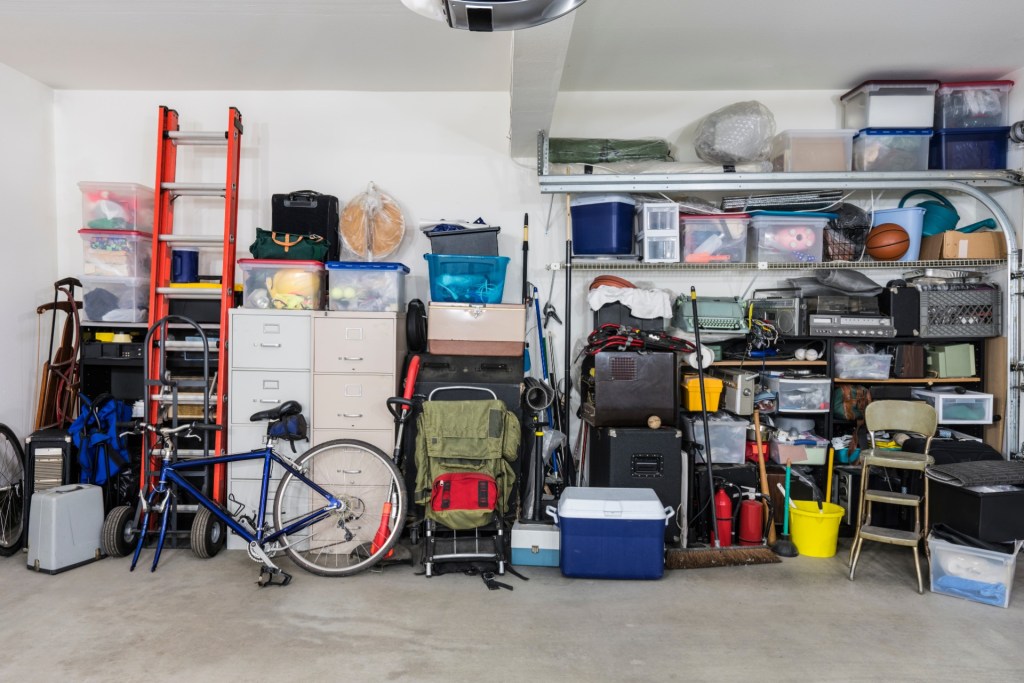 Upgrade your cabinets
While it might be tempting, don't just throw something in whatever drawer or shelf you feel like! You should come up with some sort of system to make the drawers in your garage more organized, such as putting dividers in them or labeling them (or both). If you don't want to buy "drawer organizers," you can simply place small baskets or glue wood blocks into drawers. Perhaps keep all items relevant to a single activity together. For instance, all of your gardening tools could be kept in one drawer and wrenches in another.
You might consider installing sliding shelves, which are like big drawers for keeping big items in. With the help of a sliding shelf, instead of having to bend over to get your circular saw off the bottom shelf, you can slide it out. Also, racks can be hung from the inside of cabinet doors for quick access to a shelf's most important contents. Clear bins or miniature drawers clean up a space while putting everything you need at your fingertips, and in sight.
Use the ceiling
Think of what your garage ceiling currently houses. Probably just a garage door frame and opener, right? Make more of your ceiling space by installing hanging storage where possible. You can keep bikes or kayaks stored this way, freeing up some valuable area on the floor. Some ceilings aren't high enough to permit that kind of storage. But don't fret — there's more than one way to best utilize a garage ceiling. You can hang loops of PVC pipe just a few inches away from the ceiling to stow away long items, like mops or fishing poles.
And if your garage is the location of your attic (or really, wherever your attic is), be sure to take advantage of it. No matter what you do with it, the ceiling is much more useful than you might have previously thought.
Make stacks on racks
Some garages come loaded with cabinets and other storage areas already installed, while others are barren. If yours falls into the latter category, and you haven't already invested in additional shelving, we have to ask — why not? There are myriad options of stand-alone shelving units, hanging shelves, and premade cabinets for you to choose from. HGTV suggests one of the pros of having racks over cabinets is that everything can be easily viewed … though this might be a con, depending on your preferences.
Keep in mind the height of your garage ceilings when shopping around for shelving. To maximize your storage space, buy installations that reach or nearly reach the top of the ceiling. And similar to organizing drawer space, you can organize shelves by adding baskets, bins, and labels as appropriate. If you have a family with lots of children, consider appointing one shelf to each child for their outdoor gear and toys.
Take advantage of the walls
We've now gone over a few ways to best use your garage ceiling space. Another part of the garage that takes up even more area are its walls, states The DIY Network. Even between rows of shelves or at the backs of cabinets, walls can be used to store objects. Hooks and floating shelves are two ideas for wall storage solutions. Beyond those basic inspirations, pegboards are a feature of a classic, car-centered garage. But they can hold much more than just tools. In fact, almost anything can be hung on a pegboard.
You'll just need to use a little innovation to fashion apparatuses so that various things can be held. For example, rolls of paper towels can be placed on a dowel, which in turn can be hung. Pegboards come in a variety of shapes and sizes, so you can find one that fits your garage and your needs.
Keeping a garage organized doesn't have to be hard. Hopefully, we have helped you in your journey toward an organized garage. Your creativity is really the limit when it comes to storage solutions — be they in the garage or elsewhere!
Editors' Recommendations