If you're short on space, combining your bathroom and laundry is an easy way to squeeze the most out of one room. While it's nice to have a dedicated laundry room, there are functional and seamless ways to have them share real estate (and make it really easy to wash and put away those bath towels). Plus, for many of us, finding more space in our home for a home office or gym is a much-needed win.
You could hire a designer to map out exactly what options you have available in a new build, but if you're working with an already-established bathroom and need to add the laundry in, here are a few ideas to get your imagination going.
How to add a laundry room to a small bathroom
If you have a small bathroom but are intent on adding a washer, dryer, or both, you need to consider every square inch of space before you commit to anything.
Look for stackable units
The good news is appliances have gotten smaller and more efficient over the years, so you can buy stackable units that still give you plenty of capacity without sacrificing quality. Stackable units are a great idea for a small bathroom because they can fit into one corner or be installed in place of a linen closet.
Add hidden shelving
You can also add hidden shelving behind a door, so you still have the ability to fold and stack clothing and also have a place to store detergent and other necessities.
Incorporate appliances into a vanity
You can also incorporate a washer or dryer into a bathroom vanity, with drawers on the other, like the one pictured above. You can lay a wood shelf across them for all of your toiletries and a laundry basket in the middle.
More tips for a bathroom/laundry room combo
Think about safety
Regardless of the space you have, you want to have your washer/dryer unit on the wall opposite your shower for safety. If you're moving your laundry appliances into an established bathroom, it may take some rearranging of plumbing and electrical to make this a reality.
Try bifold doors
You can also hide the washer and dryer behind bifold doors, so it's out of your line of vision while you get ready in the morning but easily accessible when you need it. Try adding a hanging rack above to air dry clothes or to await an iron.
Consider mirrored doors
If you're looking for more functionality, swap wood bifold doors for a mirrored door, which can double as a place to put your makeup on or check yourself one last time before you leave for work.
Use a neutral palette
In terms of design, if you're looking for your laundry unit(s) to fade into the background, choose a neutral color tone or one that matches your washer/dryer. If your units are white, opt for a neutral wall color and floor tiles that will absorb the laundry into it.
Incorporate wood
You can also incorporate some charm by installing a dark wood top over your washer and dryer. Then, carry those wood elements through via wall shelves, trim, and in the mirror over your sink.
Add shelving to a custom unit
If you have the option to custom-build a unit for your washer to slide into, make sure there are plenty of shelves surrounding it. You'll never have too many shelves in a bathroom/laundry combo because of all the products you need for both.
Focus on lighting
Also, add as much lighting as possible. If you don't have a large bathroom window, make sure your overhead lighting is strong, so you can see when you're getting ready and to remove any stains from your favorite white button-down.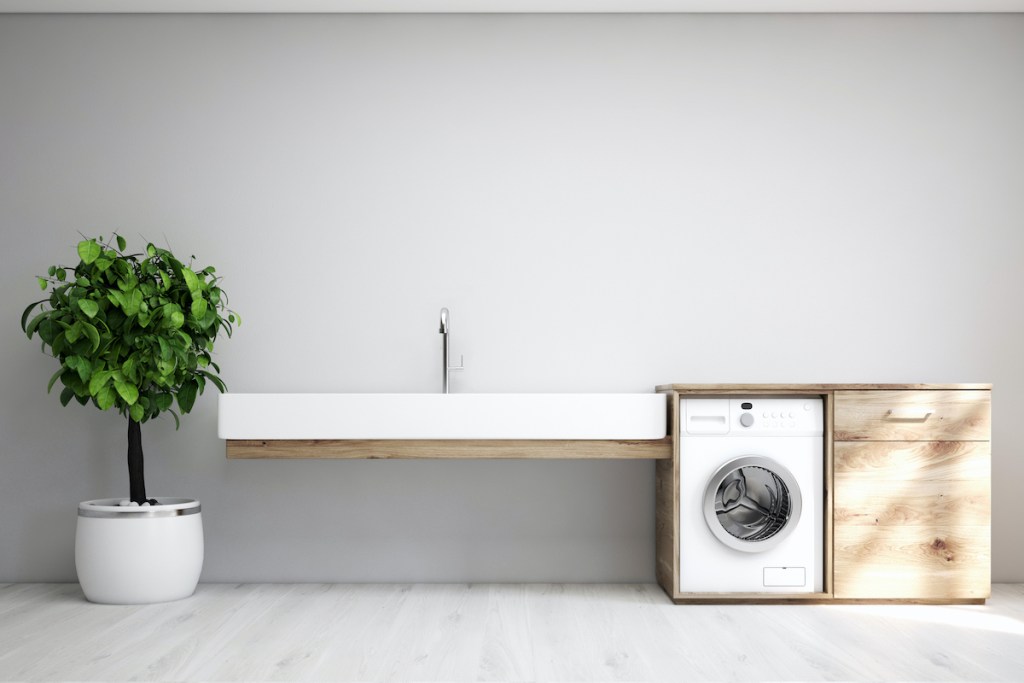 Other areas to add a laundry room
If you have a closet (be it a walk-in closet or not) that's attached to your existing bathroom, consider a laundry room instead of a clothes closet. You can always add an armoire or dresser to your bedroom and leave seasonal clothing in a guest room closet, freeing up the space for a dedicated laundry room. This gives you the benefit of having your laundry close to your clothing and bath towels and a place you can shut the door and pretend it's not there when not in use.
Just because you need a room to serve two functions, doesn't mean the design can't be cohesive. With these tips, you'll create a beautiful — and functional — space.
Editors' Recommendations