Organization in the home is a constant battle. Storage isn't plentiful in every house, so many homeowners take advantage of wall space with shelving, cubbies, and furniture that has hidden compartments. It's every homeowner's dream to have a gorgeous, pristine laundry room, but unfortunately, this particular space tends to get neglected often. Here are some shelving ideas for your laundry room that will give you the organization, space, and peace of mind you need for getting those clothes cleaned.
Benefits of an organized laundry room
When the laundry room is a mess, it can be overwhelming to do the simple, everyday task of laundry. Having a clean, orderly laundry room has several benefits, including not only aesthetic appeal, but also better organization overall and even safety benefits. When this room is in working order, you can find things faster and more easily, and you also reduce the chances of safety risks like trips, falls, dropped items, and even fire hazards.
Areas you can use for more space in your laundry room
One big problem in the laundry room is space. These areas tend to be cramped since they're smaller rooms and have to house two enormous appliances. If your laundry room is a tight squeeze, here are some spaces to utilize so you have more room to breathe.
Top surface of the washer and dryer
Particularly if you have front-loading machines, the top surface of your washer and dryer can be incredibly valuable. One good way to use the space is to install a large shelf directly above the appliances. You can use the shelf to store bins, baskets, and supplies, or you can use it as a folding station.
The walls
When you have almost no space to work with in your laundry room, that's when shelving becomes a must. Install sturdy floating shelves on the wall that can hold bins of supplies.
The floor
If you have significant space in front of your washer and dryer, you can install an island in the middle of the floor. This will give you space to fold laundry, and many islands also have shelving and drawer storage for all of your supplies. Just be sure you're left with enough space to open any front-loading machines and to move around the room freely.
What do you put above a washer and dryer beside shelves?
If you're looking for more than just shelves above the washer and dryer, there are a couple of other options.
Cubbies
Similar to shelves but a bit more sturdy, cubbies can be placed above the washer and dryer. These have the added benefit of keeping larger bins secured so that you can keep unsightly storage items hidden.
Hooks
Strong hooks can be hung in the space above your machines and they give you a world of storage possibilities in the laundry room:
Hang clothes that need to air dry
Hang laundry bags to keep clothes separated
Hang baskets to keep small items and supplies
Hang decorative items or plants to give a splash of style to the space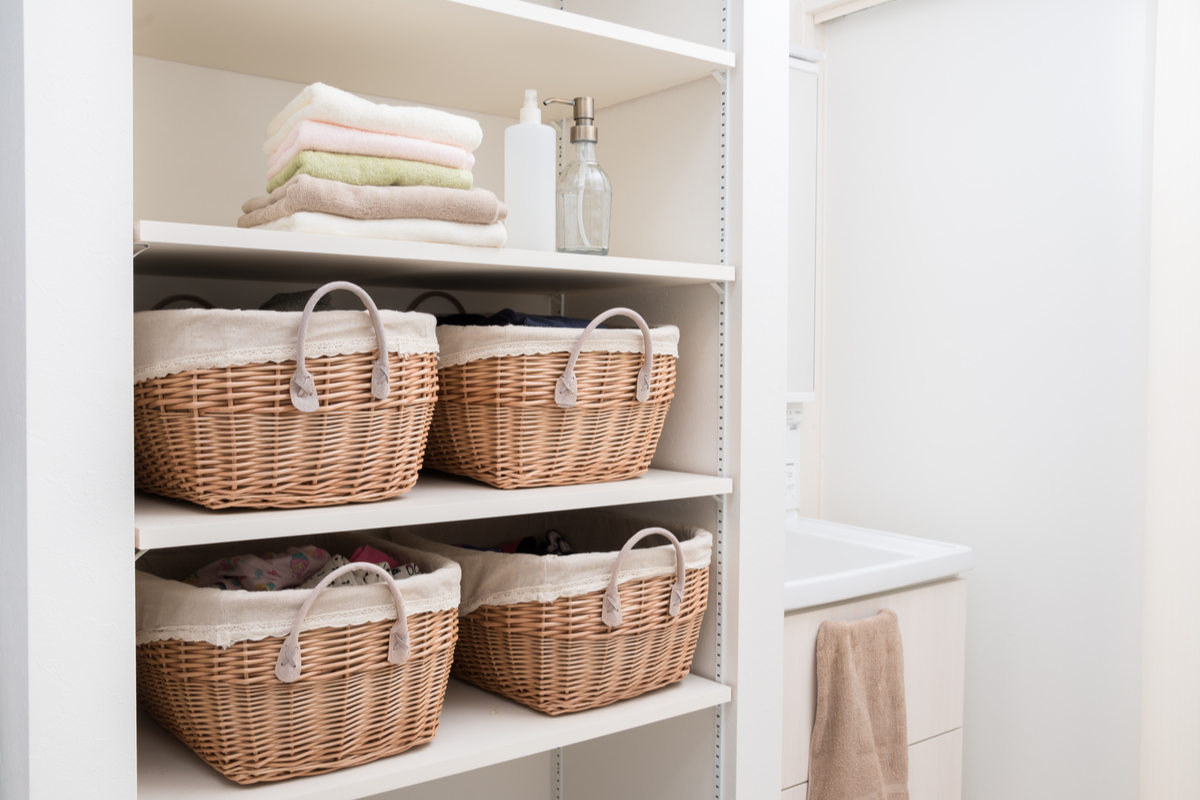 How do you add shelves to a laundry room?
The types of shelves you add and the way you install them will depend on a few variables:
What type of material is the wall? If it's cement or brick, you'll need a stronger tool than a hammer to get the screws in.
What will you be storing on the shelves? If the wall is made of drywall, you'll likely need to find a stud and use special shelf anchors if you're storing heavier items.
How often will you need to access them? Remember how far you'll need to reach to access the shelves and store appropriate items. Make sure items you use every day are easily accessed.
Your laundry room is used frequently and it shouldn't be a source of stress or anxiety. If your laundry room is a mess, consider adding shelving to the walls and other available spaces so you can get organized in this vital room. The laundry doesn't ever stop, but your laundry room can be orderly, clean, and stylish so the task can be more pleasant.
Editors' Recommendations